The second-generation CLA-Class has arrived and once again appeals to designer types, this time with an environmental conscience. For it's fast and frugal. We scope out the entry CLA 200.
Mercedes-Benz has owned the luxury market in Australia for decades, and now rules the roost here as well. Part of the secret to its success is that it offers more product in niche areas, designing unusual vehicles that resonate with luxury car buyers. Among the first of these was the CLS and eventually a smaller version known as the CLA Coupe.
There's also the exotic GT family line-up. The CLA range is now into its second generation, and you see before you the 200 variant which is the entry point into CLA ownership, costing $74,900. It is the more stylish compatriot to the A200 hatch ($60,900), but it's visibly bigger, akin in size to the C-Class for dimensions.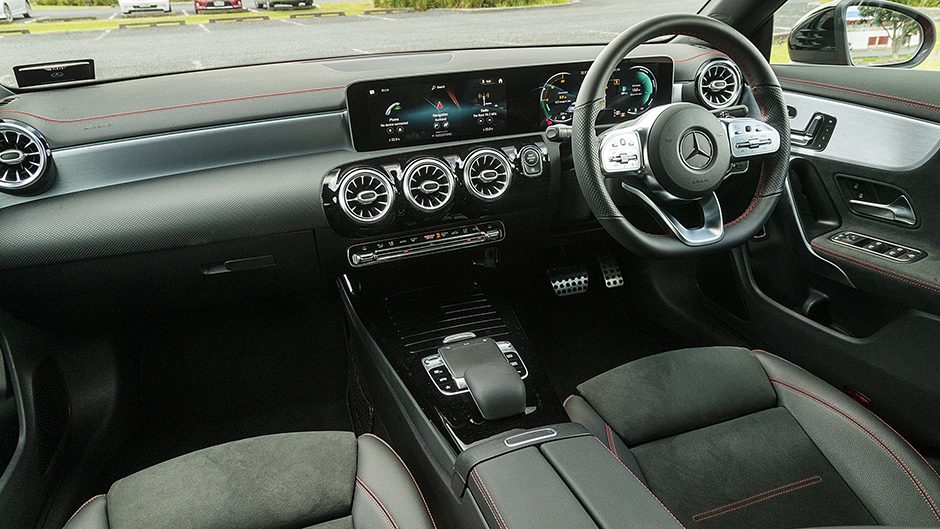 Perhaps its size rise is appropriate however, for in cost it impinges upon C-Class, the CLA 200 just a few hundred shy of the C 200 sticker. Designer, Gordon Wagener, describes the new entrant as having "perfect proportions" with the potential to become a "modern design icon". Seems he's happy with it then, if not so humble. The original was widely popular on a global scale, with sales of over three-quarters of a million units since 2013. New Zealanders did their bit, with first-gen CLA models selling well even into the run-out year.
Being bigger all around, the new model delivers added interior space. The original was 4640mm long with a 2.7m wheelbase, while the new one is 4688mm in length with a 2.73m wheelbase. Respective widths are 1777 and 1830mm, while height is essentially unchanged. Track widths are up by over 50mm. This translates to increased head, elbow and shoulder room for front and rear passengers, but it's still cozy in the back for two adults, with tight entry and exit.
Boot dimensions are all bigger, though luggage capacity contracts by 10L from 470 to 460L. Go figure. This is a looker, as Mr Wagener assured us earlier, especially riding on the optional 19-inch rims. Even with lower profile rubber the ride remains supple, despite the lack of adaptive damping. That's part of the $3190 AMG Exclusive Package.
Mention of extras, our tester came with a few of these, like the Vision package that comprises multibeam LEDs, autodipping lights, a panoramic electric sunroof and a surround view camera ($2490). Self parking is standard fit. It also had the Night Package (blackened external bits), a Seat Comfort package (powered and heated, with memories) and a Driver Assistance pack. These cost around $1500 each, for a total of $83,350.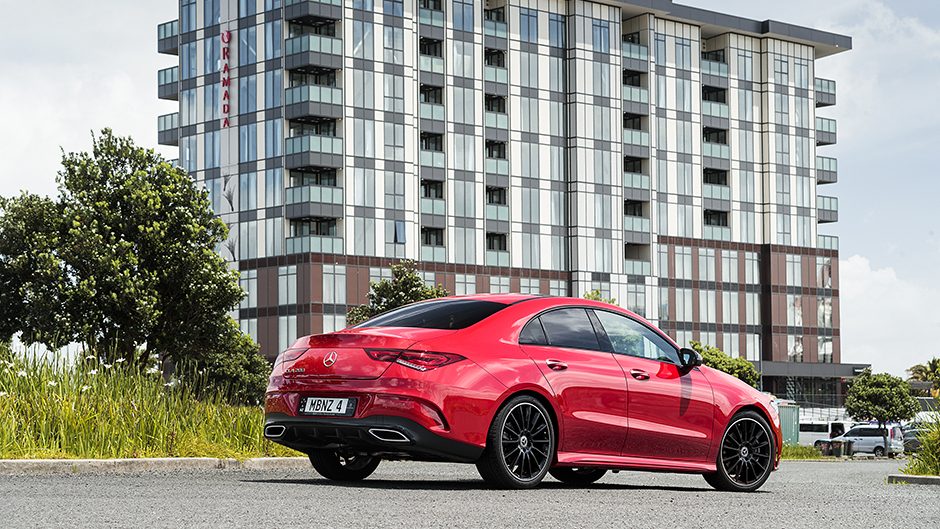 Engine an energetic tot
That might seem a fair wedge for something that's fitted with a 1332cc four-pot engine, you're probably thinking. But as we've said before, engine downsizing is all about maintaining performance while contributing less to climate heating. The acceleration from this trick compact is perfectly adequate, quite something really, though it's down slightly on its A200 hatch relative. That's because it's bigger and weighs 50kg more, so is about a half-second shy on both criteria we use. But the drive modes are great; you can use the default Comfort mode pretty much all the time and it functions just swell, while Sport adds a bit more vim for open road work.
Paddles are standard but you'll really not need them much as the seven-speed twin-clutch box reacts well to throttle input. This runs a turbo and in concert with the twin-clutch 'box, there's a bit of a delay moving off the mark, only really an issue when going for a gap in heavy traffic. Just don't push your luck. Otherwise the box shifts nicely, if not quite as blazingly as some of the twin-clutch genre.
Going easy on this powertrain results in eye-opening fuel use. With a Cd of just 0.23, this cuts through the air exquisitely and on flat highway stretches you can expect consumption in the high threes. In Comfort mode it's easy to see average fuel use figures in the high fives or early sixes, while a top of 8.5 impresses. Mercedes claims an average fuel use figure of 5.7L/100km.
We really like how this goes. In town you only need a whiff of gas and revs in the twos to get up to speed while out of town shifting between 3000 and 4000rpm is sufficient to keep you moving apace. A single downshift gets you back in the meat of the torque too. As mentioned, you only really go for the Sport mode if the road ahead is a bit special.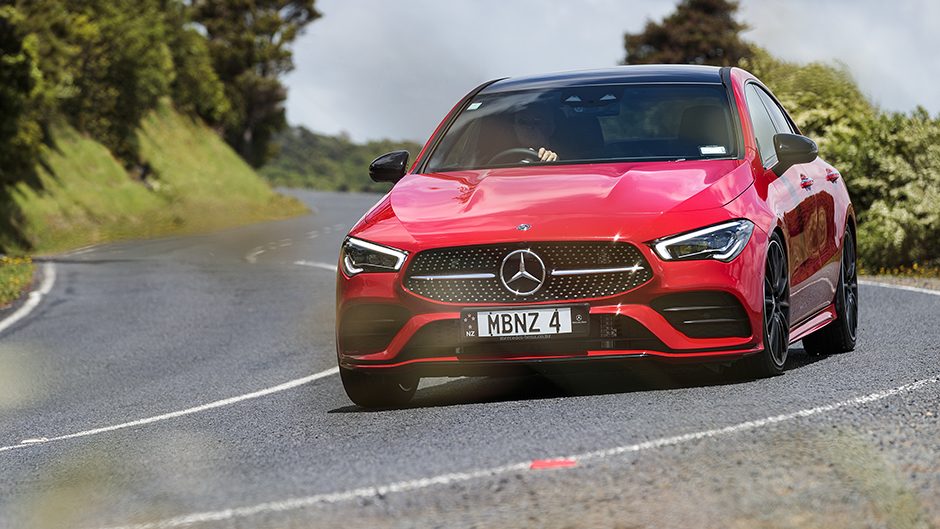 Wee dynamo
Perhaps the best aspect of this car is its dynamic envelope. With the independent multilink rear end it's already is at an advantage over the A200 but with the extra track width and the meaty 19s this runs (Turanza 225/40R19s) you're set for some serious bend swinging. On paper, this shouldn't turn in vibrant fashion, with 2.6 turns lock to lock and a weight split north to south of 60 to 40 per cent. And yet it loves nothing more than a sinuous track to carve up.
The lowered comfort suspension is just a perfect blend of control and cossetting, only occasionally bottoming out. But for the most part there's the ideal blend of compression and rebound in the springs and control from the dampers to see off unruly sections of road and limit unwanted body movement. It's quite light too at under 1500kg and never feels unwieldy.
Quite the opposite. The Turanza rubber suits the car well, offering great grip in the dry and traction in sopping conditions. It's none too noisy either. While the steering is quite quick, the car darting into turns, it's not especially vibrant in hand, but is still a fun-to-drive car. And that's generally true of the coupes made by Mercedes; they're a step up on their sedan brethren. While the brakes work exactly as you might want them to, we didn't extract wondrous stopping distances, a best of 36.1m from 100km/h about the same as the A200 produced.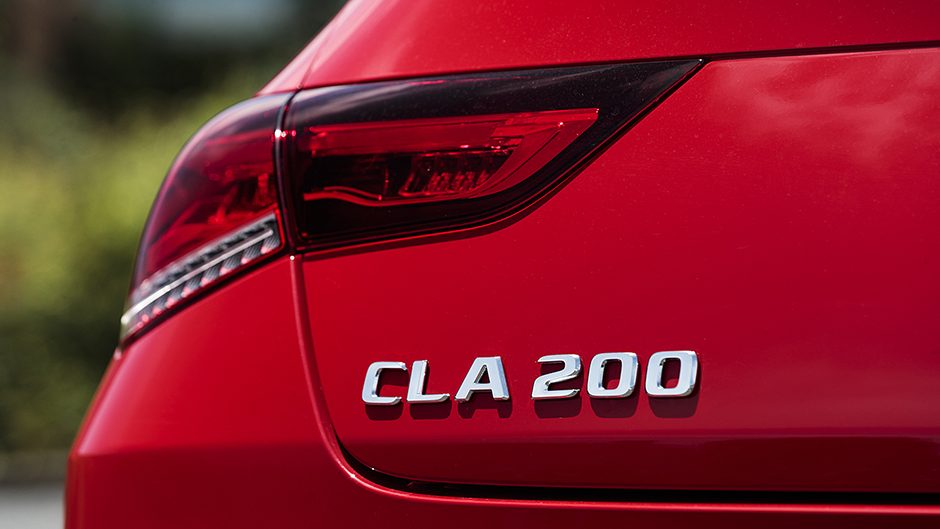 Flash cabin
The driver fares pretty well too, though we keep wishing Mercedes would install some kind of left knee brace rather than just a hard plastic centre console edge. Even so you're well locked in place, the seat well shaped, with stupendous amounts of lumbar adjust for those with lower back problems. Pity you can't plumb the depths a bit more, but then rearward visibility is bad enough because of the low roof, tiny glasshouse and sizeable C-pillar. As it is, you tend to rely heavily on the external mirrors which fortunately feature blindspot monitoring. When you open your door at a standstill, the car alerts to traffic approaching from behind. It can also auto-slow for intersections or roundabouts when guided by sat nav.
We're not so keen on the aggressive independent braking intervention if you wander out of your lane but that's easily enough snaffled.
The interior is nicely rendered, and like that of the A200 threatens to upstage the C-Class with its wide sweep of horizontal digital screen running from the door to the centre console. It looks a bit intimidating at first but with AI assistance available, things that might distract and take a while to fathom are handled in a trice by just asking "Mercedes".
So expect CLA to continue to win over the fans. If the 200 isn't enough for you, the stronger AWD sibs arrive early this year while the range-topping 310kW/500Nm CLA 45 S should dot down around mid-2020.
| | | | |
| --- | --- | --- | --- |
| Model | Mercedes-Benz CLA 200 Coupe | Price | $74,900 |
| Engine | 1332cc, IL4, T/DI, 120kW/250Nm | Drivetrain | 7-speed twin-clutch, |
| Fuel Use | 5.7L/100km | C02 Output | 130g/km |
| 0-100km/h | 7.94sec | Weight | 1487kg |