We recently went toe to toe with jaguar's fiercest cat, the XE SV Project 8. A track-honed weapon, it certainly lives up to its special vehicle badging.
JLR's SVO offshoot is a busy operation. It turns quick Jaguars and Range Rovers in to yet faster ones, and these SV badged models are liked by Kiwi buyers. There are F-Type, F-Pace and Range Rover Sport models offered here but SV also adds luxury with its Autobiography range. The Defender will be the first SVX off-road model, due in a year's time.
SV products have helped boost Jaguar sales in New Zealand, which are said to be up 43 per cent in 2019 while the general market heads backwards. Other SVO activities include devising specials like the beastly XJ 575, preparation of the I-Pace for the E-Trophy series, and there's even an armoured division. SV also has a classics department that meticulously recreates continuation models such as the exquisite XK SS, one of the nine built living here in New Zealand.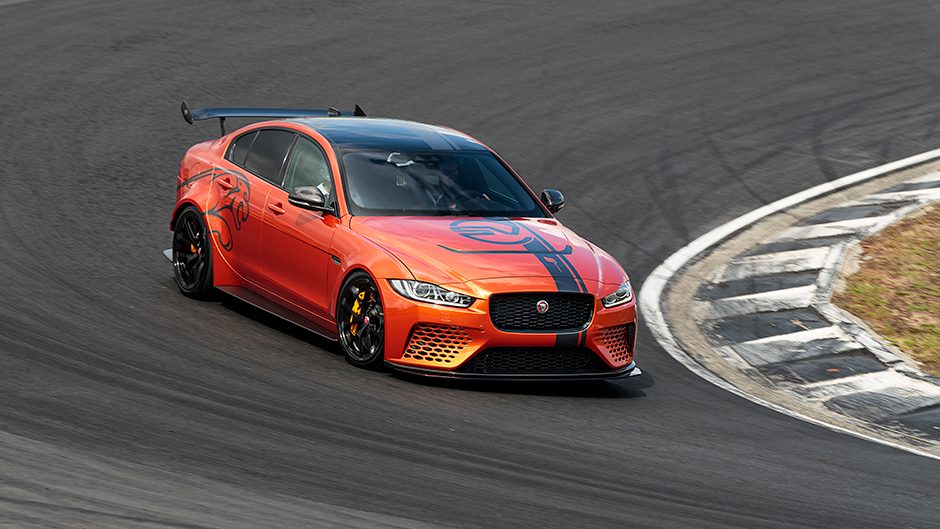 Another rare cat is the XE SV Project 8, with one now prowling the tracks of Aotearoa. The SV Project 8 was announced some time ago, production started in June 2018 but only recently has one made its way all the way down to New Zealand. Just 300 have been made, but it hasn't been an instant sell-out success, with a few cars still circulating the global network. Unlike a GT4 race car, this is intended to be road registrable, though that could be problematic here, being a left hooker (no RHD cars were made) and a four door with only two seats. It'll send the officials at Waka Kotahi into a spin.
The Project 8 starts at $350k while this one has the $20,950 track pack option, meaning no back seat, a half cage (said to boost torsional rigidity by 27 per cent), added carbon fibre and race seats. It's said to net a 12.2kg saving while you get full harnesses and a fire extinguisher. This particular car has been brought in by JLR NZ to showcase what SV is capable of, and they are confident it will find a home here once official duties are finished.
It's been touring the country and will be on display at Archibald and Shorter in Auckland over the Christmas/New Year period before heading to Armstrong Prestige in Wellington from January 6-13. Onwards south it goes, to Archibalds Christchurch between the 20th and 27th and it will be at Armstrong Prestige in Dunedin from the 30th to the 4th of February if you fancy checking out its carbon fibre finery.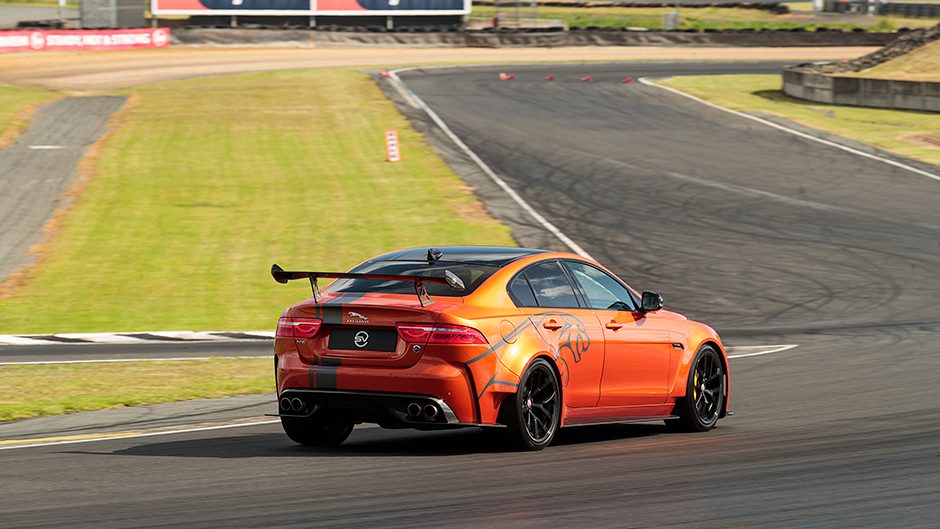 Some facts then. The charged 5.0-litre V8 breathes and exhales more freely and makes 600hp and 700Nm. The fast four-door can hit 100km/h in a claimed 3.4sec thanks to all-paw traction and can run the Ring in 7min 21sec. Weight is said to kick off at 1745kg. The new bumper with all those spotty cooling ducts is fashioned from carbon fibre, as are the bonnet, flared front guards, side skirts, rear bumper and wing.
The rear doors and guards are of aluminium and add 55mm to each side of the car, housing the 305 cross section rear tyres and 20-inch forged wheels. Aeros are honed via an adjustable front splitter and a completely flat undertray, while the rear wing has an adjustable angle of attack. Most suspension bits have been stiffened for maximum response, as have the bushes, where they haven't been replaced with ball joints that is.
There are bespoke front uprights and two-piece upper wishbones, the dampers run twin springs and are manually height adjustable, riding a further 15mm lower in the track setting. There are carbon ceramic brakes with 400mm two-piece rotors and six-piston calipers, while special wheel bearings are made of silicon nitride ceramic, apparently similar to those used on an F1 car. The electronically controlled active rear diff gets its own oil cooler and controls the flow of torque between the rear wheels. The eight-speed auto has been re-calibrated for maximum shift speed, now down to 200milliseconds.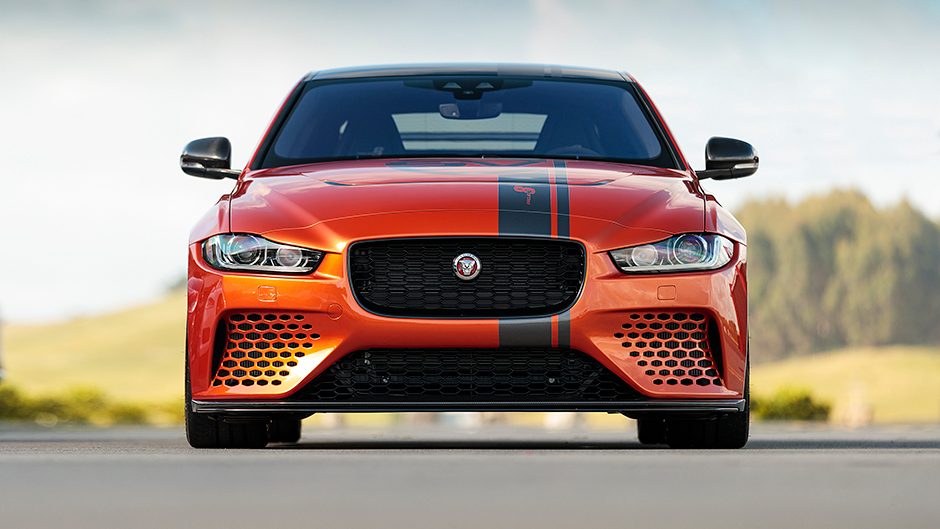 It was the headline act at a recent SVR track day at Hampton Downs, leading a convoy consisting of the F-Type SVR, the F-Pace SVR and the I-Pace, for a bit of a laugh. We started in the F-Type, quickly remembering how potent the supercharged 5.0-litre V8 can be and that, although it's AWD, you still need to be judicious with the gas, the F having a little wriggle over the crest at Turn 3.
Being a sportscar, it's well balanced, turns quickly and has strong brakes. Things are a bit different in the F-Pace, it's still fast but you notice the extra mass, especially under braking. While it grips well and has nice enough steering, there's more push happening up front. You need a little patience before rolling into that juicy, torque-laden V8 or the nose will push wider again. Still, it's great fun on high, and good value in the scheme of fast SUVs. It also sounds thunderous.
The I-Pace is something different and not left in the planet warming exhaust fumes of the others as you might expect. Its weight is better situated than that of the F-Pace, and it has no problems turning and holding on in the corners, the lack of understeer surprising. While the 5.0-litre delivers its goodness rapidly, the electric powertrain is like a switch. It needs a delicate foot on the go pedal or the sudden arrival of torque sends the DSC into a spaz. Still it's a lark, and gives us hope that Jaguar's SV EV will be a fun steer too.
Thoroughly warmed up, it was finally time for the Project 8 and it didn't take long to warm to its track-tuned charms. The 5.0-litre roars likes it's on amphetamines, the response more immediate than that of the road cars, the auto banging through the upshifts and, with AWD traction, it really hauls. Given the big brakes you can leave it late and really stomp on the pedal, the car slowing ferociously.
It reacts to the steering with far more immediacy than the F-Type, turning sharply, the front digging in and there's loads of lateral grip. Yet it quickly changes direction too. Roll into the power again and the pipes bellow as you flatten the pedal, the XE charging harder still.
The F-Type SVR is quick but this is quicker again, more responsive, more visceral. It honks up the straight and even hitting the picks hard at over 235km/h there's only a slight wag of the rear which is easily accounted for with a slight correction and it's in good shape to hook into the downhill Turn 1. Its big grip really tells here, for it feels locked where the others feel a bit looser. And then the traction puts all that power down on the exit.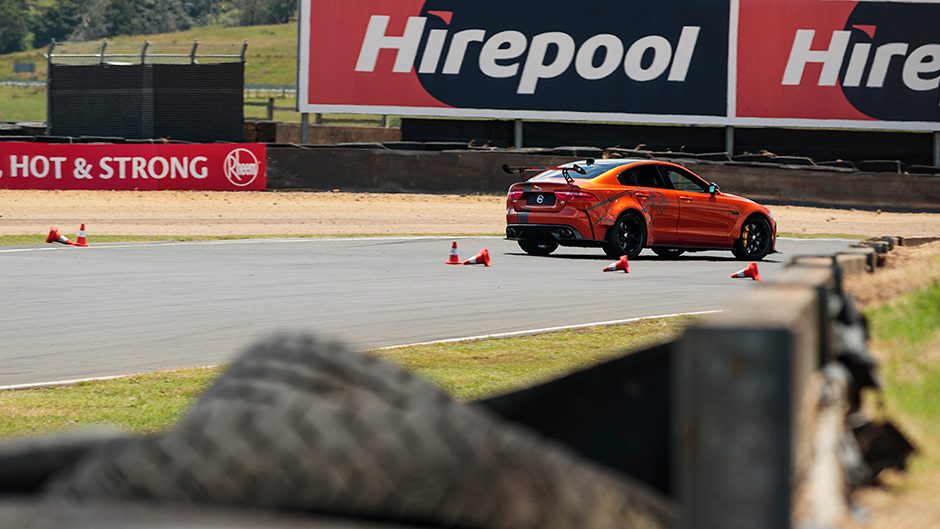 We could have happily played all day, and for the more talented wheel people, there's a full track mode with a much looser DSC setting, and there's all-off as well.
While some might scratch their noggin and wonder what the point of it all is, you've got to applaud companies like SVO for producing a car that's completely bonkers. It probably won't be long before they simply won't be allowed to make a car like this again.