Normally midlife updates consist of a new front and rear end (which the latest C-Class gets) and interior titivations (same), but when there's a brand new drivetrain amidst 6500 other changes, you get the feeling this is more like a new generation. Because it certainly feels that way to drive the latest Mercedes-Benz C-Class, the best seller for the firm on a global basis. It's popular here too, often vying for top spot with GLC.
When it debuted locally in 2014 the C 200 wasn't quite the 3 Series competitor we hoped it might have been. It drove well enough, but the drive modes didn't feel quite right. Comfort was too laid back, and Sport was similarly underdone, so you would always end up mussing with the paddles.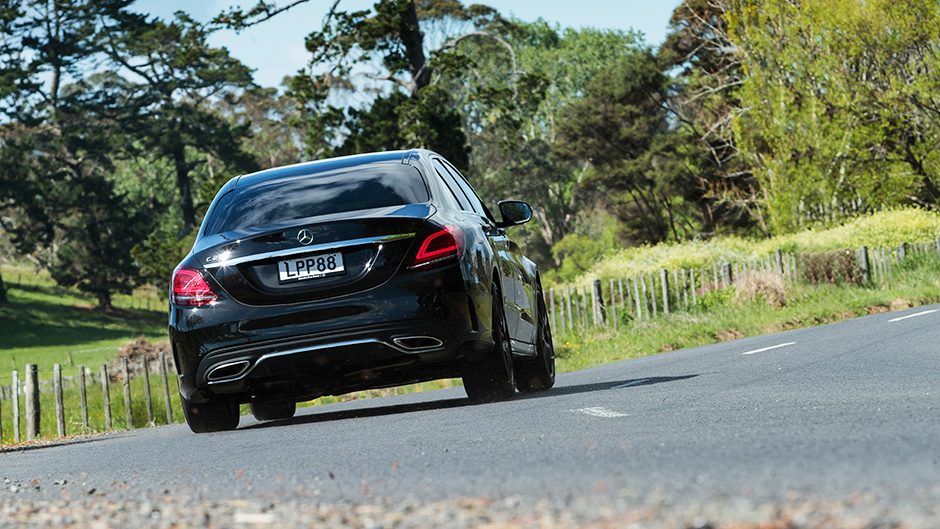 Well you can forget about all that because not only is the new powertrain handy in all of its drive modes, but it's also more economical, offers similar performance to the outgoing model, and the stop-start refinement gives more than a hint of how good 48v mild hybrids can be.
Yes, this utilises a new 1.5 turbocharged four-cylinder engine mated to a belt-driven starter alternator that adds 10kW and 160Nm on demand. The two work together initially, the motor helping to virtually banish turbo lag from standstill, and once up and spinning the turbopetrol engine takes over at around 2500rpm. The Belt-driven Starter Generator also recuperates brake energy and stores it in a small battery.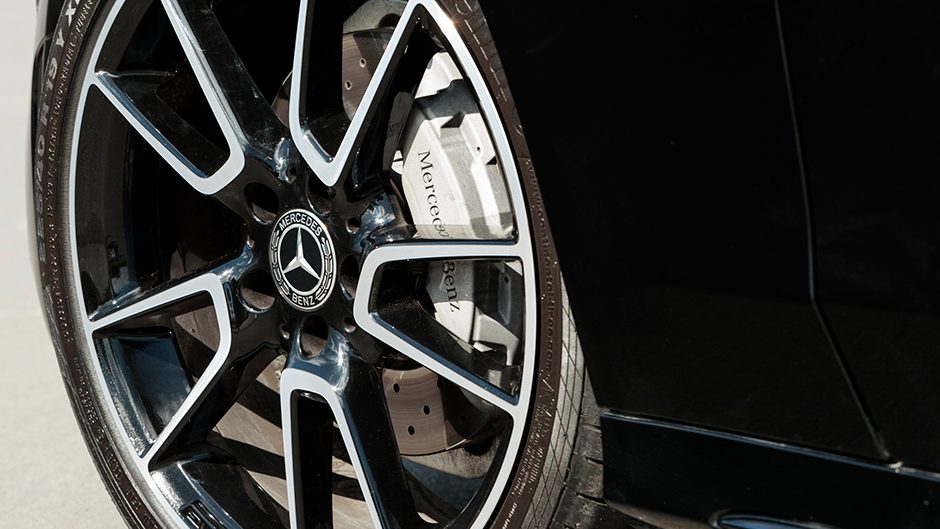 What makes this system so effective is the refinement of the stop-start. There's no grinding like with a conventional starter motor; the engine is simply off one second, running the next. Moreover, the BSG allows for coasting and engine-off periods when demand is minimal, at least in Eco mode. What it results in is decent performance and fuel economy on average of 6.4L/100km. Now that might not seem all that different to the outgoing model which was rated at 6.5 but bear in mind that was based on the NEDC scale whereas the newbie is rated using the WLTP (real world figures) system.
The little 1.5 turbopetrol delivers decent output of 135kW and 280Nm and mated to a nine-speed auto, that's plenty enough for usual overtaking situations where you'll need roughly 160m on the danger side of the road (5.4sec). The former engine offered the same amount of power and slightly more torque. We got a slightly quicker 0-100 time in the new car, but there was little in it (7.9 vs 8.0sec). However, our vehicle had a few sundry extras, including a panoramic glass sunroof, adding to overall weight.
In the default Comfort mode the C 200 performs just fine for urban work, and you can either leave it in this mode or use Sport for out of town jaunts. In the latter it downshifts earlier, holds gears for a bit longer before upshifting. Pretty much the whole time we drove the C 200 its fuel use figures were in single digits, around the 7s and 8s in or out of town. Even Eco mode isn't too ordinary, for those into optimising economy.
Our particular drive vehicle had $13k of add-ons, including the AMG line package which includes, among other things, sports suspension and 19-inch bi-colour alloy wheels. The latter look good but with firmer underpinnings and lower profile rubber the ride isn't quite as fluid as it might be with the 18s. The upside is that with extra rubber and boned up springs this hangs on really very well indeed, as you might also expect of something with an almost even weight split. And with the sports direct steering system, it certainly turns more incisively than its predecessor, likely also because of the reduced weight over the front axle (52.6 vs 54 per cent previously).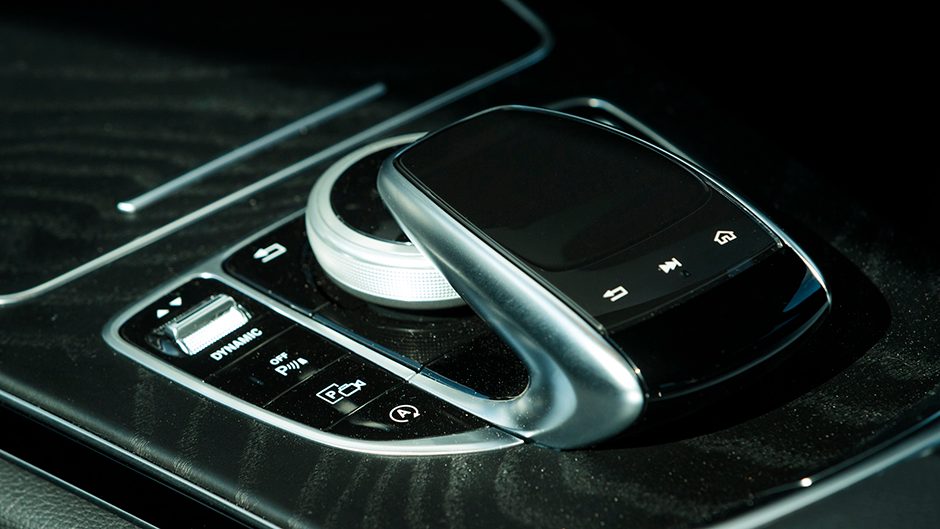 The Vision package you might want to consider also, as it features a multibeam LED lighting system, piercing the dark up to 650m ahead on full beam, and shielding oncoming cars with 84 individual LEDs. Not all will want the panoramic glass roof if regular rear seat occupants are long legged types as it eats into headroom, but the 360-degree camera and head-up display are worthwhile so three out of four useful items in the package ain't bad. It adds $6300. Seat heating is part of a $900 seat comfort upgrade package.
One cost option not available on this car is active cruise control, and items like blind spot monitoring and active lane keeping aren't on the menu either. It bears mentioning that you get all of this safety gear plus active cruise in a Corolla nowadays and it costs half as much. That stuff only becomes available in the $88,400 C 300. At least the C 200 gets nine airbags to go with its nine forward gears.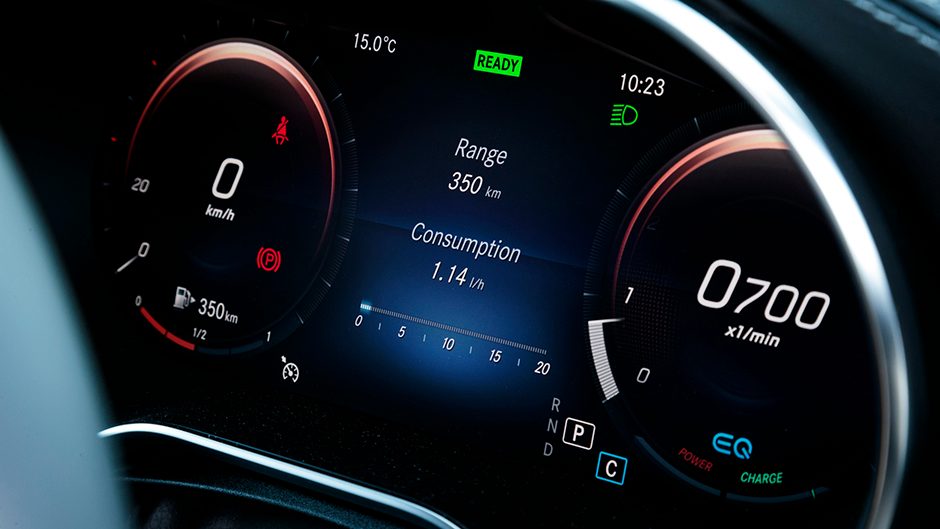 Prices have risen slightly, up $1400 for the C 200 but given its newfound hybrid status that's hardly unexpected. Missing safety creds aside, it's a savvy upgrade.
| | |
| --- | --- |
| Model | Mercedes-Benz C200 |
| Price | $73,900 |
| Engine | 1497cc, IL4, T/DI, 135kW/280Nm |
| Drivetrain | 9-speed auto, rear-wheel drive |
| Fuel Use | 6.4L/100km |
| C02 Output | 147g/km |
| 0-100km/h | 7.9sec |
| Weight | 1606kg |