Kia's Rio has always been a bit different from the run-of-the-mill shopping baskets, being slightly bigger than a supermini but not quite a compact class car, with pricing closer to the former. In its latest guise, the fourth generation, it gets by but hardly thrives with a naturally aspirated 1.4 four.
That said, it used to be hooked up to a four-speed automatic, but for 2019 it now comes with a six-speed auto which should perk it up. Even so Rio has been "one of Kia's best sellers" this year. Rather than take Kia's word for it, we had a look-see at actual numbers.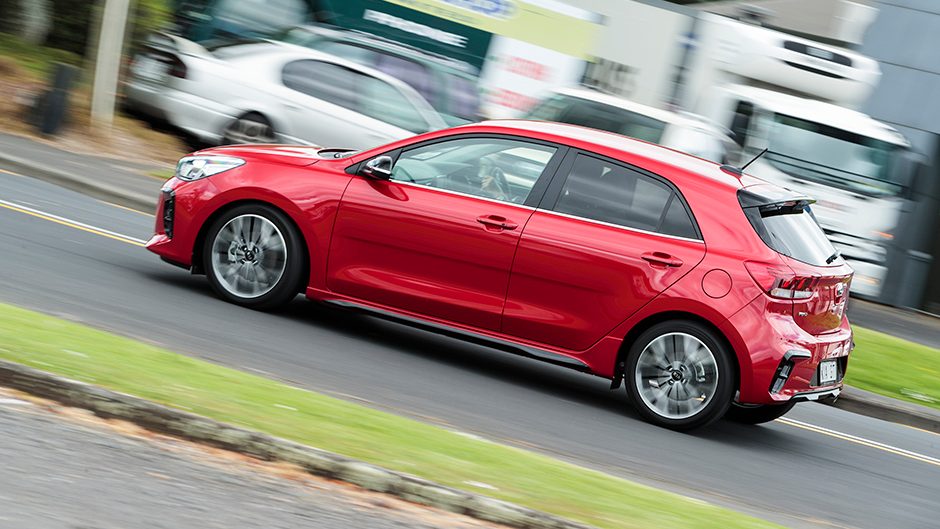 Until end September, Kia had moved 748 Rios compared with 2534 Sportages and 611 Sorentos. Numbers pale against Swift which had clocked up 2365 sales for three-quarters of the year, and Jazz and Yaris are also ahead, both around the 1300 mark. Mazda2 sales are level-pegging with Rio's. So yes, it is one of Kia's stars, surprisingly.
That's probably because it looks inoffensive, has decent space, is priced right and buyers frankly could care less about how it goes. While economy is important in this class, its quoted mean of 6.3L/100km is hardly outstanding. However, price is impressive, kicking off from $22,490. There's also a promotional special at present for the LX auto, going for $20,490, a saving of $3000 on RRP.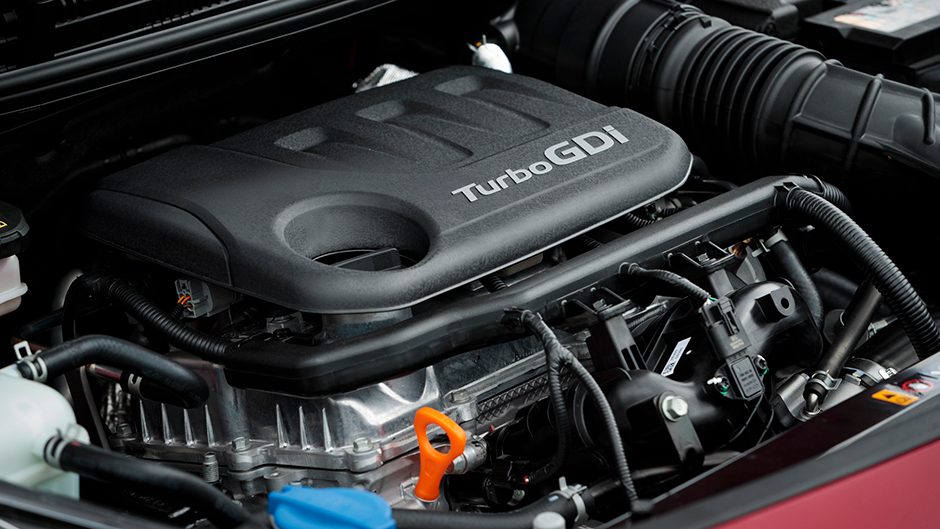 It's this, spaciousness and Kia's known reputation for reliability that are key selling points. How to keep Rio sales ticking over then? Offer a performance upgrade and that has now arrived in the form of the Rio GT Line. Not only does it get a proper kick in the pants with turbo performance, but also an up-to-the-minute transmission in the form of a seven-speed dual clutcher. Praise Be and Under his Eye, we say.
So the little engine that could under the hood is a 1.0-litre three-pot direct-injection turbo, pumping up 88kW at 6000rpm, and torque of 171Nm piles in from 1500 to 4000rpm. The 1.4 gets by, just, with 74kW and 133Nm, the latter developed at precisely where torque starts to tail off with the turbo. About the only aspect where the atmo engine gets the wood on the new mill is off the line.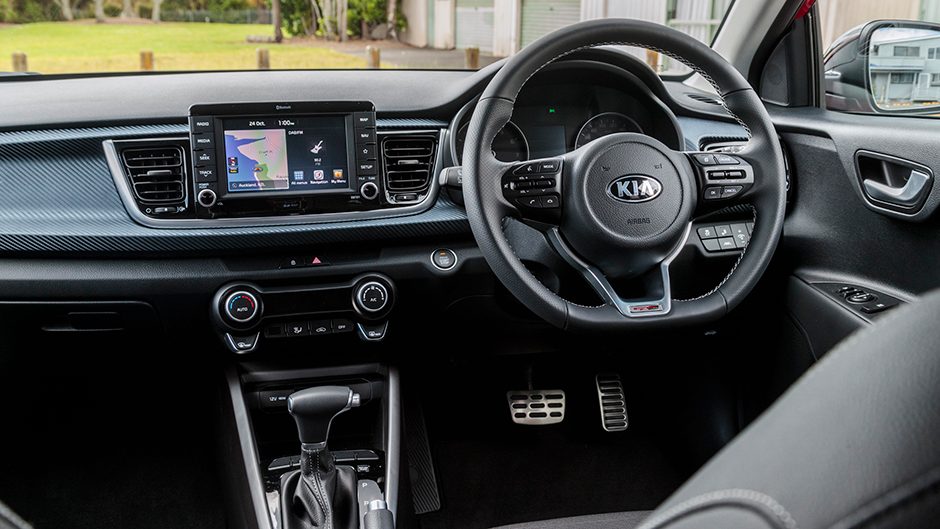 You must wait a moment for the idle stop to kick in, and then for the turbo to spin up. Moving to a seven-speed twin-clutch gearbox is akin to upgrading from a horse and cart to a horseless carriage. There's a night and day difference; no more gaping holes between gears for the engine to fall into, and whip-sharp shifts. So there's no Sport mode (not needed), and the manual shift gate is back to front (but it's not needed either). Honestly, you'd not credit how much zippier this is than the 1.4.
The numbers don't tell the whole story. But they give an inkling for the new mill subtracts four seconds from the sprint time and over 100m from the overtake. Where the 1.4 is pedestrian, this actually feels brisk, except perhaps when going for a gap at an uncontrolled intersection where you need to anticipate when the way is clear and get on the gas a moment earlier.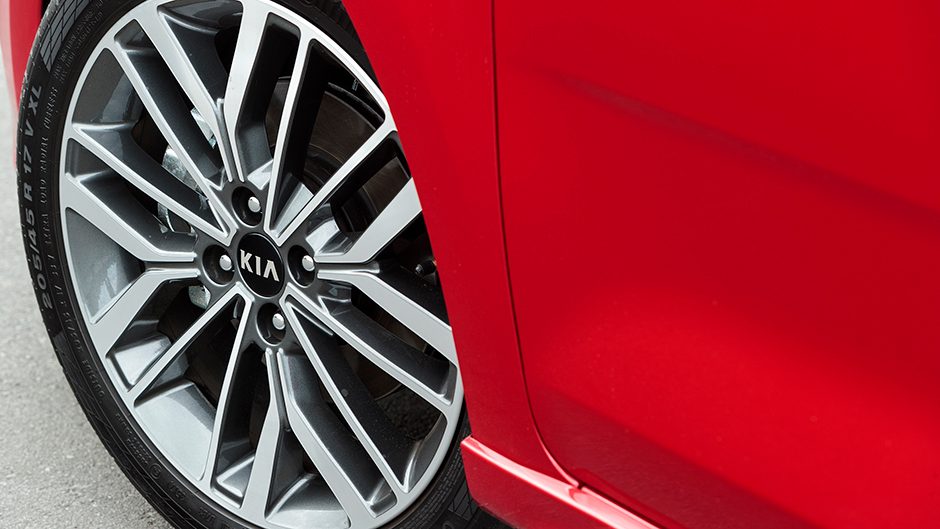 Of the affordable litre triples on the market, this one feels the zippiest (and quietest), pulling with vigour from about 2500-4000rpm. It's a right little goer, and try as we might, we couldn't seem to get fuel use to exceed 8.6L/100km. Round town it upshifts early to make the most of its newfound low-rev muscle. You could expect an overall figure in the mid-sixes with some easy highway kays.
What's also different about the GT Line is that Kia has fettled the suspension. Round town it can feel a bit abrupt over sharp bumps, but get it up to speed on rural roads and it feels more fluid. The firm set-up means it corners with limited body roll, and the genuinely decent ContiSportContact5 rubber keeps it glued on line. This can hold decent corner speeds in the dry, the low profile rubber telegraphing a surprising amount of info to the wheel. The downside is road noise, with in-cabin SPLs averaging 74.1dB, and some harmonics can be heard on occasion.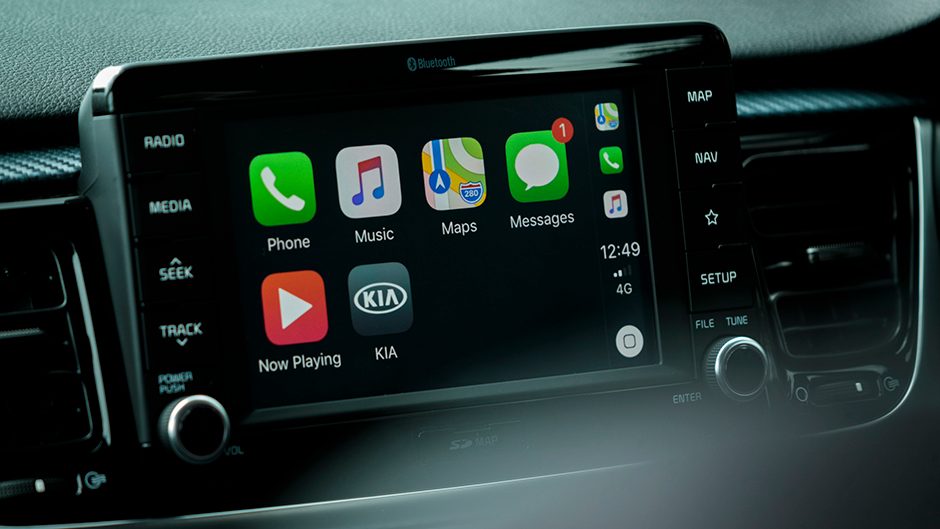 These are minor quibbles given the enhanced dynamics though, a nice complement for the much improved performance. Standard fare includes cruise but it's not active (a point in the Swift RS' favour), comfort entry, lane keep assist, AEB, and blind spot monitoring.
The interior features leather and cloth seat coverings, CF-look dash trim, a D-shaped leather-bound wheel and single zone air. The seven-inch touch screen is compatible with both phone types. Outside are gloss black exterior highlights, 17-inch alloys, and there's a quartet of fog lights each side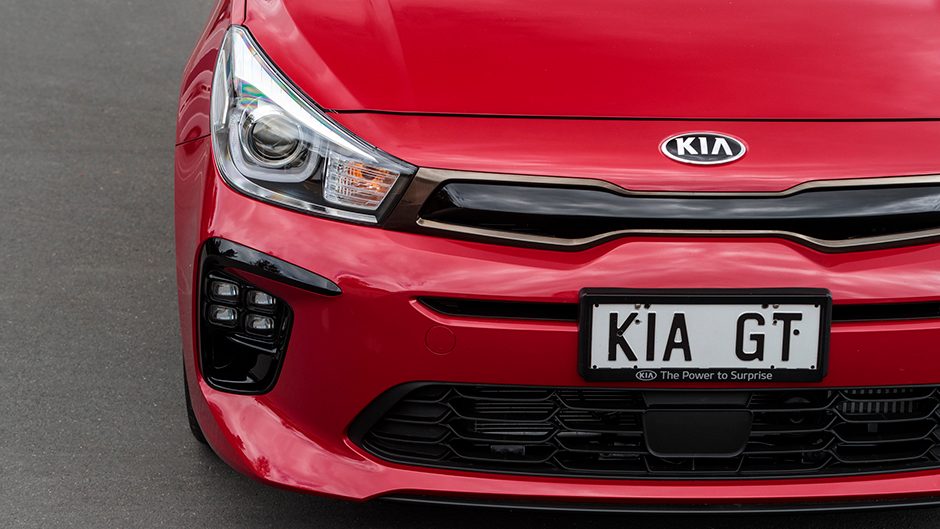 The recommended retail price is $28,990, which is $2k above the Limited 1.4 price. However, Kia currently has a limited offer price of $25,990 which, coincidentally or otherwise, is the same money as similar sized and 1.0 three-cylinder turbo powered Baleno, and also Swift RS.
The Baleno is lighter and slightly quicker, but the wee Rio has added style and is more of a riot out of town. That said, the Swift RS is more stylish still, only not as roomy as the Rio.
| | |
| --- | --- |
| Model | Kia Rio GT Line |
| Price | $28,990 |
| Engine | 998cc, IL3, DI/T, 88kW/171Nm |
| Drivetrain | 7-speed twin-clutch, front-wheel drive |
| Fuel Use | 5.4L/100km |
| C02 Output | 125g/km |
| 0-100km/h | 10.23sec |
| Weight | 1198kg |