There are plenty of flash and fast options for the well heeled, but if you haven't a truckload of spare dollars kicking around for fun wheels, check out these three affordable driver's cars.
This is an odd looking line-up, you may be thinking, as the assembled trio doesn't share much in common. It's hard to draw parallels between a front-drive hatch, a two-seat roadster and a four-wheel drive sedan, yet this trio has a similar hard driving bent. While drawing on different briefs, they all have driver appeal at their core, and relatively speaking, are affordable.
As such, this is not a comparison with an outright victor but rather a reminder that you don't need to pay big money for a new car with genuine sporting creds. These are riotous drives and as they are not overly endowed with horsepower they let you tap more of their potential on road without that caricature devil appearing on your shoulder. These cars, the Ford Fiesta ST, the Mazda MX-5 and Subaru WRX, all possess certain characteristics that we find endearing and won't break the bank.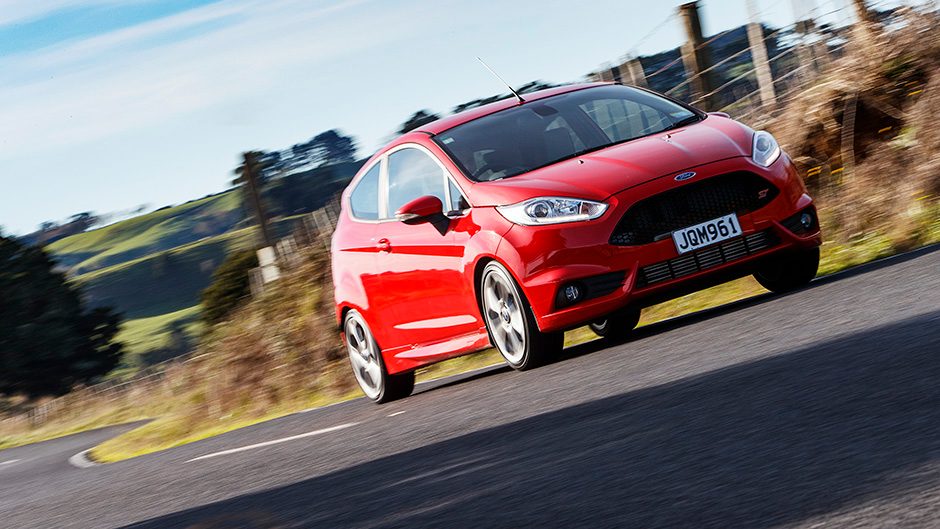 STonking
The Fiesta ST is a feisty little package which at $34,990 is a mite expensive for a small car, but considering you'll need $43k (and another $10k for options) for a similar experience in the Cooper S, it's a good choice for those who like it small and sizzling. Following the finest Fast Ford traditions, the ST is a lively little'un.
A compact terrier, it's nimble, with quick steering and just-so assistance to let it flick into the corners. It has an unlikely balance, despite its ugly weight bias, which is only upset under hard braking. But the stoppers on the ST are grand, the pedal with that vital tactility to let you pull it up hard and then balance it to avoid tipping it on its nose and ruin the run through a bend.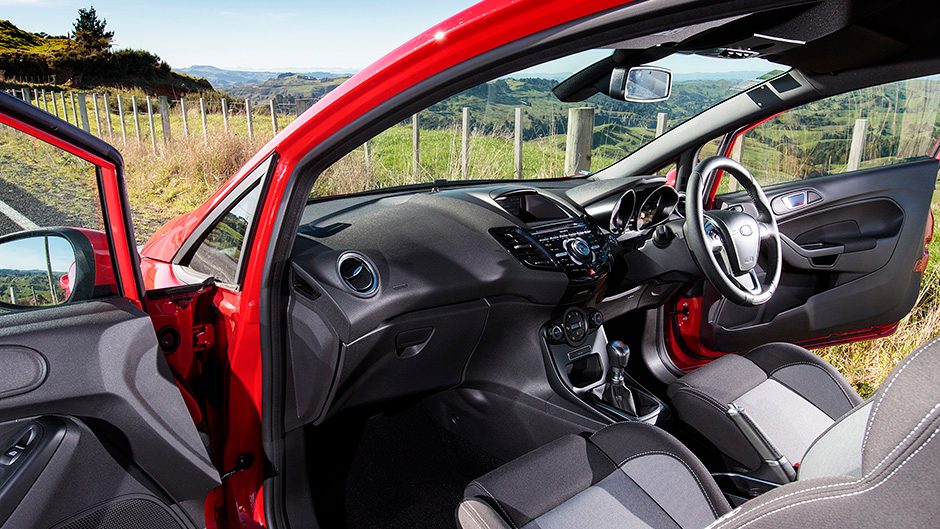 While the ST rides firm on its lower and tighter springs, its gait comes right as speed accumulates, especially on roads of interest. And despite its torsion beam suspension, the rear just doesn't wander. Ford has managed to tune much of the torque steer out of the front end and while there's no LSD, the ST's torque vectoring by brake snuffs spinning wheels and helps curb understeer, and all rather seamlessly too, leaving it with mid-corner grip to burn.
The 1.6 turbo mill puts on a good show, but won't break any necks when it comes to ultimate velocity. Still, you get to use all of it and often, the overboost function delivering 149kW with torque spiking to 290Nm. It pulls heartily from 2500rpm to peel you off the bend before tapering off around 6000rpm. And motivating just under 1200kg, the ST can boogie with a rousing induction note before the exhaust takes over as revs pile on. The gearshift, though long, is well lubricated and it's easy to find the hole when in a hurry. If you can keep the revs in check, fuel use isn't mad, around 12L per hundy at worst and usually much lower, around 8, cementing its claim as an affordable performance car.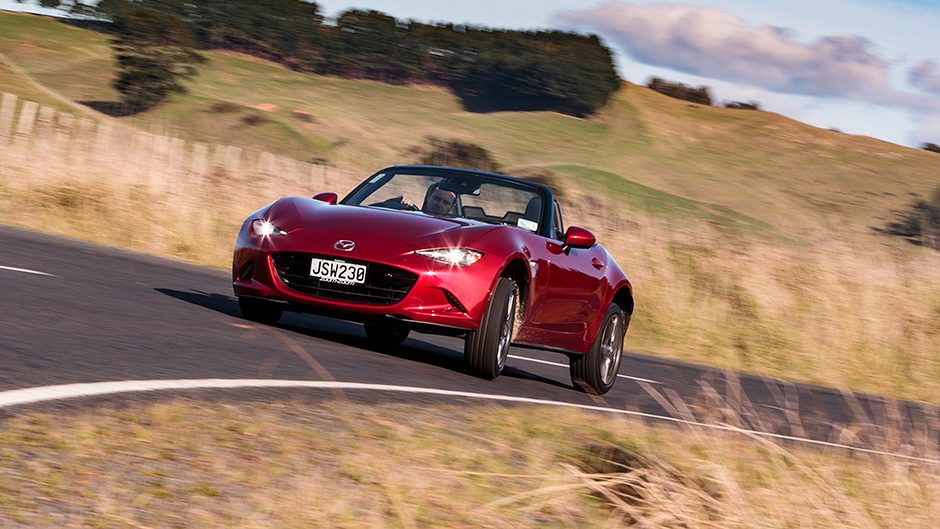 For lucky couples
While the ST proudly continues the fast Ford line, the new MX-5 preserves Mazda's dream of delivering affordable driving nirvana. With a return to the original's design philosophy, Mazda's latest ND MX-5 is a driver's dream, especially in the 2.0-litre Limited guise. Even at $46,990, it's not a massive spend, and worth every penny over the $40,995 1.5.
The MX-5 2.0-litre has a livelier character than the 1.5, that mite more power and torque helping corrupt the sweet set-up of the Mazda when you want to play. We're not talking Trump levels of power corruption, but the extra guts is what the car deserves. The chassis is still buzzing with feel, the wheel seemingly alive in your grasp, the front ever eager for corners and the driveline ready for a jolly good thrashing. The MX-5, designed selfishly around the driver, uses its centralised mass and its ensuing balance for handling prowess rather than leaning on electronics. It even goes light on tyre tread and roll stiffness, and so the 2.0 still takes on a slight lean before it hooks into its cornering stance, but it ensures plenty of wheel travel and compliancy.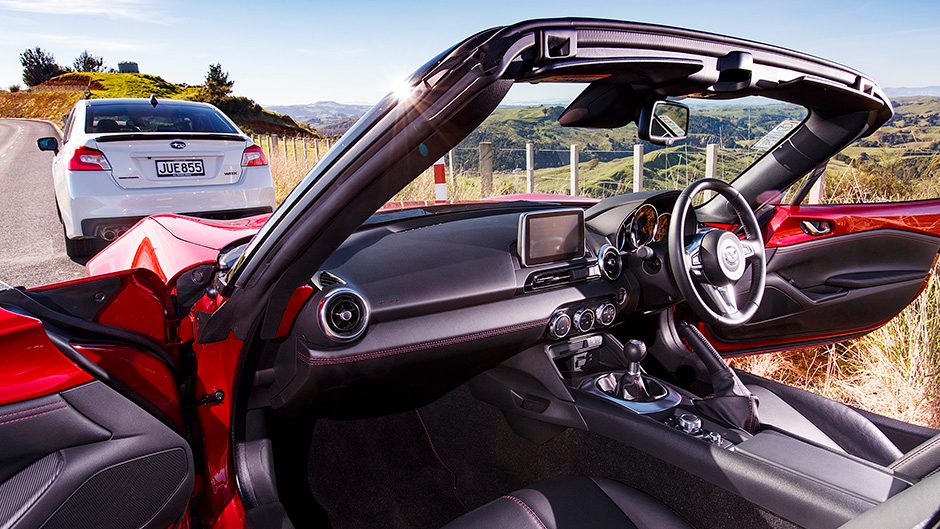 In the 1.5, when the front starts to ponder a push wide, a little throttle helps neutralise its line, whereas with the 2.0-litre, the same input can start to rotate the car into oversteer. But with a live feed to the chassis action, the driver can just hold the throttle steady and gently unwind the steering to track straight again, all without worrying the ESP. The other delightful aspect of the MX-5 is its mechanical-ness. The 'box has a great tactility to it and while not the slickest shifter, especially from cold, it takes firm direction well.
The 2.0-litre also responds to the lash, the midrange is solid for unfussed cruising, leaving the 4000rpm and above range for blasting. And even going hard it's easy on gas, a challenge it is to break double figures and it's usually in the 8s. While it's not the quickest on the straights, it has a decent turn of pace and certainly makes amends with rapid-fire cornering. Rounding out the package, the bite of the brake pedal is nicely assisted and, like the rest of the controls, its sensitivity allows subtle adjustments when required.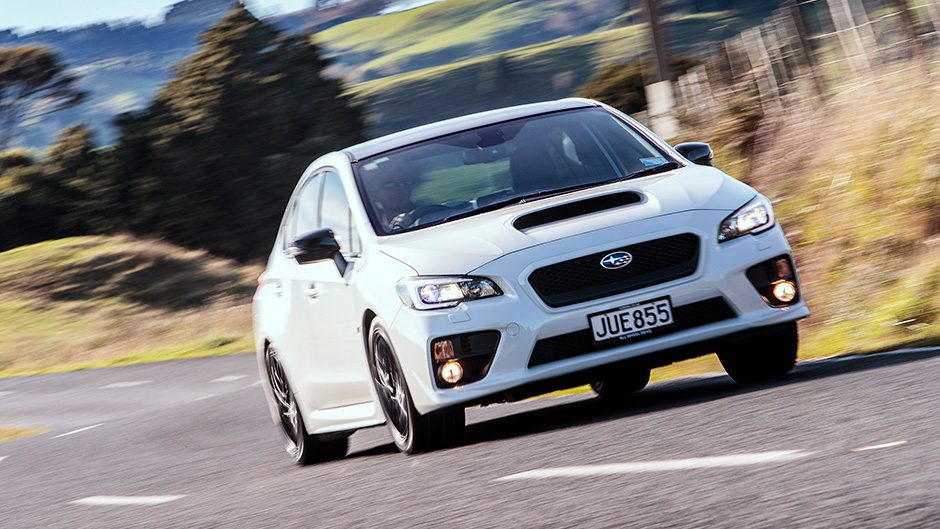 Family business
While small and light is often right for spritely performance and nimble handling, other needs sometimes require addressing, like four-door practicality and all-surface traction. Step in the Subaru WRX. Like the others here, the WRX has lineage, now dating back almost 25 years. And like a teenager of the nineties, it's all grown up, even offering two-pedal convenience, yet it's still the larrikin. Bigger, more refined and safe for the family, it can be had for $48,990 in its purist form, or at $54,990 for the Premium auto that everyone buys. So when we asked for a manual for this test, it wasn't a surprise that Subaru NZ had only an auto on its fleet. But to exclude it wasn't an option; it's the choice for fast four-door family wheels this side of $50k.
Just a few clicks out of town reminds how good this is at covering challenging roads at a fast clip. The 2.0-litre boxer has an old-fashioned turbo punch when nailed, the fists clenching around 2500rpm, the upper cut delivered a moment latter at 3000rpm and it keeps swinging 'til just past 6500rpm. As for the CVT, dial up the WRX's Sport Plus drive mode and that sets it right, removing the usual delay in response from these sorts of transmissions and keeping the engine perky to improve its response.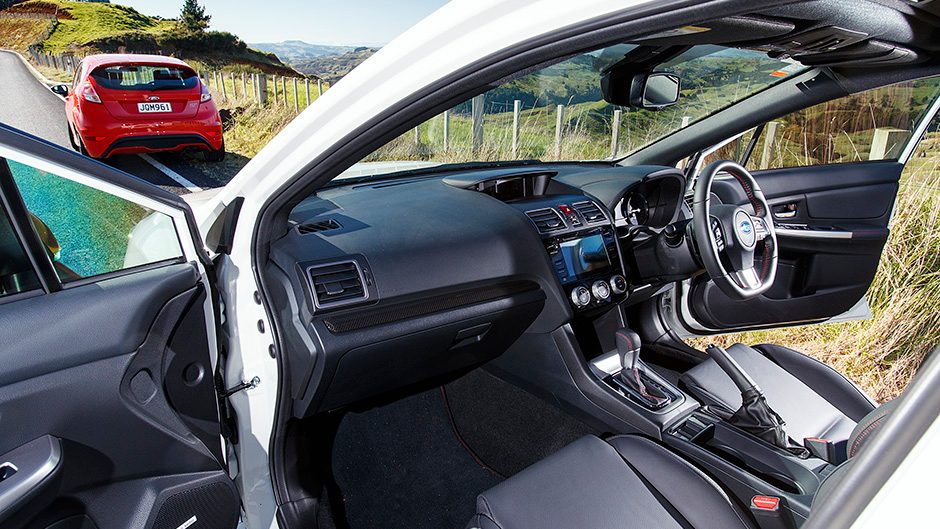 The WRX isn't as great for juice use as the others, but it'll be far from your mind when in the zone, your concentration focused on stringing the corners together. It has sling-shot drive off the bends that only a variable AWD system can deliver, and with some serious punch down the straights it gets to the next corner in mighty quick fashion.
Like the ST, the WRX has a sporty ride but it too gels at speed, lubricating the bumps and ensuring constant contact for the treads, and an almost unflappable stability for the rather feelsome steering to work from. It's quick and easy on the turn, the front sniffing out the shortest route through the curve, while a torque vectoring function adds brake should you get too eager. But it's one of those cars that pleads to be nudged along harder than you really should. As for those brakes, they do the job with power and a deft touch when needed, provided you haven't abused the torque vectoring function.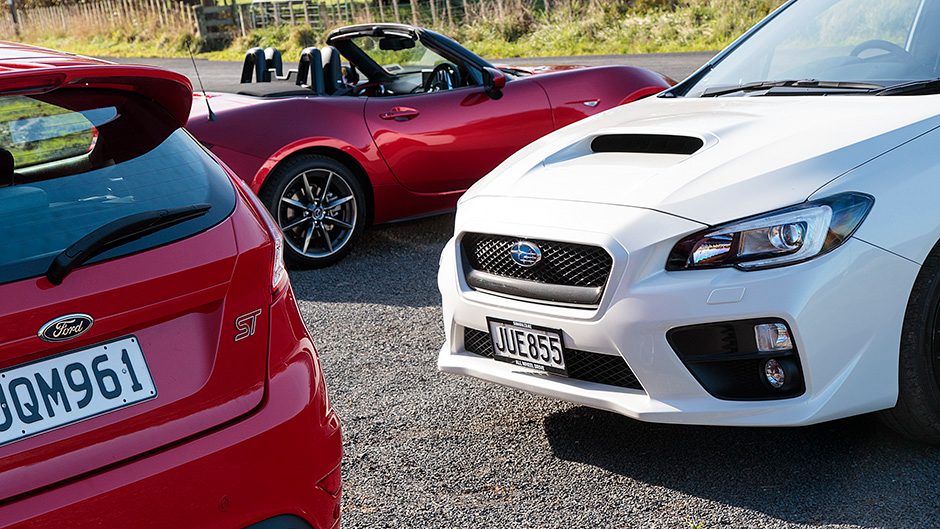 Practical performers
The flip side of these performance carriages is their practicality. The ST is as easy to drive in town as it is fun to hoon through a few bends, and like the WRX, you can enjoy short bursts of turbocharged grunt in the 'burbs thanks to lowish gearing. The MX-5 makes a drive to the supermarket a bit of fun. The two-seat layout limits its appeal but it's easy to live with in roadster terms, with a full infotainment system, five-star safety and a few convenience and advanced safety items too, though a reversing camera is an option.
Apart from the ST's turning circle, it commutes easily, a light clutch and torquey engine easing the rush hour grind. And it has a back seat, useful boot, and handy convenience items too, though sat nav and a reversing camera are missing. The Fiesta is also in dire need of a Focus-like interior makeover. The WRX lives up to the Premium tag well with leather this, powered that and most of the mod cons and safety features, though misses out on Subaru's Eyesight system with auto brake and adaptive cruise.
These three are all a tad loud on road, all low riding and wearing Potenza rubber, but it's a common performance car trait over coarse chip roads. Each has a ride that will relay the surface details from below, but not add chiropractor bills to the outgoings.
Everyone's a winner
These three cars make you take the long way round, reward with their abilities and a keen driver will appreciate their responses. You can exercise them fully and often, and owning one won't break the bank. Whichever you choose, you'll be glad you did, trust us.
| | | | |
| --- | --- | --- | --- |
| Model | Ford Fiesta ST | Price | $34,990 |
| Engine | 1596cc, IL4, T/DI, 149kW/290Nm | Drivetrain | 6-speed manual, front-wheel drive |
| Fuel Use | 5.9L/100km | C02 Output | 138g/km |
| 0-100km/h | 7.07sec | Weight | 1191kg |
| | | | |
| --- | --- | --- | --- |
| Model | Mazda MX-5 Limited | Price | $46,995 |
| Engine | 1998cc, IL4, DI, 118kW/200Nm | Drivetrain | 6-speed manual, rear-wheel drive |
| Fuel Use | 6.9L/100km | C02 Output | 162g/km |
| 0-100km/h | 6.75sec | Weight | 1053kg |
| | | | |
| --- | --- | --- | --- |
| Model | Subaru WRX Premium | Price | $54,990 |
| Engine | 1998cc, flat 4, T/DI, 197kW/350Nm | Drivetrain | CVT, all-wheel drive |
| Fuel Use | 8.0L/100km | C02 Output | 199g/km |
| 0-100km/h | 6.19sec | Weight | 1531kg |