When competing with the top performance brands it's important to have halo cars that can walk the walk. We drive the F-Type SVR from Jaguar, its most powerful and fastest production car yet. The R stands for race
Now that Jaguar Land Rover (JLR) is in a particularly rude state of health, the timing is right for a Special Vehicles Operation that's clearly designed to compete with AMG, RS and M divisions from the German opposition. It has been up and running for a year now, and already three vehicles have emerged from JLR's special ops area, a couple of Rangies while Project 7 was the first limited edition SVO offering from Jaguar.
Now it's the turn of a production car to undergo the SVO procedure and the car you see here is the first such example from Jaguar, the F-Type SVR. Think of this as an AWD F-Type R where every relevant performance and dynamics aspect has been taken to the next level. They've also tweaked the sonics and the appearance, though the latter's the result primarily of aerodynamic enhancements. The aim is to make the SVR not only an invigorating and emotionally involving drive but also one that is useable on a daily basis. So better handling AND better ride quality.
Jaguar held the launch of its new halo car at Motorland Aragon Racetrack, west of Barcelona. What's special about this track is its extended back straight, over 1km long and mainly downhill. So we had a chance to check out whether the SVR really is a "200mph (320km/h) all-weather supercar", as Jaguar claims. Well, perhaps not the all-weather bit.
Fizzy Carbonated F-Type
First, however, a bit about the car itself. It's actually a pair of cars, one a coupe, the other a convertible, essentially the same apart from the difference in roof structure and boot space (310L vs 207L). Most of the physical changes to the SVR are either underneath or up front and are generally subtle, their function to reduce drag and lift, and improve cooling. The new wing has the main aerodynamic effect, lowering lift significantly in either position, and drag by up to eight per cent. The look is pure sports, especially the profile, with abbreviated overhangs, and the rump exaggerates the generous width of the car (1923mm). With its distinctive fascia and cool tail lights, the SVR is instantly recognisable as part of the F-Type family, but it's also distinctive, with its active carbon fibre rear wing, blackened bonnet fenestrations and aero aids up front, consisting of a new splitter and extended bumpers that better direct air around the lightweight forged 20-inch front wheels.
Chassis changes include new dampers and sway bar settings, stiffer rear knuckles for a more planted rear end and improved steering, 10mm of extra tyre width, and recalibration of the AWD system, electric helm software, adaptive damping, torque vectoring, ESP, and the transmission, all for sharper handling, and improved launch (quicker shifts, optimised torque shuffling). Weight savings in total amount to 25kg, though optional CCM brakes and carbon parts take that to 50kg. Inside, there's special quilted leather for the 14-way SVR sports seats, and suede finish over the instruments and centre console. It looks ornery.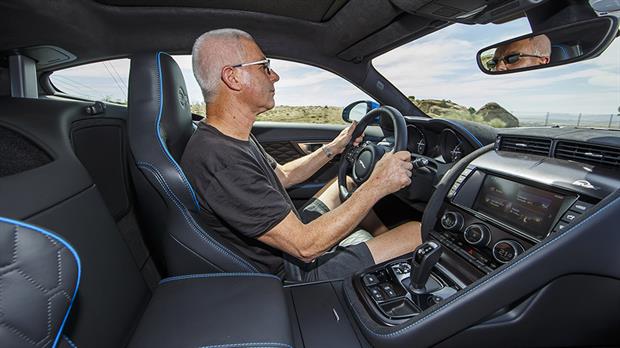 Exotic Emanations
nd it sounds even meaner, thanks to the free-flowing inconel-titanium sports exhaust system. Inconel is a super-alloy of nickel and chromium, and is suitable for exhaust systems because of its resistance to oxidation and corrosion, and it permits lightweighting; the new exhaust shaves 16kg of mass. With reduced backpressure it helps boost power, but it's really all about the noise.
Loud and evocative outside, it's also more audible from the cabin; entering the race track through the short tunnel the clamour from the car ahead accelerating hard was deafening. On the prowl, this is a soundtrack worth savouring; think an exotic race V8 soundtrack rather than muscle car rumble. At slower speeds the exhaust creates grenade-like explosions on the overrun, not so loud perhaps, but enough to arouse locals in small Spanish towns we passed through. In "Normal" driving mode the exhaust valves open after 2500rpm while in "Dynamic" mode the valves open permanently. Only two of the exhaust pipes are functional, which is probably just as well for when overtaking this could potentially induce heart arrhythmias in distracted motorists.
That said, it's not uncomfortably loud on the go, except perhaps on track when you're using the full rev potential. The extra 19kW and 20Nm on tap – taking the total to 423kW, and 700Nm at 3500-5000rpm – arises from an ECU recal and the exhaust mods. There's gobs of power across a broad spread of revs, yet overall fuel use is the same as for the F-type R (11.3L/100km). From 3000rpm onwards the supercharger's effect comes on strong, blooming at 4000rpm, and building until the redline. Then you hook another gear and repeat. There are eight, and second is good for 100km/h. Top gear is truly long, 2000rpm equating to 150km/h.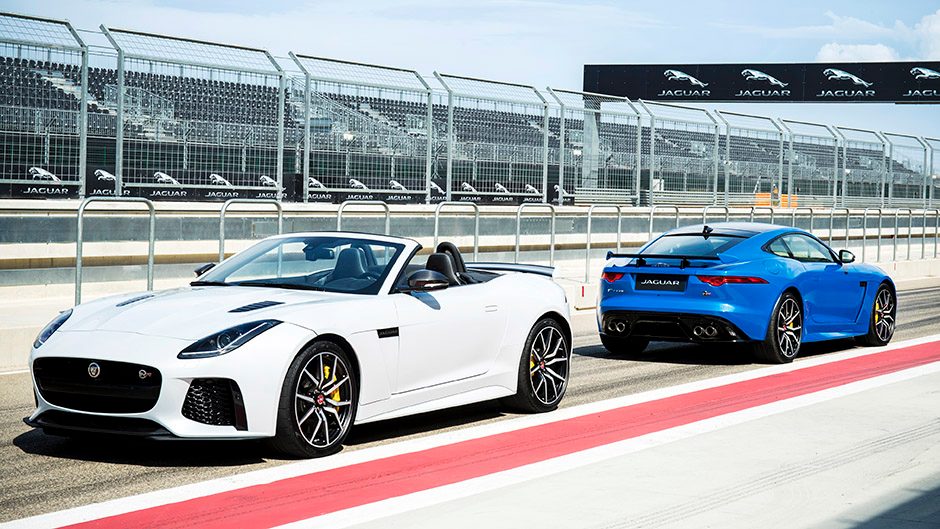 Track Time
Motorland Aragon on a hot, still Summer's day is something else. You're at full throttle out of turn 10 for almost 10sec down the back straight, and we were keen to test out Jaguar's top speed claim, hoping to break our 300km/h cherry. In the end, we didn't achieve either, and no-one on the day exceeded 290km/h. However, that wasn't exactly the point. What Jaguar wanted to show us was their confidence in the car, how well it handled the track, how stable it was at speed, and what the carbon ceramic brakes were like under the pump.
I twice saw 288km/h, around 180mph in old currency. So a fail but hardly an epic one; had the straight been 2km long…Anyhow, the aero mods clearly work as the car was locked down and arrow-like at such speeds. Only we almost didn't make the hairpin at the end of the straight; this track features plenty of tight corners and some elevation so is pretty severe on brakes, particularly with torque vectoring acting in the background to limit understeer moments. On the second lap we just missed the braking marker and fade developed late, making the entry to the hairpin a bit ragged.
Anyhow, carbon ceramics are more about reducing unsprung weight and longevity than better braking per se. Later in the afternoon, tackling a series of mountain passes en route back to Barcelona Airport, we noticed a reassuringly firm pedal, savage stopping power, no fade. All cars at the track featured the optional $14,400 ceramic brake package, which includes forged lightweight Maelstrom 20-inch wheels, and we'd say if you want the last nth in handling it's probably money well spent. Though in all likelihood there's probably nothing much wrong with the standard "super performance" steel braking system. According to Jaguar Australia people are spending up on optional 22-inch wheels available there because the ride is virtually unaffected by the wheel and tyre change, thanks to the rejigged adaptive damping.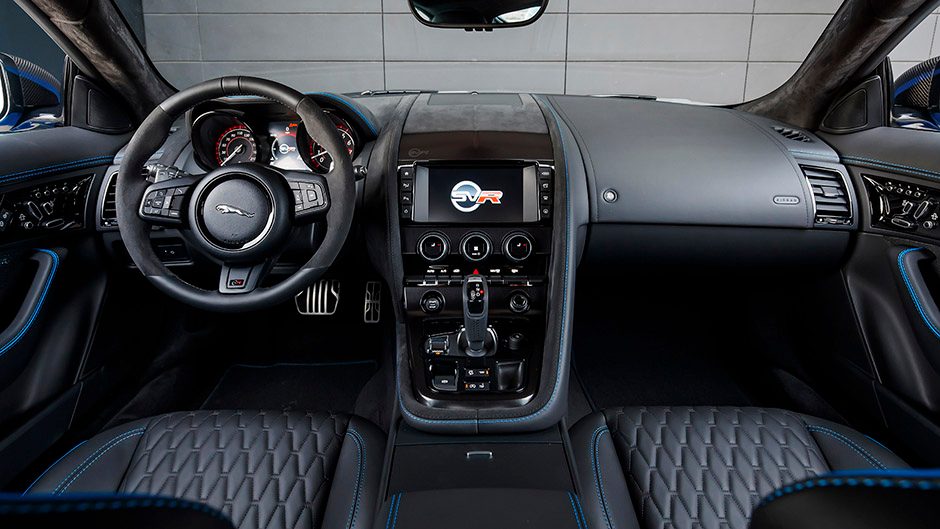 Ride comfort keyed in
And that was one of the main aims of the F-Type SVR development programme. Hone the handling without upsetting the accommodating GT ride of the F-Type R. You scarcely notice ride quality on track but we got to drive both SVR variants on road as well. We left our overnight accommodation in the Convertible, which looks stunning with the top down, and drove the Coupe back from Motorland Aragon over more sinuous roads and can confirm this still has a most Jaguar-esque absorbent and controlled ride quality.
We felt the pair rode differently, the Convertible a little softer. The chief engineer said the two were developed together, have the same suspension set-ups and there's only 25kg weight difference between them; both have the same quoted 0-100 time of 3.7sec. He felt the difference might have been in the software for the adaptive dampers. To us, the Coupe felt a touch firmer on road, and seemed better grounded. Perhaps it's nothing more than the different body configurations; a coupe will always feel slightly stiffer than a convertible. It's noteworthy that we were only permitted to drive the Coupe on track.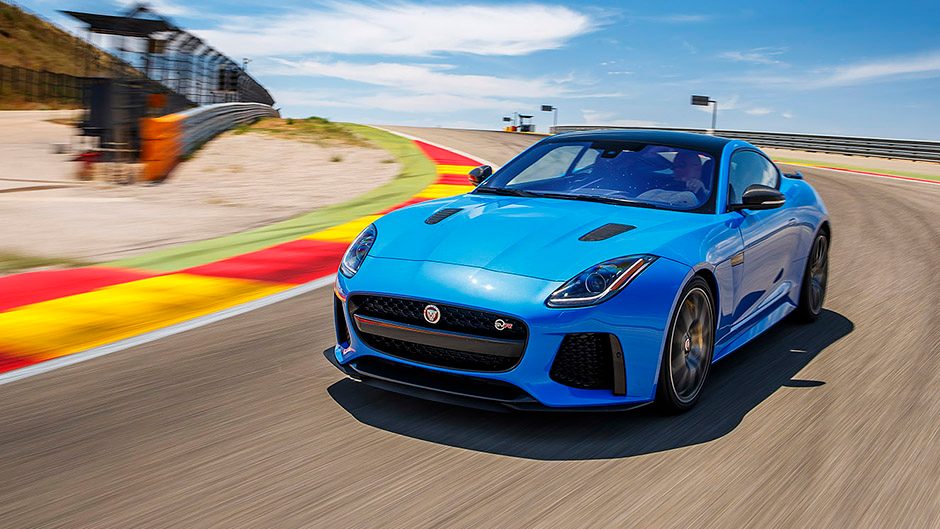 Cross country carriage
On road, this feels more rear-drive than AWD, apart from the added grip and its ability to drag you out of corners earlier than in the tail-wagging F-Type R. It's hard to unsettle too, because of torque vectoring and Intelligent Driveline Dynamics that sort under- and oversteer situations and excessive yaw moments. Even in Dynamic mode, suspension action is accomplished, accommodating. The SVR doesn't want for speed, partly because of the supercharged V8's prodigious output, and it feels V12-esque in its ability to casually inhale vast distances.
In the scheme of things a claimed 0-100 time of 3.7sec is quick, especially up against more expensive competition like the M6, Vantage V12, and Porsche's similarly priced 911 C4S. Its as-quick rival is the $275k rear drive AMG GT S. Given we got 3.8sec out of the F-Type R AWD, the SVR should be good for around 3.5sec 0-100. Moreover, it's less expensive than virtually all of its key competitors, costing $240k (convertible adds $15k and gets a self-opening boot lid). Main specification items include comfort entry, reversing camera and parking sonar, idle-stop (contributing to 11.3L/100km combined fuel use figure), heated seats and mirrors, single-zone climate air, sat nav as part of the eight-inch touch screen, xenon lights, powered steering column adjustability and a heated wheel. Optional extras, aside from the ceramic brakes, are primarily carbon fibre bits and pieces, like a new roof for the Coupe, or other more noticeable areas like mirror caps, chin spoilers and the like. Adaptive cruise should be standard.
Is it worth $36k more than the F-Type R AWD? Probably, for the enhanced looks, performance, noise and poise, and owners of the F-Type R are already lining up for the SVR in Australia. Expect it here towards year's end, after F-Pace debuts. Other SVR Jaguars are sure to follow.
| | | | |
| --- | --- | --- | --- |
| Model | Jaguar F-Type SVR | Price | $240,000 |
| Engine | 5000cc, V8, SC/DI, 423kW/700Nm | Drivetrain | 8-speed auto, all-wheel drive |
| Fuel Use | 11.3L/100km | C02 Output | 269g/km |
| 0-100km/h | 3.71sec | Weight | 1825kg |