You'd imagine a 'right-sized' SUV that slots in between compact CX-3 and medium CX-5 would be another winner for Mazda. We drive the CX-30 limited to find out.
After a month in lockdown, it's a relief to be at the wheel once again, especially driving what could become Mazda's best seller for the foreseeable future, the CX-30.
The first thing many of you must be wondering about this latest zoomie offering that fits size-wise between CX-3 and CX-5 is why wasn't it named CX-4? That's because that title is already filled by a CX-5-sized coupe-style crossover in China.
So CX-30 nomenclature represents an enlarged version of the CX-3, which this isn't really as the older vehicle is based on Mazda2 underpinnings. This new model is built on the bones of the latest Mazda3. It inherits the swoopy Kodo styling of that line-up too. This is a stylish crossover offering that hasn't the practical shortcomings of the CX-3.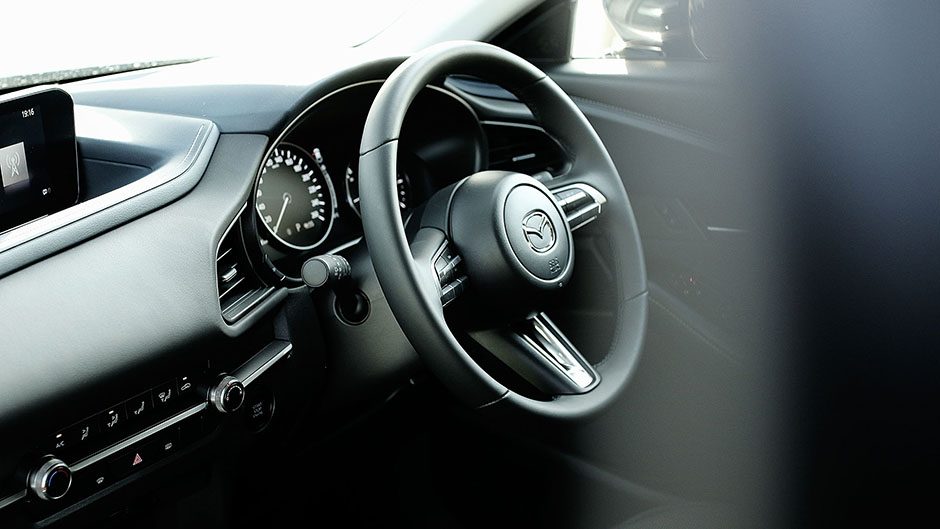 Priced closer to CX-5
However, it does come at a price, and that shortcoming would be, er, pricing. On size, it's only 120mm longer than CX-3. And yet the least expensive GSX model costs $41,500. That's exactly $10k more than the admittedly base spec GLX CX-3, which has the same powertrain. And the 155mm longer CX-5 actually kicks off at a lower entry price of $40,995, though again as a lower specified GLX model. The AWD CX-5 variants start at $46,745 for the petrol GSX, but that's under $2000 more than the four-paw middle variant of the CX-30 range, the GTX. At the Limited level, the difference between them is $5000 ($50,990 for the vehicle you see here). A Takami CX-30 is likely next year, costing an estimated $56k.
The slight pricing conundrum is as much the result of the recent economic turmoil and added safety and comfort specification as anything. Our dollar has slipped rather against the yen of late. And that makes the base model GSX Mazda3 hatch or sedan at $36,595 seem like pretty good buying against GSX model CX-30 if you don't necessarily need the elevated driving position or the extra space in the rear or the luggage bay, particularly if you value driving dynamics.
Jack up any vehicle and you know you're not going to get quite the cornering prowess but the payback is a quieter, gentler ride, a better view and the indefinable something about having a vehicle that's in the class everyone is chasing. Trends change of course in the fashionable world of personal mobility.
But what hasn't changed is Mazda's preference for natural aspiration over turbocharging. All three versions of the new crossover use atmospheric induction, the GSX going with the 2.0-litre, and the GTX and Limited versions with the 2.5 four-pot mill. A major point of difference between the CX-30 and the Mazda3 upon which it's based is that the two most expensive CX-30 versions with the 2.5 engine are both AWD. But CX-30 and 3 are similar in that they all have a torsion beam rear end, one advantage being better packaging and luggage space.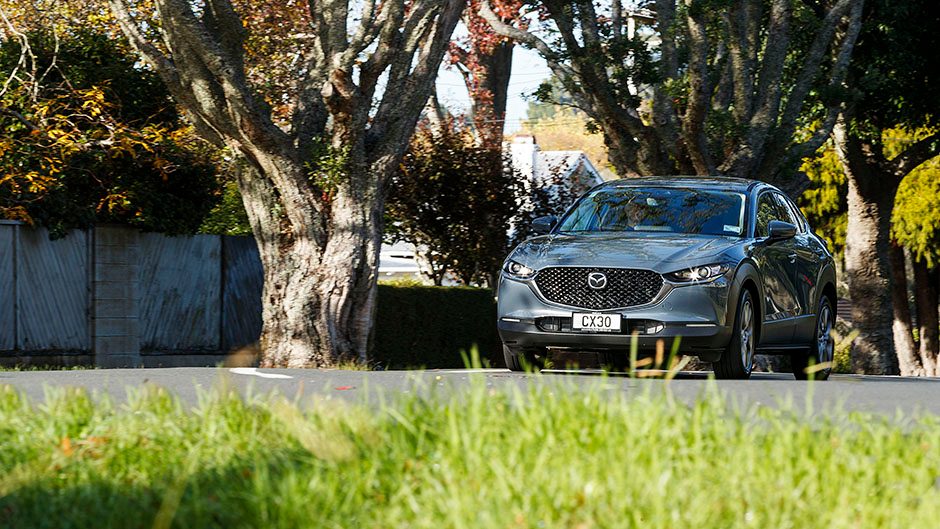 So which luggage figure is right?
On the latter, somewhat confusingly, luggage capacity is stated at 317L-420L, the latter with an asterisk. Essentially the bigger figure includes the underfloor area that happens to be taken up with a space saver spare wheel. So yeah, nah, it's entirely irrelevant.
That 317L real-world figure doesn't compare well with the likes of space pacesetters such as Seltos, HR-V and QQ, all around the 430L mark. It's also not a huge improvement on the 295L of the M3 hatch, nor the not greatly useful 264L the CX-3 offers. It is also a huge distance behind what the CX-5 manages at 455L. However, when the rear seats aren't in use, the space can be expanded quickly to 1319L, enough to accommodate my road bike after removing the rear wheel but only just. Unlike some in this space and for similar money, there's no powered fifth door, even in the Limited specification.
Despite the gently sloping roofline and standard fit sunroof in the Limited, headroom in the rear is good and space a clear step up on that of the CX-3, as you'd hope. But others offer more legroom. Like CX-5, for example.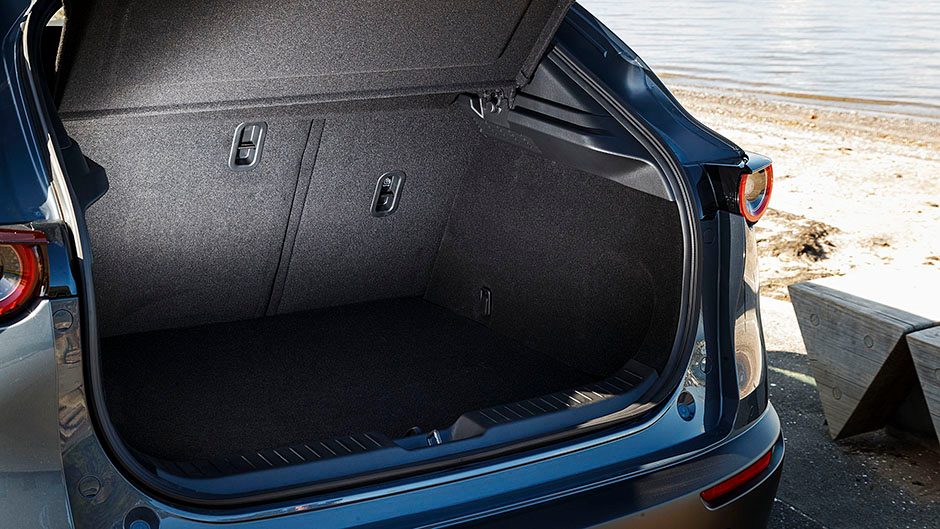 Styling winner
On the styling front, Mazda has another winner on its hands. It was one of two models from the brand that reached the finals in the design section of the recent World Car of the Year awards, and was ultimately beaten out of first place by the Mazda3. Kiwis will probably think the judges got it wrong for CX-30 is a sharp offering, looking modern, lithe, curvy and endearing from most angles. The interior is particularly fetching, like that of Mazda3, with classy leather-like plastics up front, and intuitive controls. The infotainment screen is controlled by a rotary commander and it's all pretty easy to fathom.
The driver fares well, with powered seat operation, including lumbar support, and two memories. Safety is well catered for, the CX-30 amongst the best scorers in the latest ANCAP round, with an adult occupant rating of 99 per cent and five-star overall rating.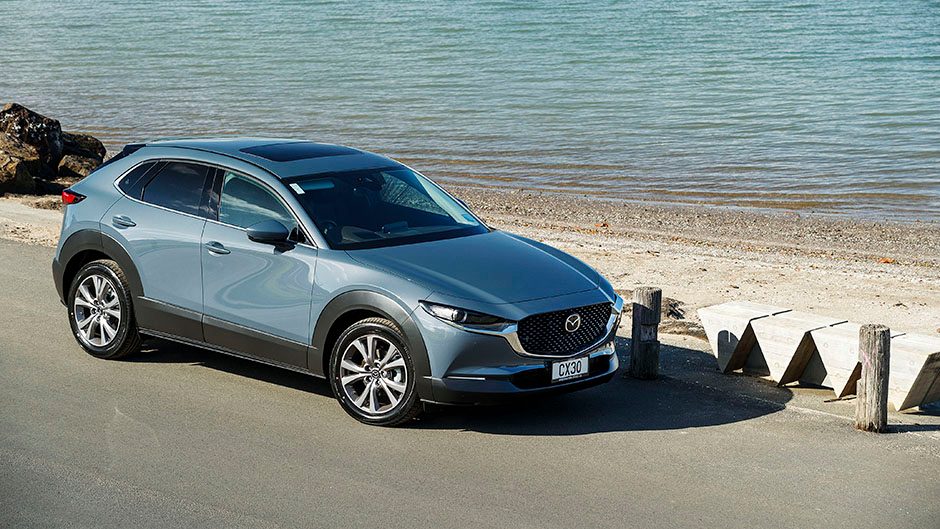 As sharp as Mazda3?
Naturally, you'll want to know how it goes compared with the Mazda3 upon which it is mechanically based. Being heavier by around 60kg it is not quite as quick, nor as agile with a raised ride height and ground clearance of 175mm. But it's quieter on the go and a bit gentler riding over uneven ground too, especially at open road speeds. Agility is the byword of the Mazda3 and this isn't quite as keen, but it corners confidently for a crossover. Only not as well as the benchmark Focus Active. Its steering is not as driver oriented, not as tactile as the 3's, with its taller side walls and when pushed the tyres squeal their discomfort as the front starts to run wide, torque vectoring in the background keeping things from getting out of hand.
Great powertrain but
The 2.5 engine will be familiar to many. It's a gem and a good alternative to a smaller engine with turbocharging. That said, when pushed it likes a drink, sipping into the teens, but in most circumstances think single figures, around the 8s and 9s when giving no real thought to economy. It's on song low in the rev range for easy round-town running and even out of town pulls eagerly in the 2000-3000rpm area. Best performance starts at about 3500rpm, with peak torque chiming in at 4000rpm.
All models are mated to a six-speed auto which many will think is a quaint number of gears but in fact is entirely sufficient. It's a well sorted 'box this, adaptive, and makes the standard MS slot and paddles seem surplus to requirements. For acceleration off the mark, it's about a second down on the lighter 3 hatch 0-100 but only a few tenths slower on the overtake. An emergency stop was just a hair behind the best the 3 achieved. We'd rate pedal action as disappointing, somewhat lacking in feel, a bit like the steering action then.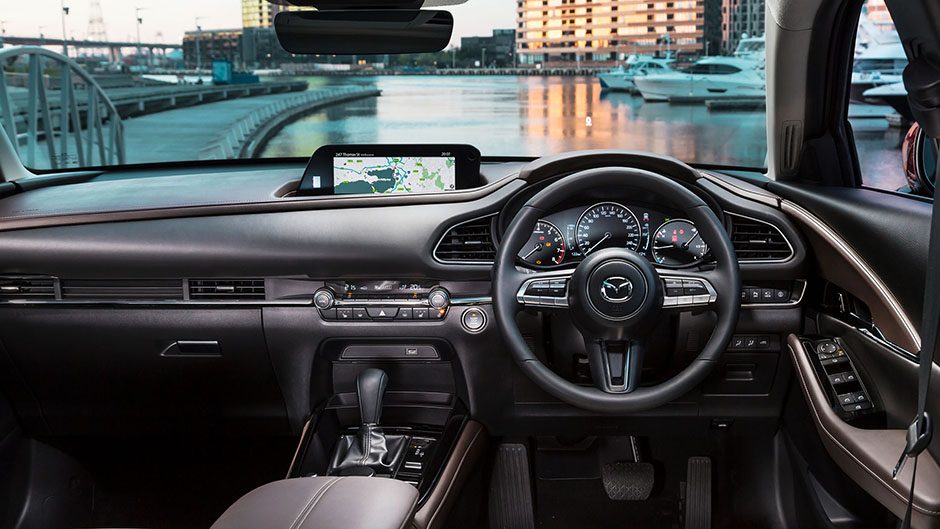 Sensible spec
In terms of specification, the base 2.0 GSX front-drive model kicks things off with comfort entry and pushbutton start, Android and Apple phone compatibility, navigation, LED lights with autodipping, head-up and eight-inch colour displays, and a safety suite that includes hill launch assist, torque vectoring, BSM, active cruise, and LDW and LKA.
Moving up to GTX adds 18-inch alloys, heated mirrors, dual zone, off-road traction assist (see below) and Limited adds a powered sunroof, leather trim with seat heaters, powered driver's seat, shift paddles, Bose 12-speaker sound system, and adaptive LED headlamps, among other things. All versions get five years scheduled servicing and a five-year/unlimited kay warranty.
Mazda is quietly moving upmarket on pricing but it is justified in terms of styling, quality, safety and specification. The CX-30 seems expensive against the CX-3 and even CX-5, and its hold space isn't huge, both factors that might put off some prospectives, but it looks good and drives well, is quiet and comfortable. If dynamics are important, compare with Focus Active.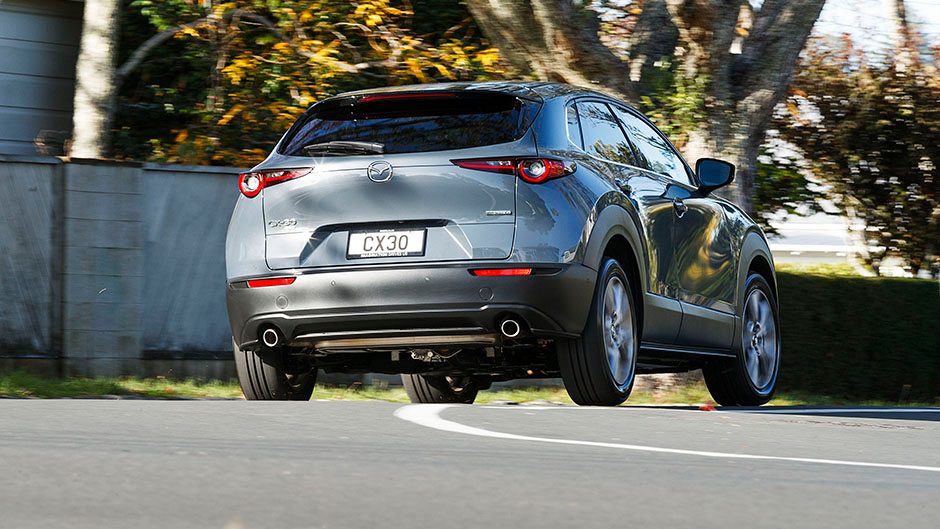 AWD refined
Two of the new CX-30 models feature AWD which has been optimised for traction and fuel efficiency. Mazda engineers have reduced mechanical losses by a claimed 60 per cent, the result being the two upper models use only three per cent more fuel than the front-drive GSX variant. Moreover, the rear diff and controller is homed in an aluminium carrier so the entire system is lighter. The AWD system is not permanent but the torque is shuffled constantly front to rear.
Another new concept, debuted in the latest CX-5, is off-road traction assist (ORTA). This aims for as little wheel spin and as much forward momentum as possible in low traction conditions. An electronic coupling locks the wheels on each axle together, so the right amount of torque is allocated to the wheels that are gripping. Mazda claims this results in the least amount of intrusion to the operation of the vehicle, and momentum when it's needed. Traditional traction control corrects wheel spin in slippery conditions by reducing the engine torque and applying the brakes to that wheel. But some situations demand power.
Off-road traction assist doesn't deactivate traction control entirely. It means you've still got engine torque when needed and instead increases the brake force on the wheels without traction. By optimising torque distribution it keeps the vehicle moving in dicey off-road situations. It may not get a lot of use but it's a handy capability enhancement to have on the odd uh-oh occasion you might have.
| | | | |
| --- | --- | --- | --- |
| Model | Mazda CX-30 AWD 2.5 Limited | Price | $50,990 |
| Engine | 2488cc, IL4, EFI, 139kW/253Nm | Drivetrain | 6-speed auto, all-wheel drive |
| Fuel Use | 6.8L/100km | C02 Output | 156g/km |
| 0-100km/h | 8.74sec | Weight | 1540kg |