Over its 100-year history, Citroen has often challenged convention with its styling and technical innovation. The SM is perhaps the ultimate embodiment of the French carmaker's philosophy as the company set out to redefine the GT class.
Over the past century, Citroen has concocted some truly innovative cars, often clothed in other-worldly designs. And it is perhaps the SM which represents its most audacious creation, a car designed to reset the standards in the GT class.
This was a bold step for Citroen, as while it had the DS, it was otherwise a mass market brand, one without a true grand tourer in its range. The SM's roots lay in a quest to see just how far the company could take the front-wheel drive concept, a layout that Citroen had hung its beret on with its 1934 Traction Avant. Development work on the 'project S-vehicle' began late in the fifties, using a shortened DS platform.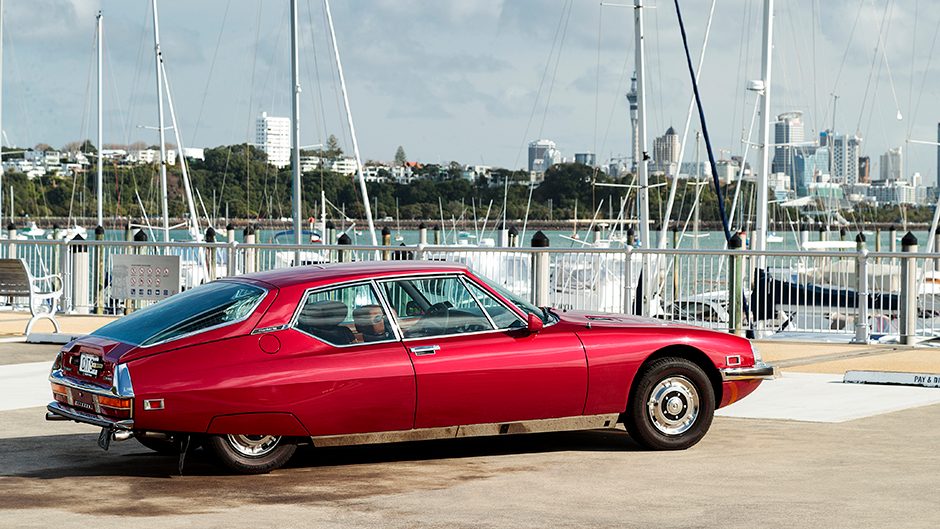 Power for these prototypes would initially be provided by a V6 and a 2.1-litre, twin-cam four, though neither of these Citroen-designed engines would end up motivating the SM. In fact, the eventual engine would be sourced from Italian firm, Maserati. In the mid-sixties, Citroen began talks with Maserati on a joint project GT.
This would eventually lead to Citroen taking a controlling interest in the ailing Italian in 1968, and a complete takeover a year later. The engine in question was a development of Maserati's V8, reduced by a quarter thanks to the axing of two cylinders. It retained the 90 degree V angle, which the Maserati engineers balanced out in the V6 configuration by counterweighting the crank.
With two valves per cylinder, the overhead cams were driven by a complex arrangement of duplex timing chains and an intermediate shaft. These would cause strife in later years as they were apparently hard to adjust and needed replacing every 80,000km. They usually gave out prematurely too. The engine also had hollow-stemmed valves, another cause of catastrophic problems. And so just about every surviving SM would have likely had these replaced by more conventional valves at some point.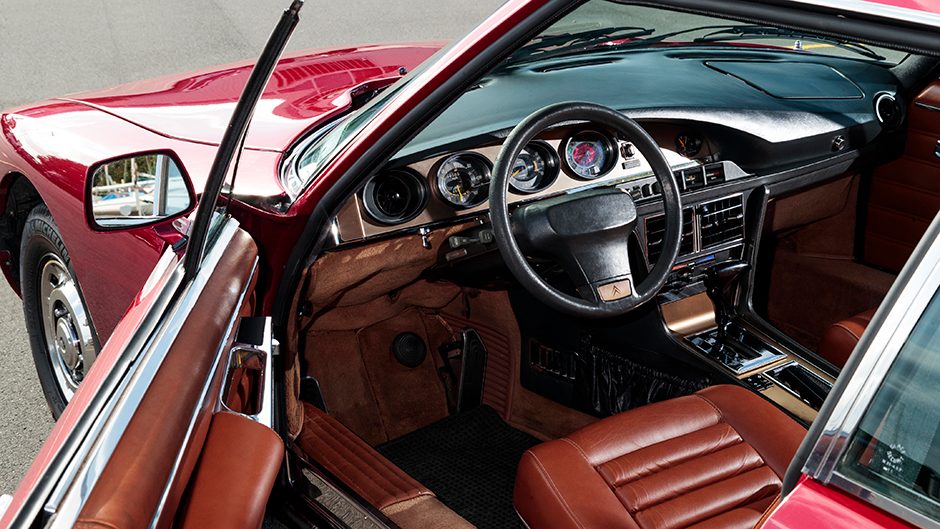 The V6 had an all-alloy construction and was first offered with a displacement of 2.7-litres (to conform with French road tax regs) and breathed through triple Weber carbs to produce 125kW. A five-speed manual was standard while in 1972, a Borg Warner three-speed auto was introduced for the US market. The addition of Bosch D Jetronic electronic injection bumped power up to 131kW for European buyers. From '73 a larger 3.0-litre unit was introduced making 132kW with the carb set-up.
The engine is described as peaky, the short stroke six delivering its maximum power at 5500rpm while the torque of 230Nm fronts at 4000rpm. Citroen positioned this compact engine right up against the firewall looking to improve the balance of the chassis. It lives longitudinally aft of the gearbox, and is almost a sideshow behind the array of tubes, pumps, pulleys and spheres under the bonnet. The casing for the gearbox is just visible beneath all the bits, and peering intently into the depths of the bay, you'll just be able to make out the inboard disc brakes.
This arrangement was chosen to help improve ride quality by reducing the unsprung weight. Not that the SM used springs in its suspension, adopting Citroen's hydropneumatic self- leveling system. This sees the dampers being topped with nitrogen-filled spheres (those green globes toward the front of the engine bay), and it is the compression of this gas that provides the springing. These are all interlinked by a hydraulic system and pressurised by an engine-driven pump. The system also provides variable ride height and it can be lowered right down or raised up through three set heights to provide some 200mm of clearance when on tippy toes. Laying on top of the gearbox is the Vari-Power steering rack which, as the name suggests, varied the level of hydraulic steering assistance according to vehicle speed.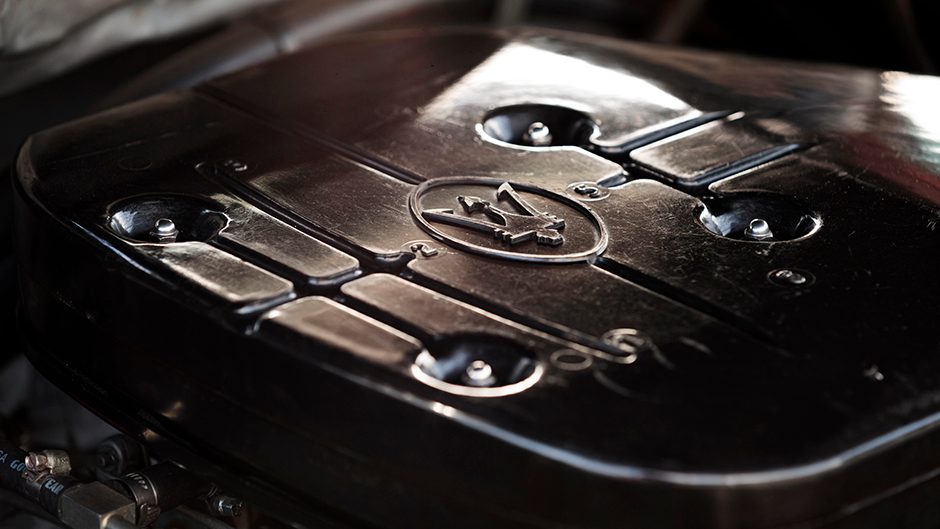 Citroen gave it a fast ratio to help ease the effort required for cornering, and there's a self-centring mechanism as well. The brakes are powered by the same hydraulic system as the suspension and activated by a big 'button' in the footwell rather than a conventional pedal which requires little pressure to exert maximum braking force. The SM's styling was something else again, still a head turner 50 years on, and it would in turn influence the look of Citroen's mainstream models like the GS and CX.
The SM is a long car, nearly 5m in length, and it has a wider track up front than at the rear, where it features faired-in wheels. The front end houses a novel transparent nose cone, and on European specification cars, it had a trio of square headlights on each side, the innermost lens turning with the steering. This feature wasn't permitted on US market cars, and these can be identified by having four round driving lights. Despite the sleek look, the SM's Cd of 0.39 isn't particularly noteworthy.
The Kamm tail rear end features a curved rear screen and a hatchback opening, the boot fairly reasonable in size, although most of the space is given over to the spare wheel. It's a four seater with just enough room to squeeze a pair of bods in the rear.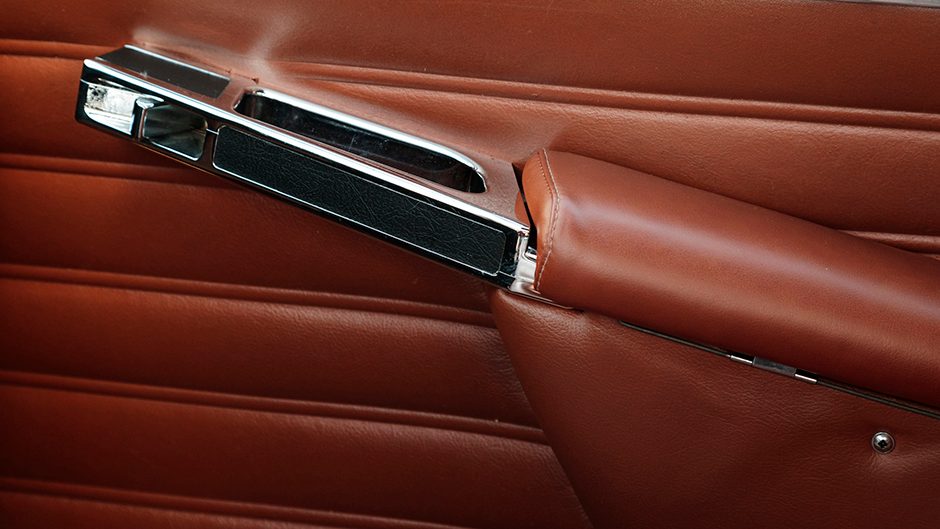 Despite being well received at the time, largely due to its innovative ideals and styling, the SM had a short life span. Produced between 1970 and 1975, Citroen minted some 12,920 SMs. The oil crisis of 1973 took its toll on sales, as did the US's low speed bumper impact rule in 1974, which meant the car could no longer be sold in its largest market. Mounting financial woes at Citroen led to bankruptcy late in 1974 and the company was merged with Peugeot. Maserati was flogged off under the new company structure and so, without an engine supply, the SM was axed in 1975.
It is said the last few remaining cars that lay unfinished on the production line were hauled away and crushed. While the factory only ever produced the SM as a two-door, fixed-head coupe, a handful were made into convertibles by coach builder, Henri Chapron. Just five of these Mylords were created originally, and are the most cherished of the SMs, the best selling for half a million euros.
Chapron also made seven four-door sedans, called Opera. There were even a couple of four-door convertibles built, the Presidentielle, used by French presidents to strut about in. The SM also had a brief motorsport career, a short wheelbase version winning a few rallies and contesting endurance races throughout Europe. This red (or Rouge de Rio as it's officially known) 1972 SM is owned by Aucklander Laurie Newhook.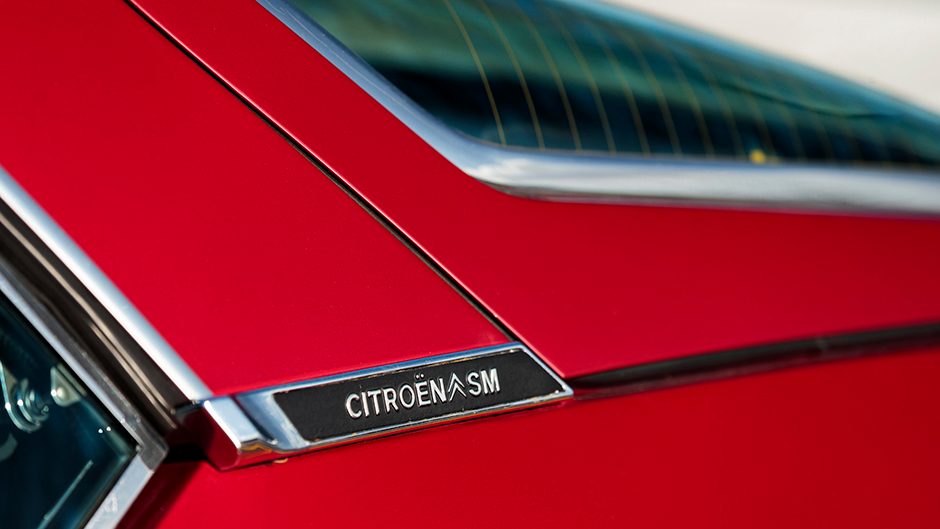 His tenure with this Citroen is just two years, but his relationship with the French car maker dates back much longer, having owned some 15 cars wearing the double chevron, and driving a C5 wagon daily. The SM first piqued Newhook's interest when he was just out of university for a colleague owned a new one. He'd always thought it unique, and was taken by the look. This interest was rekindled when ex-Stones' bassist, Bill Wyman, decided to sell his SM in 2015.
Wyman had owned his car since new, and it fetched £60,000 at auction. That sent Newhook on a search to finally nab his own SM. He attempted to buy one locally, but it was snapped up before he could do the deal, which saw his search extend out further. This led him to find this particular SM in Australia, for sale by renowned Citroen SM specialist and ex-Aussie Touring Car racer, Peter McLeod.
His Melbourne-based workshop specialised in sourcing good US-spec cars and seeing them right, this car having had a well-documented restoration some years ago. Since having the car, Newhook has had the interior reupholstered locally by Stu's Trim and Sound in Manukau, using hides sourced from Italy. Most of the SM's bright work is stainless steel, though that and the chrome pieces he's had refreshed as well. He is aware of a spot of rust that he says he'll need to sort soon too. Keeping the mechanical side in check, the SM is serviced at Bishop's Garage in Newton, who service most of the classic Citroens in the Auckland area.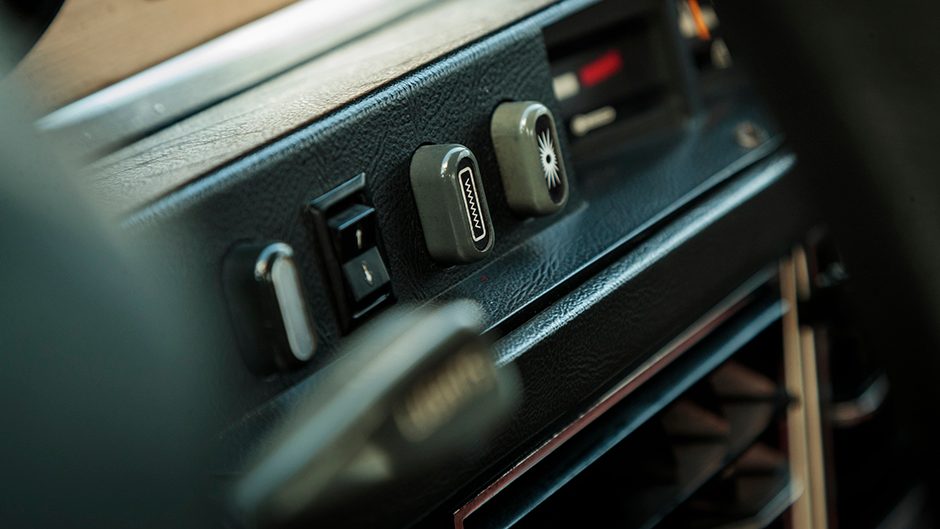 The V6 had a rebuild during its restoration, (those hollow stem valves replaced!) and Newhook says it's been very reliable, though notes there's a bit of a hydraulic leak that will require attention at some point too. He reckons there are potentially 20 or so SMs in New Zealand, his recently winning the SM prize at the Citroen Car Club of NZ's national centenary rally held in Cambridge.
An active member of the club, he says the group is a valuable source of knowledge on the cars, particularly for sourcing the best parts and service. Newhook describes the SM's ride quality as simply 'beautiful' while admits the brake system is particularly sensitive and it doesn't require much pressure to get it stopping in a hurry.
The self-centring steering he finds unique but it's the look that really does it for him. Asked by his friends what he'd do with the SM if it hadn't passed compliance, he said he would have been perfectly happy to park it in the garden and admire it as sculpture.