A one-of-a-kind Pagani Zonda 760 LH formerly belonging to Lewis Hamilton has wound up in a spot of bother after it was driven into a wall or two.
The car's new owner, bathroom billionaire Mark Radcliffe, was spotted driving through the Penmaenback Tunnel in North Wales early last week when he seemingly planted the throttle and lost control.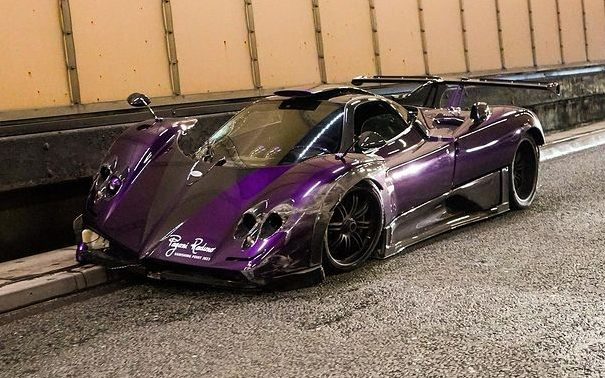 The car subsequently snapped and hit the left wall of the tunnel before jolting back to the right side.
Images of the aftermath were subsequently uploaded to Instagram by Ethan Gale, showing what remains of the purple-coloured Zonda on the back of a tow truck.
While the driver is unhurt, we can't say the same for his bank account after a smash like that, which can be seen in full on newly released dashcam footage.
The car itself was built for seven-time Formula One world champion Hamilton in 2014 who in the past told driving.co.uk that it was "terrible to drive". He later sold the car to Radcliffe for a cool sum of $18.2 million in 2021.
Under the 760 LH's bonnet sits a Mercedes-AMG-derived naturally aspirated 7.3-litre V12 that makes 559kW and 780Nm of torque, that Hamilton admitted was one of the best sounding cars he owned when it was in his possession. The engine is mated to a six-speed manual transmission, making this one beast of a car to drive, but one the Formula One champ says handled the worst out of his entire collection at the time.
We imagine the battered and bruised Zonda will be sent back to the Pagani factory in Italy for repairs, but at what cost, we almost don't want to know.