At Land Rover launches, the on-road drives are typically included to connect up the off-road bits. Not quite so for Disco 5, driven in Utah, as it now has road goods as well.
"I got it stuck" I had to admit sheepishly when chatting with Alex Heslop, chief product engineer of new Land Rover Discovery 5, ahead of the technical presentation taking place at the absurdly picturesque Amangiri Resort in the wilds of Utah. "Well done you" he said, "you must have been trying".
Actually, no, as it turns out. I was 'trying' to warn the video crew I was with that the only other tyre tracks in the snowy area we had just entered were made by snowmobiles, and that another turn-around might not be a good idea. I was wrong; we managed one more. It was when they requested a final run in the opposite direction that she went down. Fortunately there was a Range Rover Sport nearby with gnarly treads and all the snatch and grab gear, so we extricated the Disco in double-quick time. Turns out, I wasn't the only one to fall foul of the conditions; on the same day but in another part of Utah, journalists got bogged in sand countless times while traversing the Coral Pink Sand Dunes State Park, near Kanab.
In most cases, it meant reversing to the bottom of the hill and trying again; maintaining momentum was key. Previous sand driving experience was too; we Kiwis didn't get bogged down once. Rock hopper The new Discovery also strutted its stuff clambering up rock faces, a chance to check out All Terrain Progress Control (ATPC), or what Land Rover describes for lay people as "off-road cruise control". It essentially allows ascents up steep slopes at a snail's pace, using this new aspect of Terrain Response 2, the driver having only to steer correctly as speed and braking are done automatically.
The day before we'd checked out articulation on a similarly steep ascent, selecting low range and the Rocks setting on TR2, pausing briefly as the vehicle's right front wheel rose up in the air, as if attempting to answer some teacher's mechanical question. The staff on hand demonstrated the improved stiffness of the new chassis, opening and closing each of the reachable doors including the tailgate, all without drama or audible signs of chassis stress.
With the new underpinnings, 85 per cent of which are made from aluminium, along with technological enhancements, the price has risen somewhat. Previously the top Discovery, the SD V6 HSE went for $110k. With Discovery 5, the entry point is $114,900. Given Discovery used to kick off at $90k, it would be a surprise if the 2.0-litre 500Nm Ingenium turbodiesel wasn't offered at some point. After all, rival seven-seater, Volvo XC90, exclusively uses four-cylinder forced induction engines, and the range kicks off from $98k
Anyhow, we only got to drive the V6-powered machines, one a turbodiesel, the other a supercharged petrol. The V6 turbodiesel is rated at 7.2L/100km overall and with so much flab shed (over 300kg) it makes it to 100km/h from a standing start in 8.1sec, down from nearly 10sec previously. It's almost as quick as the supercharged 3.0 Si which we drove on day 2, its sprint time a claimed 7.3sec. However, we'd have opted for the diesel in a heartbeat. It has 150Nm extra torque and in a sizeable vehicle like this, especially one so adept off road, it's low down grunt that counts.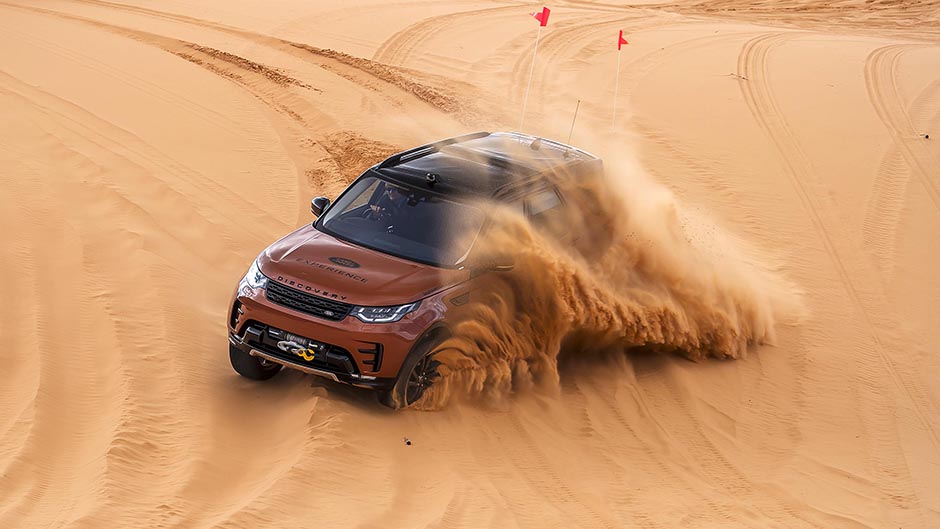 It offers better acceleration using everyday revs, as you'd expect given peak torque of 600Nm is on tap by 1750rpm whereas the petrol unit's peak twist of 450Nm arrives at 3500rpm. It therefore cruises at open road speeds with just 1500rpm showing, making it quiet on the go, yet will handily tow up to 3500kg, and attacks the off-road work with a solid slug of bottom end shunt. Moreover, we thought the lower revving diesel was no noisier than the alternative, and the V6 petrol's mean fuel figure is 10.9L/100km. That's part of the reason it is for sale here to order only; it will cost the same as any of the three diesel variants.For those costs and variants, read on.
Anyhow, we digress somewhat. Prior to the rock crawling we'd been blasting through dry river beds full of soft fine sand derived from wind erosion of the astoundingly shaped and layered sandstone hills that dot the stark Utah landscape. Again, any drop in momentum at the wrong moment meant you had to backtrack and take another run at it. That it's still exceptional off road is no surprise, given compromising on goat-like capability has never been an option for Land Rover. But the vast resulting weight of the dual chassis underpinnings made Disco 4 a bit of a handful on road. In that regard the 5's better now than it ever was, for myriad reasons.
It still rides on air springs (max ground clearance of 283mm) but picks up new suspension elements. Damping is fixed but the front double wishbone suspension and integral link rear end is lifted straight from Range Rover, built in the same factory as Disco in the UK. The new underpinnings allow for better articulation (500mm) but also much improved lateral stability for more level cornering. The previous Discovery rode well but in corners there was rather too much lolling when settling into the turn. Not any more and in fact the lack of body roll is equally noteworthy. Torque vectoring keeps the cornering lines tight and accurate.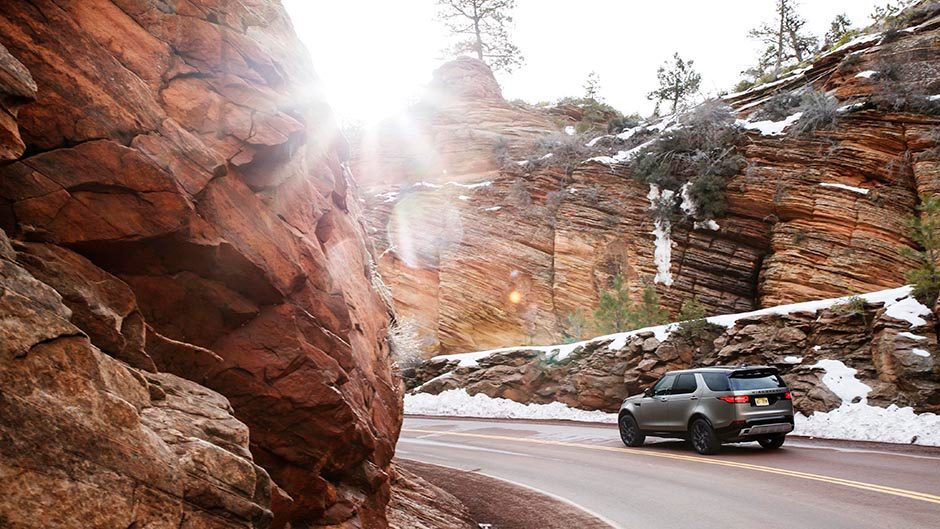 Ride quality remains decent, as expected; it's not quite in Range Rover territory off road but few are, while on road there's an underlying firmness and control about the ride, without it becoming nervy or fidgety. For something without adaptive damping, it is well executed. We reckon it steers in a more interesting manner than before too; evidently the electric steering set-up is new. Of equal importance to the weight loss is the visual uplift for Discovery.
It has been boxy all the way for the previous iterations, and that kind of suited its utilitarian outlook on life. This new version has been dragged into the now, and is remarkably similar to that of the Vision Concept first seen at the New York show in 2014. If it looks sleeker to you that's because it is literally. The windscreen is more swept back than before, and the step in the roof to accommodate the third row is no longer so prominent.
Nor is the side glass that used to extend into the roofline at the rear. The asymmetric tailgate line remains but the two-part opening procedure has gone. Instead the one-piece thermoplastic fifth door opens by gesture or latch and is power operated. At the rear of the load space is a powered rectangular shaped item that folds down and provides seating for two, holding up to 300kg in weight. This allows for easy removal of gumboots which can be stowed in a wet area under the floor, or simply for seating under the door which can act as weather protection.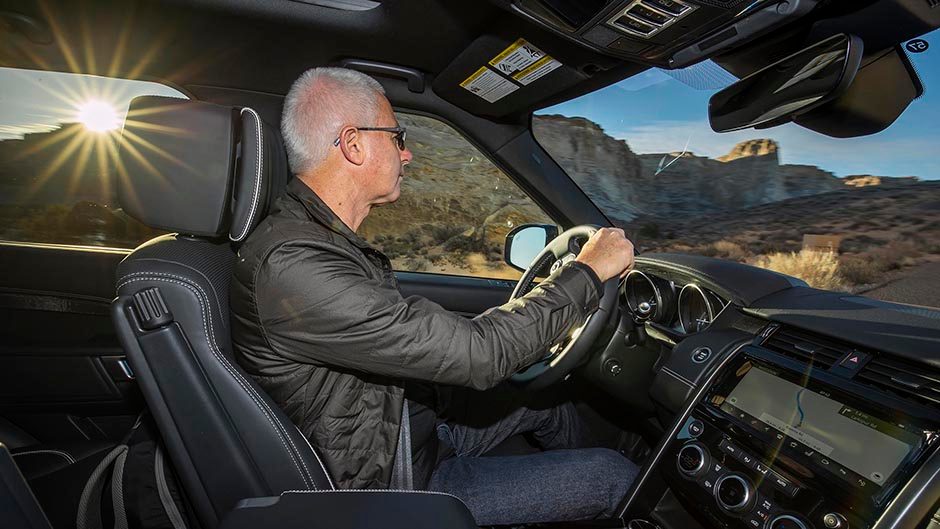 More on the hold later though, for the exterior design is quite different, quite something, rather sophisticated. JLR don't really do retro; they just incorporate heritage design cues. They warned also that when new Defender arrives it will be recognisable as such but will definitely have up-to-the-minute styling. New Disco resembles Discovery Sport which has done good business for LR here. There are hints of Range Rover up front, but out the back, not so much, the taillights now horizontally aligned instead of vertically.
The body-coloured C pillar is now more of a feature than before too. Other little touches include air intakes that divert air around the front wheels and three slots in the roof spoiler that keep muck off the rear screen. The upshot is that its drag coefficient drops significantly from 0.40 to 0.35, aero efficiency adding to reduced fuel use and NHV. It's a refreshing update. Wheels are 19-20 inches in diameter, while 21s and 22s are cost options.
The interior echoes the changes outside though Discovery is still recognisable as such from the driver's seat. Instruments remind of those from previous generations. Component quality gets a lift, and so too does the seating arrangement. It's more sophisticated than before, and all seats are powered. It's dubbed Intelligent Seat Fold system. With all five rear seats flattened, there's over 2m of space – two can sleep back there if need be – and in excess of 2400L of room for luggage, 859L as a five-seater.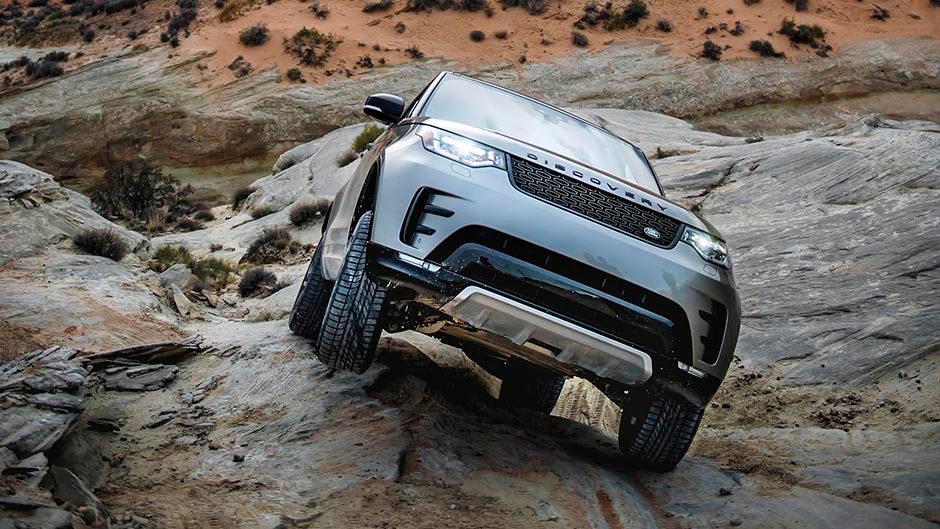 Back rests are repositioned at the touch of a button. The middle pews slide, facilitating entry into the third-row pews. And unlike most third-row seats, these genuinely offer sufficient room for full-sized adults. Access to the third row is also easy, involving a mix of powered operation (seat back folds forward) and manual effort (the folded seat slides forward to facilitate entrance and exit.
As to specification, all three models come standard with air suspension, a powered tailgate, LED headlights, Terrain Response 2 with two-speed transfer case, LED headlamps, 19-inch alloys (SE; 20s on the others) with a full-sized spare, leather seats, tow hitch receiver and electrics, and two levels of InTouch Control, depending on the model.
So how much precisely will it cost you for entry into what Land Rover argues is the top family SUV?
When it arrives here in June, the most popular model will be the entry-level Td6 SE for $114,900, and the HSE costs $126,900. The range-topping HSE Luxury will go for $136,900, and all will come with LR's five-year/80,000km service plan.
While no official decision has yet been made, we'd be surprised if an Ingenium four-cylinder turbodiesel version wasn't added at some point later in the year for circa $100k. It would round out the talented range nicely.
| | | | |
| --- | --- | --- | --- |
| Model | Land Rover Discovery Td6 SE | Price | $114,900 |
| Engine | 2993cc, V6, TDI, 190kW/600Nm | Drivetrain | 8-speed auto, all-wheel drive |
| Fuel Use | 7.5L/100km | C02 Output | 195g/km |
| 0-100km/h | 8.10sec | Weight | 2350kg |