Muscle cars built their reputation on big engines, smoky burnouts and prowess at the drag strip. Some made good on race tracks, although the muscle car golden era was short-lived and yet the nameplates milked the glory for decades. Nowadays, we're in another golden era, with the 700-horse Hellcat, the Shelby GT350 and now the new Camaro ZL1.
The design brief for the supercharged Camaro was total performance. No one-trick pony, GM wanted this car to blitz the drag strip, dust the Euros at the track and run riot on road. So does it?
We can definitely say it masters the latter, while the experience tells it would do very well on both the strip and track. This is Chevrolet's penultimate muscle car, a 2+2 coupe with a supercharged V8 and adaptive magnetic dampers. Camaro sits on GM's new Alpha platform and the updated electrical architecture allows for a new digitally controlled limited-slip differential. The response time for the constantly adaptive dampers improves, as do the smarts for GM's performance traction management and launch control function.
The steering benefits from a variable-ratio rack with a quick 2.3 turns lock-to-lock. Compared with the old ZL1, the new one is said to be 90kg lighter with 45 more kilowatts and 100 more Newts thanks to the supercharged LT4 6.2 V8 small block which replaces the LSA. The LT4 was first introduced in the new Corvette Z06 and, sitting in the Camaro, it runs with a wet sump and a modified intake and exhaust system.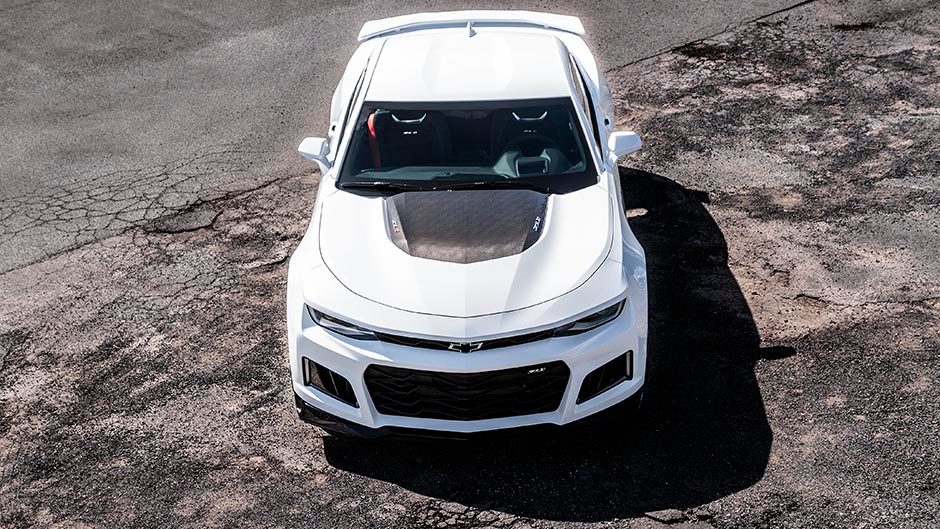 The LT4 uses a compact 1.7-litre (per rotation) supercharger, the pair of four lobe rotors spinning at a maximum 20,150rpm and blowing a peak boost of 9.4psi (0.65bar). GM reckons the small block makes 620Nm just above idle, a peak of 881Nm by 3600rpm, and there's a constant 800Nm force from 2500-5400rpm.
Top power of 485kW arrives at 6000rpm. Along with direct injection, cylinder deactivation and variable valve timing, there's a higher flow fuel system and upgraded aluminium cylinder heads to handle the heat of the boost, along with a light-weighted rotating assembly with a forged crank to let it rev. There are solid titanium intake valves, a 10.0:1 compression ratio and stainless steel exhaust manifolds.
The ZL1 may weigh a claimed 1763kg, but the LT4 propels it like a lightweight. Any time there's more than 2500rpm dialled up you're really moving and if you can keep the throttle pinned beyond 5000rpm you're in warp mode. Not many are the cars which can thrust your head back forcefully in fourth gear with a fair wedge of speed already on board.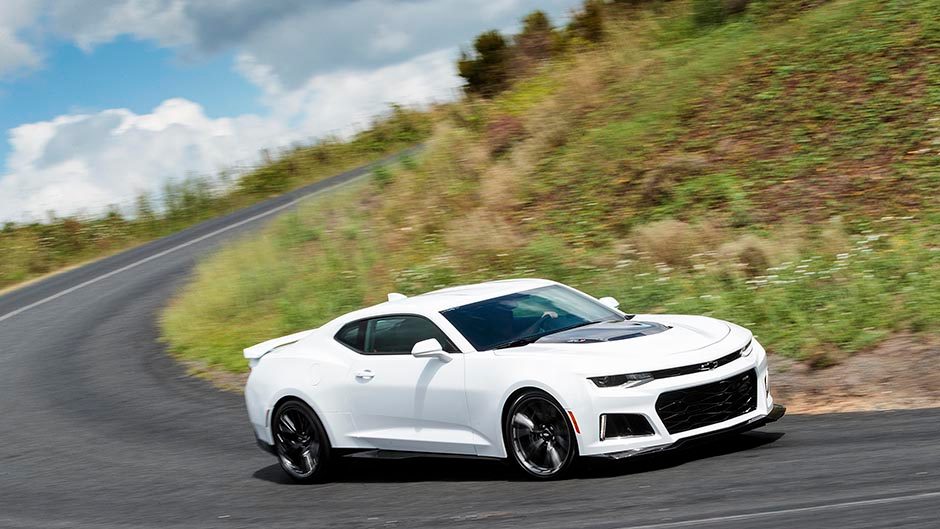 Where the Shelby GT350 is more about high revving horses, the ZL1 majors on massive midrange surge, and feels every bit as potent and angry as the Hellcat's blown Hemi when you uncork the kilowatts. For an engine with just one cam and 16 valves, it revs nicely.
The gearing is tall but the torque is there to pull it and the ratios keep the engine spinning in that happy 3000+ zone. It's a mammoth donk, pulling fiercely to 6500rpm by which time the noise has hit fever pitch. There's a dual-mode exhaust system, the flap electronically controlled, popping open early and often in Sport mode. It makes a big loud introduction on start-up that will be enjoyed not only by the neighbours but those in the next street over too.
Throttle down and there's a hint of charger whine which is soon drowned by the thunder of the exhaust and then mixed with sweet valve train melody. And it's loud, a hurricane force roar at speed. As for fuel consumption, that's in the 20s. The ZL1's front guards are pumped out to house the wider front wheels and the front end is one huge grille. Even the bow tie badge has been hollowed out to allow more air through the front.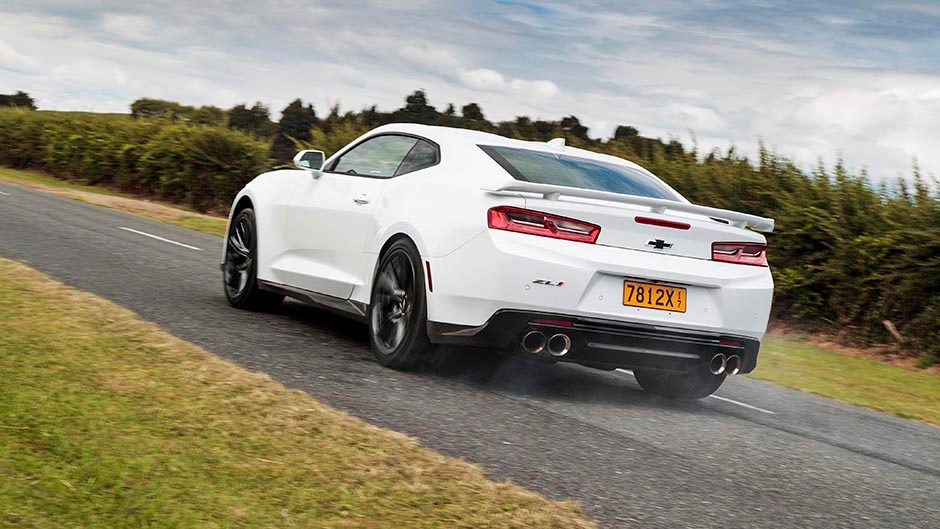 The LT4 in the Z06 has been reported to overheat when pushed on track and so the ZL1 has a cornucopia of coolers and heat exchangers up front. There's the main radiator and an auxiliary unit on the right, an intercooler and a further one on the left along with a transmission cooler. There's also the intake manifold coolers on the top of the engine, an engine oil cooler and another for the diff as well.
The bonnet is a two-piece item made of aluminium with a carbon fibre duct to let hot air escape. The forged aluminium 10-inch-wide front and 11-inch-wide rear wheels wear 285/30ZR20 and 305/30ZR20 Goodyear Eagle 'Supercar' rubber, respectively. These feature big blocks of rubber with minimal grooves for maximum adhesion and are probably all but useless on wet roads. They are noisy at a cruising pace, but it gives you another excuse to exercise that power, the V8 quickly cancelling out the rubber roar.
The ZL1 gets a floating 390mm rotor up front clamped by six-piston monobloc Brembo calipers. These are strong performers that don't wilt under pressure but aren't blessed with great pedal feel. Normally we'd be pleased to drive a muscle car with a clutch pedal, but the ZL1 debuts GM's new 10-speed auto and we were hoping to get a first crack at it. But the auto is still a few months away, the early production cars all being manuals.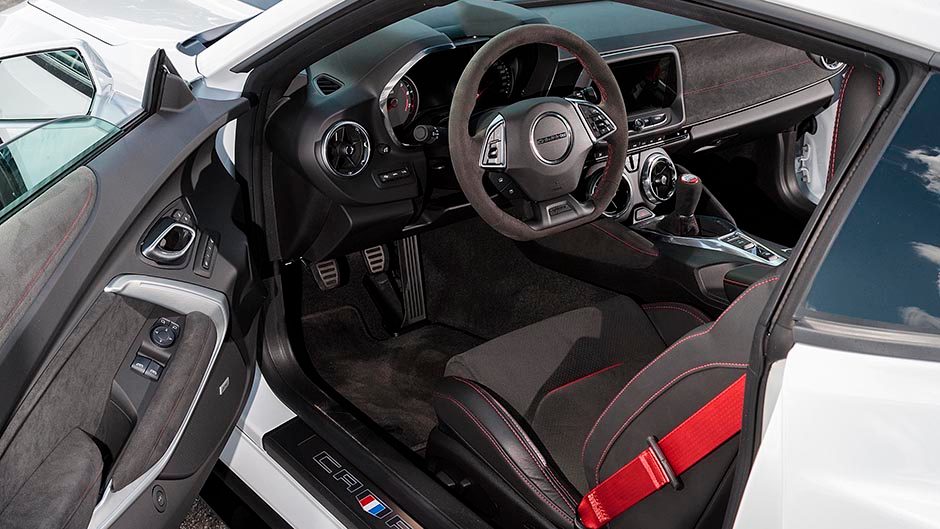 This is a high-torque version of the familiar Tremec 6060 but still with a commendably light yet positive clutch action and with rev matching downshifts, it's one less thing to worry about when trying to control this wildling in the bends. GM debuted its new electronically controlled LSD on the 1LE option pack for the SS, which allows it to operate from fully open for low speed refinement to fully locked-up. But even so, the traction control is forever hard at work, even on the straights. That is until you figure out how to activate competition mode and then you're away laughing.
All that free-flowing torque would likely be too much left to just one's easily excitable right foot to control but GM's Performance Traction Management is an able helper, along with those big Goodyears. Toggling through the drive modes, Track is a mite too stiff and the steering really beefs up solidly. Sport is the happy place for road use, the magnetic dampers sorting bumps and roll. The Camaro has masses of lateral grip and a sharp front end, the quick steering turns this big car smartly, it's grip limits not easily found.
With the massive torque, it pulls handily out of bends in third gear, the exit speed fast enough without worrying about losing the rear end. On road, it's far more wieldy than the Hellcat, yet just as quick, and less frenzied than the Shelby which needs constant gear changes to keep it's peaky engine happy.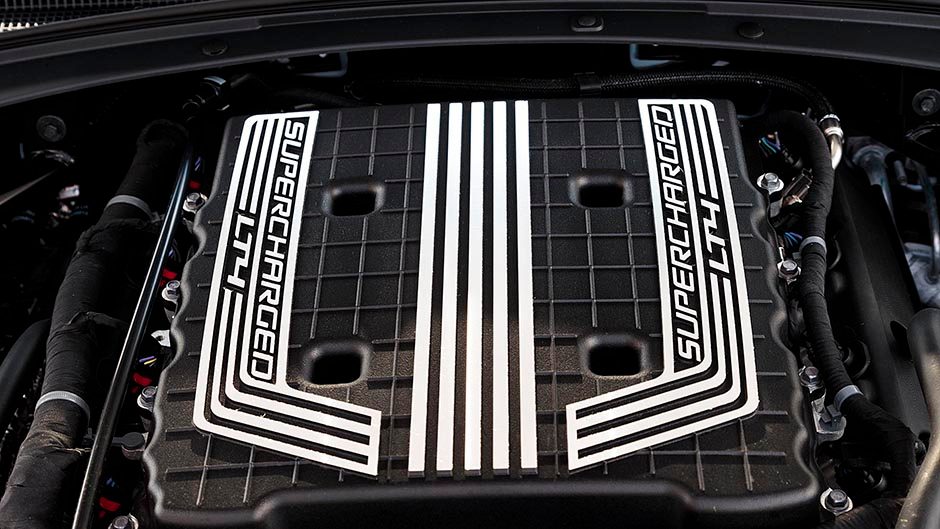 There's a launch-control helper, which you could spend hours playing with adjusting the engine launch speed and the amount of wheel slip the traction system should allow. This ranges from five to 15 per cent, and you can bump it up half a percent at a time. While it's a bit of a palava to find the function in the maze of sub-menus, it works effectively.
We dialled in 3300rpm and nine per cent slip and managed a run of 4.25sec to 100km/h, while a rapid 2.10sec sprint from 80-120km/h underlies its pace. For those of drag racing persuasion, there's a line-lock feature to help warm the rears, not that 880Nm needs much assistance. Set in Tour mode the suspension is cushier, the steering city-car light and it's just Camaro's super wide stance and limited outward vision through its narrow glasshouse that make progress tricky at first.
Convenience features like a backing camera, hill holder and blind spot monitoring all help. Inside, the Recaro front seats are powered, heated and ventilated, and there's a head-up display, smart key and eight-inch colour touch screen. Added suede trim on the door tops and dash help mask the hard plastics and while there's not much in the way of cabin storage the boot is useful, save for the small opening, and is complemented by a folding rear seat. As a 2+2, these are kids' seats with little to no leg or head room.
This ZL1 is another fresh American import from 4Guys Autobahn in Hamilton, priced at $149,800 and comes with the usual LHD permit conditions. If you're not so power hungry, the Camaro SS with the 1LE option might be good buying, but if it's the ultimate all-round muscle car you desire, the ZL1 is the new champion.
| | | | |
| --- | --- | --- | --- |
| Model | Chevrolet Camaro ZL1 | Price | $149,900 |
| Engine | 6162cc, V8, SC/DI, 485kW/868Nm | Drivetrain | 6-speed manual, rear-wheel drive |
| Fuel Use | n/a L/100km | C02 Output | n/a g/km |
| 0-100km/h | 4.25sec | Weight | 1789kg |