I was having a rather good time recently, driving the GLC 43 on a hot, blue sky end-of-summer day, looking forward to a bit of R and R after work. That was right before I ruined everything by reversing into an unseen tree branch and smashing the vehicle's rear screen. Bad as that was, there were seemingly millions of pieces of glass to clear away. No R and R that day.
It's not as if the range-topping GLC is exactly lacking in reversing aids either; there's even an overhead view on screen, but when you're looking out for the trunk of a tree rather than its higher branches…We learnt that in tall vehicles with prominent rear screens, it's best to avoid reversing into tight spaces where there are trees hanging about.
Anyhow, the vehicle we inadvertently ventilated is the first medium-sized SUV from the specialist tuning division of Mercedes-Benz, and it's akin to 'S' lettered Audis and M-Performance BMWs. In other words, a hard charger but not quite the ultimate performance warrior; that would be the GLC 63, which is currently under construction. Unlike the 63s and 45s of the AMG world, the engine in the GLC isn't hand assembled, and the body isn't bespoke but rather has sporty bits added.
Nor are there race start systems, though there are Sports+ and Individual modes so you can tune the engine and transmission to go like the clappers while the dampers remain on gentler settings, should you have others in the vehicle. There's not quite the interior raciness of the pukka 63 variants either, the seats and wheel sporty rather than track-ready.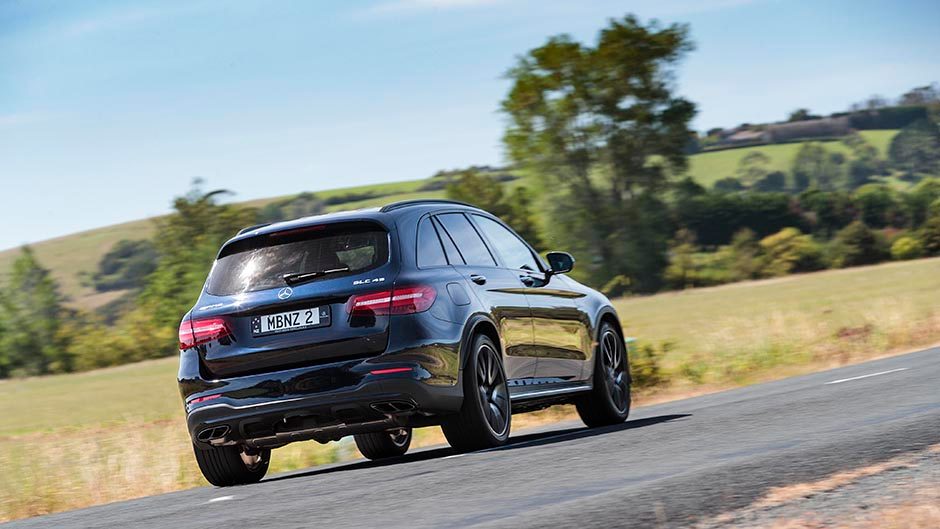 They're still power operated however, including the lumbar aspect, with a trio of memory settings to make adjustments easier. You can pick the 43 by its diamond grille with piano black louvre highlights, big 21-inch gloss black alloy wheels, paired exhaust outlets and, of course, the AMG and biturbo 4Matic badging. In the cabin there's a chequered flag-like background to the instruments, for that race winning feeling on the go. A head-up display is also standard, but with a digital speed readout as part of the trip information, it's almost surplus to needs.
The centre console has an array of handy buttons, surrounding the Comand controller; one's for damping, and another you can dial up manual gear shifting if you want, and then the transmission will only change gears when you make it happen via the paddles. It's kind of odd accelerating through the gears using the wheel-mount shifters as you're up over the speed limit by the time you're finished with third gear, and there are six to go! Using medium engine speeds, 3000-4000rpm, not much will be trying to overtake you, and even revs between 2500 and 3500rpm will keep you ahead of the pack.
Top engine speed is 6300rpm so there's a generous rev spread available, though it's needed to overcome an overall kerb weight that's not far shy of two tonnes. The GLC 43 is now the top model of what is proving a particularly popular line-up for Mercedes. Previously the petrol and diesel 250s were the alpha variants, selling for roughly $95k.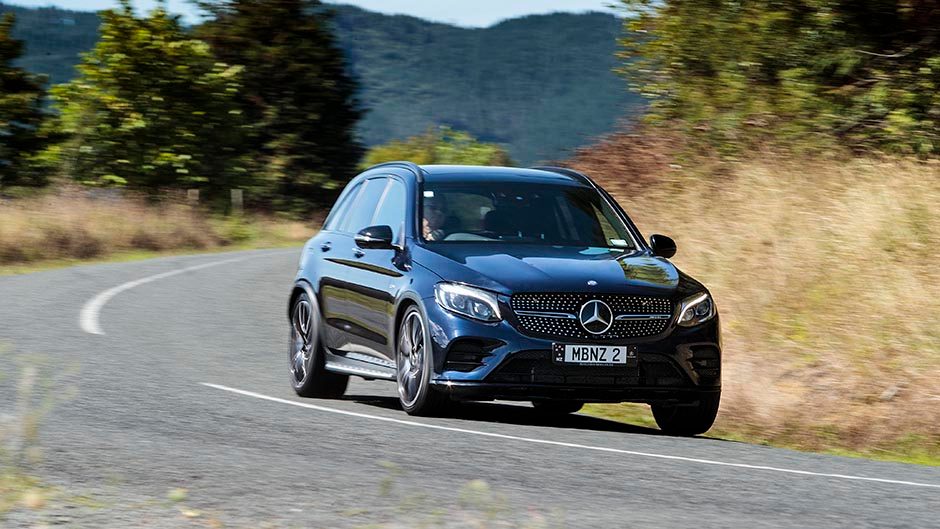 At $117,400, the 43 is the only six-pot GLC and has oodles more performance, as well as kit, much of it of the active safety variety. The primary opposition comes from BMW's X3 xDrive35d, and Audi's SQ5, both of which run turbodiesels, and both are capable of low 5sec 0-100 sprint times, not far adrift of the GLC 43. However, until Alfa's hot Stelvio arrives it's the F Pace S and Porsche Macan S that are the hottest competition for the GLC. All of these rival vehicles have starting prices above those of the Merc-AMG, and only one is as quick, so Mercedes is at a distinct advantage as regards the performance to price ratio.
All of those mentioned run six-cylinder V6 engines, charged in some manner (one or two turbos, or supercharged) and are all-wheel drive, the only way to get the power down effectively and achieve the grip necessary for these fast, high-riding vehicles to corner properly. As to the GLC 43, it runs a biturbo direct injection unit with VVT, mustering 270kW from 5500-6000rpm, and generating 520Nm from 2500-4500rpm.
Fuel efficiency is rated at 8.8L/100km overall, aided by low friction Nanoslide technology, but with its 21-inch wheels that's probably somewhat fanciful unless you drive everywhere on the open road at about 80km/h. You could do that if you chose to set active cruise control to that speed, but it will drive you and others behind you insane.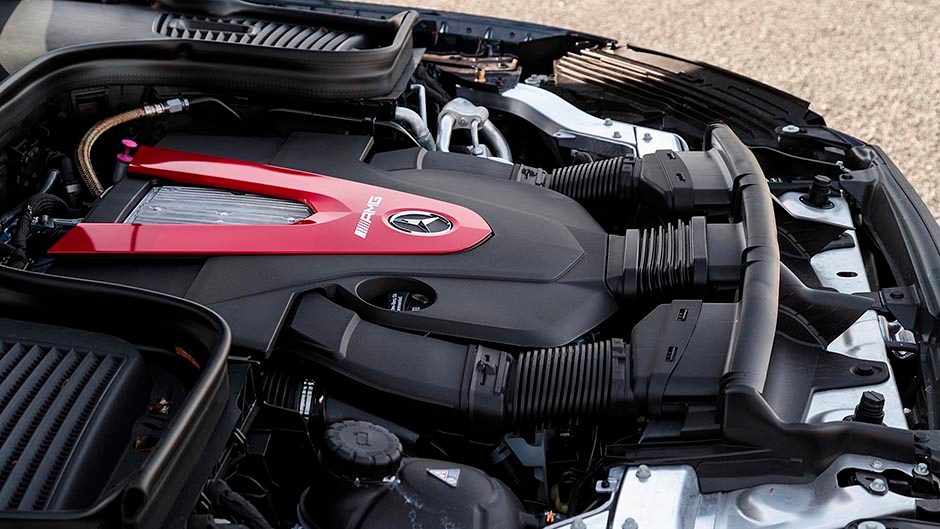 Heading to work out in West Auckland, no-one seems to stick to the 80km/h posted 'temporary' speed limit on the Northwestern Motorway. Well, almost no-one. Active cruise is a godsend in this, given the engine is hardly above idle in ninth gear at 100. Moreover the system doesn't cancel out in stop/start traffic; it will draw the vehicle to a halt if those ahead have stopped, and kill the engine to save gas.
A mere prod on the gas reactivates the dormant system, and you're away again. Other standard safety aids include Lane Keeping and Steering Assist, imparting the 43 with a partial autonomous drive mode. On less cluttered roads, the 43 is decidedly quick, thanks in part to work done at the tuning division to make the nine-speed auto faster shifting. It also manages multiple downshifts for rapid overtaking.
Rated to hit a hundred in 4.9sec, we managed a single run of 4.98sec, bettering the turbodiesel opposition by a small amount, but it's the midrange punch, if anything, that's more impressive. An overtake is done and dusted within a bit over three seconds. It makes a rather interesting high-pitched exhaust noise on the go too, though it's more obvious inside than out, according to Shooter Gasnier.
If you're a go-hard type you'll fall for the GLC 43. For starters, it has uprated brakes that are more than a match for its enhanced performance; they're strong and fade-free, confidence inspiring. Once you've played around with all the set-up systems, boning everything up to ace corners, you'll be surprised the sorts of speeds it will hold through the bends. And that's because of a few things working in harmony.
Suspension elastokinematics are uprated, there's more negative camber up front, better lateral stiffness in the rear suspension, the AWD system is strongly rearward biased (31:69) and the sports air suspension system has three adaptive damper settings. On the stiffest there's little in the way of lateral body lean. Moreover, there's an intermediate ESP 'sport handling' position.
Truth be told, with the standard 21-inch rims and masses of low profile rubber, you have to be trying hard to get the ESP system even flickering, in all except the tightest corners. One other aspect that surprises, given the size of the GLC, is its decidedly direct steering, just a nudge on the wheel enough to initiate the turn, thanks to its variable nature. It's hard to credit the dynamics of this machine, though like all big elevated vehicles its centrifugal cornering forces are ever present.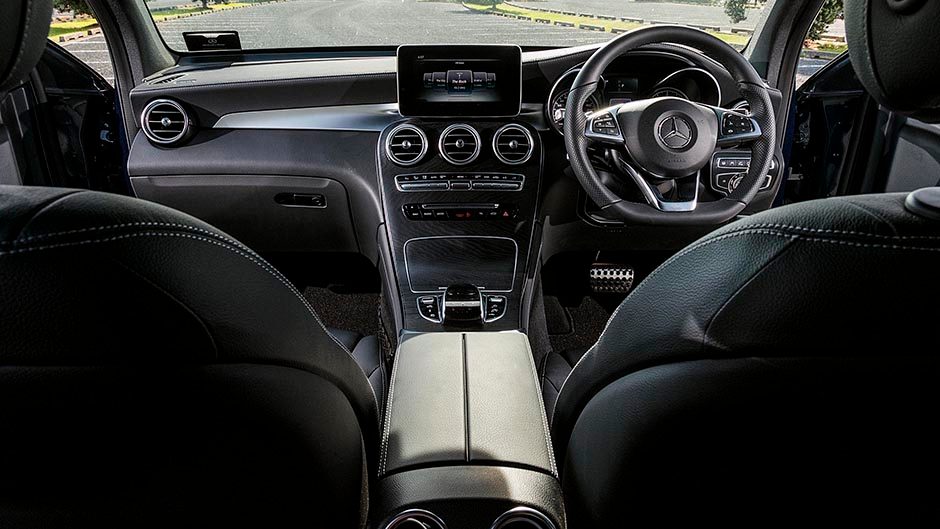 The GLC 43 even works rather creditably when everything is set to Comfort mode, which is handy if there are passengers aboard. The big 21-inch wheels and sporty rubber mean the ride quality can at times seem a bit busy, over undulating or broken seal, but that's often the price paid for cornering capability. If you want more of both, check out the Mercedes-AMG C 43 sedan or estate.
It's eminently practical of course, the 43, offering 550L of luggage area with all seats in use, expanding to 1600L, and there's a hidden underfloor area. The hold is accessed by a powered tailgate, and there's a decent amount of room in the rear for two adults and a child in between. Until its no-holds-barred 63 sib arrives along, the 43 will figuratively bask in the glory of not only being the top GLC but one of the quickest and most cost effective of the sports offerings in its class.
Until its no-holds-barred 63 sib arrives along, the 43 will figuratively bask in the glory of not only being the top GLC but one of the quickest and most cost effective of the sports offerings in its class.
Primary competition? Undoubtedly F Pace S, at least until the new Q5 range arrives.
| | | | |
| --- | --- | --- | --- |
| Model | Mercedes-AMG GLC 43 4Matic | Price | $117,400 |
| Engine | 2996cc, V6, T/DI, 270kW/520Nm | Drivetrain | 9-speed auto, all-wheel drive |
| Fuel Use | 8.8L/100km | C02 Output | 201g/km |
| 0-100km/h | 4.98sec | Weight | 1965kg |