Fire up the KTM 390 Duke and any ride should put a smile on your face. Head for the hills and that smile will turn maniacal.
It was once our favourite LAMS machine, that is until the Kawasaki Ninja 400 happened along, but in 2017 the 390 Duke got an upgrade. It sold so well we've only just managed to get a ride on the latest variant now. Glad we did because it not only remains a crazy good scoot at an unbelievable price but it shows just how much can be achieved by concentrating on weight saving rather than powering up.
The new engine is little more potent than the old one, but it's much more refined, and is arguably the best single I've encountered, certainly of late. It revs smoothly and pulls crazily from 100km/h in top gear, around 6000rpm, with no let up until just after 10,000rpm. It's not too vibey either, not that the mirrors aren't exactly going to reveal whether or not you remembered to shave of a day.
But it's the transmission on this particular beastie that's of interest because it's unique in the bike world. Kind of. Which we will get to, but one other aspect of the 390 Duke is unique, and that's its speedo accuracy. Most bikes are reading 100km/h when they're actually doing 94 or so. This one, with a flash new TFT screen reads right on the money, and the only other that was this close was another KTM, the RC8. Just saying, so if you're doing anything over the odds, be aware you could be nicked.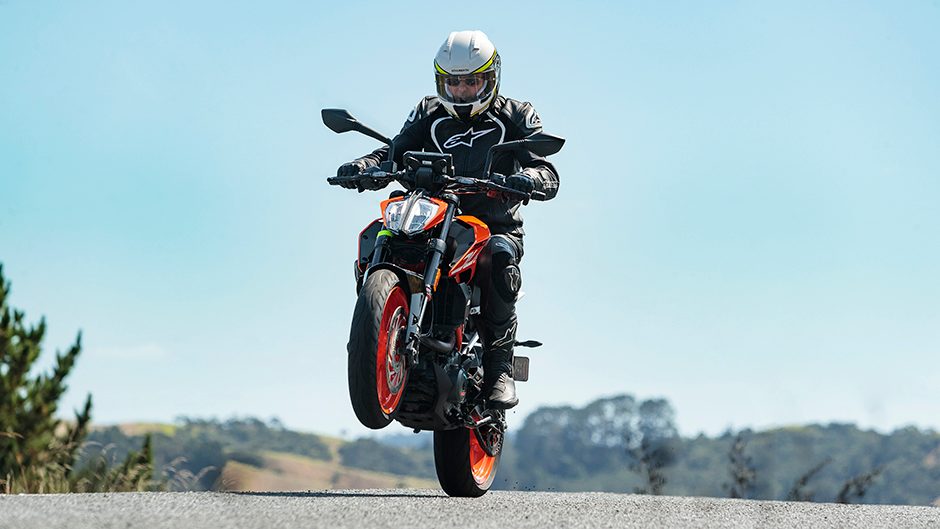 Clutch lever present but unused
The Rekluse clutch is essentially a centrifugal clutch like what you might find in mopeds, scooters and the like. I've not encountered such a thing on a motorbike before. Evidently it's a $1000 option for the 390 Duke and from my experience of it so far, it's amongst the best of the automated transmissions I've encountered.
It's different from a conventional quickshifter which uses electronic actuation of a conventional clutch. So with these you still need to use the clutch lever when coming to a standstill or setting off. Not with the Rekluse unit you don't. Simply pull up to the stop lights and flick down through the gears. No clutch lever necessary and it moves smoothly between cogs.
When the light turns green you just gas it up like a regular scooter, upshifting clutchlessly as you go. The upshifts are perhaps not quite as smooth as those of a regular quickshifter but the downshifts are something else. I'm not convinced anyone has done this particularly well as yet with a quickshifter but with the Rekluse system the downshifts are rather good, and never feel mechanically jarring.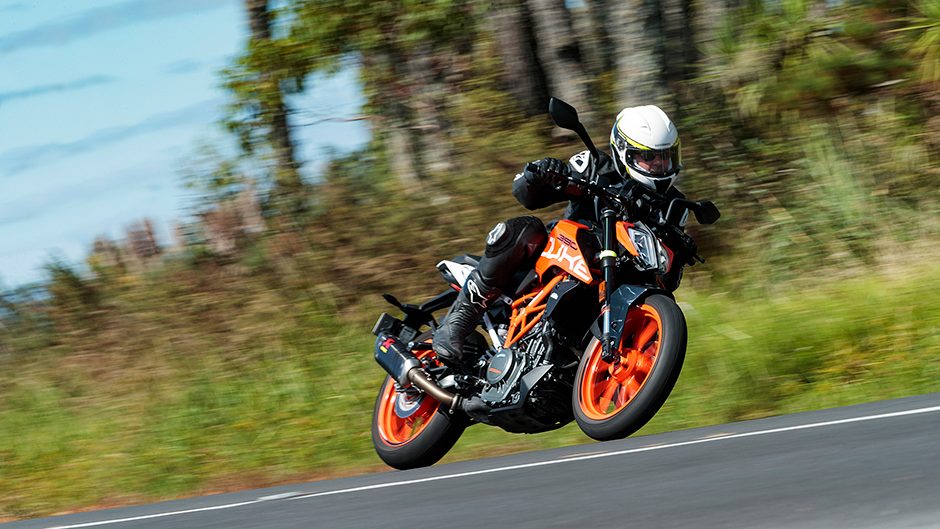 So what's the downside? Ah yes, there is one. If you let the engine revs drop too far, anything below about 4000rpm, the clutch starts to slip, so you need to downchange a bit earlier than you would with a conventional manual. Then again, performance singles aren't exactly known for slugging away at basement revs.
Quicker too
Want to know what else? Despite the new engine only gaining a few more horses and Newts, the automated 390 Duke trounced the old one on both acceleration criteria we assess. Still a 373cc engine it makes 43hp at 9500rpm, and 37Nm at 7100rpm at the crank. A revised airbox and exhaust are meant to improve midrange by about six per cent, while a ride-by-wire throttle is also new.
No engine modes though, not that you expect any in the LAMS class. This is a little ripper for speed, the acceleration figures almost exactly overlaying those of the overachieving Ninja 400 (4.97sec 0-100, 3.8sec 80-120). It would be interesting to know how fast the manual version is but we'd imagine there'd be little in it. Even the launch off the mark is pretty spirited for the automated version.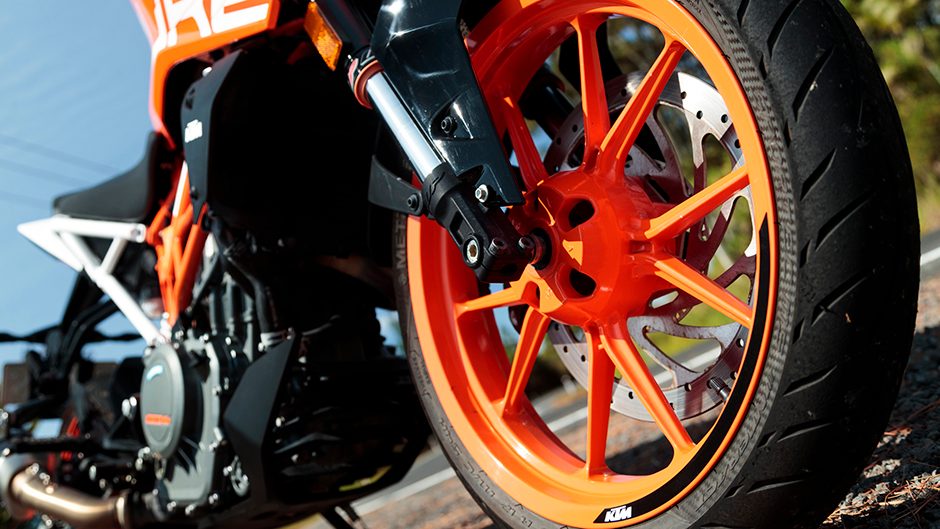 With the two-channel Bosch ABS system, you can disable the antilock system altogether (for stoppies) or partially (Supermoto mode) for backing it in. We didn't do either because of a pussy factor, but we did check out how well the brakes work during an emergency stop from open road speeds, and a couple of times the back wheel lifted up and began trying to overtake the front wheel, always creating a bit of excitement.
Fortunately the ABS system called those antics to a halt in time before everything went pear shaped (as it likely would were I to try out the Supermoto mode in anger). Anyhow, a full stop in 40m isn't bad for something with a single disc up front and not a huge contribution from the rear wheel. Especially compared with last time when the figure was over 46m. Thank a bigger 320mm disc and upgraded components for that.
And with only 155kg to rein in. This is the only bike in the LAMS class to feature a full colour five-inch TFT display, and the 390 also comes standard with LED headlights, the shape reminiscent to that of the 1290 Duke. For your information, if you smack into something head on and damage both of these items, it's more than likely your bike will be written off, so be warned, these replacement bits don't come cheap.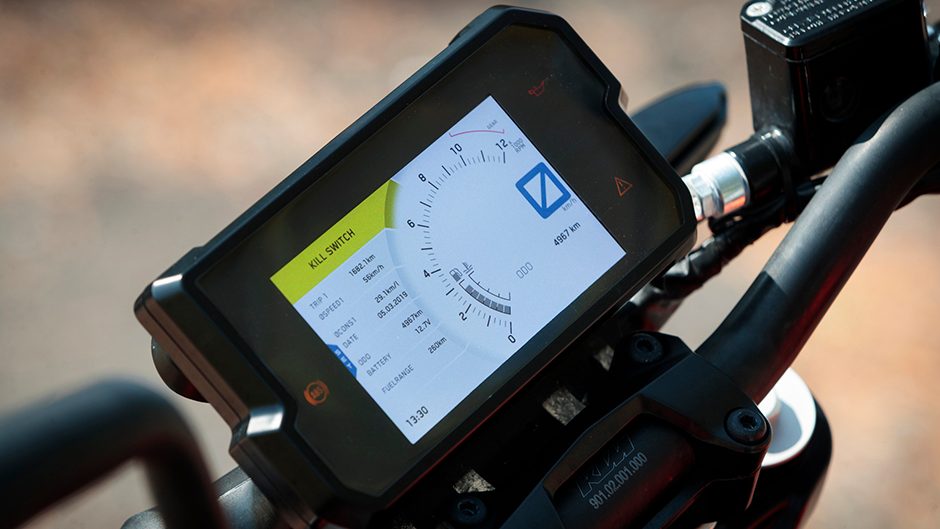 And an amazing handler
The trellis frame geometry has changed slightly, with a shorter wheelbase and more upright forks, leading to an even more aggressive demeanour when you take to the hills. Suspension is still by WP, a subsidiary of KTM and is, apart from rear preload adjustment, fixed. It's firm, or perhaps was firmer than I remember because the bike had been at a track day before we rode it away.
The slightly softer foam in the redesigned seat helps with slower speed ride comfort but if you're after an armchair this ain't it. Figure on a typically aggressive riding position from KTM, and despite being a small bike I didn't feel like a giant on it. The knees and hips aren't too flexed up, and nor are the hands too spread apart. A slightly bigger tank now holds 13.2L of fuel but it's still thin as, given the single beneath, so you almost feel knock-kneed when your legs are firm about the tank.
Initially this feels stupid light, almost like a pushbike – easy as U-turns reinforce this impression – and taller riders might feel as though they're riding on it rather than in it, but with familiarity you concentrate more on what this is doing so well rather that what seems odd. And that's turn effortlessly and hold fast any selected line.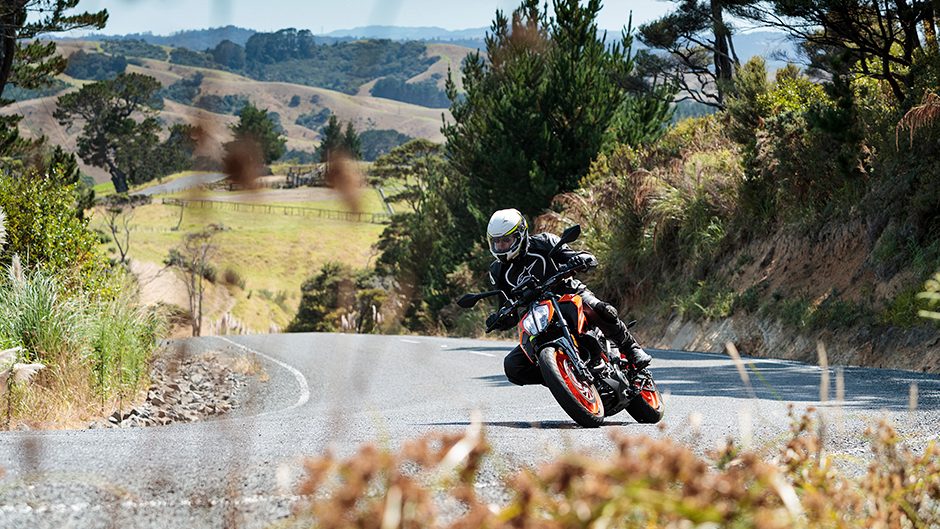 It's just a joy to ride on sinuous roads, maintaining corner speed like you'd not credit. Helping in no small way are the standard fit Metzler Sportec tyres. If your mates are all on LAMS bikes they probably won't see which way you went.
We revealed our BOTY recently, the Ninja 400 and this costs the same amount as the Duke. If you want comfort go for the Kawa but for sheer thrills in the hills, the KTM's hard to beat for a LAMS machine.
| | | | |
| --- | --- | --- | --- |
| Model | KTM 390 Duke | Price | $8495 |
| Engine | 373cc, liquid-cooled, fuel injected, single, 32kW/37Nm | Drivetrain | 6-speed, chain final drive |
| 0-100km/h | 4.97sec | 100-0km/h | 40.66m |
| 80-120km/h | 3.84sec (107.97 | Weight | 161kg |