This is Honda's new entry-level commuter bike, with styling based on that of the neo-retro CB1000R roadster. Can a 300cc single do the business?
OMG, how cute is this thing? Honda describes it as "A first big bike after a 125cc machine". We guffawed a bit too for this is actually an eensy weensy thing, just a tad over 140kg, with a radial mount single disc brake, and upside-down forks even? Showas at that! Plus LED lights, cool Renthal-like fat bars, and that retro modern styling. But a first big bike? Don't think so.
It's convincingly in the lower-middle part of the LAMS category. Soon as I threw a leg over this little jigger and rode it up the street, I knew that this was the engine Honda's little CRF250L adventure bike needed. This instantly convinces with its low end torque available from 3000rpm so slipping around urban streets in top gear is no problem. And it eases along on the motorway with 100km/h an effortless and almost vibe-free 6500rpm. What a difference an extra 50cc can make. It feels like 100cc more in how it delivers.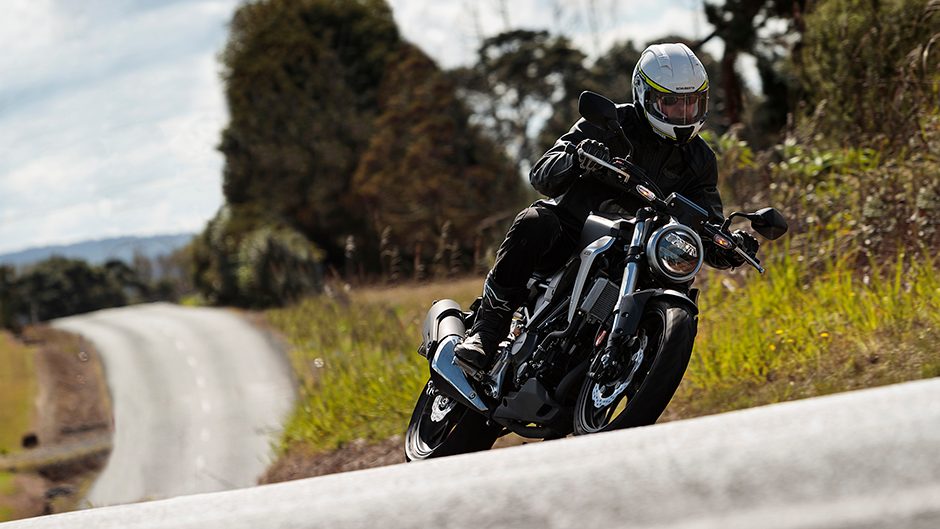 Small numbers a bonus
On our first ride then, we were already gelling in a way that never quite happened with the baby adventurer. This felt immediately small single strong, like the G 310 R. And the economy was a bit of an eye-opener. Guess it always is with little singles.
Honda claims a real world combined fuel figure of 30km/l or 3.33L/100km. Cruising along at 100km/h, you're sipping through just 2.2L/100km, and at 50km/h in top gear around the burbs, about half that. Economy akin to a lawn mower then? Just about. And with a 10L tank, you should last for 300km before heading back for more juice.
We found half a tank of 95 was $12 and it would probably perform fine on 91, closer to $10. That's one reason why people buy little commuter bikes like this, that and the fact that you're not forever sitting still in traffic, wondering how long it will take for the tailback to clear.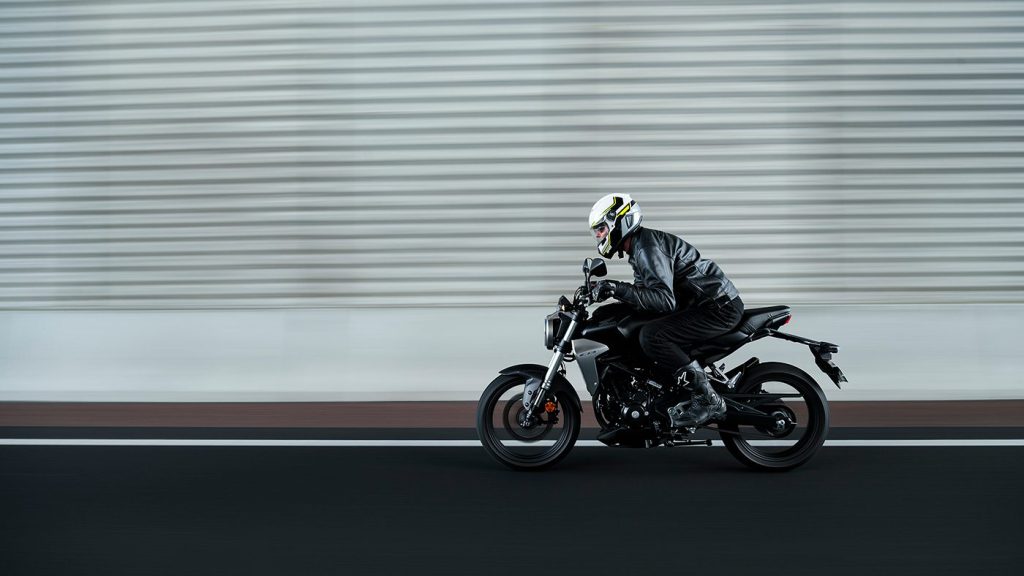 As congestion in the big cities gets worse with time, people will increasingly look at the likes of the CB300R and think that might well be $8k worth spending. On the nice days, they'd be right. This has pretty much everything you'd need and want in a thrifty commuter, the only missing bit being weather protection of any sort – the downside of owning a naked bike – and a gear position indicator.
Everything you need to know about the bike's functioning is shown on the oblong LCD instrument display, including average fuel use, digital readout of speed, even a fuel gauge and gear shift light. The numerals are small though, a bit like the bike. About the first thing you're going to notice regarding the baby CB after its natty styling is its lack of weight. There's just 71kg at one end, 72 at the other. It's a feather duster to move around, back or forwards, and you're so unlikely to topple over turning it 180 degrees.
That's handy, as is a 2.3m turning radius. Nor do you need to be any particular size to ride it, with a seat height of just 799mm. Hop aboard and it feels like a nice easy riding position too. I'm about six feet in old money and it doesn't feel like a pit bike beneath me. Even the transmission is light, snicking easily between gears, neutral always easy to find.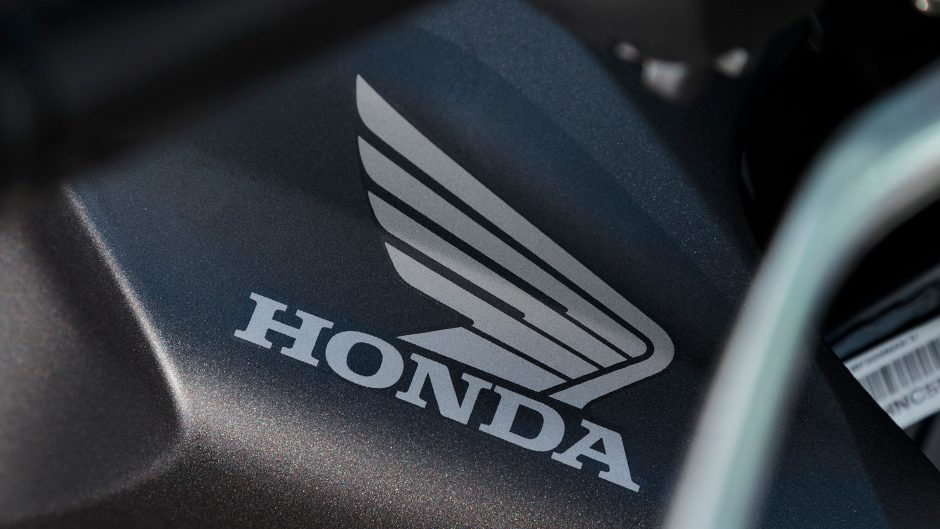 Motor-vated
Somewhere buzzing away beaver-like below is a 286cc twin cam, liquid-cooled, single, outputting about 30hp (23kW) at 8500rpm, while torque of 27Nm arrives at 7250rpm. So peak twist equates with about 110km/h indicated on road. That's actually about 100km/h in reality. And it feels quite relaxed at that.
There's not much in the way of vibration until you're nearing its five-figure redline. That's reflected in the sizeable mirrors, clear much of the time. So yes, this little Thai-built style icon is open road ready, not that it's quite the road burner that some others in the class are. And by class we mean up to 400cc, so there's no ignoring the fact this competes with the new incoming Z400, which costs an identical amount.
It has one-third more power again, thanks to an extra pot and an added 120cc, so will no doubt outrun the CB300. That said, it's heavier and won't be anything like as fuel efficient. And that's important to some commuters. New Zealand models get the natty little Nissin radial brake with a four-piston caliper acting on a 296mm disc, controlled by ABS acting through an IMU, directing pressure fore or aft to control brake dive. But the system is a bit disappointing.
Like being bitten by a 12-year-old dog, both brakes feel a tad toothless. Shame because, like the rest of the bike, it's a good look. But a best stoppie of 47m is a fair way behind what the Duke and Versys produced and slightly down on the G310R and Ninja 400.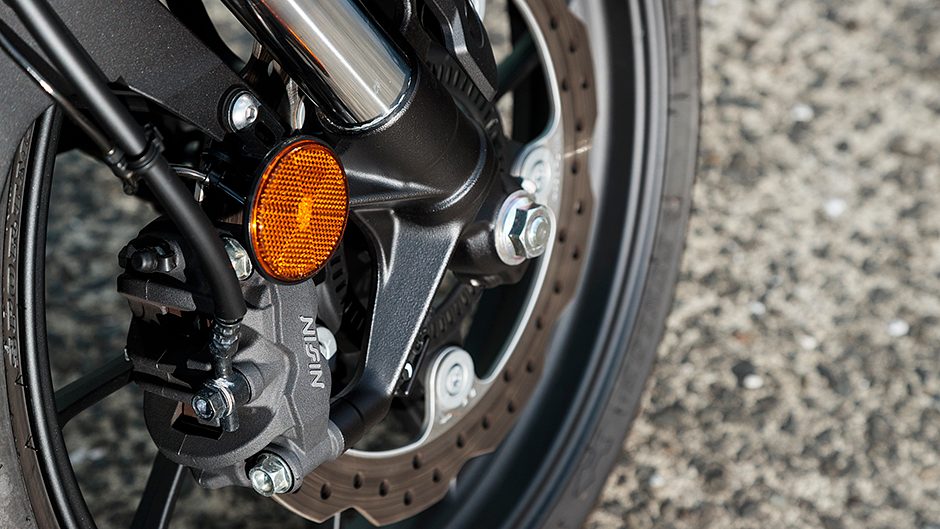 Black shadow
I'm not fond of black for a colour, on anything, just because it shows every atom of filth. Rather you're more likely to be hit by something on a dull day when you're on a black bike.
Drivers of cars are often not looking out for bikes or motorbikes, just other tin cans. So if your little waif of a motorcycle doesn't stick out with bold colours, you're more likely to be hit than is, say, a lollipop coloured scooter. Fortunately this can be had in red, the right colour for a Honda, or equally invisible grey.
Last time we rode anything like this from Honda was over a decade ago, a CBF250F single that weighed in at 147kg. It was memorable only for being less than ordinary – and slow, with an overtaking time of just under 20sec. The CB300R annihilates that. Its best 80-120 was 7.66sec, while zero to 100 took 6.85sec. Honda doesn't mention performance figures, except for this little tidbit: it supposedly gets from 0-200m in 9.2sec, which is pretty meaningless. While it isn't slow and never feels it, the competition is quicker but who really cares with such astounding economy?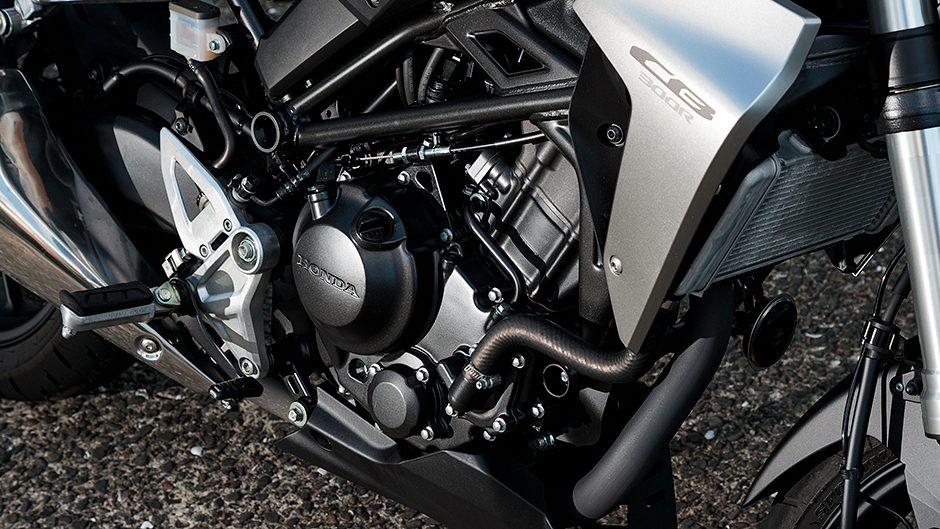 Like a Repsol
This bike uses frame construction techniques pioneered for the CB1000R, a mix of pressed and tubular steel so it feels up for a bit of action other than mere work and home stuff. Honda describes the frame more scientifically: it offers high longitudinal rigidity and controls torsion from wheel deflection.
The idea is to deliver agile handling with stability and feedback. Which it most certainly does, on all three counts. It even looks a bit up for it, with its high exit high flow right sized exhaust, USD Showa forks, and high tech headlight. We rode it over some of our fave ridge runner roads and it just kept begging for more corner speed, reminding of the KTM 390 for agility. Look at where you want it to be in a corner and there it is, as if by magic. Just like it should be. Even the ride is pretty well sorted.
Choices choices
So a handy little jigger at $7995 you're thinking? Hell yeah, especially if you're moving up and want to retain the lightness and ease of a 125. However, we'd be remiss not covering off the like-priced competition. Such as the Kawa Z400 which, for the same money, will likely outrun the CB (45 vs 30hp, still LAMS compliant). It's the same underneath as the Ninja 400 which waltzed off with our 2018-19 BOTY award recently.
We expect the naked version at $7995 to be all but as impressive. Another stellar value twin is Yamaha's dinky little MT-03 at $6999. For $7690 you can also pick up a BMW G 310 R, also a single, and another good one at that. For a little bit more money than the CB commands, $8495, KTM's little fireball 390 has more of, well, pretty much everything. It is the single to beat in the sub-$10k marketplace. Talk about cut-throat competition.
| | | | |
| --- | --- | --- | --- |
| Model | Honda CB300R | Price | $7995 |
| Engine | 286cc, liquid-cooled, fuel injected, single, 23kW/27Nm | Drivetrain | 6-speed, chain final drive |
| 0-100km/h | 6.85sec | 100-0km/h | 47.07m |
| 80-120km/h | 7.66sec (224.5m) | Weight | 143kg |