Small SUVs are hot property. Slotting below popular Seltos is Stonic, with a hard-to-ignore LX base price of $23k. Does it hit the mark?
It may have taken a while to arrive here – Europe has had Stonic since midway through 2017 – but Kia's smallest high-rise vehicle is now on sale, kicking off from $21,990. Well, it was until the end of 2020 because now that introductory offer has lapsed you'll have to pay $22,990 for the base LX model, which still seems hard to overlook. There's a fairly extensive line-up too, with EX, Limited, GT Line and GT-Line+ thereafter, costing from $27,990 to $33,990. On-road costs add around $1000 to each model.
We got to drive the middling Limited which, like the rest of the range, is Rio based and front-drive only. The first three variants use an updated 1.4-litre four-pot naturally aspirated engine mated to a six-speed auto. It used to struggle mated to a four-cog auto in Rio back in 2017, but with a six-speeder in Stonic it doesn't require constant rowing along. On rural roads the engine likes to have at least 3000rpm showing, but in town it will pootle happily at below 2000rpm. That said, it's no segment leader by any stretch, given there's no turbo.
Except there is, for the top two models. The GT Line and the GT Line+ both use a 1.0-litre turbocharged triple mated to a seven-speed dual clutch transmission. That produces the same peak power of 74kW but the torque tally rises to 172Nm versus 133Nm from the bigger four potter. Moreover, since maximum torque arrives at 4000rpm for the 1.4 and at 1200rpm for the smaller powerplant, the fuel bill is less for the quicker car. Kia quotes a combined fuel use figure of 5.4L/100km for the turbo and 6.7 for the 1.4. And there's roughly a two-second difference in 0-100 times, with the turbo variant evidently squeaking into single figures.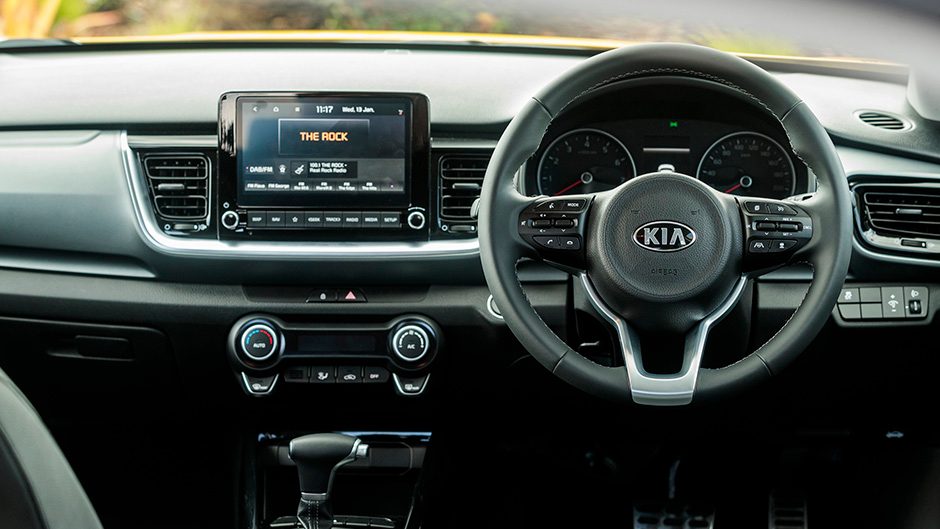 Space capsule
For dimensions, it is slightly bigger than some of its rivals, just as the Rio has always been somewhat larger than like-priced small hatch offerings. Resting on a wheelbase of 2580mm, it is 70mm taller and 35mm wider than Rio and rides 42mm higher. The rear overhang is longer by 70mm, expanding luggage space to 332litres, versus 325L in hatch format. With split folding, Stonic is good for 1135L versus the 1000L of Rio.
Kia also claims it is "one of the roomiest SUVs in its class", an easy claim to make. In the back there's decent enough leg- and headroom, though it's not remarkable like in some similarly priced small SUV rivals.
Stonic slips in below Seltos and is the smallest high-riding Kia, Picanto X-Line aside. Rivals are numerous, including Venue and Kona, Juke and Puma, Arona, Yaris Cross, Tivoli, T-Cross and 2008, amongst others. This sector is brimming with action, to the point where small car sales are slumping because people want the added space, practicality and higher riding status of a small SUV. Moreover, they are willing to sacrifice a little on the performance and dynamics fronts, not to mention style. But do they necessarily have to do that?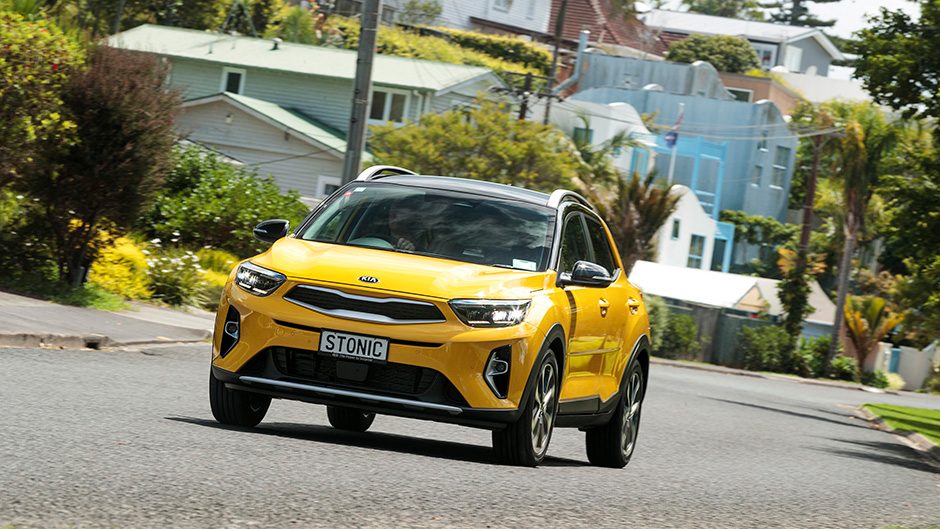 Fresh styling
Kia designers deliberately sought to create a shape with universal appeal so, unlike Venue, Stonic is less likely to be divisive. It has pleasing angles all round, is nipped and tucked in profile and is available in nine bright colours. Our's featured the two-tone option, with yellow paint, and black cladding and roof.
Kia has aimed for a young audience, the name evidently being an amalgam of speedy and tonic. This is hardly apt, given speedy it isn't (12.2sec 0-100, 10sec TED time) and a sonic tonic it most certainly is not, neither from the engine room side of things, nor from unwanted road noise where mean cabin SPLs averaged 77dB over our most testing road surfaces. There's wind rustle around the A pillars too.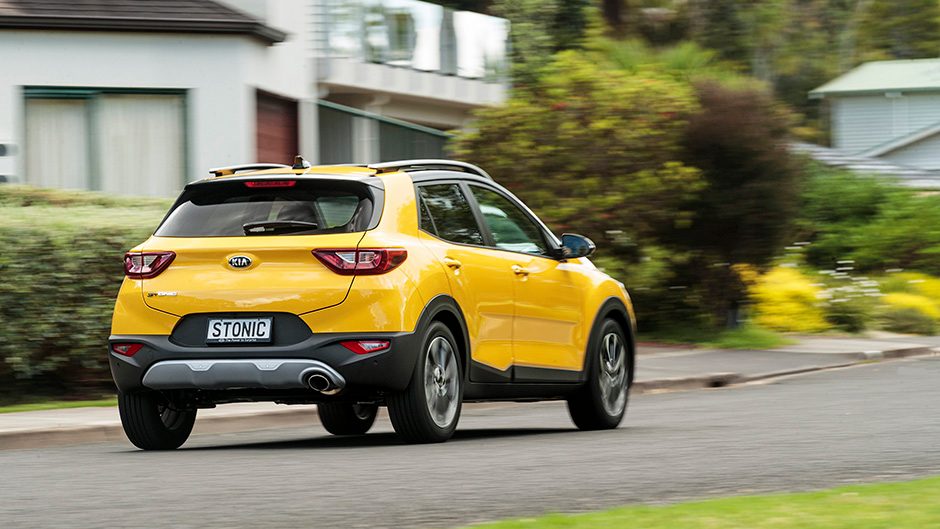 Easy going on daily basis
If you're not the Speed Racer type, this happily obliges with easy open road running and average fuel use in the sevens. It's doing around 2500rpm in sixth at this speed but feels relaxed. However, an overtake means backing down two gears to get into its best power and torque zone of 3500-5000rpm. In hill work, the auto sometimes gets bamboozled, not sure whether to hold a higher or lower gear, hunting away. So if you plan on a mix of open road and town travel, you'd probably want to go for the GT Line models with the stronger but smaller 1.0L turbo triple. The extra torque developed at lower revs adds haste (0-100 taking 10sec) and also reduces overall fuel use. But these top models have a sticker price beginning with a three.
In the suburbs the 1.4 mill happily eases about at lower revs, and the Limited benefits from adaptive cruise, a boon in heavy traffic.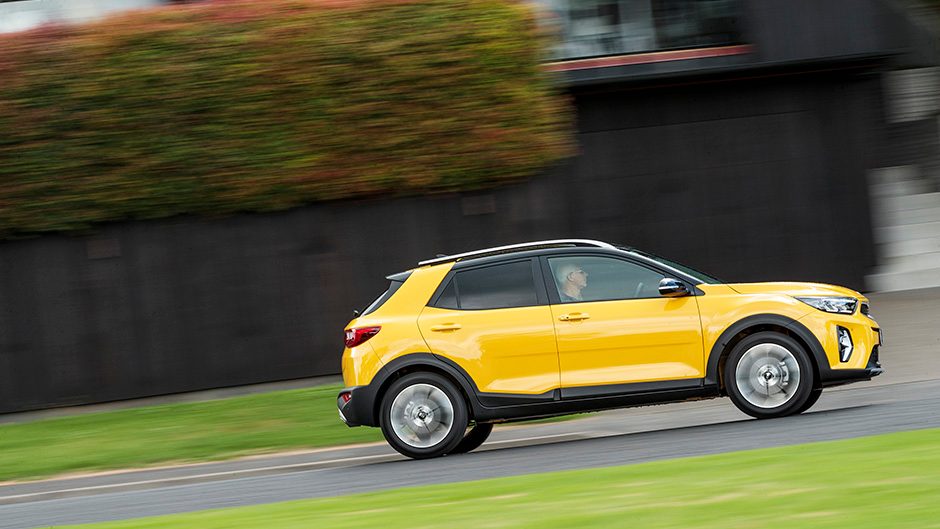 Handy handling
Arguably the best aspect of Stonic is the way the chassis outperforms the powertrain. Like all incoming Kias, the suspension and power steering are fine-tuned for Australasian conditions and the mix works pretty well over a variety of roads. The steering, while not especially interactive, is well weighted without the usual electric artiface, and it corners in relatively neutral fashion, the eventual understeer tamed by ESP. Springs are compliant with good travel, and damping tends firm so this corners quite well for the breed and rides nicely, especially once up to speed. However, it can move about in bumpy corners, typical of torsion beam suspension set-ups.
The excellent ContiSportContact 5 tyres contribute in no small way to its dynamic ability but the downside is road noise that the meagre sound deadening materials cannot seem to mitigate. And one of the prime objectives of a crossover or SUV is its quiet progress. With our typical chipseal surfaces this isn't always the case.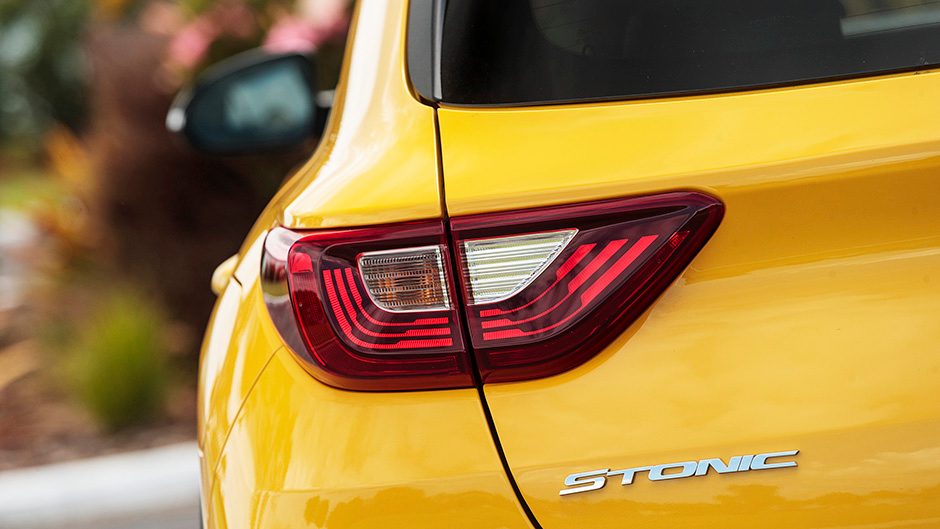 So which model?
The big question is which model to plump for. If you're after value, clearly the LX is the go at $22,990 plus ORCs, so effectively $24k. All Stonics feature LED daytime running lights, a rear view camera with dynamic guides, rear park sensors, an eight-inch multimedia touchscreen that's compatible with both smartphone types, and an autobraking system that recognises cars, cyclists and pedestrians. There's also lane keeping and centring, driver attention alert and keyless entry. Sat nav is standard on the top three models, smart cruise the top four.
No doubt many will like the better equipped EX but it is $5k more. And for that you add bigger 16-inch alloys, auto air con, sat nav, active cruise, BSM, RCTA, front parking sensors, privacy glass, and a smart key, among other things. The Limited, which adds 17-inch alloys, leather and polyurethane upholstery, LED head and tail lamps, and sports pedals for an extra $2k runs into a heap of turbo-fired competitors that have more fire power so are less demanding to drive out of town. So for urban use the Stonic LX seems best value, and looks smart. At its price any foibles are forgiven. Re the Limited, check out the $28k Seltos LX first.
| | |
| --- | --- |
| Model | Kia Stonic Limited |
| Price | $29,990 |
| Engine | 1368cc, IL4, T/DI, 74kW/132Nm |
| Drivetrain | 6-speed auto, front-wheel drive |
| Fuel Use | 6.7L/100km |
| C02 Output | 155g/km |
| 0-100km/h | 12.21sec |
| Weight | 1180kg |