Even base model utes are now well kitted out, as highlighted by this entry-level Hilux. The workmate might only be $29,990, but it's got you covered. And that price includes all on-roads.
Unlike every other ute, you won't be getting a discount here, because that's not how Toyota does business anymore. But they'll cover the on-roads, give you a tank of gas and some floor mats as part of the deal.
The Workmate is a ute the way they used to be, without the added air space under the chassis, and driving from the rear alone. But stripped of content it's not. We were surprised to discover it even has a six-speed auto as standard.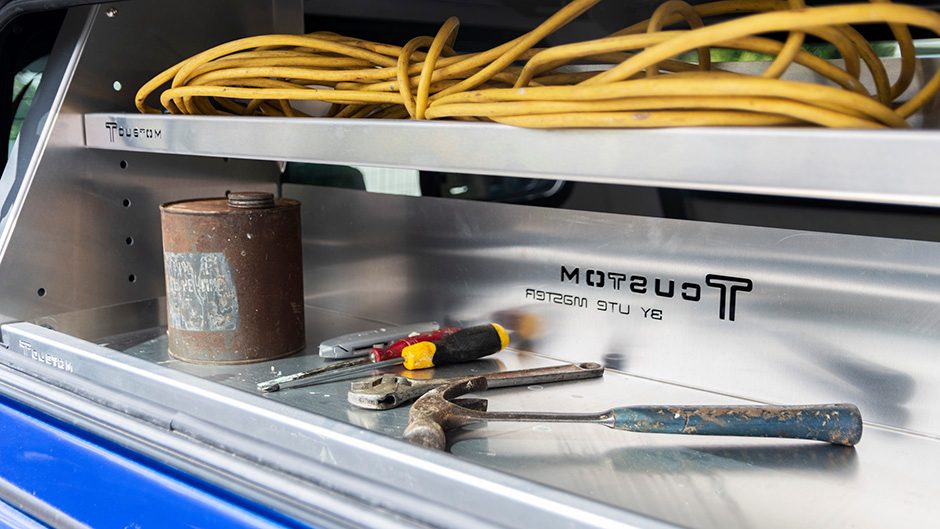 The cloth-trimmed seats are blessed with enough foam for a modicum of comfort, though the rest of the cabin comprises hard wearing plastic with vinyl covered floorings. So everything is ready for that thick, permanent layer of dust and mud these things typically accumulate. As a workplace, it's got good storage, the glove box accommodating a laptop, and there are plenty of other locations for your implements/lunch/drinks.
While the infotainment system is fairly basic, with CarPlay and Android Auto compatibility, it has you sorted. Workplace safety is covered with standard fit AEB, lane departure and speed sign recognition. It also has active cruise, which works from 30km/h and above.
The ride height sees the seat at a near perfect level for easy entry, and the kids can get on board more easily too. This tester's running boards are overkill. The deck height on this is more user friendly too compared with the 4×4 and Pre-runner models. The Hilux double-cab provides good space in the rear for human cargo, or you can flip the seat base up for storing stuff in the cabin.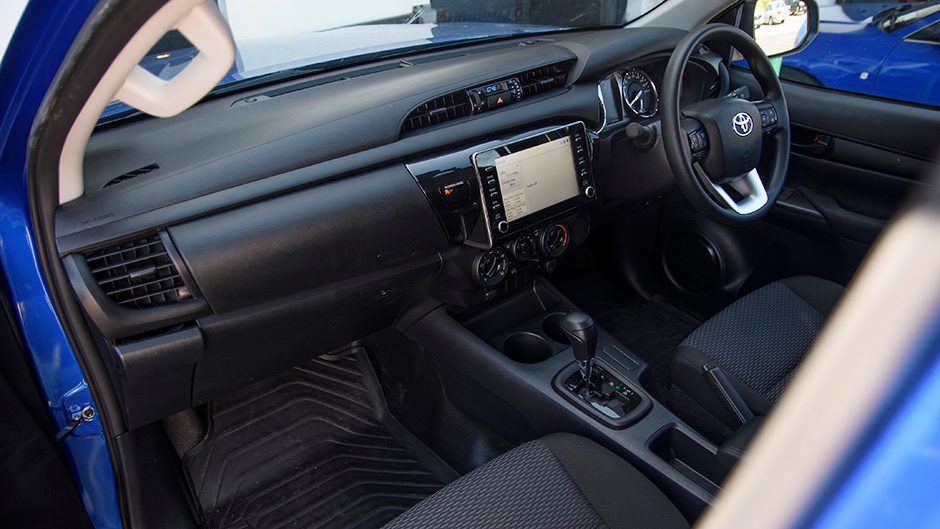 The $30k figure is just the buy-in for this ute, as you'll need $1400 for a tow bar (Workmate rated to haul a max of 2500kg), $700 for a trayliner, maybe $1100 for a nudge bar up front, while a canopy ranges in price from $3100 to $4300. With Toyota, you can option all these at the time of purchase, factor them in any finance deal going, and Toyota will fit them all, workmanship guaranteed, and deliver it all ready to work.
Workmate makes do with a 2.7 petrol four making 122kW and 245Nm. It's quieter and smoother in operation than the diesels, but uses more hydrocarbons as it just doesn't have the easy Newtons of the turbocharged oilers, fuel use up around the 12L/100km mark. Ascending a half decent hill, you've gotta go searching for the pull, the gearbox working harder. And that's unladen. Regular towers will probably want to buy a diesel. Workmate rides okay, still a touch jiggly, though once you've got your tools on board it'll settle nicely. And it has a better turning circle than the high riding trucks.
At the price, it must be tempting for those previously considering a second-hand rig. It's got its towing limitations and a bit of a thirst, but in most other regards, it makes great sense as a work truck.
| | |
| --- | --- |
| Model | Toyota Hilux Workmate 2WD |
| Price | $29,990 |
| Engine | 2694cc, IL4, EFI, 122kW/245Nm |
| Drivetrain | 6-speed auto, rear-wheel drive |
| Fuel Use | 10.4L/100km |
| C02 Output | 241g/km |
| Weight | 1795kg |