A new Sorento is here packing a raft of tech updates to go with a slick new powertrain, fancy styling and more interior space. Is this the best in class?
Once upon a time, Sorento was an old fashioned 4×4, with a full chassis and solid rear axle to boot. Thankfully Kia wised up to the burgeoning large crossover market, and morphed the Sorento into a worthy, range-topping SUV. It's been evolving steadily and now, in its fourth generation, serves up an equal measure of style, practicality, value and safety. And it drives well too. Is it the pick of the large seven-seaters?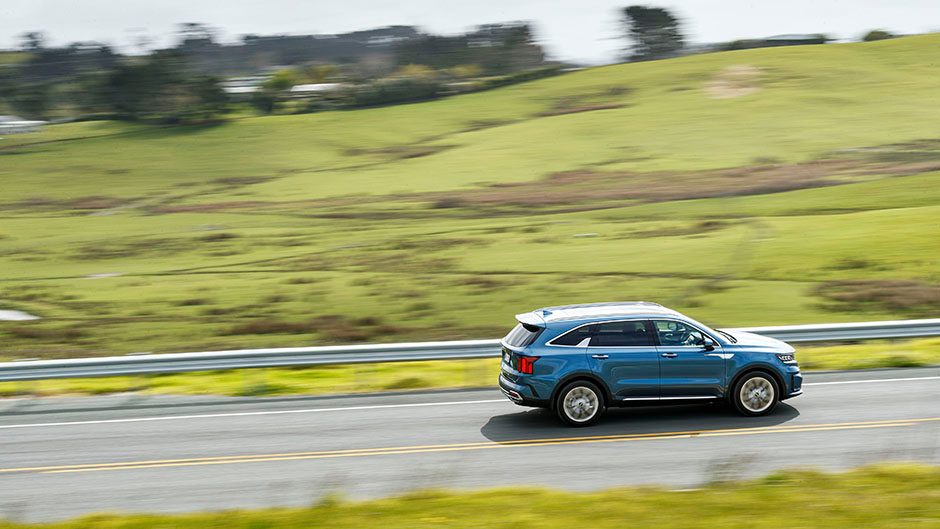 Well tailored
The styling is new yet familiar, looking somewhat like a much bigger Seltos, especially front-on. Of the redesign, they talk of 'sharper lines, high-tech details and elongated proportions'. Some of those details seem tacked on for the sake of it but otherwise, it's a job well done.
It's based on a new 'large SUV platform' (one that will also be underpinning the new Santa Fe, due before year end) and Sorento is now 10mm wider, longer and taller, though its proportions are better given a 35mm wheelbase stretch, shorter front and rear overhangs and a longer bonnet line. You'll know it's a Sorento up ahead as it's spelt out large across the tailgate. Helping clean up the rear end is the spoiler which cleverly conceals the wiper.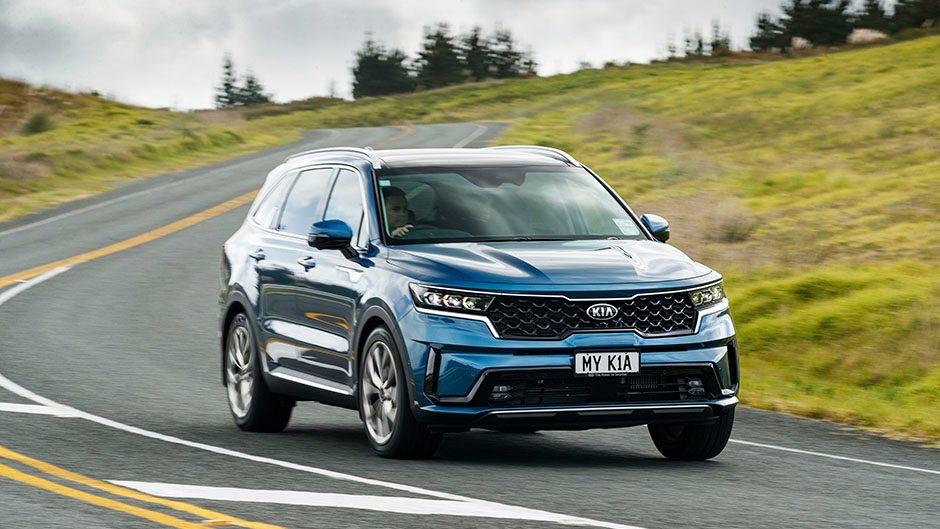 Well oiled
The tech specs look familiar; a 2.2 diesel making 148kW and 440Nm of torque but it's a new generation of oiler. It now has an alloy block, while other improvements see almost 40kg relieved from Sorento's front axle. The way it delivers belies the numbers. Though peak twist isn't registered until 1750rpm, this steams on sweetly from 1200rpm, and turbo lag isn't really an issue. It has some snot up top too, revving strongly through to its upper limit at 4500rpm. But it's the low down goodness we like. This is more responsive than we remember, helped by a new twin-clutch transmission. Yes, the eight-speed auto is out and replaced by a brand new dual-clutch box toting a similar amount of gears. Kia calls it a wet DCT, meaning the clutch packs are operating in an oil bath for smoother operation and improved cooling. It's always good to be well lubed and this is smooth, even first thing in the morning. Its low speed operation is refined, even when trying to park on an incline. There's some occasional slurring when you catch it between the ideal ratio but that's rare. It's brisk off the mark, the hook-up quick, as are the shifts both up and down, so that the engine never really drops off its torque curve. There's no idle-stop to foul things, though the one slight annoyance is the vibration at idle for what is an otherwise refined diesel. Okay, you can still hear it beavering away but it's not rowdy.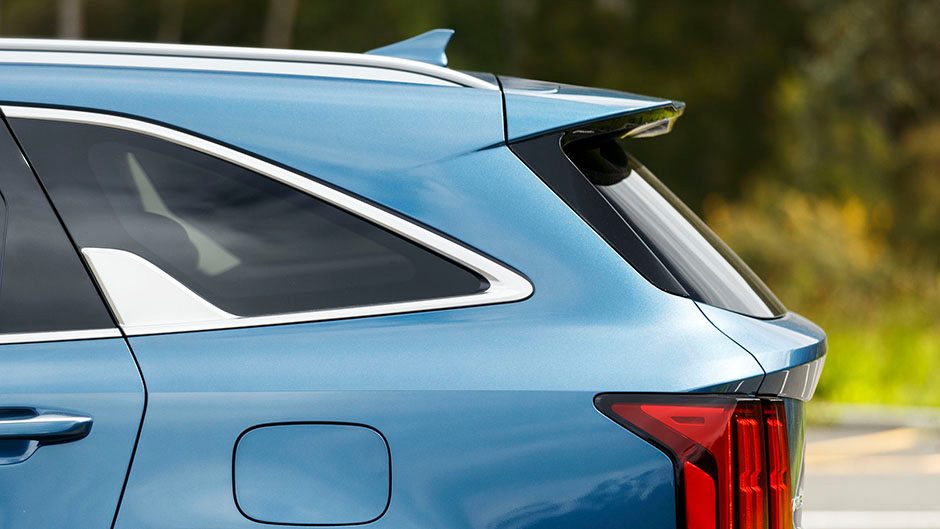 Goes well too
You can stall the trans up on the brake, the revs rising to above 2000rpm for a mad cat getaway. And it's quick through the ratios under the pump, helping Sorento shave 1.5 secs off its previous 0-100km/h time, though it's only half a second quicker on the overtake. It's not too bad on fuel use either. They quote 6.1L/100km officially, which you might see cruising long distance, but eights (or nines if you're rushing) is a more likely overall figure.
Underneath is a similar but tweaked suspension set-up of Mac struts and a multilink rear. All models use an on-demand AWD system, the fronts doing most of the work for improved efficiency but the system ensures wheelspin and torque steer don't upset things. New is a 'Terrain Mode' with mud, snow and sand settings to tweak the traction control, torque distribution and powertrain response.
Like most Kia models sold here, the Sorento is said to have been put through the ANZ suspension programme by Kia Australia where they finetune the dampers and spring rates. The progress of the Premium, on its big, blingy, 20-inch alloys, could be more cultured in the city where it picks up a few bumps you could do without but generally, it's okay. The big Sorento has a good turning circle, not much larger than your average hatch, while the steering is aptly assisted at slower speeds.
Of the drive modes, we suggest leaving it in Smart to sort itself, even when giving it a seeing to. Here, the steering is accurate, filtering the muck, yet you know what's happening and the roll control is well managed. There's some road roar at 100km/h but the wide Conti Sport rubber sure does make it all stick. It's quite a handy thing, enough to keep a driver interested to see just what she'll do. You don't expect much from a school bus but even the ESP is well trained, the understeer minimal, and the brakes work; a couple of 33m stoppies were certainly impressive.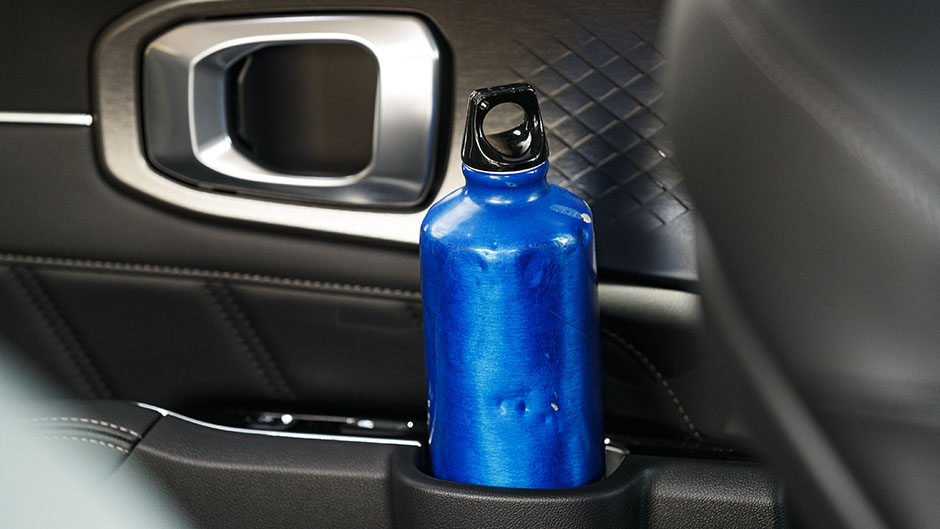 Well done inside
Kia has crammed Sorento full of extra tech; bigger screens, added safety minders and four million charge points. The widescreen 10.25-inch touchscreen sits up high on the centre stack, more in your line of sight, but is a bit of a stretch from the driver's seat. The screen you can configure, and it has a vibrant resolution and quick response. Figure on sat nav (for all models bar the entry LX), and smartphone integration. We like that the ventilation is done the old fashioned way. The Premium gains seats covered with soft nappa leather, quilted and perforated, all without being a $6000 option as it would be on a twice-the-price Euro. The cabin looks good at night, the ambient lighting giving the design features another dimension.
Despite the glitz and glamour, this is still practical, the storage sorted and cup holders plentiful. Its cabin surfaces are impressive, though there's a hard edge to the centre console that your knee might find.
Room in the rear is plentiful, and all should find themselves seated comfortably here. The second row slides further forward now to allow easier access to the rear, the seat tilting and gliding nicely all with just one button pushed. Those easy-to-use release buttons for the seats mean naughty brothers in the rear can flick their sister's seat forward all too easily however. There is said to be more headspace in the third row but it lacks leg room for adults, so your knees end up under your chin. The kids are alright though, so members of The Who would approve. There's a microphone system to broadcast the driver's voice over the speakers to save you shouting at the little darlings in the back, but if they are giving you grief, you can drown them out with the 12-speaker Bose surround-sound system. It would be good if there was a smart key entry button on the rear door; sometimes with kids to load, the back doors are the ones you open first. The ride height makes for an easier access for little ones, and the doors cover the sills for a cleaner entry too.
The powered tailgate's action is laboured but the boot is wide and long in five-seater mode while the third row seats can be folded and stowed in an easy, one-handed action. The boot they rate at 187L behind the third row (about one-third more than the old model), or 616L in five-seater mode. Fold them all flat, and you get 2011L. This is made easier with remote buttons in the boot. As for towing, the braked maximum is 2500kg.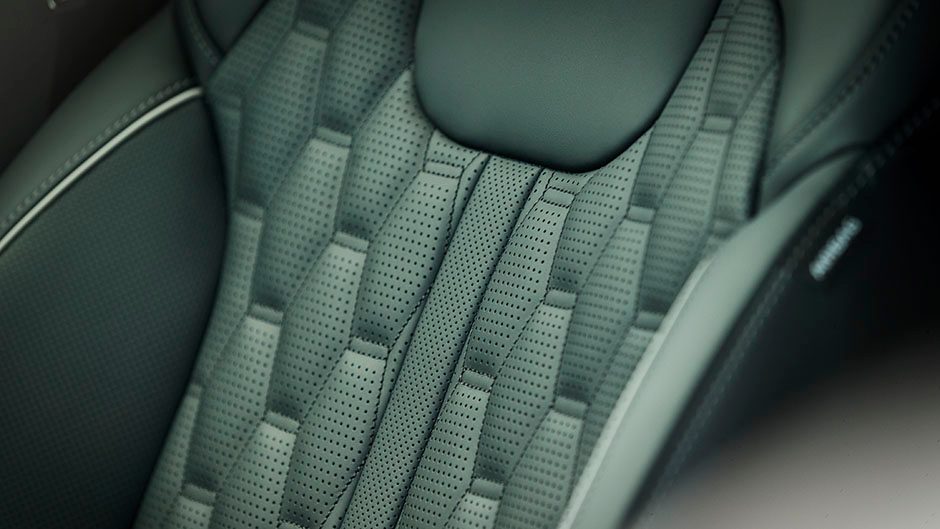 Keeps you well
There are multiple traffic warnings, most of which can be disabled but the speed limit information is sat nav based, so shouldn't be relied on. Driving out of Kia's HQ it suggested a 70km/h speed limit though the main road has recently been reduced to 60km/h. And while the speed camera alerts are handy, it was out by around 200m past the one we drive by everyday.
There's a big head-up display relaying some of the active safety alerts, of which there are more. These include advanced collision avoidance systems, and a new blind spot view monitor. This shows what's directly alongside via a video feed that is displayed on the dash when you indicate to change lanes. Smart cruise is easily set and helps out in traffic right down to a stop, and lane keeping is easily disengaged if you find it annoying. There are seven airbags including a front centre pillow so that front-seat occupants don't butt heads during a side-on impact.
For the Premium, there's a remote parking feature to guide the car into or summon it out of tight spaces using just the key fob, though it's a hit and miss affair. While the Sorento is wide, the multi-view camera system should help you dock it safely.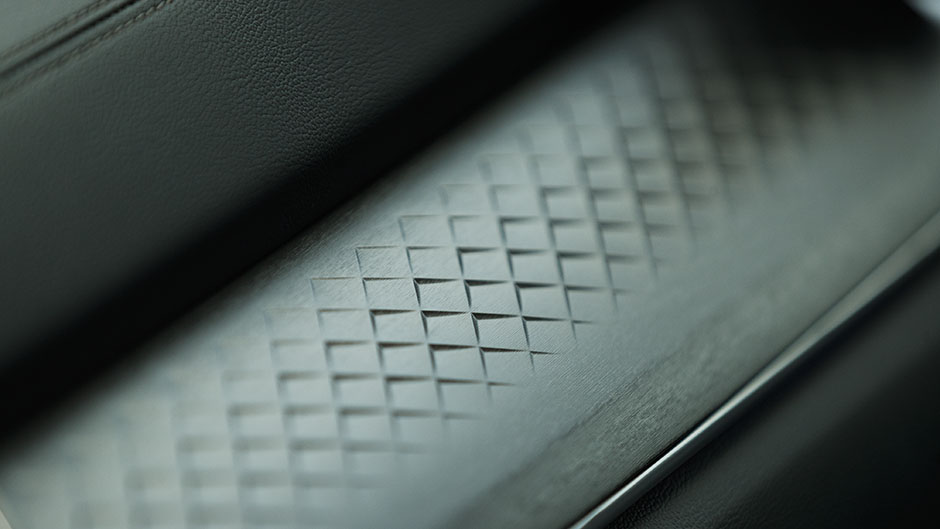 Well priced?
The local line-up has been simplified with just the one powertrain option, and the LX starts at $59,990. While this comes with most of the safety features, the EX is better value at $63,990 given it gains the HUD, leather trim, and the full size infotainment screen with sat nav, and larger alloys. Meanwhile the Deluxe ($69,990) and Premium ($76,990) add the fruit. Those numbers are up there, more than what Mazda asks for its top CX-9, and it's dearer than the soon to-be-replaced Toyota Highlander. But these prices are before the Kia sales staff apply their 'don't tell my manager' sort of deals. All come with three-year/100,000km scheduled servicing, and are certainly worth putting toward the top of the list when shopping for a new seven-seater.
| | | | |
| --- | --- | --- | --- |
| Model | Kia Sorento Premium | Price | $76,990 |
| Engine | 2151cc, IL4, TDI, 148kW/440Nm | Drivetrain | 8-speed twin-clutch, on-demand AWD |
| Fuel Use | 6.1L/100km | C02 Output | 159g/km |
| 0-100km/h | 8.79sec | Weight | 1933kg |