There's a long history of limited run Golf GTIs, released before the next generation emerges, and that's exactly the case here with this TCR variant. Is it as go-hard as its name suggests?
Special Golf GTIs are just that, harder charging than the already quick hot hatch. The latest, the last of the seventh generation, is a time-constrained series production run. However, only 40 units are coming here.
Why TCR? VW based the name on a pair of TCR (Touring Car Racing) wins. So this special edition is earmarked both for road and track work.
Besides, it's a natty TLA is TCR, not that there's a conspicuous badge; it's seen only as part of the decals down by the sills. The TCRs are only available in pure grey here which, as some wag describes it, is about as exciting as a pallbearer's cravat. Quite, in a hot hatch. That said, the grey does go well with the matt black 19-inch wheels that are standard locally, and the carbon fibre mirror caps. But then so would any number of more vibrant colours. Grey is also one of the worst hues from a safety perspective, as are black and silver, all at least 10 per cent more likely to be involved in a crash scenario than the safest colour car (white). They disappear against a black background on a dull or wet day.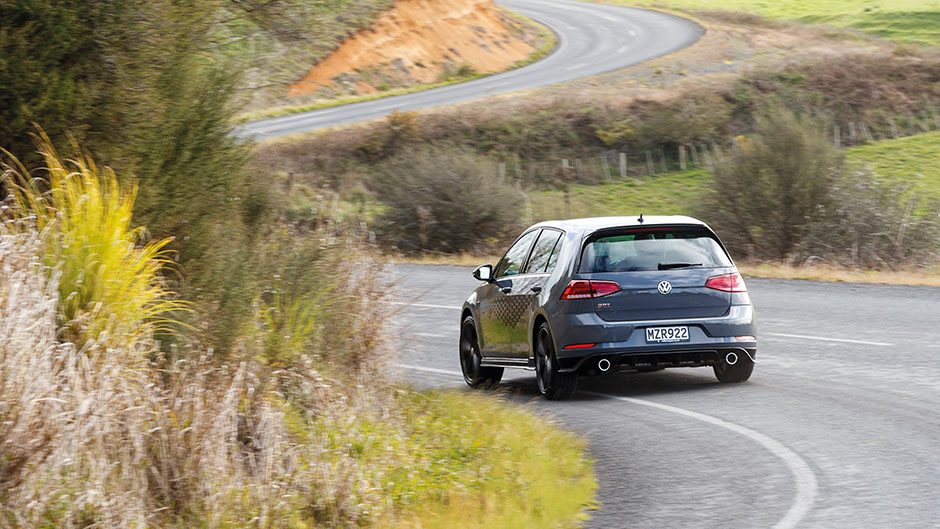 Key updates add sport and speed
Still, while the TCR may look a bit stealthy at rest, it's more vibrant on the go, certainly compared with the cooking Golf GTI. How come? Because of the performance upgrades of course. Like tweaks to engine, brakes, suspension and aeros, plus a few fancy bits inside. For which you're charged an extra $10k ($65,990) and that seems like a pretty sweet deal to us, given the performance update alone is quite noticeable. And this still goes for $8k less than the all-paw Golf R.
It's mainly an ECU reflash, boost up a little, and power rises from 169 to 213kW, while torque of 350Nm from 1700rpm is unchanged. So too the transmission which is a six-speed DSG unit, though in Europe the TCR gets 380Nm and a seven-speed DSG with sequential shift. They're said to run 0-100 in 5.6sec. Presumably Australasia gets the lesser model for fuel reasons.
Our units come with a stainless sports exhaust which makes some tasty riffs on the upshift, and overall you'd expect the TCR with 44kW extra to be a fair amount quicker than the base GTI. That has a rated sprint time of 6.4sec, so we expected this to do around 5.8sec and that's precisely what it managed. Getting off the line cleanly is hard yakka, even from a relatively soft launch. On a cold day we managed a best of 5.74sec. Overseas, they reckon it's quicker without LC, quicker still with 380Nm on tap.
It's a similar story for acceleration on the run, midway between regular GTI and Golf R figures. The former manages 3.8sec for an overtake, this needs 3.26sec and the R we drove a month or so ago ran 2.99sec. Given this is intermediate in power between GTI and Golf R, the numbers reflect that quite well.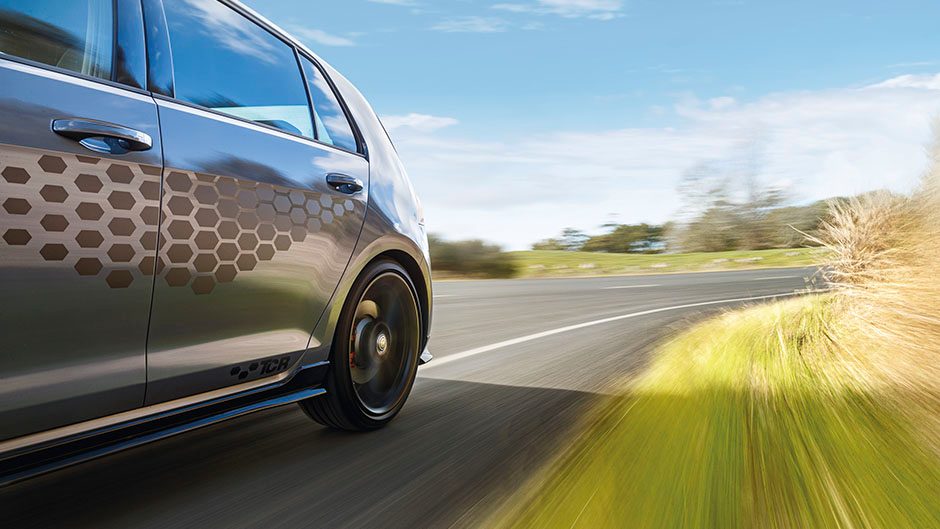 Stop and go
The brakes are superlative, much appreciated in this compact weapon. Perforated discs measure 340mm up front, 310mm at the rear, and they're the composite type, the disc of steel, the carrier of alloy. These feel track ready, and they don't fade after repeated emergency stops. But on a cold Spring day the rubber just couldn't seem to get to grips with the road surface. So our best result of 35.88m should be taken as a worst case scenario. We'd expect about 3m better, similar to GTI 40th Edition, in optimal circumstances.
On the razzmatazz
So while it feels fast in a straight line, and stops like the dickens, it's really all about how this mops up the corners, for VW has fitted it with a locking electromechanical limited slip differential up front, clutch packs sending power to the wheel with the most bite; there's no XDS+ here (individual wheel braking preventing wheelspin out of the bends).
Moreover, the TCR gets firmer adaptive dampers with five different modes, and the car rides 5mm lower than a regular GTI (or 25mm lower than a Golf TSI). Suspension settings are pretty firm, such that Sport you'd probably reserve for track days out; on typical Kiwi roads it's rather unrelenting, bouncing off bumps. Fortunately there are two other settings available, being Normal (which is the equivalent of Sport on other hot hatches with adaptive damping) and Comfort which is what most everyone will probably use most of the time. There's genuinely enough body control and almost enough compliance that you'd think of this as an everyday sports setting, despite it's Comfort nomenclature.
For something that weighs in with a 62/38 front/rear weight split, this has no right to corner as neutrally as it does. Even under provocation, the TCR just seems to round up into corners, the diff locking undetectable, except in the effect it has on maintaining line. Push way too hard and you get more squeal than understeer. With plenty of beaut low profile (if noisy; 78db) PZero rubber beneath, this simply mauls the more sinuous tracks you might thread your way down. It will take AWD and commitment from other vehicles to even see which way you went, let alone what you were in.
And if you want the performance to match, you merely haul once on the shift lever to select the Sport transmission programme. In D, like most Golfs, this tends to be a touch docile – it hasn't quite the brawn in the 2000-3000rpm area of the Golf R – but then again VW states you can achieve an average of 7.2L/100km in this setting whereas in Sport you're looking more like double that. We often used this lever setting in association with the standard paddles; Sport really does invigorate proceedings, primarily because it sets the motor in its best rev band, above about 3000rpm, and holds it there.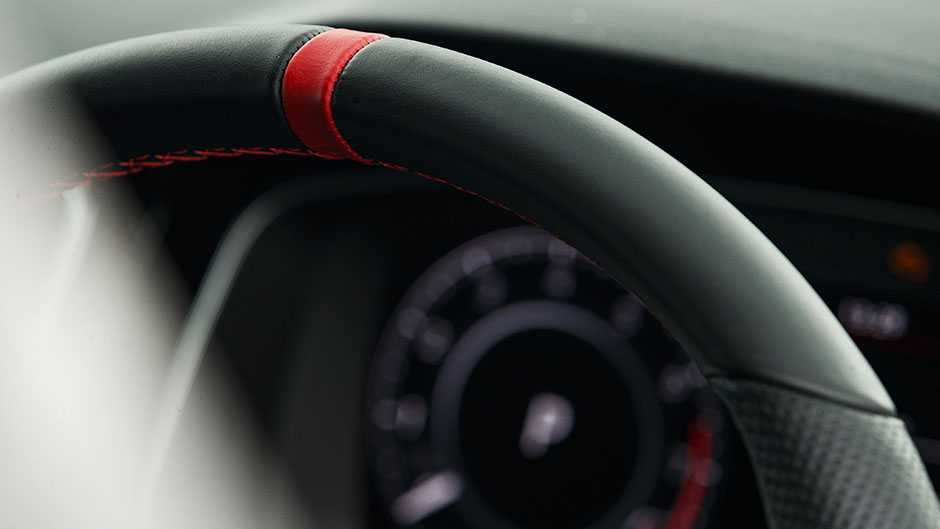 Keeps things discrete
From the outside you can pick this as a GTI special by those graphics for one. There are the usual GTI hints, like the badging and red stripe through the headlights. Other giveaways of its TCR status are a dedicated diffuser, a slightly bigger roof lip spoiler and an exaggerated splitter up front. At night, you might notice the TCR puddle lamps if the car comes to a halt and the driver opens the door. Inside there are sports seats with grippy upholstery, and a racy wheel with a red 12-o'clock motorsport marker. And that's about it. All the expected safety aids are present here.
The main competition comes from the $6k less expensive Focus ST, equally quick in the corners, but with a softer edge and an eight-speed auto.
Overseas, on both sides of the Atlantic, motoring outlets have just had their first taste of the GTI Mk8 (which inherits the TCR's e-LSD), but we're unlikely to see it here before the end of Q1-2021. And the R will likely arrive midyear.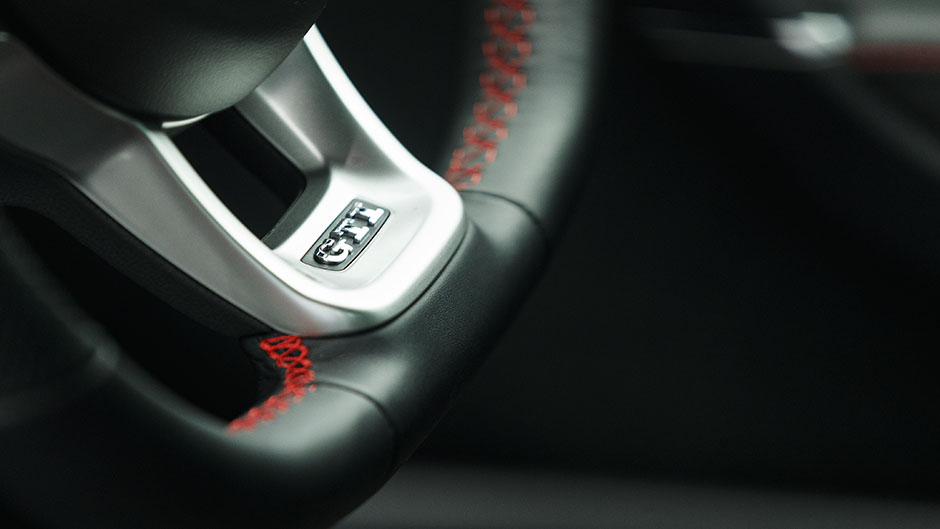 | | | | |
| --- | --- | --- | --- |
| Model | Volkswagen Golf GTI TCR | Price | $65,990 |
| Engine | 1984cc, IL4, T/DI, 213kW/350Nm | Drivetrain | 6-speed twin-clutch, front-wheel drive |
| Fuel Use | 7.5L/100km | C02 Output | 173g/km |
| 0-100km/h | 5.74sec | Weight | 1432kg |