We detail a well used and cherished example of the Toyota Celica GT-Four, A.K.A, the big cheater.
To many, the phrase 'classic car' embodies a relatively rigid set of pre-requisites. Boat-like '60s and '70s Americana, sleek minimalist Italian silhouettes, and plucky stout British sports cars are all regular and respected fare under the umbrella. But, when it comes to Japanese cars, things are a little different. Right now it feels like every performance car squeezed out of Japan's wealth of manufacturers across the '80s and '90s is hot property, both in terms of industry interest and auction room hype. One car that's curiously avoided much of the attention, though, is the Toyota Celica GT-Four ST205. In a game of collector car bingo, you'd think the Celica would rate highly. It's a homologation special with a hugely successful World Rally Championship history, produced in Japan with giant-killing performance abilities and bulletproof reliability. And it has ties to arguably the most infamous cheat in motorsport history. Yet, it cowers in the shadows of its big, cumbersome Mk4 Supra sibling, and is relatively unloved in the scheme of Type Rs, STIs, and GT-Rs.
GT-Four owner, Greg Martin, never envisioned himself as being a particular fan of the nameplate, or even necessarily the marque. He was always more into Nissans. But, a chance ST165 purchase (at a time when they were criminally undervalued) changed his trajectory dramatically. He's since owned six of the things, including examples from all three of the model's generations.
The first-gen ST165 GT-Four came out in 1986. Sporting Toyota's 3S-GTE, it sent 190hp and 294Nm to all four wheels. Their 'rally car for the road' status didn't stop them from eventually becoming quite a disposable sports car come the turn of the century, although Greg thinks they're the best, most pure steer of the bunch. Debuting in 1985, the sleek second-gen ST185 is perhaps the least renowned GT-Four of the bunch — a position Greg thinks is warranted as a former owner. Power and torque increased to 222hp/304Nm from the same 3S platform, supported by a viscous coupling centre limited-slip differential and Torsen rear differential in some models. In some ways the 1994 ST205 could be read as a cut and shut update. It featured the same 3S-GTE base under the bonnet, for example. Toyota squeezed 239hp for export models and 252hp for the local market; enough for it to hit 100km/h in just over six seconds. But, beyond the spec sheet data and the styling, this was clearly a vast mechanical step up.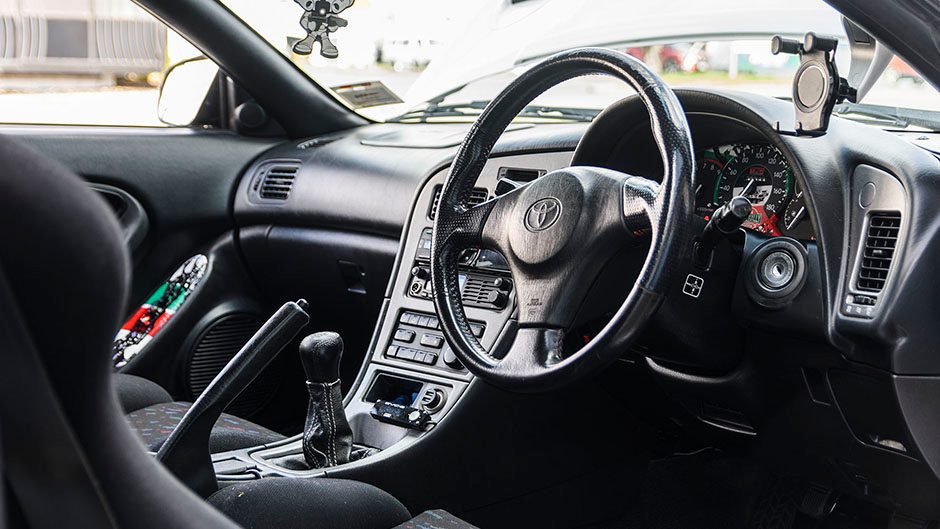 Along with aluminium panels to save on weight, the two-oh-five featured water injection, a twin-entry CT20B turbo, four-channel ABS, a water sprayer for the intercooler, and the makings of an anti-lag system. This was capable of reducing turbo lag by engineering a delay in ignition timing, thus creating a balance in combustion loss and sending unburnt fuel and air into the exhaust valves, which often went bang in spectacular fashion.
If it wasn't clear by the ambitious engineering within that the ST205 was a product of extravagant 'bubble era' Japanese car manufacturing, then the styling certainly gave it away. The Celica features all of the biggest trends of the mid-1990s; bug-eye headlights, an enormous rear spoiler, and tri-spoke wheels. An interesting fate for a car that started out life as a Ford Mustang imposter. The third-gen GT-Four's tech advancements under the skin place owners like Greg at an impasse. On one hand, he describes it as being a little too perfect and too refined in day-to-day driving to be as thrilling and special as the ST165. On the other hand, though, such accessibility has helped Greg deal with his car's 'elephant in the room', so to speak. While many GT-Four owners would be looking at the current market climate and considering pulling their cars off the road to preserve mileage and condition, Greg's 1998 ST205 is a slightly different case. It may look clean on the outside, but the odometer indicates that it's covered nearly 300,000km. High mileage is a sign of a strong, reliable GT-Four says Greg. Given the chance to buy another, he'd take one that's well broken in and regularly driven over a low-km garage queen any day of the week.
It's a car that's had several different faces. For most of the time Greg's owned it, it's worn a striking replica of the Castrol livery Didier Auriol ran when his car was found to have been fitted with a turbo restrictor plate cheat device. This is supported by a range of visual modifications; including the distinctive roof scoop, bonnet latches, external boot-lid latches, and mud flaps. Other mods are limited to a Turbosmart blow-off valve and an HKS EVC-S boost controller. These days, Greg's Celica dons a more mature look. The racy livery is gone, but all the peripherals remain — making it look like a recce car from the period. The kind of car you'd once see WRC combatants haphazardly jetting about on public roads in during the hectic build-up to the start of a rally.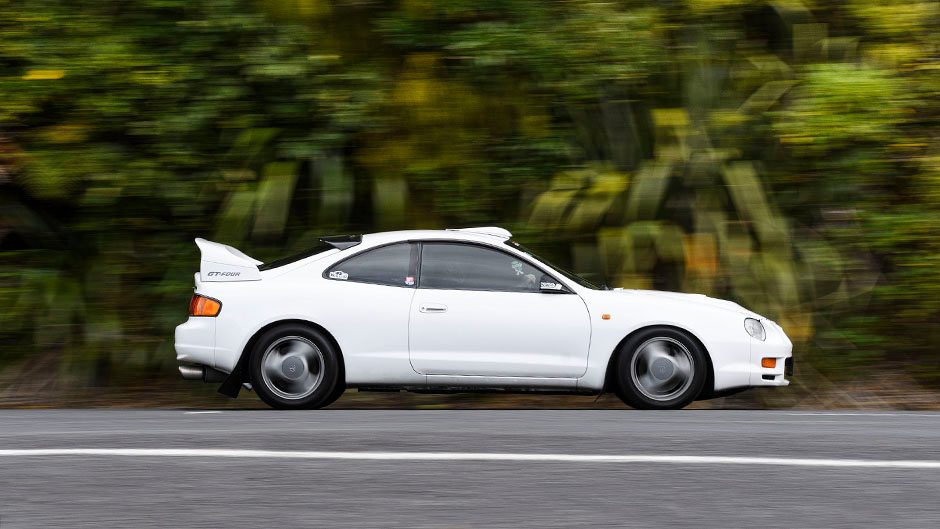 Greg was gracious enough to throw the keys my way for an all-too-brief afternoon blat through the Waitakeres on the kinds of tight twisty road the GT-Four was made to conquer. Like a lot of Toyota's performance cars, the sheer numbers and neck-snapping pace isn't really the big story. While the ST205 is still a very quick car by modern standards, what stands out even more is its normalcy. Despite knocking on the door of being a three-decade old car, it's difficult to pinpoint elements of its operation which age it. Its steering isn't perhaps as boosted and immediate off centre as a modern-day equivalent, but otherwise the GT-Four feels well and truly ahead of its time as a drive. Peak power and torque arrive at appropriately high revs (6000rpm and 4000rpm, respectively), but the 3S-GTE is happy to simply be rowed along without needing to venture to the 7000rpm marker too frequently. Press it firmly and, apart from a wickedly juvenile blow-off valve exhale, the GT-Four's all-wheel drive system presents a handy safety net for misdemeanours. Pair the grip it gives you with the relatively low 1390kg kerb weight, and you have a car capable of surprisingly high cornering speeds and rotation.
Normalcy continues to other elements like the natural seating position and workmanlike five-speed manual. The cabin is a typical-of-the-period marriage between function and frugality. Toyota tilted the central control panel towards the driver for ease of use — a trend you'll find on plenty of Japanese sports cars, like the Mk4 Supra and Honda S2000 for example. Barring touches like that and the Recaro buckets, Toyota clearly spent very little research and development budget on the cabin. I find particular joy in the indicator and light stalks, which are identical to those fitted to my Dad's old Toyota Surf.
Greg enjoys the plain white look, but it's not set to remain for long. A new motorsport livery is on its way. A signwriter by trade, the Aucklander is keen to re-decorate his four-wheeled canvas with a livery from the Celica's Japanese touring car championship background. All the while, it will continue to be a high-mileage warrior — a car Greg hopes to keep forever.