It was supposed to be the experience of a lifetime; riding shotgun with ken block as he slid through some of northland's gnarliest gravel roads. But rally cars can be fickle beasts and engine issues on the day meant we were going nowhere fast. Instead we got to have a yarn with the head Hoonigan over a pizza and a pint.
The frustration on Block's face is clear. He's flown his Cosworth across the globe as part of the 'Cossie World Tour' to compete in his favourite rally stages, one of which is here in NZ but a crook turbo means he won't be driving today. And Block is a bloke that lives to drive hard and fast.
It's this passion that kicked off what he is arguably the most famous for, big skids. "To begin with, the only time I saw the race car was when I was either racing or testing, so I started doing gymkhanas because I wanted more seat time, more practice and I wanted to play with the car." he tells us. The desire to race stems from watching rally greats of the eighties and nineties sliding wildly on sealed roads.
Evidently tarmac rallys are rare in the US so Block started competing in gymkhanas to learn how to slide like his idols, and he was hooked. But when his local event folded, Block was left with a car and nowhere to race. So he hired out an airfield where he could let rip in his 530hp WRX STI.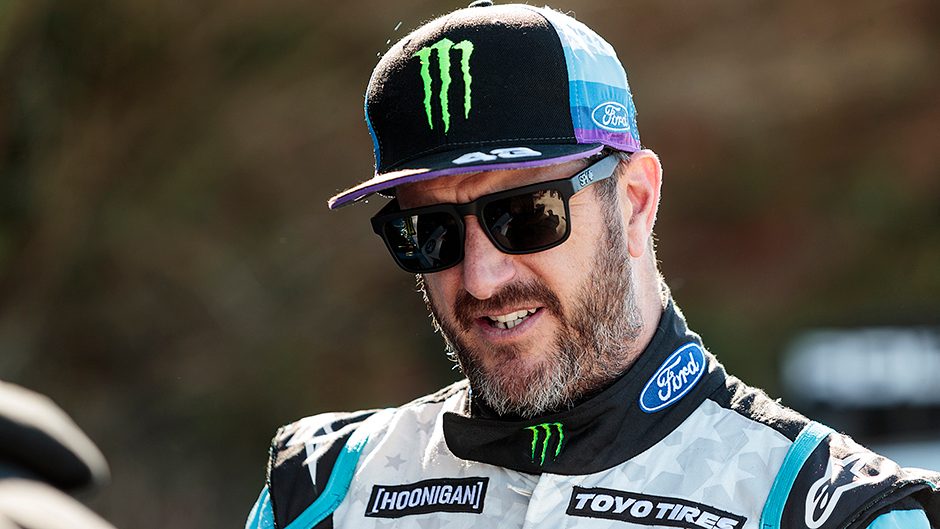 The resulting video sent car enthusiasts into a frenzy. Simply titled 'Ken Block Gymkhana Practice' the four-minute clip went viral, much to the surprise of Block. Before long his sponsors were hounding him to produce another.
Gymkhana Practice is not as polished as the current vids, but when it was released ten years ago, it was impressive; the hoonery was unique and it racked up views. But it's Block's fifth video that is his biggest hit, clocking up over 100 million views. It broke the mould by taking place on the streets of San Francisco rather than on a closed course and remains Block's favourite. Gymkhana Seven comes a close second.
This video introduced the 'Hoonicorn', a bespoke build that boasts a single pony on the grill and 845 under the bonnet. "My whole race career has been in AWD cars," he explains. "I wanted to do something unexpected…different, but historic." Based on a 1965 notchback Mustang it features WRC-inspired styling, AWD running gear and a heap of power. "It's the funnest car I've ever driven…it's frightening," he laughs. The car has plenty of fans; Lewis Hamilton has even tried to buy it, but apparently didn't like the price!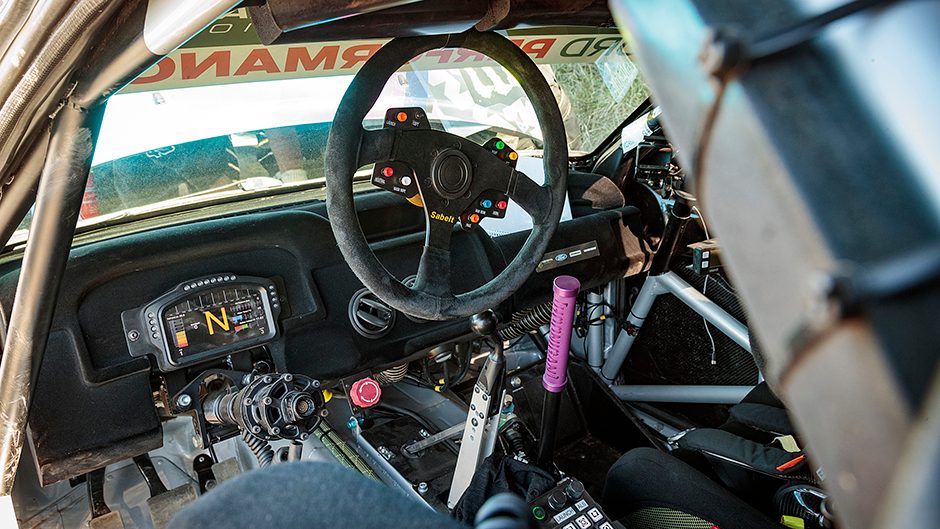 In 2017 the Hoonicorn was overhauled, the 6.7litre V8 boosted to 1400hp in preparation for Pikes Peak. 'Climbkhana' is the result, a nine-minute slide-fest up the famous hill which includes one butt-puckering moment where the 'stang drifts perilously close to a sheer drop. Block assures us he always intended to drive the corner that way, lamenting it's usually driven conservatively.
"It looks very boring nowadays, so it was fun for me to be able to go there and drive it that way". So it took an immense amount of skill and some rather large balls to pull off then? "I have to switch some things off in my brain," he laughs. Not all Gymkhana shoots have gone to plan. Number nine was to be set in Sydney but got axed at the last minute, the team told they could only shoot the video if they stuck to the speed limits. "That doesn't make for very interesting viewing," muses Block.
"It is what it is. I really enjoy New Zealand and Australia, I enjoy the car culture here, I enjoy the people and I really wanted to do that there. I thought it would've been really cool."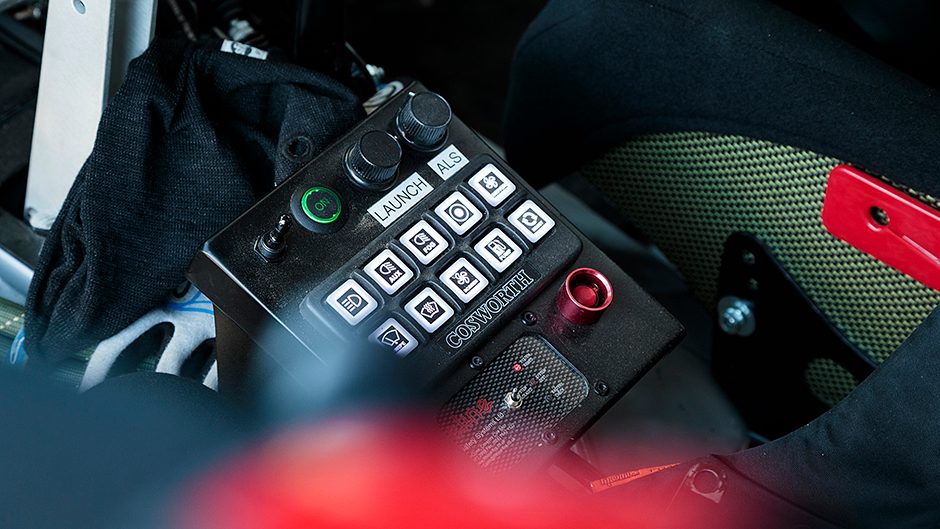 Will we see Gymkhana 11 any time soon? "We're not going to number them anymore…but yeah, there's one that we'll film this year," he says with a grin.
Evidently it's getting harder to make a video go viral but he assures us that he'll keep making them for as long as people keep watching. "If you're not doing something extreme, people think it's boring… we read the comments on our videos, and sometimes I think shit, I've driven this as far as you can, and people are still telling us it's boring!" He goes on to explain that part of the problem is that they're now competing against 'fake stuff'.
"BMW did an entire video on an aircraft carrier that was CGI… I've always wanted to do something on an aircraft carrier and now they've ruined it." Ken takes pride in the fact that his videos are 'as real as humanly possible' but watch them and the tyre marks suggest some stunts are attempted several times. He explains that it's often a case of trying to get the manoeuvre just right while capturing it perfectly.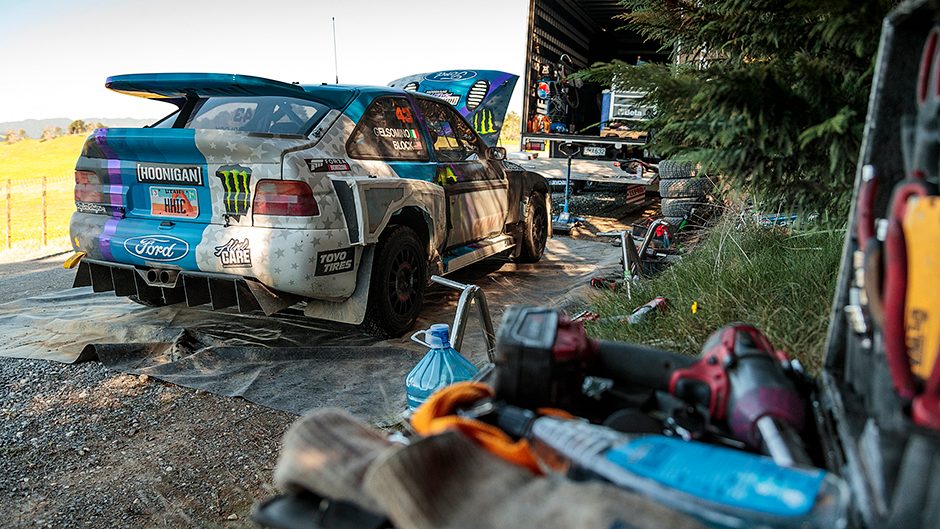 "There are certain things I've done first try… the 'Randy's Donuts' scene in LA… I did that once, first try, perfect…but one of the cameras wasn't set right, so I went to do it again and the car broke. I like to do stunts multiple times, so sometimes when they tell me they've got the shot, I'm like dammit, that was fun, I want to do it again!"
Block's a big fan of high power ICE engines but he tells us that he also loves technology. "I've wanted to do an electric gymkhana car for a long time… it will happen… Ford has a nice electric car coming…" Ken laughs when we press him for more information. "I wish I could tell you more – I've seen it [the EV] and the Bronco – Ford has some great product coming."
He does admit he'll miss the sound of a proper engine; "I think we all will, we're old, but my kids, they won't give a shit." Block has three children aged between eight and 12, all of whom have an increasing interest in motorsport. They are his focus for the future.
"I want to be able to give them the opportunity to start young, which is what I wish I could've done. They're already asking for more horsepower." Clearly hooning runs in the blood.