Learner bikes continue to evolve and improve, and this Kawasaki Z650 example is great evidence of that. It looks the business and is light and feisty.
Plenty of riders have told me that they really prefer heavy bikes to light ones because they feel planted. I know what they mean, but I don't agree. They may well feel grounded when everything is awesome, but when it starts to go horribly wrong you've got a much better chance of wresting control of the situation on a lightweight than you have on an elephant.
I've just jumped off a 240 kilo bike and on to one weighing 186kg and what an ode to joy that feeling of lightness is. We're almost instantly at one with the breezy way this Z650 changes direction and decide to take it down a technical road nearby just for the sheer hell of it. At the end of it, some 10 minutes later, we're almost in that Jinba Ittai state – sorry for the steal Mazda – of mount and rider as one.
And you know what? The fact that this is a LAMS machine is utterly irrelevant. It has perfectly respectable performance, will overtake slower traffic with merely an ingear roll on, and you never feel hard done by.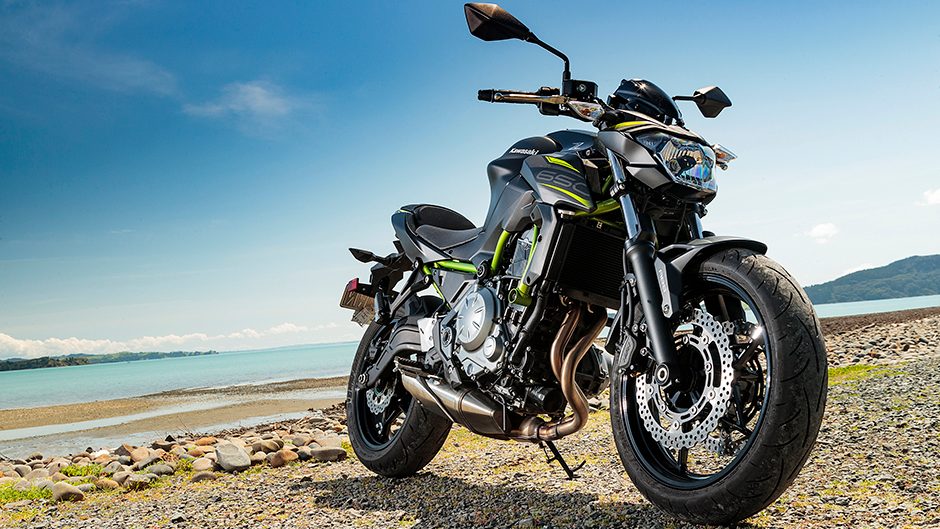 The best of the LAMS bikes are almost invariably those right at the 650cc limit, like the MT-07, and the Street Triple S. There's the odd exception, the Z400, this Kawasaki's little bro', being one of them. You can add another to the list of formidable on-the-limit LAMS machines, this naked Z650 from Kawasaki.
It's not quite the value of the Z400 but it rides superbly, engendering confidence, and is more than quick enough to partake in a blast with friends on unrestricted bikes. Best of all, it really has no notable weaknesses; it stops confidently, handles beautifully, rides smoothly and fuels well.
Hell, it even looks the part, though it would appear there's only the black hue with a green trellis frame available. Shame really, because black is the worst colour for motorcycle safety, and the last thing a learner needs is a scary moment when a distracted driver doesn't see you because you're riding a black machine and it's a dark wet day. If you choose this machine, best to wear bright colours and make yourself more conspicuous.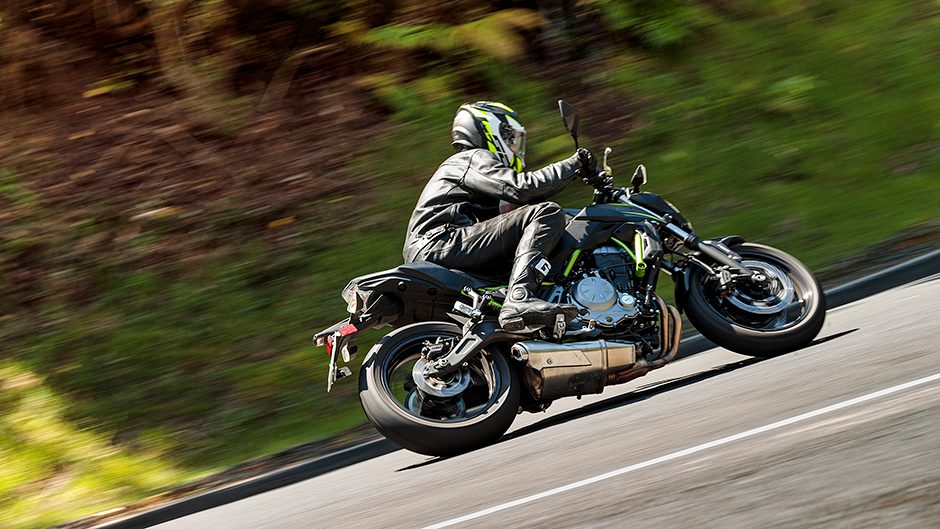 We initially weren't going to ride this bike, thinking it was merely the naked version of the Ninja 650 we checked out last year but it turns out this is the LAMS variant with the new colour scheme for 2020. Kawasaki reportedly sells 20 of these to every one of its full-power versions. It's the same price too, at $12,495.
Power is down from 50kW to 37.5kW but torque is only off by 7Nm, generating 59Nm at 6500rpm. It comfortably conforms to the LAMS formula, developing 136kW per tonne (the limit is 150kW/tonne). The impact on performance is noticeable but not marked. Using our two performance criteria, this is a second slower for both but still gets to 100 in under five.
Still, that's not how you ride a bike day to day, is it? And with almost as much torque as the unrestricted bike, plus an engine that's tuned to develop bulk drive from modest revs, this is right up to speed. It pulls away from about 60km/h happily in top, around 2500rpm, but really starts to gain a head of steam from 3000rpm. Mid-throttle it is doing precisely 100km/h in top at 4500rpm, right in the meat of its torque band.
Day to day, there's no real point exceeding about 6000rpm, though power lifts progressively to the limiter at 9500rpm. Unlike some with ECU tinkering to dial back output, this only has throttle restriction, and once you gain your full licence, you can (if you want) celebrate by liberating the extra power. But if you go to sell your bike, the restriction devices will need to be reinserted. Some probably won't bother for performance is really most acceptable without removing the restriction. Where some LAMS bikes go off the boil at high revs, this pulls cleanly to the redline. It's easy on gas too, around 3.3L/100km at a constant 100 on flat sections of motorway.
On the retardation side of things, Kawasaki for years never gave this bike the brakes it deserved, but that's not the case any longer. There's also adjustability at the lever which is appreciated and anything that can draw to a halt from 100 in under 40m has to be doing most things right. This managed 38.6m, and there's solid bite at the lever with not quite the big squeeze required in years gone by. Brakes are under antilock control too.
The other annoying thing about budget bikes of old was their basic suspension. These units are largely unadjustable, preload only at the rear. But the monoshock works, soaking up the hits and bumps pretty well rather than leaving your vertebrae to do the legwork. It's the same up front, and with modern chassis geometry, short wheelbase, long swingarm there's agility and stability in spades. Plus it turns sharply, accurately, the line easily massaged by weighting a peg. It's a good underlying superstructure this.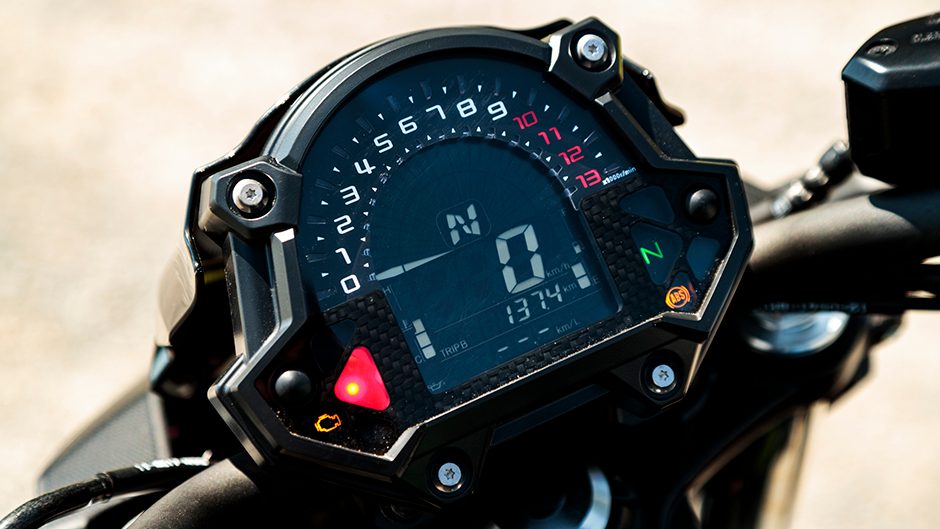 Evidently this new trellis frame weighs in at 15kg, and is in large responsible for its light overall weight of 186kg. In days gone by its forebears scaled up at 200kg.
Other things? This has a great riding position. Not only is the triangle open enough for six footers, but you're seated low enough (height is 790mm) that you feel like you're part of the bike rather than riding atop it. There's little in the way of vibration too, although the bar-mounted mirrors suggest otherwise; they're really only useful in town.
All the info you need is to hand in the single, if not especially pretty instrument. Fuel use overall is around 25km/L, or 4L/100km. That's in part due to high gearing, with an indicated 110 an even and easy 5000rpm.
At its $12,495 price the Z650 is up there setting the pace for LAMS machinery. If you're quick, you can secure a 2018 model for $9995, and essentially only the colour scheme is different. That's stunning LAMS value.
| | | | |
| --- | --- | --- | --- |
| Model | Kawasaki Z650 LAMS ABS | Price | $12,495 |
| Engine | 649cc, IL2, 38kW/59Nm | Drivetrain | 6-speed, chain final drive |
| 0-100km/h | 4.86sec | 100-0km/h | 38.63m |
| 80-120km/h | 3.72sec (106.7m) | Weight | 186kg |