We travel to the part of the world that's first to see the sun each day, Chatham island, a place that's 45 minutes ahead of NZ, and 20 years behind.
You might think you've travelled much of the country's roadways but there are always new ones to discover. Like those that crisscross Chatham Island. That's where we found ourselves recently thanks to Holden NZ, who decided to take a convoy of its SUVs there. This they said was to demonstrate the brand's commitment to the New Zealand market by visiting the most far-flung outcrop of the country.
In reality, Holden doesn't have much to talk about this year on the new product front. Our convoy consisted of Holden's SUV line-up, reflecting the new marketing push on high riders. They said they are fishing where the fish are, as the appetite for large cars continues to slide. Anyone want to guess what Holden's best selling passenger vehicle is year-to-date? Yep, the Commodore and by quite a margin (553 to Astra's 319 and Equinox's 317). So it shows they've got some work to do in the SUV space.
As such, Holden took the opportunity to announce a raft of sweetened 65th Anniversary/Fieldays prices on select SUV models as it looks to move metal and gain recognition of its new nameplates like Equinox and Acadia. Trax LS can now be had for $25,990, saving $7k while the Equinox LS is $6k cheaper at $29,990. This model should start to move as buyers will no longer be seduced by the value of the old Captiva, R.I.P. The entry-level Acadia is down $2K to $47,990.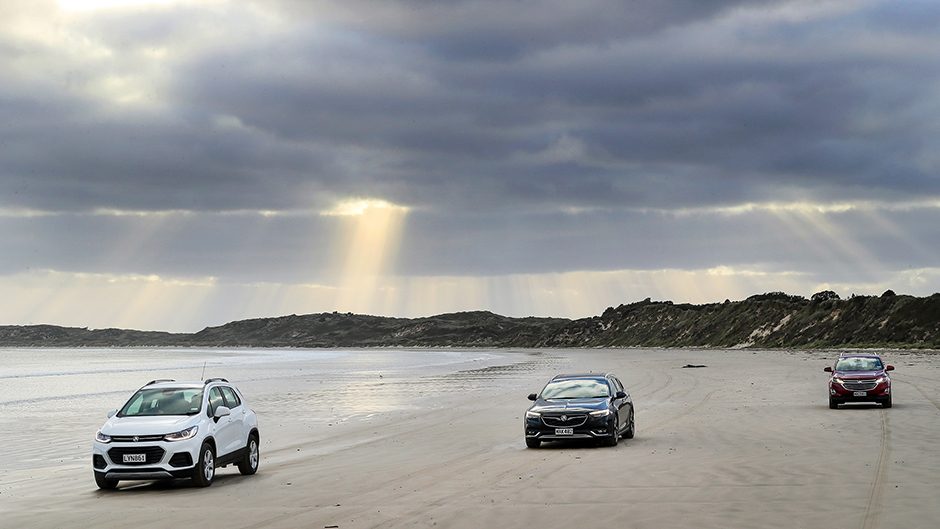 Holden's new seven-seater flagship has gone reasonably well (187 sales YTD April) but establishing a new nameplate is tough in a segment with well ensconced models like Highlander (516), the new Santa Fe (466) and CX-9 (328). The Tourer, the lightly disguised Commodore wagon pretending to be an SUV, is now $6k cheaper at $65,990. The best saving is on Holden's most capable rig, the Trailblazer LTZ, now $13k cheaper at $49,990.
These five provided the carriage for our journeying around the main island which is bigger than you might think at just under 1000 square kilometres. There are around 70km of roads, metal mainly, though our itinerary took us across pasture in order to get to the furthest reaches of the land mass.
It's a windswept landscape, much of which has been cleared for farming. Gorse grows well here, the remaining trees bent in the direction of the ever present gale. Europeans first encountered the place accidentally in 1791, when the H.M.S. Chatham was blown off course and sailed into Kaingaroa. Of course they had to kill one of the Moriori residents who didn't want them taking his fishing gear, and so it was called Skirmish Bay originally.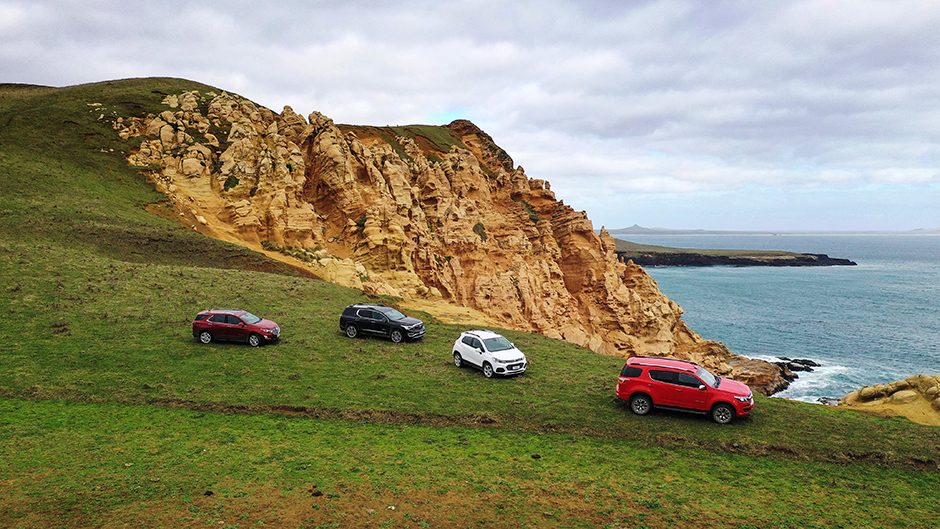 The abundant seal population caught the white man's attention on board the Chatham, and Europeans soon returned, clubs in hand. Maori would arrive in the 1830s with devastating consequences for the local Moriori. A peaceful people, they offered no resistance to the new arrivals who forcefully took over, killing many and enslaving the rest. There is a statue of Tommy Solomon near Owenga on the Southwest, the last full blooded Moriori who died in 1933. Our Holden invasion created a bit of stir among the locals – around 600 permanently reside there – who couldn't really believe what a bunch of Kiwis from New Zealand were doing on the island.
They never call it the mainland, always New Zealand, but are otherwise super friendly. Your island adventure will likely begin onboard the 1950s-era Air Chathams Convair, from the days when everyone enjoyed business class leg room, and a sandwich on board. It's quicker than the boat, which takes three days, and adds a premium to everything the islanders have to consume, gas being $3.50 a litre, and two litres of milk costing close to $10.
Farming seems to be a reluctant vocation – there's no money in it according to the locals – while the bounty lies in the ocean, fisheries being the cash cow and there were cray pots lining the island ready for the start of the lucrative season. A seafood lover should surely visit given the abundance. It's not called fishing here but rather 'harvesting' given how easy it is for the recreational fisher to fill his bucket. Those who like crayfish should visit. Most journos in attendance could attest to the first catch of the season being 'the best they'd ever had'. So what else can you do on the island?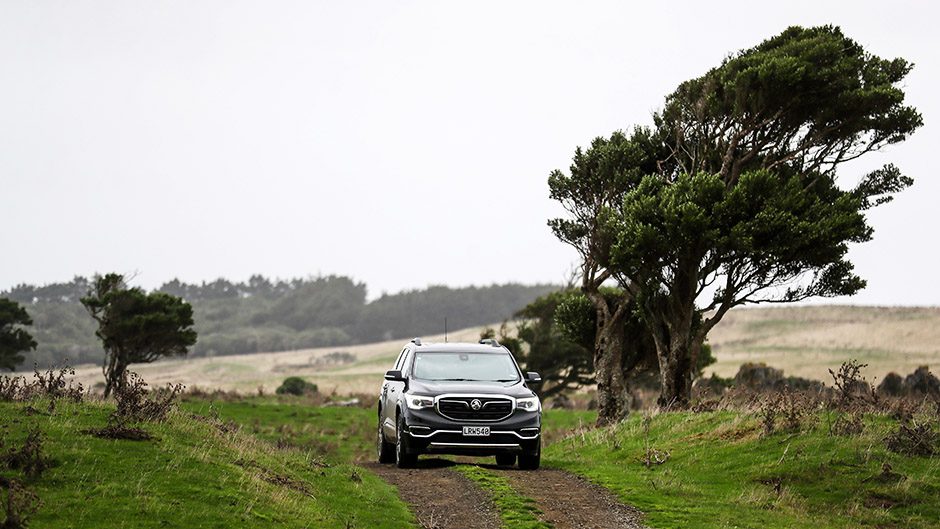 There's plenty of rugged coastal scenery to take in, DOC walks, an albatross population to check out, and fishing of course. There's awesome surf too but also a healthy and hungry local white shark population. The hunting is good with wild pigs, cattle and fowl to cull. Islanders have a plentiful supply of meat judging by the carcasses around the place, the good bits hacked off with the rest left for the hawks to clean up.
We were lucky enough to nosy around the farm of the island's most eclectic collecter/hoarder. There cannot be many sheds in New Zealand with the remains of a Short Sunderland flying boat. The aircraft's hull was holed while trying to take off from the island's lagoon in the 1950s.
The RNZAF salvaged what was worthwhile and the remains were repurposed as a storage shed on the Muirson farm. It was later relocated to the shed for what has to be the most ambitious of resto projects. Not sure when they'll get around to sorting the Fokker Friendship lying outside. One of many colourful locals is Helen Bint who lives in her family home built in the 60s, the 1860s that is, by Lutheran missionaries.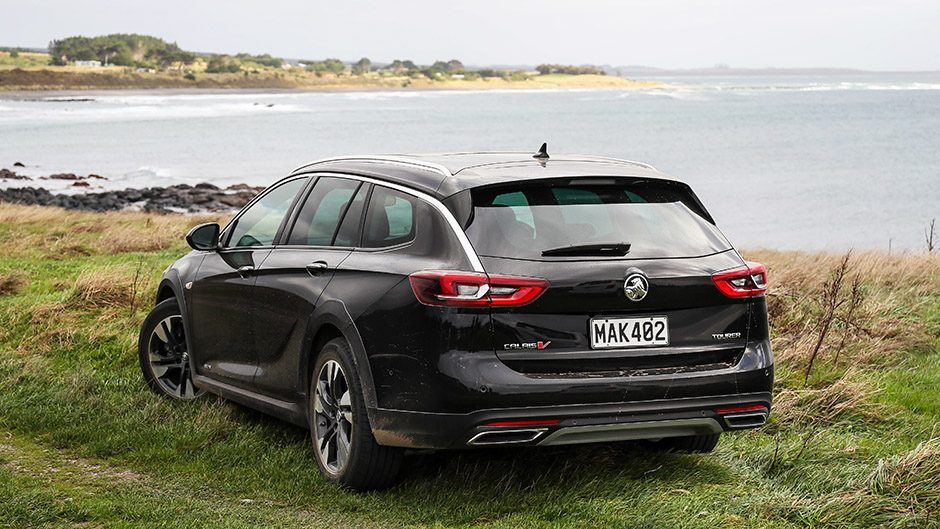 While these men and women of faith weren't very good at converting the locals, they were pretty good builders. Bint was born and raised there, remembered the Sunderland incident like it was yesterday, and recently returned from New Zealand to live in her stone time capsule. She can tell tales from many years ago, and in our short time with her we learnt how hedgehogs mate, that she's still a good shot and she loves visitors, as you would if you lived in genuine isolation. If you're in the neighbourhood, visits can be prearranged.
Best head to the Discover Chatham Islands website for most of your visitor information needs. Once on the island, get yourself a rental 4×4, something with more clearance than a Holden Tourer we suggest.
It had to be left 'on road' a few times during our travels as we ventured across farmland, highlighting a lack of ground clearance. It's only 20mm 'higher' than a Commodore, and long overhangs don't help, but a Subaru Outback would have easily conquered the same terrain.
The wee Trax managed to go everywhere, despite being front-wheel drive, though it would have been interesting had it rained. But it shows you can go a little further than you might think in your SUV. Though probably not quite as far the Chathams.
Holden HNZ Chatham Islands 65, April-May 2019. Photo: Simon Watts/www.Bwmedia.co.nz

Holden HNZ Chatham Islands 65, April-May 2019. Photo: Simon Watts/www.Bwmedia.co.nz

Holden HNZ Chatham Islands 65, April-May 2019. Photo: Simon Watts/www.Bwmedia.co.nz

Holden HNZ Chatham Islands 65, April-May 2019. Photo: Simon Watts/www.Bwmedia.co.nz

Holden HNZ Chatham Islands 65, April-May 2019. Photo: Simon Watts/www.Bwmedia.co.nz

Holden HNZ Chatham Islands 65, April-May 2019. Photo: Simon Watts/www.Bwmedia.co.nz

Holden HNZ Chatham Islands 65, April-May 2019. Photo: Simon Watts/www.Bwmedia.co.nz

Holden HNZ Chatham Islands 65, April-May 2019. Photo: Simon Watts/www.Bwmedia.co.nz

Holden HNZ Chatham Islands 65, April-May 2019. Photo: Simon Watts/www.Bwmedia.co.nz

Holden HNZ Chatham Islands 65, April-May 2019. Photo: Simon Watts/www.Bwmedia.co.nz

Holden HNZ Chatham Islands 65, April-May 2019. Photo: Simon Watts/www.Bwmedia.co.nz

Holden HNZ Chatham Islands 65, April-May 2019. Photo: Simon Watts/www.Bwmedia.co.nz

Holden HNZ Chatham Islands 65, April-May 2019. Photo: Simon Watts/www.Bwmedia.co.nz