Want to learn to ride a bike or return to motorcycling on something that looks wild and goes halfway reasonably? Kawasaki's Vulcan S cruiser might fit the bill perfectly.
Wow, I mean genuinely wow. A good looking cruiser that goes, handles and stops well and doesn't cost the earth. Perhaps the weirdest aspect of all is that it's also LAMS legal. And most of the above is due to the fact that the Kawasaki Vulcan S is one of the lightest cruisers on the market, weighing 225kg brimmed and ready to ride. LAMS, or learner approved motorcycles, have engines of up to 660cc. Bigger folk don't sit so well on 250cc machinery, so the ability to learn on a bike as big as 660cc is a boon for such people. Moreover, hobbit-sized folk may also ride bikes such as the one you see here. That's because cruisers like this have a seat height of just 705mm, meaning vertically-challenged riders aren't automatically ruled out.
How do taller folk fare? Kawasaki has that covered as well, because the footpegs are movable to one of three positions. Average height folk will be happy with the default middle setting, and at 183cm so was I, but if you're shorter the pegs can be sited an inch rearward, and the opposite applies for the ectomorphs of this world.
So why might you buy a cruiser? Perhaps because you like the look of them, or the image, the two being related. The Vulcan S ticks a lot of the right boxes; it's long and lean, there's heaps of black highlighting, it has an exposed steel frame, a stubby black underslung exhaust and a headlight that reminds of a VRod's. There's also the single seat and this bike has a soft tail appearance, with an exposed rear fender. A pillion seat and footpegs are available, as fitted to the cheaper non-LAMS variant. The Vulcan S also has asymmetric wheels, an 18-incher up front, 17 out the back. That's a style thing, but may help a bit with ground clearance.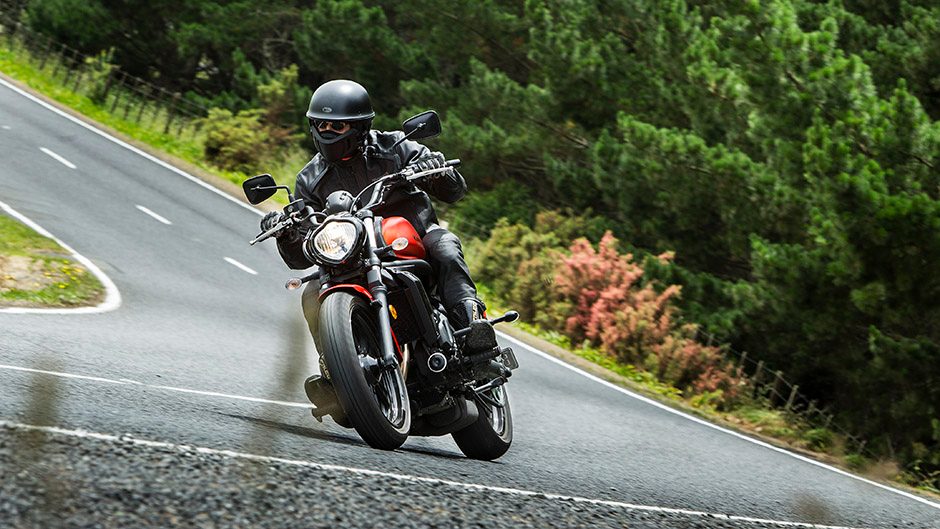 About the only thing that doesn't really quite gel for this type of machine is its parallel twin engine; most have V-twins. Still, when you're on the bike, it's how it goes, isn't it? Okay, and how it sounds which is like a parallel twin; not quite the gravitas of a V-twin but that's forgivable at the $12,995 asking price. The engine is based on Kawasaki's pleasing ER6 unit which makes 53kW and 64Nm, the latter at 7000rpm. Vulcan S with ECU restriction gets 35kW and 53Nm to meet the LAMs power:weight formula. Whereas most cruiser engines don't rev that high, this has been tuned to generate optimum grunt at 5600rpm. Peak power chimes in 1000rpm later, still effortless for an engine that can rev out to nearly 9500rpm. So this you could consider low stressed, as a cruiser is meant to be, ideologically.
You'd imagine that 35kW is not a whole lot, given wet weight of 225kg but it's surely sufficient. The bike will cruise merrily at 120km/h, and feels effortless at an indicated 100, engine revs around the 4600 mark. At 5000rpm the speedo reads 110km/h precisely, in reality 104km/h. Experienced riders might scoff at LAMS bikes but I'm amazed at just how decent some of them are nowadays. Not only that, but they hold their price well too. Some are asking how they can turn their regular ER6s into LAMs bikes because they fetch better prices second hand. Simple answer, don't, it's illegal.
How's it go? Kick it in the guts and you'd likely agree the stubby pipe looks better than it sounds. However, it's a friendly donk, with decent midrange and a zippy top end, to a point; above 8000rpm performance goes backwards. Still, it has a wee kick once it hits around 4000rpm, and another at 6000rpm. Prior to that it offers reasonable grunt, from down as low as 2000rpm and building from 3000rpm onwards, meaning it can be ridden in town in higher gears. Economy is stellar, easily reaching down into the high threes at motorway speeds, and averaging under 5L/100km ridden briskly. Just as well for the tank only holds 14L but you can expect over 200km on that. And it costs just $20 to top up.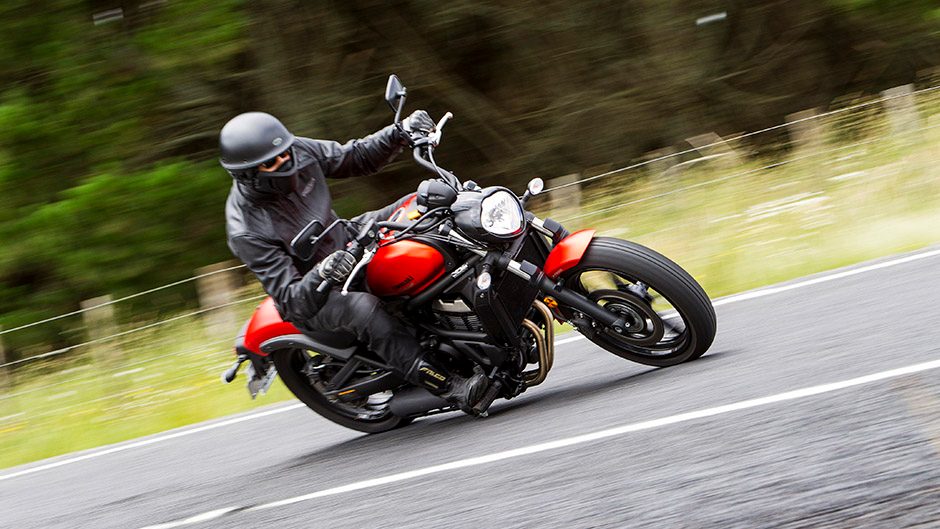 People get the idea that cruisers must be cruisy and generally they are but the ride quality is often wanting. With short suspension travel, these can sometimes punish the lower spine, and with forward set pegs it's hard to lift up off the seat if you see a big hit ahead. You don't need to with Vulcan S; the unadjustable front works well, and the rear is only challenged by harsh ruts. Helping is a reasonably well padded single seat and a natural riding position.
Moreover, engine vibes are well controlled, with almost none at 110 indicated, the large square-shaped mirrors showing a pristine image of what's falling behind. Lean angles are the limiting feature of cruiser handling but the Vulcan S makes a decent fist of things, with better than average ground clearance. Shove it into a right-angled corner a bit fast and the pegs will touch down but they have sacrificial sliders underneath and pivot anyway. Hit a series of undulations midcorner and the Vulcan shrugs these off rather than pogo its way through. And it turns keenly too, falling into corners easily, naturally.
While it may not be an especially quick machine – it's a LAMs bike, after all – drop it down a cog or two and overtakes are handled effortlessly. Brakes are surprisingly good as well, and using both together it produced a crazy 36m best-ever 100-0 stopping distance, reflecting light weight and a rearward weight bias. This is reassuring because there's not much in the way of engine braking. Topping everything off is a simple instrument that shows most relevant info, missing out only on a gear indicator.
If there's anything we'd consider changing it might be the name. Nothing wrong with Vulcan but Kawasaki should consider a new brand tag for its cruisers, as Yamaha did with "Star". Providing you're not a slave to V-twins, the Vulcan S LAMS machine has much to recommend it. Some other cruisers may be cheaper but none is lighter, or as limber I'd wager. Experienced riders may consider the non-LAMS Vulcan S which has more grunt, no ABS and costs $11,995. Cool runnings, both.
| | | | |
| --- | --- | --- | --- |
| Model | Kawasaki Vulcan S | Price | $12,995 |
| Engine | 649cc, liquid-cooled, fuel injected, IL2, 35kW/53Nm | Drivetrain | 6-speed, chain final drive |
| 0-100km/h | 5.87sec | 100-0km/h | 36.04m |
| 80-120km/h | 6.10sec (173m) | Weight | 226kg |