BMW has spun off another bike from its S 1000 RR platform, the XR an 'adventure sport' model. Offering superbike performance with long distance comfort, it may be the best S 1000 yet.
BMW's S 1000 RR may be the ultimate track bike, but it cannot hold a candle to the S 1000 XR on road. For this high-rise sport-tourer (BMW says 'adventure-sport' bike) is essentially a cross between a GS 1200 and the S 1000 RR superbike. It takes direct aim at Ducati's DVT Multistrada, despite no off-road ability. It rides more like a sportsbike than an adventure bike, with its racy engine, but it has longer suspension travel (electronically controlled) and a more easygoing riding triangle, so is more comfortable, particularly on rides lasting more than half an hour.
It also has more useable torque, is all but as quick as an RR in a straight line, and is much the same price (okay, it's $1000 more expensive but there's extra gear like a centrestand, adjustable fairing, luggage rack, pannier frames etc). It also has most of the advanced electronics found on the RR, even ABS that takes lean angle into account, so the tricky track safety items get put to good use on regular roads.
There's one aspect some may find irksome and that's a band of handlebar vibes apparent in the general 'open road speeds' riding area. Mirrors are therefore present for legal purposes only. After an hour on the bike you're aware your mitts are still tingling while you're busy imbibing a cool drink to calm the jangled nerves. And that's a real pity in a bike designed for inhaling serious distances. Still, standard-fit cruise control means you can rest your arms on the boring bits, and overall we can see why Australian Motorcycle News gave the XR their top gong last year, the fourth time in a row that BMW has received BOTY status with AMCN. It's a hell of a steed, tingling aside.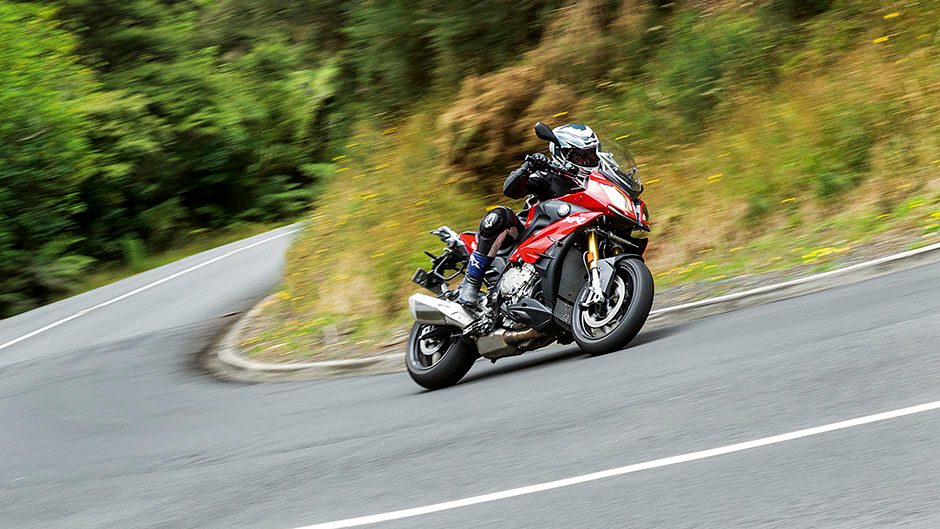 Major muscle
The engine is even friendlier than that of the RR, which itself is a fab thing. Like the Multistrada DVT engine which grunts away willingly from 2000rpm, and has a stellar top end, so does the XR. Only this goes harder. Borrowed from BMW's supernaked S 1000 R but with a slightly different exhaust tune and engine map, it hauls in top gear like it has snorted marching powder, the nearest grunter being Suzuki's overachieving GSX-S1000 mill. On paper the BMW has a few more stallions up top but it retains virtually all of the S 1000 RR's torque, stumping up with 112Nm at 9250rpm. How often do you go there when riding on road? Not much for you tend to snick it into sixth gear and leave it there all day. Habit makes you downshift but nine times in ten you're doing this as a knee-jerk reaction; extra throttle works just as well.
With its standard QuickShifter Pro, it upshifts like a dual-clutch transmission – there's virtually no interruption in power – so you can hook sixth by the time you're doing 50km/h from stoplights, and it will pull willingly away from there without complaint. The quickshifter also works in the reverse direction, blipping as you downshift. But given you don't need to until you arrive at your destination…and that may explain why fuel economy isn't bad either, always registering five-point something. Not that gearing is tall and that partly explains the haul-away factor.
It's zippy in a straight line too, outrunning the DVT Multistrada, though not by much.There's an appealing rasp to the exhaust which arrives early, so you still tend to upshift before half revs. The pops on the overrun are equally exhilarating. You can get away without ever really having to exceed about 7000rpm, though above that the cape comes out as the superpower arrives. If you want huge torque but can't do without those superbike thrills, this is the engine for you. Most of the time you're spinning away in the fives on the open road (4500 is 100km/h), in the twos and threes in town. The XR engine tune is perfect for road work.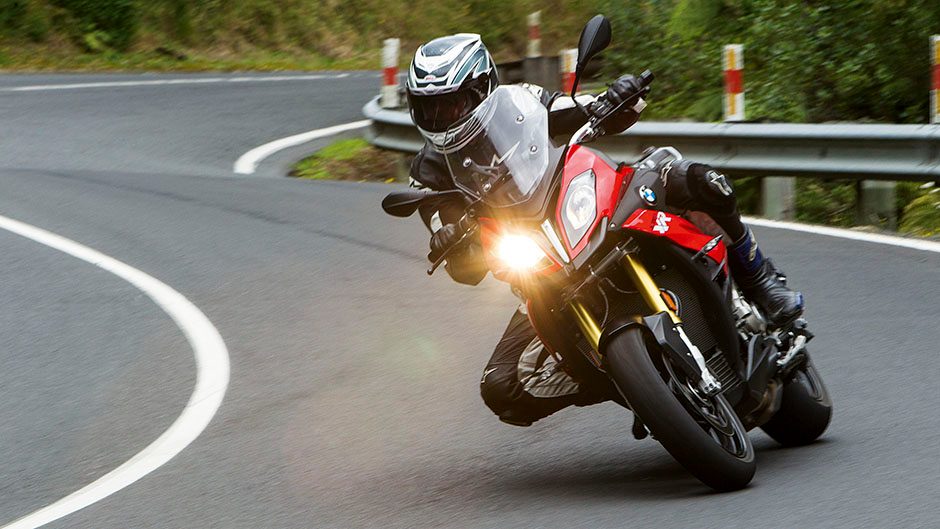 Creature comforts
So there's that. And then there are the comfort levels, tingling aside. The XR is tall like an adventure bike, only you won't be venturing off-road any, unless you were tripping, for this has 17-inch rims and rubber designed for asphalt only. The electronic suspension is top notch, with quite marked differences between Road and Dynamic settings. They're both handy for local conditions, the Road mode mopping up ruts and bumps, the Dynamic mode palpably sportier for smoother, faster byways. What really makes this machine ideal for distance work is the riding position.
The seat/bar/peg configuration is easy and natural, a slight stretch to wide bars, and with pegs set almost low enough for long haul work. The seat is scalloped, like the shellfish, though hanging off in corners is still possible if that's your thing. It's tall this bike, and is best mounted when leaning over on its side-stand. A well balanced, easy to use centre-stand comes standard. So does a slim screen, a two-position affair with a spring-loaded pivot for ease of use; extend for protection against rain. On both settings your head is in the breeze but there's no buffeting or wind noise off the blade so this has clearly been wind tunnel optimised.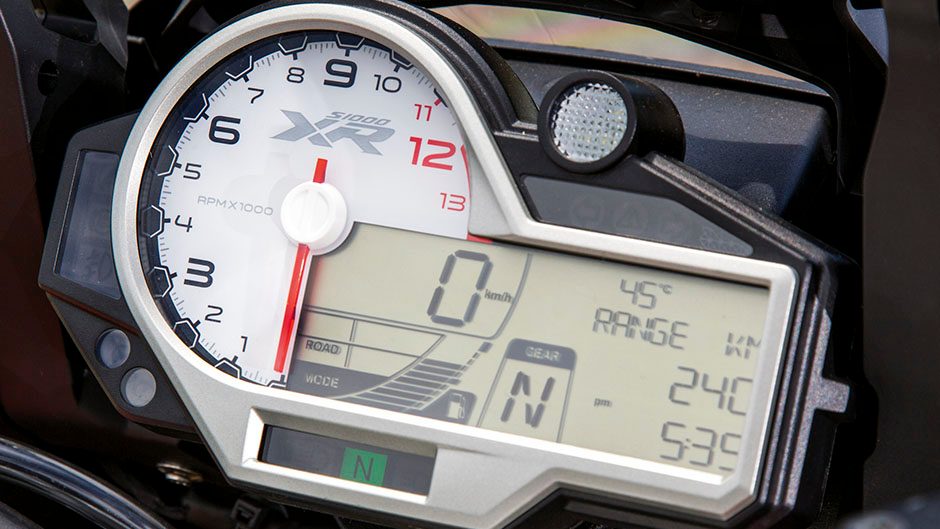 Bends bested
The chassis is different from the RR's. It has an extra two inches of swingarm length and there's another two inches of wheelbase courtesy of its lazier steering geometry, but don't think of this as being slow to turn. Quite the opposite. Nor does it feel lardy, despite being 40kg heavier than its superbike cousin. At 240kg wet, only the MT-09 Tracer is significantly lighter. However, it never feels that much, even moving it around in the garage. And on the go it flicks from side to side with ease. Wide bars only need a nudge to get the bike heeled over, and its height and decent rubber mean significant lean angles are possible.
So there's that too, and then there are some of the best brakes in the sector, the Brembos needing very little pressure to generate solid bite. Hit the ABS button on the busy left handlebar block and traction control is cancelled, making wheelies possible; TC normally prevents front wheel lift-off. The XR fronts head on with Ducati's DVT Multistrada, and both are highly accomplished machines. Most will be swayed one way or the other by engine configuration.
The XR is a bit quicker, though it vibrates more. In terms of electronics, they're rather comparable, both with exemplary safety creds. Neither is what you'd call a catch aesthetically but then what tall sport-tourer is? Function over form is a compromise most won't care about. If you're balking over the $32k asking price, you should perhaps consider the $25k S 1000 R supernaked which is mechanically similar but with less specification and no fairing. Or maybe our current BOTY, Yamaha's MT-09 Tracer, which is nearly as fast, and gets as much gear as the XR (minus a cylinder) for $18k.
| | | | |
| --- | --- | --- | --- |
| Model | BMW S 1000 XR | Price | $31,990 |
| Engine | 999cc, liquid-cooled, fuel injected, IL4, 118kW/112Nm | Drivetrain | 6-speed, chain final drive |
| 0-100km/h | 3.32sec | 100-0km/h | 40.45m |
| 80-120km/h | 1.39sec (38.9m) | Weight | 240kg |