With thirty models available Harley-Davidson once more has something for everyone. We swing a leg over the Road Glide special tourer, packing the 1690cc '103' high output engine.
The economy may not be in the rudest of health across the ditch, but for Harley-Davidson it's surely the Lucky Country. In the first half of 2015 the iconic American brand sold more road bikes than any other company (4566 versus next best Honda on 3980). That's partly a reflection of how well the new entry-level Street 500 is doing (over 1200 sold in Oz) but it's an impressive result for H-D given that's its smallest machine. The stats aren't quite so grand in New Zealand where Harley has sold 629 motorcycles YTD November, though that's neck and neck with Yamaha numbers. If the opulence and sheer size of the Harley showroom in Auckland are any indication of how the brand is faring locally, then H-D is clearly expecting big things in the future.
There's the entire range, along with stacks of lifestyle gear and accessories, like mufflers. Harleys are somewhat subdued straight out of the box. Sure, the potato-potato sound for which they're famous is evident on the $38,750 Road Glide Special (RGS) we've been riding. However, there's more wind noise than exhaust dramatics on this machine. The main noise should be coming from behind, and that may explain why most people opt to make an exhaust change before riding away on their new 'cycle. The sheer impact of the exhaust roar is one of the pleasures of riding a thumping V-Twin. Not the only one though, as we discovered after a few days of riding Big Red. 
It has been almost two years since we've featured product from Milwaukee in the magazine, and during that time Road Glides were off the menu. Since Project Rushmore, consisting of updates to touring machinery, they're back. Immediately apparent from the outset is improved shifting. In the past, Harley's haven't been noted for ease of cog swapping. That's changed. Chugging to work in the morning on the RGS the gearbox glides beautifully, shortshifting from cog to cog. More revs and the upshifts remain smooth if you apply a little upward foot pressure before changing gear. This was just one of myriad improvements H-D made to their machines after asking owners what they liked about their bikes and how they could be even better.
Another example? LED headlights provide up to 45 per cent better penetration and vastly more spread. The Road Glide Special has a 6.5 inch infotainment touch screen directly ahead, displaying sat nav, and permitting easy Bluetooth phone/iPod hook-up. Or you can jack your iPod to the USB input, volume and next track changed by a wee joystick on the left switch block. On the open road, we didn't bother with audio because wind noise drowns out the music, though it works fine at town speeds. Shorter folk fare better as they ride along in quieter air behind the screen. A handy 685mm seat height means body shape shouldn't prove an issue riding this machine. Strength may, however.
This is a well kitted out touring rig, though is not really ideal for two as the pillion seat is rather vestigial, the solid bags not that wide, but they are nicely constructed. If touring two up, go for the Road Glide Ultra with the throne. Despite that, there's a 12v outlet, cruise control, and the shark-nose fixed fairing has a postage slot that can be opened for extra air to the face, closed when the weather turns sour. Handy though this new frame-mount fairing may be, it means there's a fair amount of weight set rather high. Add to that an impressively wide steering arc and it's all a bit too easy to become overbalanced while parking or manoeuvring the bike, though damage is likely to be limited by the crash bars. At rest it can seem top heavy and if you allow it to tip slightly it feels like it will go the whole hog. Which is about what it weighs, scaling up at 386kg ready to rumble.
That's only the seventh heaviest bike we've ever measured, to put things in context. It's almost identical in weight to its primary Japanese adversary that looks vaguely similar, with a big wide, cutdown screen, Honda's F6B. Neither has a reverse gear so you need to be mindful of where you're parking them; flat is best, and it's preferable to be pointing where you want to go before climbing off rather than afterwards. The sidestand is a bit of a stretch come time to move off. U-turns were initially daunting but once underway and you're more used to the bike, feet-up about-face manoeuvres are possible.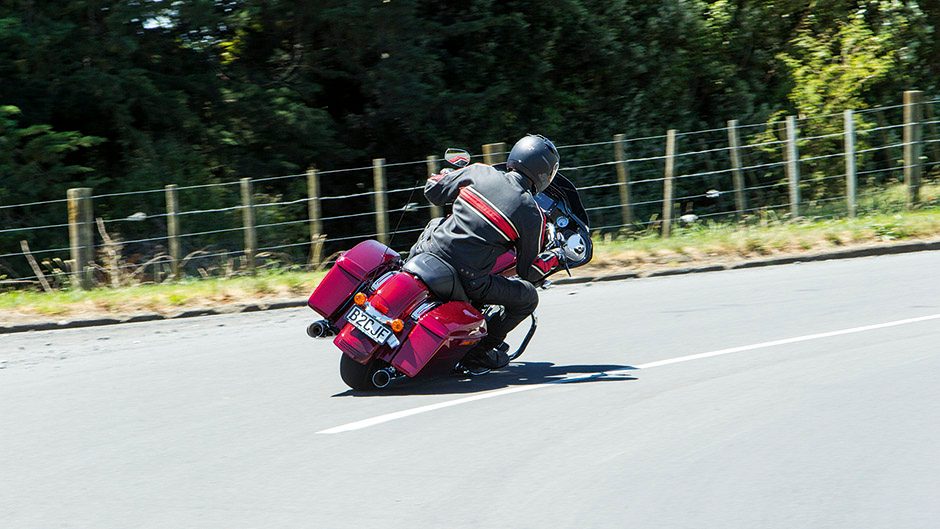 Handling is otherwise foible-free, though on tighter sections of road the hangers supporting the running boards will touch down, especially on bumpy corners. However, on faster, more open curves you can get along apace and attain decent lean angles (32 degrees) without hanging up. For such a sizeable machine it turns impressively, confidently, the width of the bars adding the right amount of leverage. With so much wind protection there's no great need to hang on either compared with an unfaired cruiser, and the riding position is natural, making for relaxed hours-on-end travel. The ride is every bit as accommodating as the handling is too. Only harsh squared off bumps make their presence felt at the rear of the bike, other road irregularities soaked up by the air-ride suspension.
Compared with the F6B this isn't quite as quick, but then that's comparing a bigger six with a slightly smaller capacity V-twin. It vibes and rocks around at idle but is smooth as at 100km/h, and this offers easy-going torque at low engine speeds while the peak of 138Nm arrives at 3500rpm. From there it really picks up the pace, signing off around the 5500rpm mark. Hitting open road speeds in a bit over 5sec, overtakes on the RGS are done and dusted in under 3.5sec. Often a single downshift suffices though best acceleration requires selection of fourth gear. There's power aplenty. In the instruments, there's no info on fuel use, only range, but the big, beefy 1690cc rig is fairly economical. Figure on 350km from the almost 23L tank, given 100km/h brings up just 2500rpm in sixth gear. It's rated at 5.6L/100km overall.
Linked brakes are outstanding. You only need to take a brief gander at the front end of this machine to get that impression, the big twin discs acting on plenty of decent rubber. But it's the rearward weight bias that makes all the difference; you can easily sense the added contribution to slowing that the 180 section 16-inch rear tyre makes when bearing down on the beefy foot lever. Cruisers you might well consider safer than other bikes because they're not cornering as quickly as sports machines and also they stop quicker when both front and rear brakes are applied simultaneously.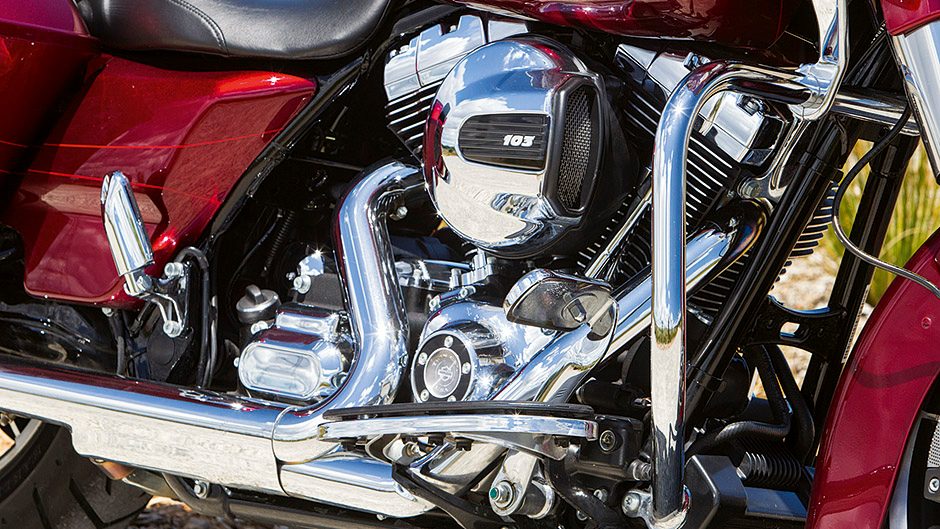 The two cruisers featured in this issue are the best stoppers we've ever tested, coincidentally. If there's anything we'd like to see changed, it would be to add a digital speed readout. And perhaps install a conventional indicator set-up. Activating or cancelling the right turn signal with the throttle hand isn't always easy. Don't like the Sons of Anarchy look? Don't need that shark's nose fairing, sounds or sat nav? Go for the more elegant but otherwise similar Road King instead for it still gets useful air protection from the conventional windshield. Saves over $4k in the process too.
| | | | |
| --- | --- | --- | --- |
| Model | Harley-Davidson Road Glide Special | Price | $38,750 |
| Engine | 1689cc, air-cooled, fuel injected, V2, 63kW/138Nm | Drivetrain | 6-speed, belt final drive |
| 0-100km/h | 5.42sec | 100-0km/h | 37.07m |
| 80-120km/h | 3.35sec (94.4m) | Weight | 386kg |