Building a standard bike from a superbike involves ripping off the fairing, no? Not in the case of Suzuki's GSX-S1000F which gets a careful retune of an old warhorse engine, new body styling, added traction control and some quality parts. All at a great price.
When is a superbike not a superbike? When its engine is detuned and is used to propel a roadster or sportstourer. Which, for the average Jo(e) rider, makes it a truly super bike. There's not quite the top end rush of the litre screamer but such machines compensate with gratifying pull at regular revs. Moreover, the superbike riding position that makes sense at 150km/h but a nonsense at 50km/h is replaced by a more upright but still sporty riding posture. The suspension adds or actually gets some compliance too. But is there catch? Often kerb weight blows out, and the more expensive components of the track bike are replaced by budget items. However, it is rare that a watered-down superbike actually adds electronics compared with its progenitor.
Well specified and priced
But that's exactly the case with Suzuki's new GSX-S1000, a sports bike for riders who used to fang GSX-Rs but now live with the pain of past race incidents. Moreover, there are two of these, a standard S version and one with an F suffix (faired). They're keenly priced too, at $17k and $18k, respectively, pitting them against Kawasaki's Z1000 and Yamaha's MT-09 Tracer. These days safety seems to sell motorcycles as much as performance. The new Gixxers get antilock brakes and traction control. TC is handy in something with bulk power and torque, preventing slides out of corners when grip is iffy, and unintentional wheelies during full bore acceleration.
Both are possible because the S/F twins utilise a modified superbike engine. Not the latest but the proven K5 'long stroke' superbike mill. With a mild retune, peak power of 145 horses arrives at precisely 10,000rpm, while maximum torque of 106Nm chimes in at 9500rpm. These figures may seem tame when modern litre bikes are producing 200 horses but it's how they're put to use that matters.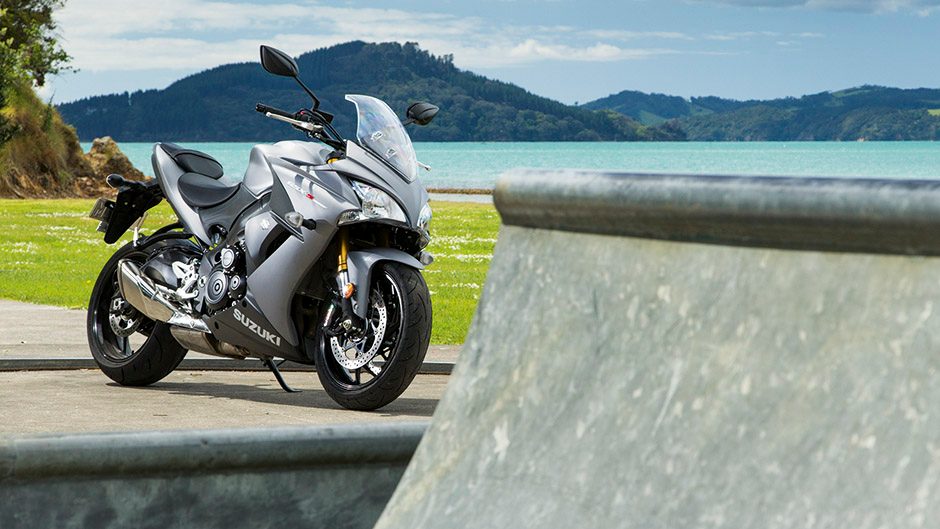 Turning the tables
On the performance front it is no walkover. Au contraire. GSX-S models have 50mm of extra wheelbase, and slightly more raked out forks for enhancing stability over turn in. A secondary benefit is improved acceleration. Instead of hoisting the front wheel on takeoff, this pair tends to turn rear wheel action into horizontal acceleration. We managed a best sprint time of 3.14sec, better than what most superbikes manage.
Moreover, it's 80-120 overtaking time was consistently 1.26sec, a hair ahead of the S 1000 RR. Quite something, what? All of that's done in first gear. Any modern superbike will pull away from the S/F twins on road because they have more top end power and quicker steering but the rider will be working harder. That's because the F, once underway, has so much grunt at ordinary revs that the rider rarely needs to shift out of sixth. This accelerates meaningfully up steep hills from 80km/h in top gear, and pulls cleanly from 50km/h in town so concentration can be directed to more important things than gear selection. Sixth is good.
Safety a priority
The engine isn't just a grunter either. In town, upshifting at 4000rpm away from stoplights sees the cars behind you quickly turn ant-sized in your mirrors. At that engine speed, the inrush of air through the intake system is only just starting to sound interesting. There are no engine modes which can make throttle response seem a bit abrupt at times but this bike is for experienced riders who will quickly adapt. And with three levels of traction control available, there's always a backstop for the hamfisted. We left it on '1' most of the time. Suzuki says the middle setting is good for 'regular' riding.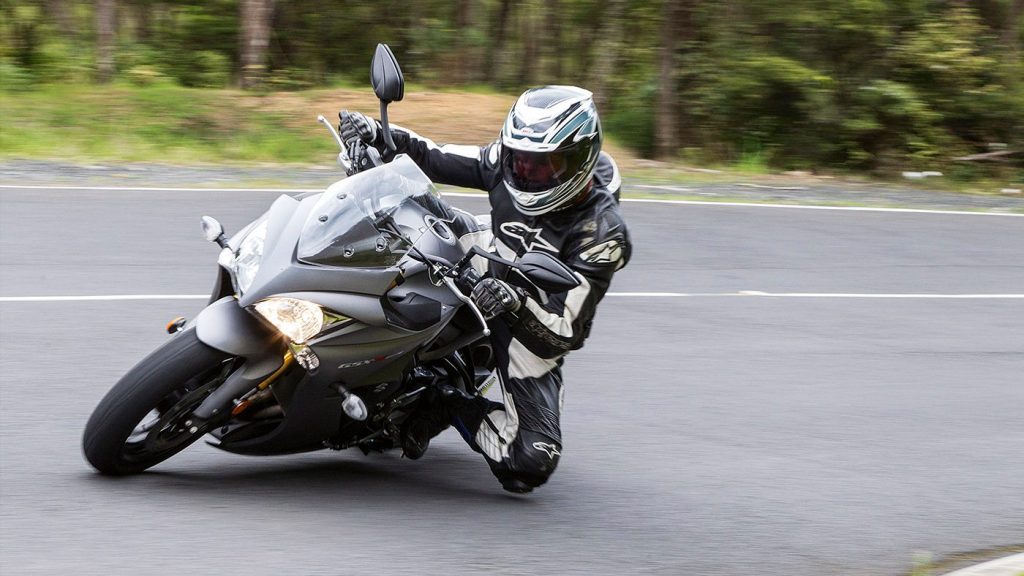 Both versions get ABS brakes too. Moreover, the S and F receive the same monobloc Brembos as the superbike. They don't have quite the stopping power of the GSX-Rs presumably because they don't use braided lines but that's readily changed. Same with the rubber which isn't top shelf but the Dunlop Sportmax D214s are decent enough. We'd rather change these bits than have to deal with more inherent issues like excess weight.
The brakes provide solid and stable retardation, with a best panic stop from 100km/h of 38.6m. That puts the Suzuki at number five on our all-time best list. Not what you'd expect of such a modest offering perhaps, but Suzuki hasn't gone cheap on other components either. The swingarm is borrowed from the superbike, while the aluminium twin-spar frame is even lighter than that of the track machine. Wet it weighs 214kg, the same as the previous R1. Even the small bits are weight optimised, like the choice of lightweight Renthal aluminium handlebars.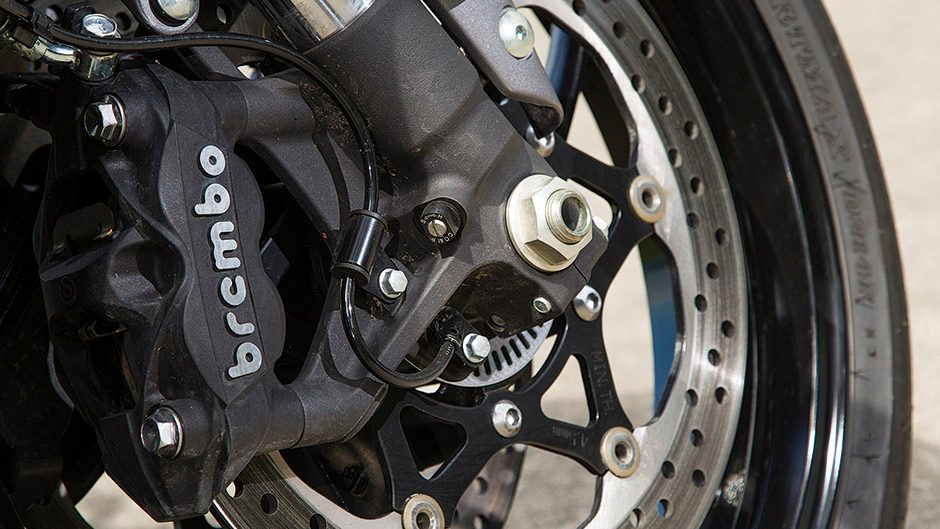 K5 a jewel
But it's the motor, as mentioned, that is the jewel in the crown. Even start-up is a bit trick; merely apply pressure to the starter and it kicks in for a long as necessary. Generally the engine fires before you can remove your thumb. The resulting exhaust noise is hardly dramatic but it makes a decent enough warble up top. Not that you ever really go there much because of the bulk torque below 5000rpm.
That also makes it extremely easy on fuel, using under 5L/100km cruising at the legal open road limit. Vibration is well contained too, tingles only beginning at higher revs. The transmission gets little use out of town but for commuting a lightweight clutch and slick easy shift mechanism are a treat. The shifts are short and fire through beautifully. Neutral is easily selected and we missed no gears.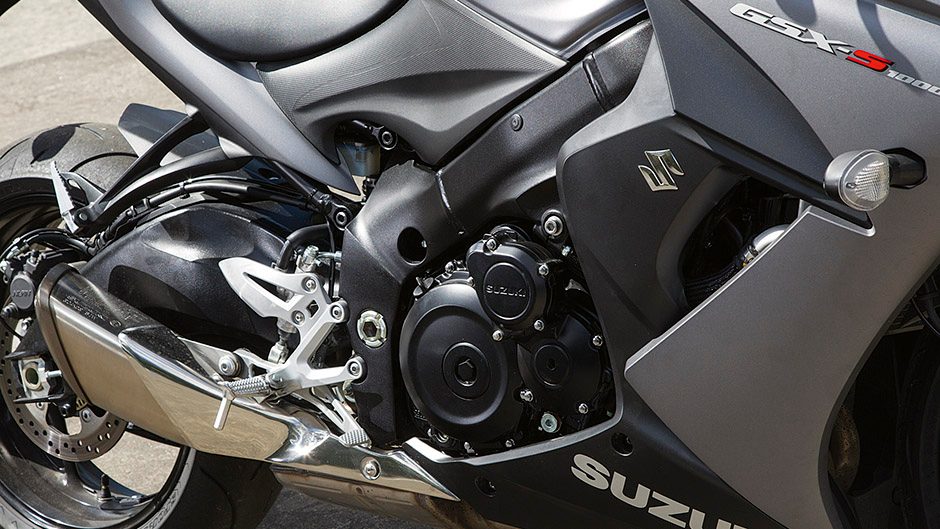 Great comfort for one
On the subject of ease of use, the riding position is ideal for two-hour rides. There's a hint of a stretch to the low rise handlebars, the wind pressure taking the weight off your wrists above 100km/h. Pillions don't fare so well; this is designed for infrequent two-up use. The suspension is fairly well sorted. New inverted 43mm forks by KYB feature full adjustability, and the shock is adjustable for preload and rebound. Initially the bike felt a bit firm both ends, but a few clicks out of the front and rear improved things. Suspension works fine on smooth roads, and while bump absorption on rougher tarmac isn't perfect I'd rather this than a jarred spine. You do notice it's not quite as quick to turn as the superbikes either but they're special, and in-turn stability is excellent. The lack of sheer weight helps inspire confidence, and aids with braking too. You get places quickly on this thing, for sure.
So the F or naked S model?
We'd probably be as tempted by the naked version as the F. The single headlight and cleaner lines of the S speak more to us of naked aggression. Besides, the small screen of the F doesn't stop much wind. We had a blast on this bike. Main competition comes from the heavier, slower Z1000 and the smaller, more compact, not as quick but like priced and slightly better equipped MT-09 Tracer. We'd rather this than the like-priced Versys 1000 which is heavier and plainer to behold, though is amongst the most comfy bikes out there. Anything similar from the Continent costs over $20k. Evidently Suzuki underestimated the popularity of this pair. For sure I'd rather ride this than the GSX-R on a daily basis. Just don't buy the matt grey model; it looks much more enticing and visible in the Suzuki MotoGP blue hue.
| | | | |
| --- | --- | --- | --- |
| Model | Suzuki GSX S1000F | Price | $17,995 |
| Engine | 999cc, liquid-cooled, fuel injected, IL4, 108kW/106Nm | Drivetrain | 6-speed, chain final drive |
| 0-100km/h | 3.14sec | 100-0km/h | 38.64m |
| 80-120km/h | 1.26sec (35.1m) | Weight | 214kg |