Kawasaki's Versys has always been close to being the ideal all-rounder. Is this third iteration the charmer?
This is the successor to the machine that Britain's Bike Magazine once lauded as "all the bike you'll ever need". They didn't get that entirely right, as the original Versys 650 was a bit uneasy on the eye and we reckoned it didn't stop that well either.
But you get entirely where they were coming from. It was really comfy, it hauled well at everyday revs, it was quick enough to get you into trouble and, did we mention, it was super-plush for longer rides.
We've just jumped onto the new one and it's really everything the old one was and more, having undergone a styling makeover, rather successfully, even more so than the Versys 1000 with which it shares an adjustable screen. While it may not have engine modes or traction control it has been treated to ABS so at least has the safety basics covered off.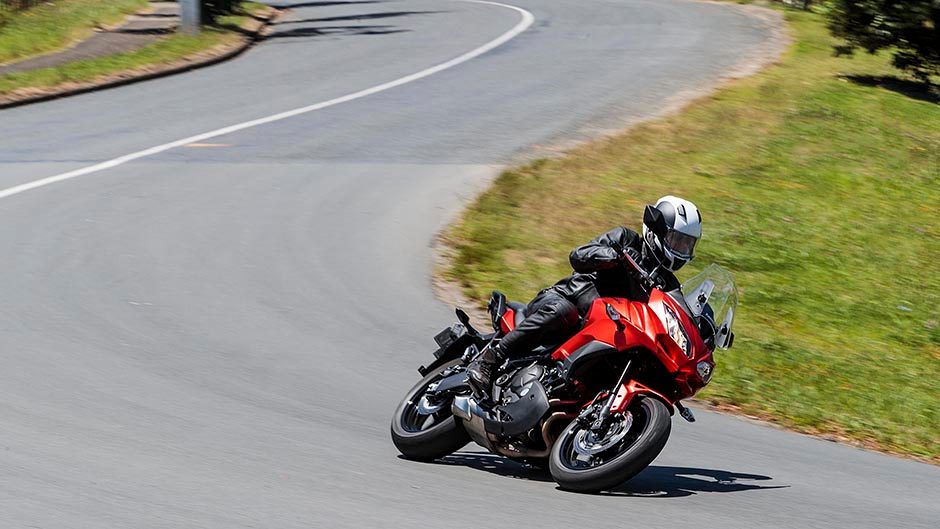 That unfortunately didn't prevent me from throwing it down the road, something which is bound to happen when you least expect it. Fortunately it was a low speed, low side affair and both the bike and I were okay once we'd brushed ourselves off. Have to say it was more my fault than the bike's and, worse for the dignity, all was caught on camera. Scratches to the Versys, and nothing much of note for me, a sore shoulder. Glad I wore the leathers.
But then I'm never one to dress down, even in early summer conditions. Safety gear isn't all that safe if you leave it at home. Heavy leather touring trousers and jacket absorbed much of the impact, and all of the slide thereafter. There's not a mark on my gloves or helmet, and only a few scrapes on the trousers and boots; they did their job. Because the bike only had scrapes and scratches, we carried on riding, as if nothing too much had happened. Back on the horse and all that.
It would be churlish to blame the crash on the standard rubber the bike gets, though you can always make improvements in that area. UK Bike magazine moaned about the wet weather performance of the standard rubber back in the day, and I'd have to say in the dry it gave no hint whatsoever of throwing in the towel before calling time on the grip thing, and having a wee lie down. Likely I was pushing a bit hard for the camera.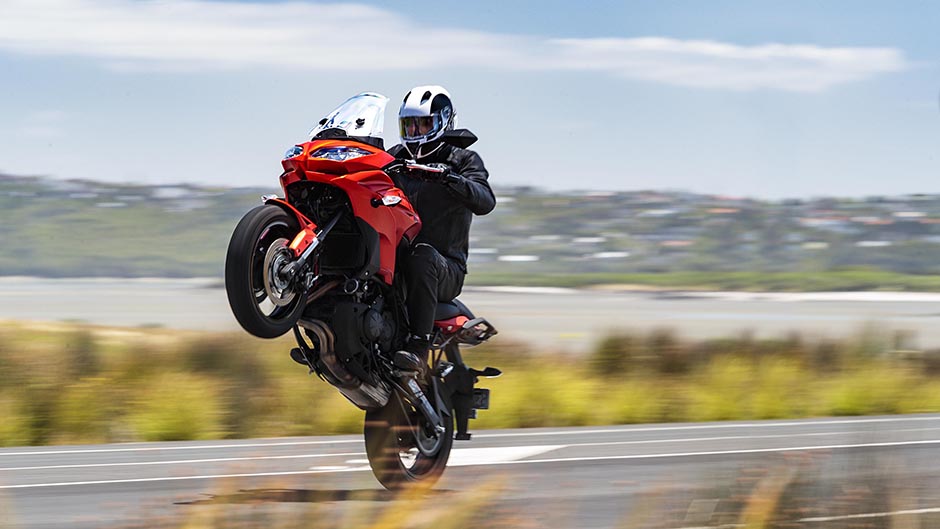 Enough on that. The Versys hasn't increased in price since 2011 when we last rode it and back then it didn't have ABS brakes either, at least not as standard. So in fact it's relatively less expensive now at $14,995. Plus, you're no longer paying for ugly.
While the latest example of this middleweight sport tourer isn't such a huge departure from the previous iteration in terms of mechanical whatsits, style and braking bits are much improved, and those were the two noteworthy issues of its predecessor. Underneath the new look, which mirrors that of the Versys 1000, is the same frame, engine, gearbox as before. Inverted forks up front remain adjustable for preload and rebound damping, each found on a different leg. And there's easily adjustable preload on the rear via a knurled knob, so it's simple to change if you decide to take a friend along for a ride. Try that on a regular bike; it's a C spanner pain.
We've been hoping for an improvement in the braking area of ER6 models, and been disappointed, but this has now happened with Versys, receiving new calipers and pad material, designed to bite earlier and harder. A new master cylinder contributes too, and similar changes apply to the rear brake.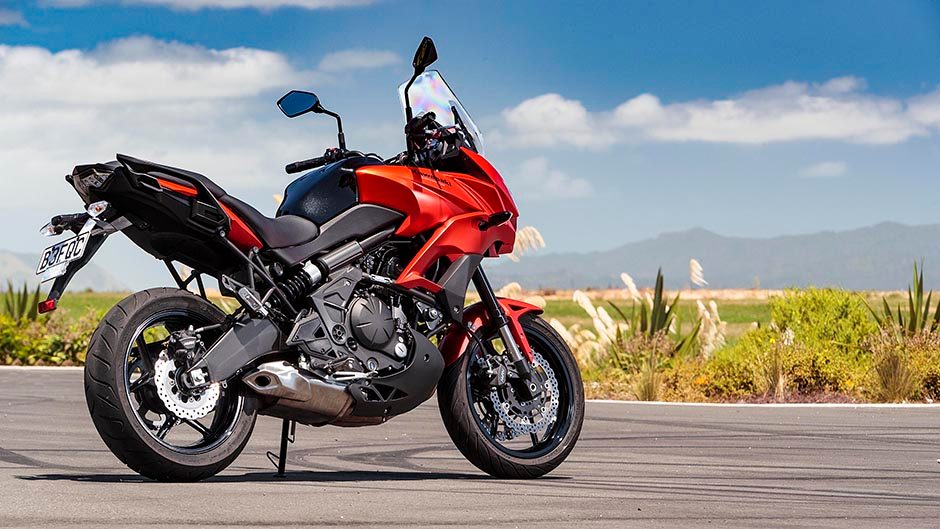 The improvements are obvious from the outset, with better initial bite and more outright power, both features frustrating in previous versions. Helping is a five-way adjustable brake lever. Where lots of pressure at the lever was once required for not a great return, the opposite is now true, lesser inputs still resulting in gratifying retardation. It's not up to radial brake standards, but is on a par with the MT-07 competition.
Speaking of which, this bike also competes with Suzuki's VStrom 650 ABS priced at exactly the same money, and in all likelihood with the Tracer 700, based on MT-07 and coming to our shores sometime in 2017.
The engine is really totally up for anything. A detuned version of the 649cc parallel twin found in the Ninja 650, it's not LAMS legal, despite it being just underneath the 660cc upper capacity limit. It now makes a few units more of power and torque, albeit at slightly higher revs, than in 2011. Back then it weighed in at 207kg, and now it's slightly heavier at 216kg full, thanks to ABS and added bodywork. Acceleration is essentially unchanged, taking 4.5sec to hit 100 and 2.8 for an overtake, overwriting 2011 figures.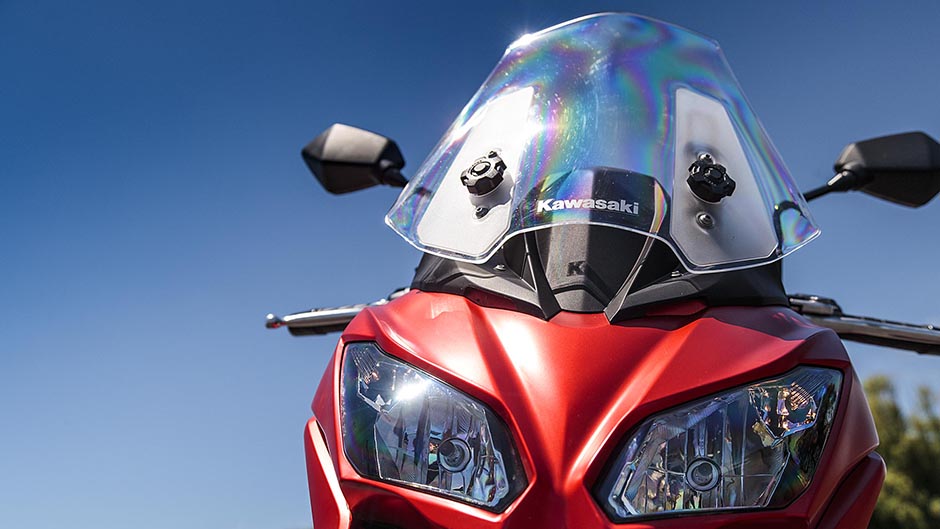 We averaged over 21km/l, meaning at least 400km to a tank when sticking to the open road limit. Good luck with that though; this seems to have a natural gait of 115km/h, which equates to around 5500rpm in sixth.
We found speed creep a bit problematic and that's because the Versys is just so relaxed about how it goes about things. The engine is optimised for midrange power delivery and it pulls with ease from 4000rpm onwards. Actually, it's good to go even earlier than that, at just over 3000rpm. While it spins out at the top end to over 10,000rpm, you get the feeling it has given of its best by 8500rpm. Earlier versions had a tendency to tingle, but the latest Versys is essentially vibe-free, and rubber mounted bars mean the mirrors reflect accurately too.
One thing the Versys 650 has always done is comfy, easy-going middle-distance touring. It's ace at this, with good air protection, picking up the adjustable screen from its bigger sib, and it's over one-half as big again as its forebear's. Variable over a 60mm range, it offers good wind protection, and while there's no buffeting there is some wind noise emanating from the top of the blade. Otherwise, comfort levels are great, with plush, generous seating for two, absorbent well controlled long travel suspension and a natural, open riding position. You can cruise on this for hours without pain, and you'll be able to literally for the tank holds 21L of fuel.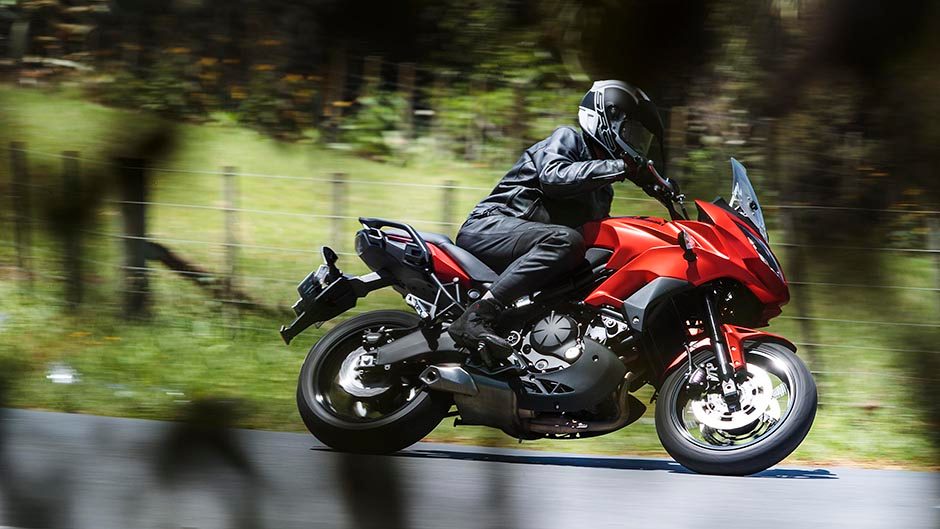 The wide bars, upright forks and slim nature of the engine make this turn with little effort, and so progress on Kiwi roads is almost too easy. Middleweights with motors tuned for midrange make great Kiwi mounts to the point that unless you feel emasculated by bikes with engine cc ratings measured in the hundreds, then litre-plus machines can seem like overkill for our roads. Besides, how much performance can you actually use here? There's an argument that 650-800cc is more than adequate. The parallel twin doesn't plumb the absolute torque depths like some can, but will pull right down almost to urban speeds in sixth, and once in top gear only decent hills or short gaps for overtaking will mandate downshifting. This is arguably its least impressive aspect, being a tad notchy on the upshifts.
And the instruments, while relatively comprehensive (there's a fuel gauge, and all relevant trip data) miss out on a gear indicator which should really be present. With its comfort, economy, loafing engine, and improved brakes with standard ABS, this might well do splendidly for that trip of a lifetime. Or if you have lesser ambitions – perhaps you're considering long haul stints two-up in the Shaky Isles – this is a sensible and cost effective means of achieving that. So Bike magazine almost nailed it; they got the right bike, just the wrong generation.
| | | | |
| --- | --- | --- | --- |
| Model | Kawasaki Versys 650 ABS | Price | $14,995 |
| Engine | 649cc, liquid-cooled, fuel injected, IL2, 51kW/64Nm | Drivetrain | 6-speed, chain final drive |
| 0-100km/h | 4.33sec | 100-0km/h | 42.94m |
| 80-120km/h | 2.80sec (79.3m) | Weight | 216kg |