The original i3 wasn't quite the success BMW might have hoped for but sales have taken off since the battery and range upgrade. Is the pure i3 up for a spot of touring? We find out.
Last year we undertook zero test drives of pure EVs, but now in 2017, we've already driven one. It's the latest BMW i3, the pure EV example. If you recall the original came with a 22kWh battery and a 650cc twin-cylinder range extender engine, enough for a touring range of roughly 350km. That's still available, but it gets a battery, upgrade, just like the new i3 EV.
The original i3 didn't sell that well on the major markets, taking three years to hit the 50,000 mark. With the battery upgrade – capacity rises by 50 per cent to 33kWh (94ah) – range increases from 130 to around 200km, and that's said to be a real-world figure.
We picked it up with a full battery and the "distance to empty" meter suggested 220km in the EcoPro driving mode.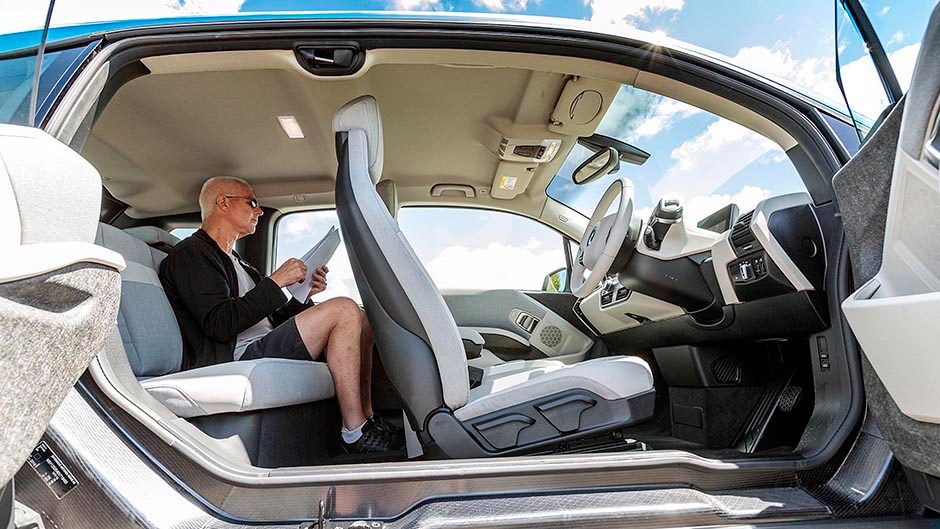 Without the wee engine in the back, it's also less expensive, the pure EV costing $74,300, while the range extender sells for $85,300, though it is also better specified.
So initial thoughts on the car? Well, it isn't cheap for what it is, essentially a compact hatch with zero emissions and a touring range that's still about one-third that of any regular car. Moreover, luggage capacity is only about 260L, barely enough for a supermarket shop-up.
It looks a bit kooky too, in that eco-car way. In profile its diving and rising waistline suggests different; perhaps that's the point. Inside, there's use of recyclable materials both for lightness and environmental reasons, enhancing the EV's green creds. It has a mainly premium feel about it, the hatch closing with a thunk. There's a sizable glasshouse for a pretty decent all round view, although the B pillars are thick. Its turning circle is tight, perfect for town running. We initially thought the rear seat accommodations mean but there's actually reasonable space for two adults back there, accessed by rear-hinged doors.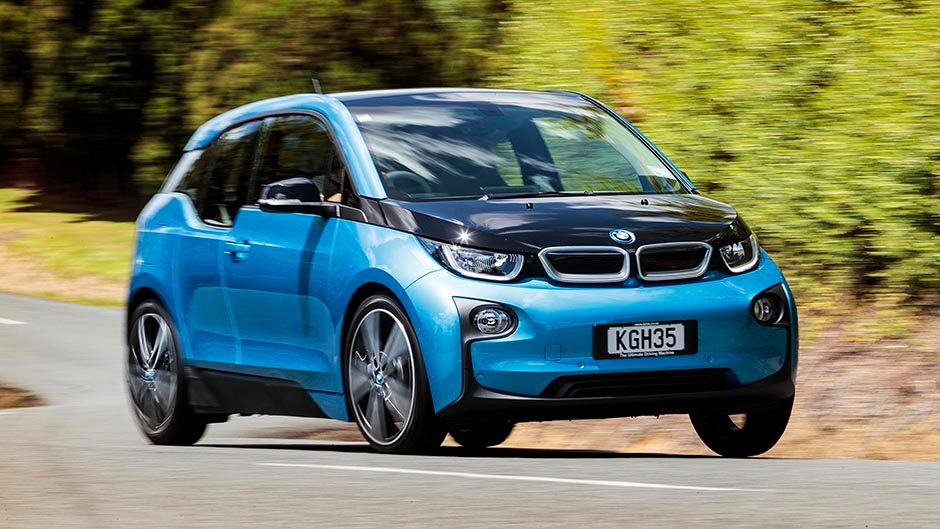 If you want a vehicle that allows you to slip away without waking everyone else in the house, an EV is the way to go. The i3 whirs slightly as it goes about its business, but there's almost nothing else to hear and that makes listening to music more pleasurable. On the downside, wind noise and road rumble are more audible, but with skinny tyres there's not much of either.
For running around town, there's enough acceleration even using EcoPro mode, while the most miserly of the lot, EcoPro+, limits top speed to 90km/h, and acceleration is also more muted. EcoPro seemed like a good compromise, unless you're really going places.
Because we'd been led to believe the 200km range was real world and not the result of some lab test, we decided to put it to the test, with the intention of heading down to the southern Coromandel on Friday evening, a journey I knew to be 160km. But when 98 per cent of the trip was to be at highway speeds with a greater battery draw than in town, I started to get cold feet. I beseeched the Ed to swap for a turbodiesel ute but all requests fell on deaf ears. "Real world 200km range – check it out".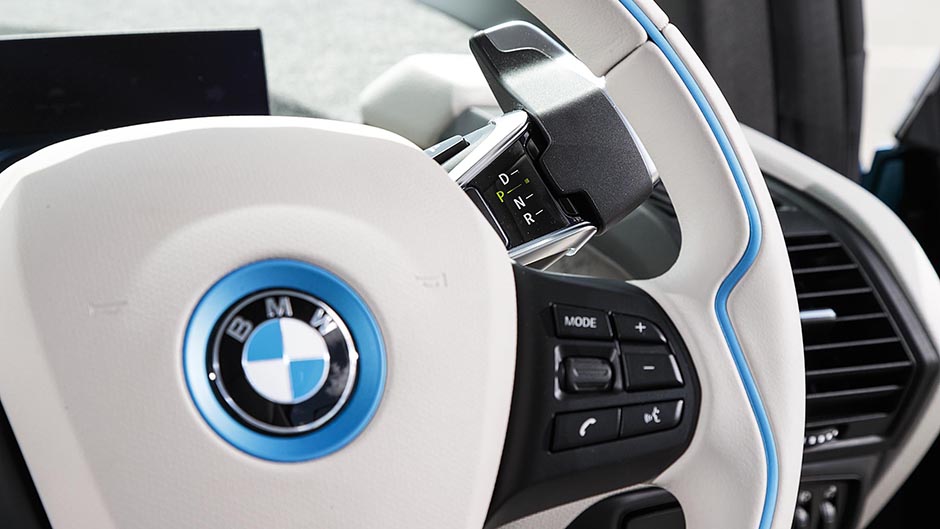 The best laid plans naturally were soon in ruins. Thursday weather was awful so the photo shoot was set for Friday, and it was over by 2.30pm. However, the "tank" by then was under half full and the standard charger that comes with the i3 isn't a turbo type. With a DC rapid charger, figure on an 80 per cent charge from flat in 30min or a 30 to 80 per cent charge in 15min. BMW has partnered with ChargeNow which promises 100 DC fast chargers from Kaitaia to Invercargill by the end of the year. An AC rapid charge unit takes about three hours for a full charge, but plugging in at home expect a brimming to take seven hours. A getaway after work with only 100-odd km of charge meant an overnight tickle up was needed and an early Saturday morning departure instead.
The vast majority of the time an overnight charge suffices but if you want a fast charge visit a public charge station or install a quick-charge AC system at home instead. BMW recommends installation of its fast charge solution, the BMW i wallbox. This operates at 16amps, reducing charge time from empty to 80 per cent to around five hours. The retail price is $1700 and installation costs add another $500 or so.
Saturday dawned still and clear and, battery brimming, we were on the road by sun-up which arrived in spectacular blood-red fashion. Not having any real back up – no charge points beyond Paeroa – we decided to employ hypermiling techniques to be safe. I didn't fancy having to push the i3 anywhere, despite its rather lightweight 1290kg with a full tank! So we selected Eco Pro+, which restricts top speed to 90km/hr, and turned off the ac. On the trip meter we watched battery remaining diminish steadily so instead dialled up instantaneous battery use and tried to keep it to a minimum. BMW reckons 12kwh per 100km is possible overall but we averaged 14.0.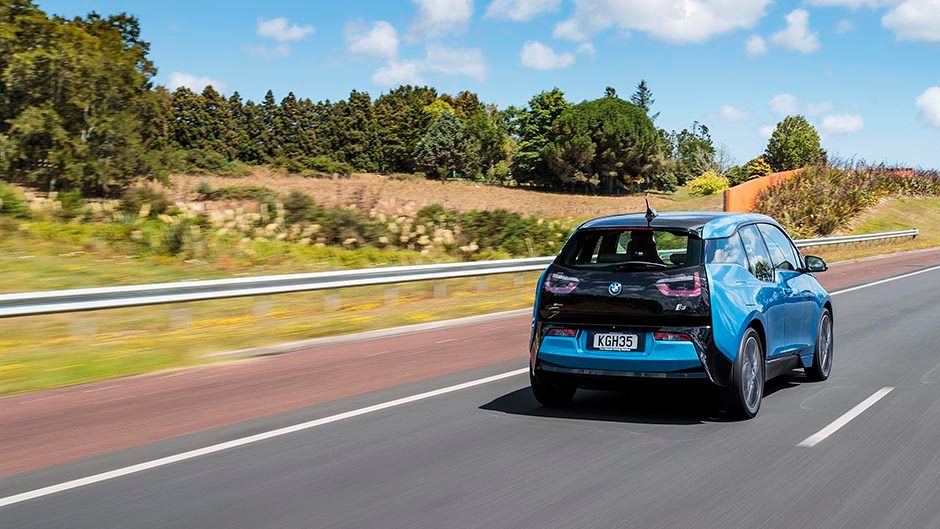 Still, we stuck to the shortest possible route, SH 27 and SH 2, and things were looking good. Sure, we were overtaken by literally hundreds of cars and trucks but the i3 is quite small and it's no issue pulling over to let others pass. By the half-way point I was feeling more relaxed about things. We'd covered 80km and there was over half a battery of juice remaining, or the equivalent of 140km.
With about 10km to go the power meter suggested 50km left, a quarter of a battery charge. By then we felt confident of making it, despite a warning message suggesting we should head to the nearest charge point, which was precisely what we were doing. Heading down the long hill into Whiritoa, regenerative charging added 10km of range and we ended up with 60km left upon arrival.
After a few hours on the charger we headed back into Waihi, this time driving in the full power "Comfort" mode and not sparing the horses. Yes, it used up charge a bit more quickly, but unrestricted performance is really quite stupendous. Off the mark it instantly races away from any turbocharged vehicle, and you're whirring along at 100 in just 7.2sec, an overtake requiring two seconds less. And it's just so eerily quiet on the go. Ride is pretty decent, especially on good surfaces, so too the handling given the skinny rubber. You seldom need to touch the brake, such is the potency of the "engine braking" (regenerative) effect. Not fast enough for you? There's an even quicker i3S model earmarked for release later this year.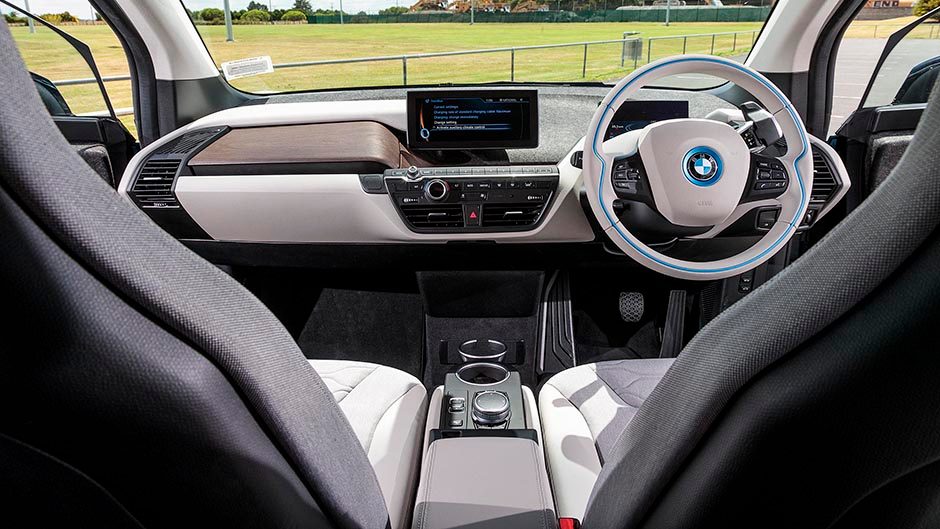 Returning to Auckland, into a stiff headwind and with another adult aboard, there was some range anxiety, but we made it with 30km in the tank remaining, thanks in part to a 20-min tailback on the southern motorway, and proved 200km is a real-world reality for the i3.
Is the i3 the bees-knees then? It was the best selling new EV here last year, but there wasn't much competition. In town, it is insane fun to drive. For those with range anxiety, pick the i3 REx version, or wait until 2019 when range for the pure EV purportedly extends to over 300km.
Faster EVs with more range are coming, Tesla's Model 3 next year, for similar money to the i3. But don't expect the Bolt any time soon; GM has a history of making mistakes with EVs. Potentially the first EV with properly good range, performance and price, the 2017 North American Car of the Year looks like it will be sold in left-hook markets only. A pity that.
| | | | |
| --- | --- | --- | --- |
| Model | BMW i3 | Price | $74,300 |
| Battery/output | 353v/33kWH, 125kW/250Nm | Drivetrain | single speed, rear-wheel drive |
| Consumption | 12.6kWh/100km | C02 Output | 0g/km |
| 0-100km/h | 7.18sec | Weight | 1290kg |