For those always uncomfortable about driving a vehicle called Kuga, Ford has gone to the trouble of renaming its medium SUV escape.
We break loose in the Titanium version.
Let's be honest here; the Kuga hasn't changed that much in its transition to Escape, a name well known to Ford faithful, so call the name change a part of the facelift if you want because that's simply what this is: Kuga facelift plus a new name.
Now some women of a particular age own and drive the Kuga as a badge of honour. They would actively seek out this compact/medium SUV as their vehicle of choice, for obvious reason. However, for every one of them, there would have been plenty more who would never have gone near Kuga because of its name. And that's despite different spelling from the big pussy. All the same, conservative women with kids who buy SUVs seemed to associate the Kuga name more with predatory middle-aged women and so many of them sidestepped the SUV because of those connotations. An easy way to trim the Ford from a long list of contenders perhaps.
Whatever, there's not so much in the way of negative vibes associated with the Escape name badge, unless you've a fear of prisoners on the loose. Nope, this is the kind of vehicle you fancy yourself climbing into at the end of the week and heading off in search of adventure. Especially in the Titanium version, with its AWD turbopetrol powertrain, panoramic roof, many of the active safety aids, and also Sync 3 which allows you to do a whole mess of fancy things via voice control. Kind of like Siri for your car.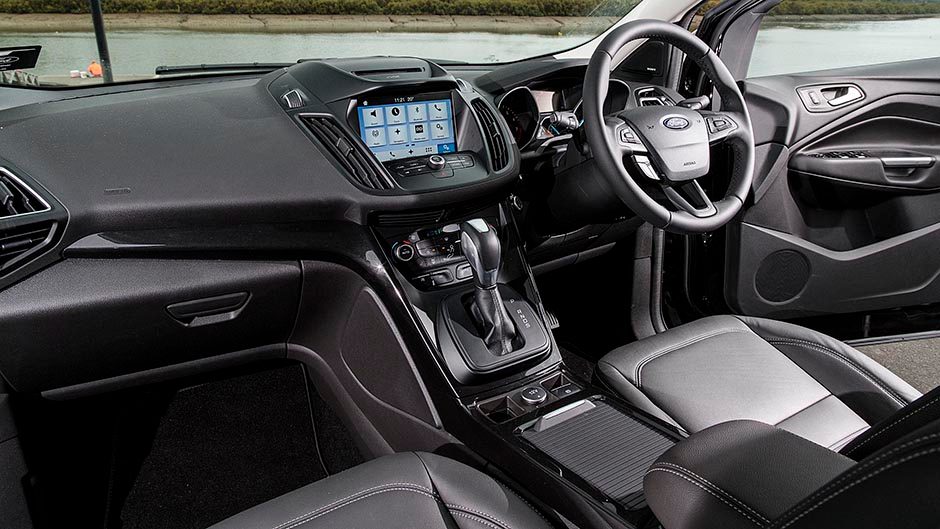 Perhaps because of that name and its age, and probably also on account of its price, Kuga hasn't achieved quite the market penetration Ford might have hoped for, though you can say that about any number of their products aside from Ranger. A 2016 total of 1236 sales in the biggest area of all, medium SUVs, paled against the likes of RAV4, Sportage, Tuscon, CX-5, Captiva, X-Trail, Outlander and others. So a bit of a revival would seem timely.
Backing up a few years when Kuga was first new, in 2012 we checked out the top $54k Titanium version which was then powered by a 147kW/320Nm 2.5L five-cylinder turbopetrol, matched to a five-speed auto, and it managed 0-100 in 9.4sec. A year later we drove the update to this, which featured a much more frugal 1.6L turbo mated to a six-speed auto, good for 134kW and 240Nm, and despite the power drop it was only about a second slower to 100km/h. However, it used much less fuel overall (rated at 8.0L/100km overall vs 10.3). It still cost almost as much, at $52,990. The Ed felt it was a good package all the same, and well specified for the price.
So now the same beast is known as the Ford Escape Titanium 2.0 Ecoboost AWD, quite some mouthful. Its sticker price is $53,490 so in that it has been relatively constant. This time though it gets a decent power hike, the 2.0L turbo pumping out 178kW and 345Nm from 2000 to 4500rpm. We've never had a Kuga of any sort feel exactly racy; none has threatened to break 9sec in the sprint to 100 but this feels like it would do it with bells on. Like a cougar, it will run down and maul many of its competitors which have much less potent atmo engines.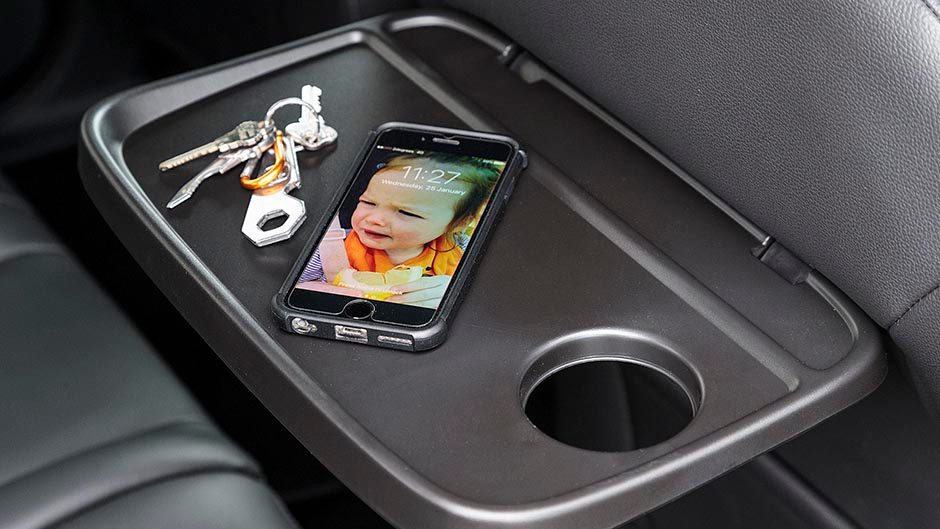 If you're not necessarily big on performance and would rather buy the vehicle for its size and practicality, a new entry-level variant is now available, the Escape Ambiente 1.5 Ecoboost FWD at $37,990. Doubtless it would be more economical too, for while the top 2.0L engine is rated at 8.6L/100km overall, we never saw anything below 11.5L/100km.
Still, like Titanium models before it, this vehicle wants for little. Not only does it have all the luxo bits like powered and heated leather seats, with active lumbar support, a panoramic sunroof (which impinges slightly on rear seat headroom), dual zone air and the like, it also comes replete with the active safety whatsits, such as active cruise, lane change guff, forward collision alert and autonomous braking in town. The range is five-star safety rated, unsurprisingly.
And that's not all. It gets self parking, a hands-free powered tailgate, shift paddles on the wheel, and Sync 3 for control of Apple CarPlay and Android Auto. The info screen now allows Apple-like pinch and swipe control movements too. A frontal restyle and a new bonnet that offers enhanced pedestrian protection give the Escape added presence over its Kuga forebear, and the same can be said of the restyle on the other side of the glasshouse. It's a much more pleasant cabin, and is quiet on the go too. The engine is scarcely audible, and there's obviously a fair amount of sound deadening in Escape, as cabin SPLs seldom rise above 70dB. That's despite the quite racy ContiSportContact rubber.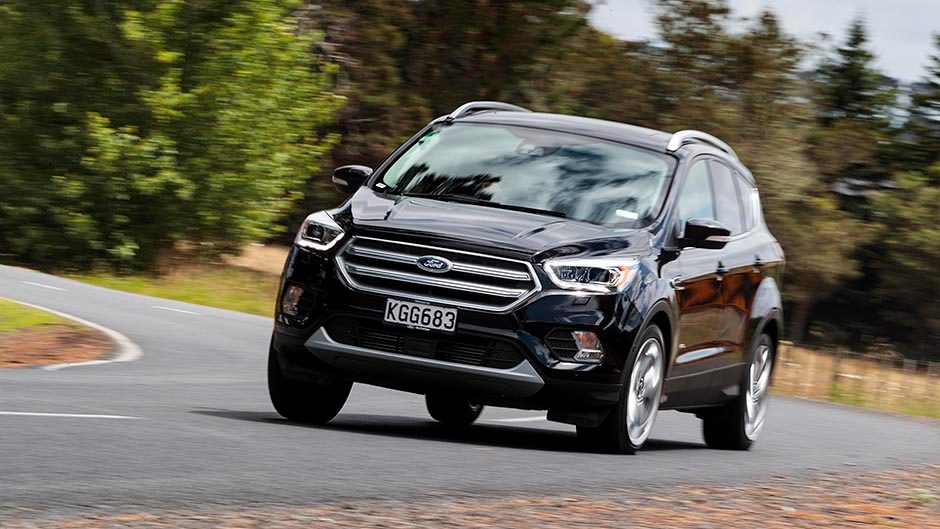 It has always been a solid offering, and the latest is no different at just over 1750kg brimmed, but that also translates to solid build, not a squeak or rattle anywhere in evidence. Doors are substantial and close with a definite clunk.
That heft is also apparent on the go, especially when pressing on through demanding corner-studded roads, but nevertheless there has been quite a bump in performance. As mentioned, we've never had any prior Titanium model that even gave 9sec a nudge during a 0-100 run, but the latest Escape was much quicker, registering a best sprint time of 7.6sec, with an overtaking time almost exactly two seconds faster.
Torque oozes from the 2.0L Ecoboost engine, and most of the time revs in the 2000-3000 zone are sufficient. However, output seems to jump a notch at 3000rpm, and best urge is available from about 4000-5500rpm, especially when the Sport transmission mode is selected. This requires pulling the shift lever back a click from D, but is only possible when the detent is pressed. It's not quite as user-friendly as the Tiguan's system, which is a simple pull back for Sport and repeat to return to Drive. But nor is the Sport mode too sporty.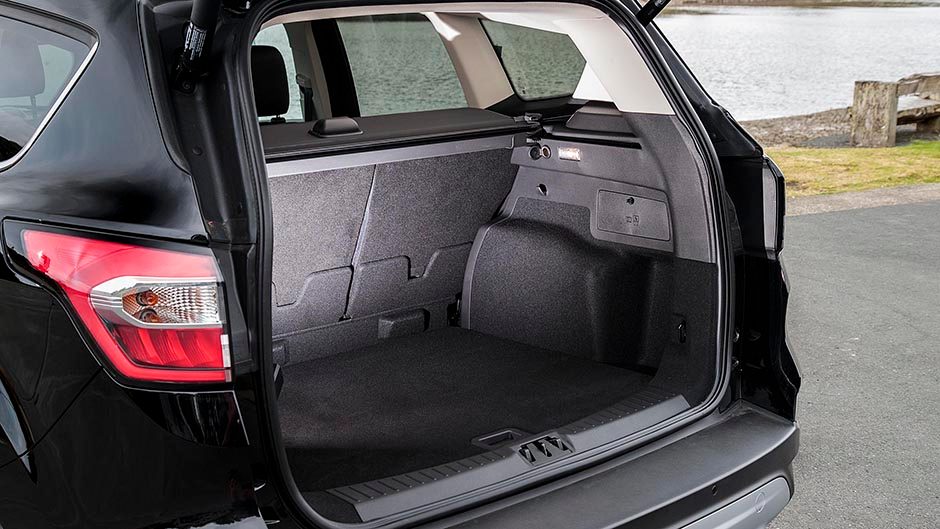 The big difference between this and the top Tiguan we drove a short time back, aside from price favouring the Ford, is the ride and handling set-up. The VW slightly favours the latter, even in its Comfort mode, while the Ford veers more towards the former and in this type of vehicle we'd concur. Most people don't buy high-riding vehicles for superior handling traits. They want something that's a room with a view, and rides with decorum. This does both.
Despite fixed suspension compared with the adaptive suspension of the top Tiguan the Escape handles corners reasonably well, though steering loads up a bit when it's pushed and there's also a touch of roll too, as you might expect of something that rides this well. Torque vectoring by brake helps keep things real on the edge of grip, but what we liked most about Escape is its steering, long a Ford strength. It doesn't seem to isolate you from the road like so many SUVs do.
In its transition from Kuga to Escape, Ford has managed to improve the value story, always a plus, with a new entry model at $37,990 which should prove popular. But the top-end offerings are always sought after too, and with its spec sheet brimming, Escape Titanium should also fare well, especially now it gives more expensive competition like Tiguan GTI a run for its money in a straight line. For those keen on a bigger ratio of economy to performance, there's also a 2.0L turbodiesel version for $1500 more. And best of all, no more cougar sniggering.
| | | | |
| --- | --- | --- | --- |
| Model | Ford Escape Titanium AWD 2.0 EcoBoost | Price | $53,490 |
| Engine | 1999cc, IL4, T/DI, 178kW/345Nm | Drivetrain | 6-speed auto, all-wheel drive |
| Fuel Use | 8.6L/100km | C02 Output | 197g/km |
| 0-100km/h | 7.60sec | Weight | 1754kg |