IT LAUNCHED FIRST IN 2014 AND HAS BEEN SO POPULAR WE'VE NOT BEEN ABLE TO CHECK IT OUT BECAUSE ALL WERE PRESOLD, UNTIL NOW. SO IS BMW'S RETRO R NINET ROADSTER AS GOOD AS IT LOOKS?
"Mate. that's awesome". If I had a buck for everyone who said that upon first casting eyes over the R nineT, I reckon I'd be about a six-pack of Macs better off right now. Make mine 'Green Beret' thanks.
If looks could sell, this bike would be a winner, and you know what? It is fast becoming a significant seller in BMW Motorrad's line-up, though the undoubted leader remains the R 1200 GS. But with new models based on the original coming along, like the Scrambler, the Pure (a base model with less exotic components), the Urban G/S and the (Cafe) Racer, expect the R nineT brand to contribute 'bigly', as the President would say, to company coffers in the future.
The R nineT name sounds like R90 and there are definite similarities, aside from the shared boxer twin air-cooled engines. The modern retro machine was designed for the 90th celebrations of the company in 2011. However, development was running late and it ended up launching in 2014. It proved a big hit which just goes to show that there's a buyer demographic out there for exotic retros, likely a remnant of the pipe and slipper set given its $25k price.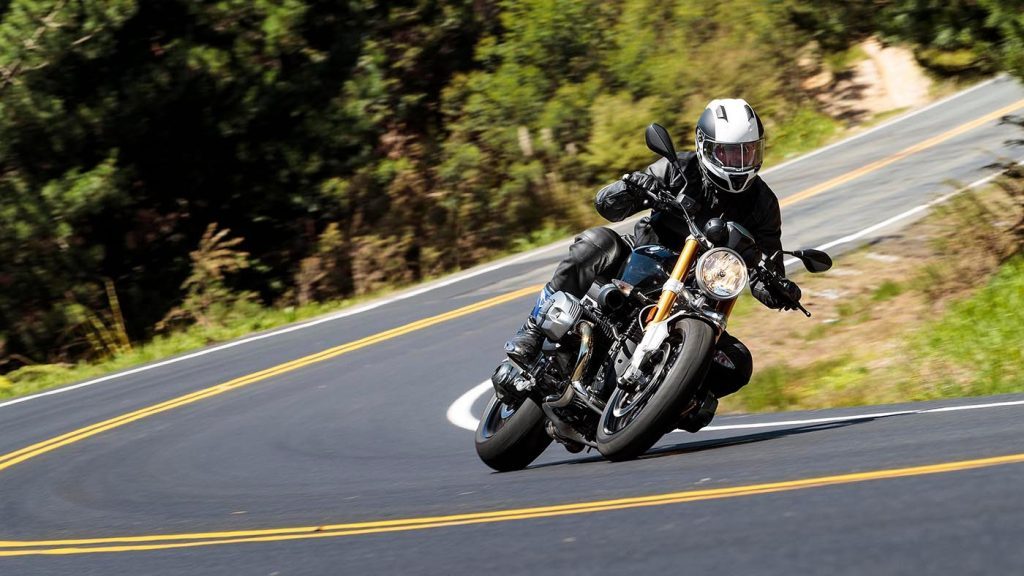 The company suggests that this is the ultimate platform for customisation, with separate engine and chassis wiring harnesses, fewer rear subframe bolts for easy removal and the like. Moreover, the tail section can be modified in several ways; the passenger seat can be replaced with a pillion hump for that cafe racer look, or it can be removed entirely for that single seat, truly naked appearance. The one R nineT owner I know reckons it looks a bit weird like that, and while he admits he would like to add a fly screen he really doesn't want to ruin the lines of the bike. So he has kept his standard er standard.
And who can blame him with a look like this? BMW Motorrad so nailed the R nineT that people buy it because they love the look, as others have done with certain Ducatis. The design appeals from all angles and it's nice to have around as a show piece, eye candy. That it gets you places in the nicest possible way is an added bonus. Everywhere you look on the bike there are appealing design features, right down to the use of Torx fasteners which actually make seat removal a bit of a pain.
What's the point of owning a motorcycle if you don't enjoy the ride, and if the engine isn't up to the task? The R nineT nails both of these with bells on. There is something characteristic about the sound of a V twin, and in the same vein boxer twins have an idiosyncratic noise of their own. Hear one and you know without looking what it is. BMW has taken this to the next level with the R nineT, its twin stacked pipes on the left side not only looking the part but sounding righteous too. If I was an owner I'd consider not upgrading this, though you can with an Akrapovic aftermarket item. There's a muted yowl on the go and pops from the pipes on a dead throttle. They've got the decibel level about right too.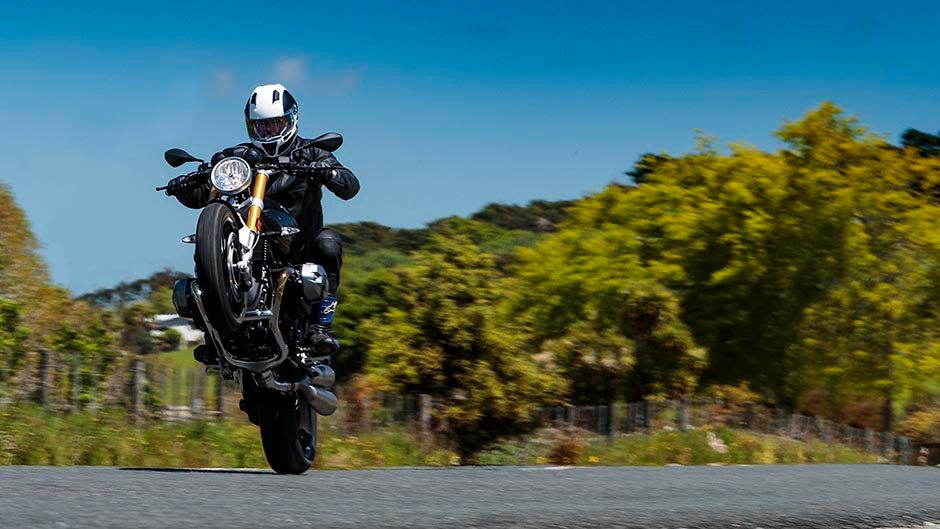 But it's what they connect to that's the real jewel here. The character of the 1170cc air/oil-cooled flat twin engine simply suits the bike to a (R nine) 'T'. Figure on 110 horses or 81kW at 7750rpm, while there's peak torque of 119Nm chiming in at 6000rpm. Evidently 100Nm is already on tap by 2000rpm and that's exactly how it feels.
It seems to muster a boatload of torque down low, and we mean gin palace, not paddling dinghy. Ours was pretty green when we picked it up, so things just went from great to magical over 500km of running. From below 2000rpm it is well onto it, with decent pull from about 60km/h onward in top, coming on strong from 80km/h so overtakes involve adding a few degrees of throttle angle. With an optimised second to third shift and using all of its 8500rpm maximum you'll get there in under 2sec. And off the mark? Figure on a whisker over 3.5sec 0-100. That's hardly retro.
All the new models are based around the same evergreen air (and oil) cooled engine that has propelled BMW motorcycles since the original R32 first launched back in the mid 1920s. If you're thinking this is an incredible run for an engine, not much having changed in concept for almost a century, you're right. So what is it about the horizontally opposed mill that gives it such longevity? Well durability for one. Whether that's inherent in the understressed design or because of the way it is built, or both, I'm not sure. But you see big mileages and good retained value in BMW boxer twins. Not that it will last forever, being EU4 emissions rated now, but it's unlikely to meet higher regulations in future. We bet the radiator will be a discreet affair.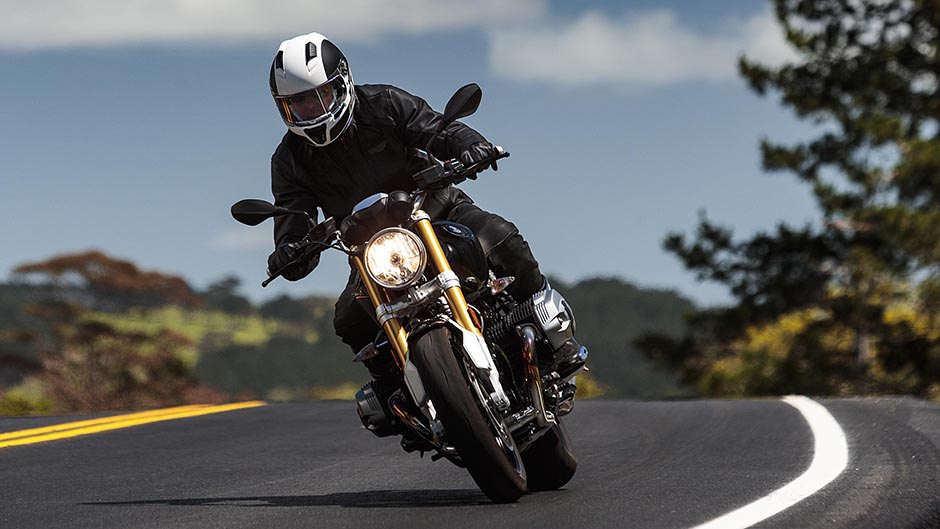 The clutches on older air-cooled boxer twins used to be weak but they certainly aren't any longer. And shift action is sublime too, even though there's no quickshift mechanism here. That wouldn't be retro now, would it? In fact there's nothing in the way of the usual electronics you find on modern road burners. No traction control, just you and your right wrist. No engine modes, just go or stopped. About the only concession to modernity is ABS braking, and wouldn't you know it? The R nineT produced the equal-best stopping distance for a non-cruiser machine we've recorded, its 37.38m effort overlaying that of a Multistrada which uses monobloc calipers. The BMW merely has radial-mount conventional Brembos.
Back to shifting though. There's a nice lightweight clutch mechanism, and both levers feature four-way adjustable handles, making for excellent leverage. The shift mechanism is great with short positive throws, although occasionally you'd find an upshift not going through properly and it would slip back a gear. Once in top, you're there largely for the day if you're feeling lazy. No need to downshift for hills either, such is the torque to take you over the top.
With vibration cancelling devices there's nothing much in the way of tingling either. Mirror images are faithful even if they're a bit mean. The same could be said for the dials but to my mind they are right sized, and way cool. On the left a reasonably accurate (for a bike) analogue speedo, and revs on the right with rudimentary trip data in between. No matter what, we seemed to record 5.0L/100km overall, but no doubt this would improve with time.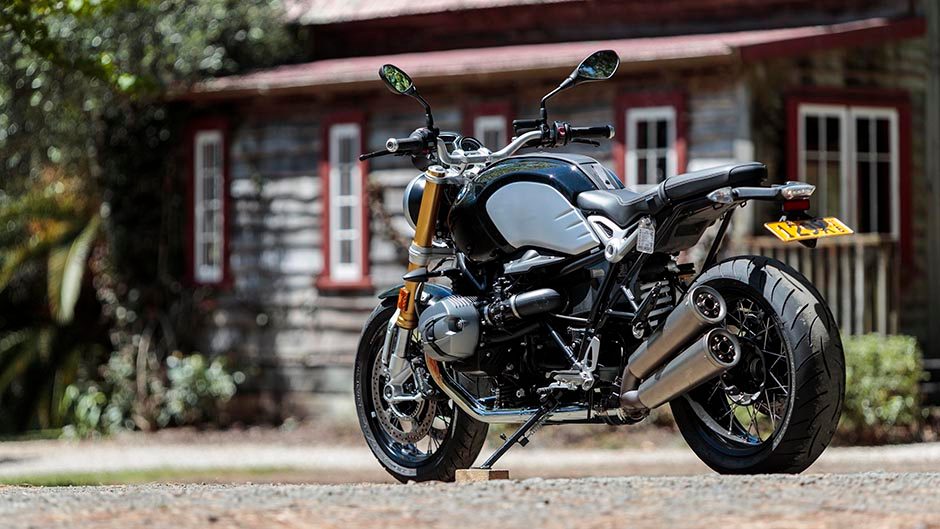 The other aspect you want in your top-line standard is ultimate riding pleasure. This doesn't mean sportsbike handling or ADV ride quality but a mix of the two would be ideal, and that's largely what you get. A mate who owned boxer twins back in the day reckoned he had to weld 10mm steel plates to the underneath of the heads because he kept wearing through them. The new models touch down rather more gracefully, sparking up the hero blobs but you really need to be getting stuck in to manage this. Most owners probably won't bother trying.
There's slightly more ground clearance than with the R1200s because the pegs are sited a bit higher. It's a ball to ride briskly without going troppo, simply because of that mass centralised feel, the motor's heavy dangly bits sitting as close to terra firma as you can possibly get them. And claims of a soft front end? What's that about? It uses a variant of the USD forks found on the S 1000 RR.
BMW would probably want you to believe that it is bearded Gen Xers with plaid shirts buying the R nineT, but no, it appeals to the heartland BMW bike buyers, the well-heeled cardigan set. Retro machines remind them of their youthful exuberance on two wheels.
We had a ball on this, and while not inexpensive at $25,290 – the much better equipped if not as handsome R 1200 R seems good buying for a grand more – it is almost the perfect standard if you just want to jump aboard and ride for the sheer pleasure of it. And then just stare at it when you've parked up. If ownership involves buying a pipe, slippers and brown cardigan, make haste to the nearest Hallensteins.
| | | | |
| --- | --- | --- | --- |
| Model | BMW R nineT | Price | $25,290 |
| Engine | 1170cc, air/oil-cooled, fuel injected, flat-twin, V2, 81kW/119Nm | Drivetrain | 6-speed, shaft drive |
| 0-100km/h | 3.56sec | 100-0km/h | 37.38m |
| 80-120km/h | 1.87sec (52.8m) | Weight | 218kg |