We drive the revitalised 2008 and come away thoroughly satisfied with the drive but perplexed by its grip control
What better way to give the 2008 a new lease of life than to transplant the 1.2-litre turbocharged triple with six-speed auto attached, replacing the torpid and forgettable atmo engine it had before (1.6 was it?) with four-speed auto in tow. And that has been Peugeot to a P, holding fast to outdated technology (delivering value to shareholders!) while losing market share.
Remember when Peugeot used to be one of the biggest sellers amongst the European imports? No, neither do we, it was so long ago. Back then, Peugeot was at the forefront of high pressure direct injection diesel technology, and the 405 was a properly interesting driver's car, but it was poorly built and reliability wasn't flash (our former car dropped an engine after 80,000km, something about 'soft rings').
While things improved, so did the competition and somehow, over the years, Peugeot's popularity fell away. Perhaps it was because of poor retained value, or perhaps it was because the firm was no longer at the leading edge of anything, playing catch up all the time. A few years ago, PSA was standing on the edge of a precipice and it was only the 308 that hauled it back, the little 1.2-litre triple turbo engine a delight in use, and economical to boot.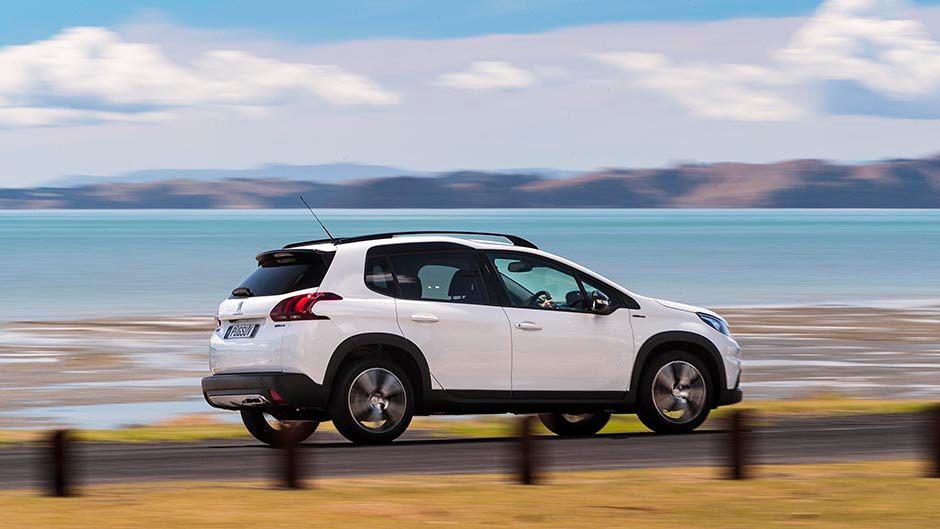 Now for its facelift the 2008 inherits the engine that has twice won International Engine of the Year in its displacement class, and while the overall power standings actually take a backward step compared with the 1.6, down from 88 to 81kW, the torque figure jumps from 160Nm to 205Nm, and it's delivered at city-friendly everyday revs, 1500 to be precise. It's also EU6 emissions compliant.
Where the old engine had to be thrashed along, this new one does it all for you, feeling feisty at motorway speeds coming to work (yes, some of them do actually flow in Auckland, providing you're lucky enough to be heading in the opposite direction to the throngs flocking into town of a morning).
Highway consumption is rated at a startlingly low 4.1L/100km, and that's precisely what we saw on the trip meter, travelling towards the airport on the flat after exiting SH1. A combined figure of 4.8 (110g/km of CO2) might be possible if you've a shy and retiring sole, but driven without any thought to economy we still managed 7.5 overall. And given a licking it climbed to a peak of 12.5L/100km. Turbo engines tend to be easy on gas when you don't rev them too much, pretty much like any other engine then.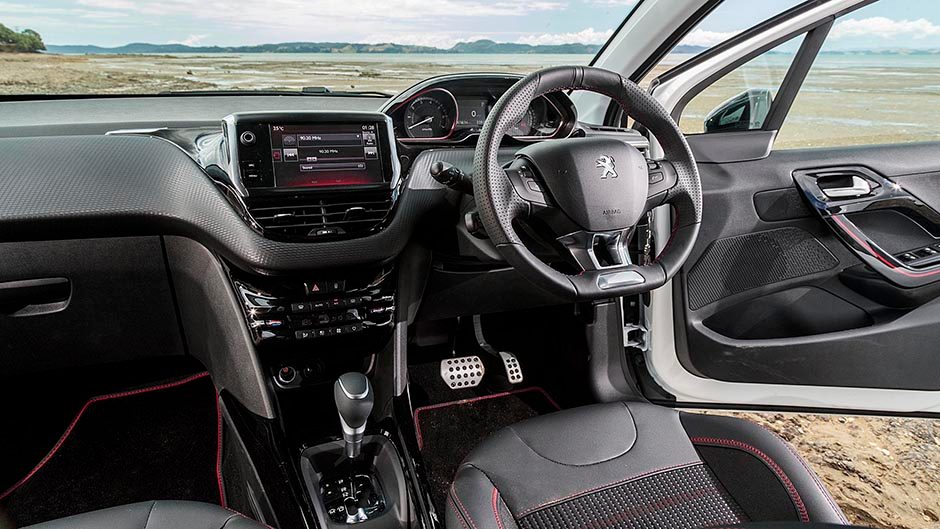 As it happens the 1.2 triple doesn't really function at its best when revved anyhow. Peak power is meant to arrive at 5000rpm and for sure there's no point in exceeding that. Even in the Sport transmission mode, using a relaxed right foot it tends to upshift around 3500rpm. In the Normal transmission setting, the shifts occur not much above 2000rpm and that's because the engine hauls away with intent from 1500rpm. There's not much in the way of lag either.
Peugeot, it must be said, continues to be innovative on the style front, and revamped 2008 is a smart looker. Content is a bit weird though. Where most vehicles in this class now run to pushbutton start and comfort entry, in the top models at least, there's still a quaint key here. Peugeot has odd priorities in this vehicle; on the ceiling are lines of ambient lights, and the upper GT Line model we drove gets a terrain response-type rotary dial with images of mud, cacti and sand etc, suggesting special settings for the four-wheel drive set-up. Only it's front-wheel drive and these are special TC settings.
Who is taking a jacked up front wheel drive vehicle off road? Well, some folk certainly did for there's a YouTube video of the 2008 on an off-road course. At one point it failed in a mud puddle and the videographer quickly cut to the next scene, so you might want to consider saving a couple of grand and sticking with the Allure version instead. While it doesn't have (Get A) Grip Control, it misses out on autonomous city braking, which becomes a $600 option. Grip Control "optimises traction in low grip conditions", meaning it uses independent wheel braking to stop spinning. We went on a beach to check it out and reckon the dual purpose tyres do about as much as Grip Control. They're quite good on road too.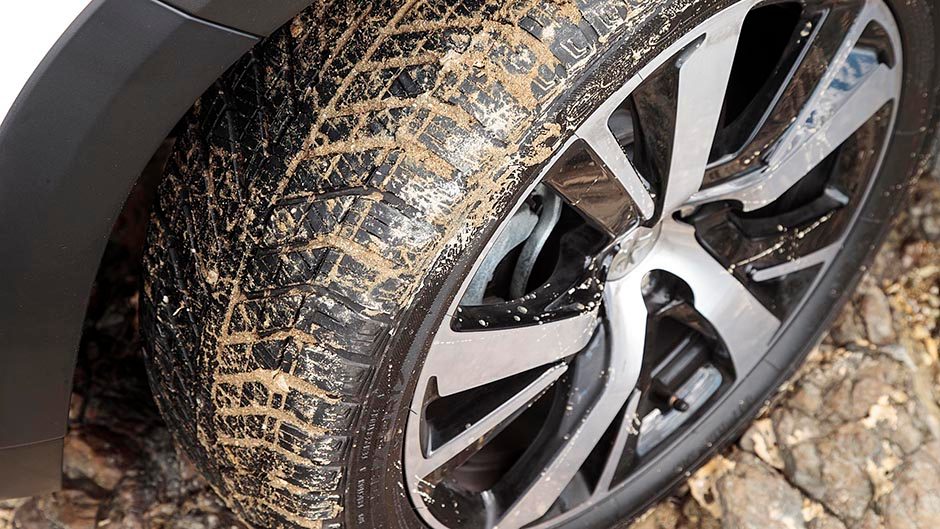 Allure doesn't have the partial leather upholstery and nor the red go-faster highlights of the GT line. However, in the cabin which sports the stylish i-cockpit (compact wheel, instruments viewed above the rim) the 2008 has been boosted with the fitment of a seven-inch touchscreen featuring MirrorLink and Apple CarPlay on both variants.
Allure misses out on some of the sporty bits like alloy pedals and scuff plates, leather bound wheel and the like, but critically it still gets an NCAP five-star rating, two Isofix mounts in the rear, a reversing camera with rear park sensors, and the other usual passive safety bits. Cruise control, sat nav, trip computer and dual zone air are also included in the $34,990 price. As part of the $2k upgrade to the GT Line it also gets 17-inch rims instead of 16s, and front parking sensors, along with the aforementioned Grip Control and Active City Braking.
The new 2008 sports the latest Peugeot face with a restyled vertical grille and catlike headlights that will feature on all future high-riding models from Peugeot. The stylised heraldic lion sits proudly in the grille, and has featured on Peugeots for over 150 years. It harks back to the beginning of the company over 200 years ago when it first made saws with 'sharp teeth, like those of a lion'.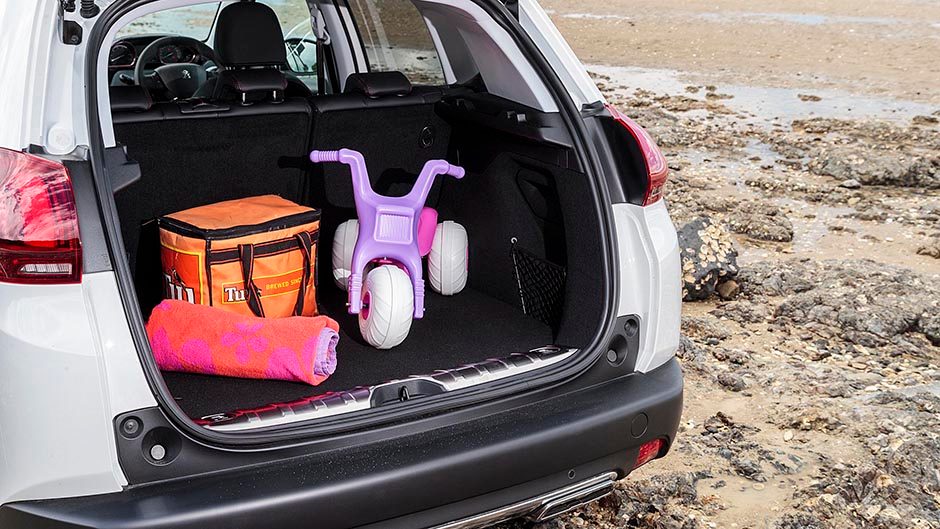 As with most in the compact SUV class this isn't exactly generous with room in the rear seats, unless the front seat passengers are compact types. However the hold is quite big for a car that's only 4159mm long, at 350L. Its parcel shelf is a weird design, not lifting up as the hatch rises, so it's not especially easy to load or visualise what's inside. It has a small flap that rolls over, blocking rearward visibility if you forget to resite it. Which you will do repeatedly.
However, these minor things aside, there's one aspect the Peugeot 2008 does really well, just like our former COTY 308; it's great fun to drive. It rides at least as well as anything in its class we can think of. Quietly too, on its surprisingly grippy GoodYear 4Seasons rubber. It's not especially jacked up like some, nor is the driver riding on high, and its handling consequently is more wagon-like than some of the mini crossovers. Load up the front end with a touch of left foot braking and it hangs tough on line. Providing you're not expecting too much of the little 1.2 turbo – it gets the job done pretty well on the open road, an overtaking completed in 8.5sec – this gets from point to point in satisfying fashion, and about as well as any of the littl'uns can.
Peugeot has been in slumber mode for a while but this year the lion is set to roar again with a slew of new SUVs. If they're half as good as this one…
| | | | |
| --- | --- | --- | --- |
| Model | Peugeot 2008 GT Line | Price | $36,990 |
| Engine | 1199cc, IL3, T/DI, 81kW/205Nm | Drivetrain | 6-speed auto, front-wheel drive |
| Fuel Use | 4.8L/100km | C02 Output | 110g/km |
| 0-100km/h | 10.95sec | Weight | 1248kg |