Kawasaki's latest race-winning-est Ninja ZX-10R is a green gorilla and gentle giant rolled into one. We get to grips with a bike that is a thinly disguised version of the world superbike piloted by Rea and Sykes.
Yes, there was some apprehension about riding the latest ZX-10R, not so much because it directs 200hp to the rear wheel but more on account of the weather being so foul. I had mental images of riding this bike sideways (or on its side) in the wet. As it happens, I did get to ride it in damp conditions a fair bit but such are the electronics that they pretty much subtract all the angst on your behalf. All you must do is ignore the screaming demon on your right shoulder. The ZX-10 is such an exhilarating ride that it's all too easy for even the sanest of folk to go a little bat-excrement crazy.
The road-going version of the machine that is decimating the World Superbike scene is not an unholy terror then, thanks to sophisticated electronics. What WSBK racers want in a bike is something savage yet civilised. And that's precisely what they get here. But then the main protagonists, Jonathan Rea and Tom Sykes, had a major hand in developing this machine.
The riding position's better, it's simpler to ride because of increased mass centralisation, and it corners easier and in more stable fashion with reduced crankshaft inertia and added electronics. Should you choose, you can let the safety gadgets take over the riding for you; traction control on five, power mode on 60 per cent etc. With a new Inertial Measurement Unit (IMU) on board that's continually monitoring acceleration in six different directions (five actually, yaw is calculated), it's almost a matter of setting corner speed (you can brake up to the apex if you want) and applying a fist full of funk on the way out, the TC system allotting the correct amount of go for optimum exit speed. There's even a setting to reduce engine braking which is said to improve lap times.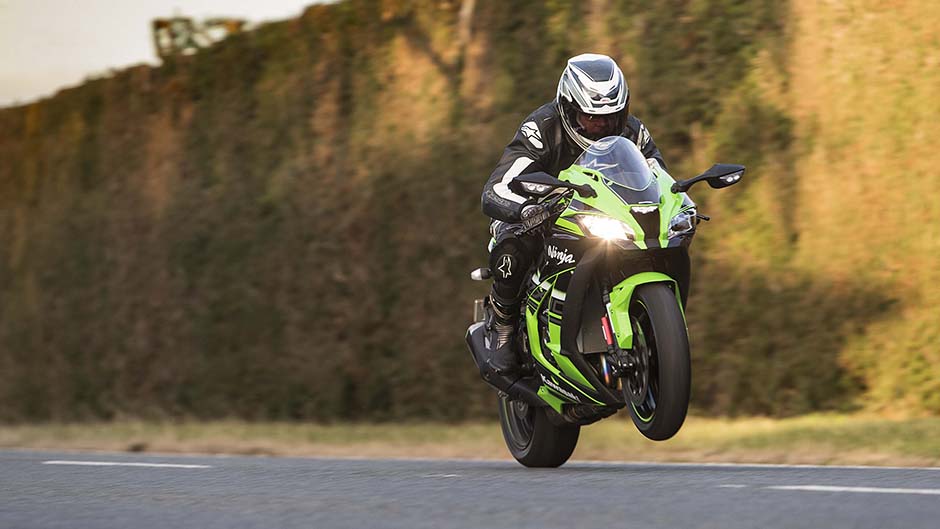 Initially, we didn't change a thing in terms of settings, except to dial back TC for performance testing. Launch control is new but I failed to get it activated. First is tall in this bike, making it hard to get off the line without bogging for peak torque doesn't arrive until 11,500rpm. Kawasaki has deliberately chosen to keep peak torque up high to make drive out of corners smoother.
That said, the latest version gets a bit more oomph down low with better engine breathing and altered cam timing. That means you can ride it smoothly in top gear in urban settings, the tacho registering around 2000rpm where it pulls without hesitation, though without much conviction. From 80 kays onward though, it's good to go in top.
Given how wild the top end of this is – it screams to 14,500rpm and a theoretical 164 kays in first – its pull off the bottom is sensational, if not quite S 1000 RR-like. Still, it aced our sixth-gear hill torque test, pulling from as low as 40km/h smoothly in top. It's one hell of an engine, and now also happens to meet EU4 emissions regs.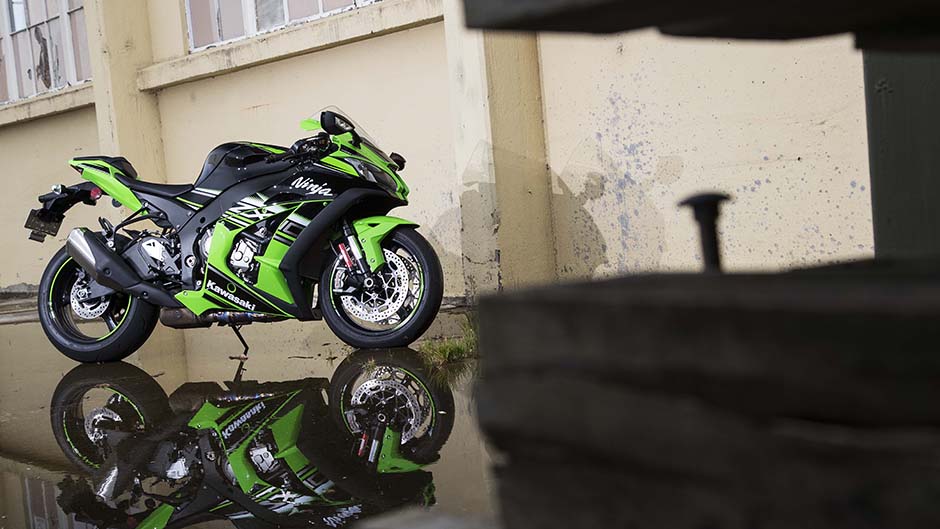 While nothing has changed in how easy it isn't to achieve a decent 0-100km/h time, the result has. It bettered the BMW's S 1000 RR's 3.20sec, signing off with 3.02sec, the lowest of any superbike we've tested. Added grunt down low and a longer swingarm both contribute. It didn't do the double, but that's only because the clutch was beginning to wilt. Its 80-120 time of 1.26sec is still a tenth better than before.
Power starts to bubble up from 3500rpm, as if a VVT system has kicked in (it hasn't) and then you should really grip that tank a bit harder because it starts to howl through that RAM air system as warp drive hits at 8000rpm, distorting the white line continuum. The front wheel paws the air but it only rises about 30cm or so, the anti-wheelie electronics doing their thing. Meantime, you're blazing and the upshift lights are blaring. Time to hook the next gear, the quickshifter interrupting progress with DSG rapidity. This new contactless quickshifter system feels more bulletproof than others.
So it's meteoric in a straight line. About the only machine ballsier is the ZX-14. But the Ten isn't just a speed demon. Dial up 4500rpm in top and it's nearly turbine smooth at 100kays, pulling with real enthusiasm from there for effortless overtaking.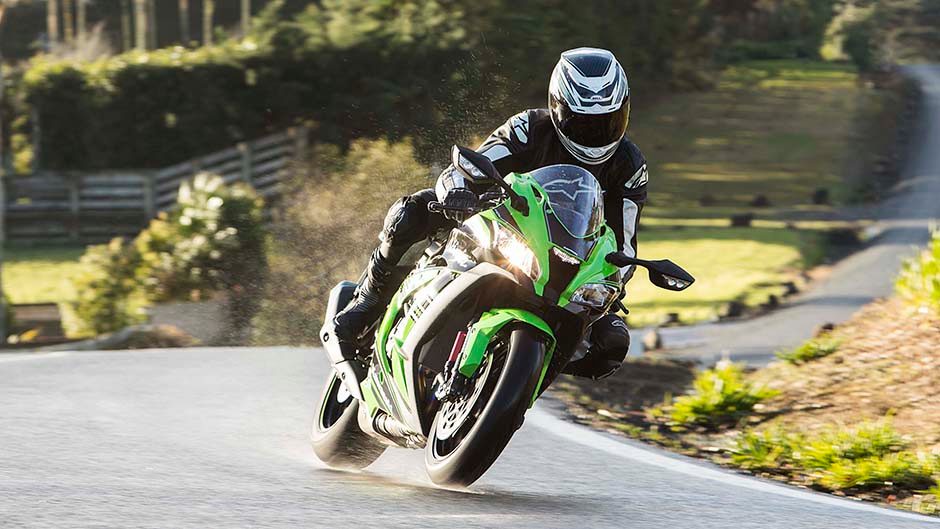 Where the ZX-10R is truly special is when heeled over and scratching. For 2016 sees the Ninja adopt an even smarter traction control system, now with five settings, and the onboard IMU gives more accurate control of the electronic throttle should you get too loopy on the gas at corner exit. There's even a system called cornering management function which redistributes hydraulic caliper pressure according to lean angle and traction available, so the bike doesn't stand up and run wide when trail braking into corners.
Ably assisting with corner grip are semi-slick contact patches by Bridgestone. These RacingStreets hang tight, and are even pretty decent in the wet. There's just the right amount of rubber too, helping to make directional changes seem effortless. The new lightweight crank contributes in that regard, as does mass centralisation. It falls into turns almost in V-twin fashion.
Despite the damp conditions, we never once felt the need to move the engine mode from anything other than full power, and TC we left on one. It's just so smooth on the gas, and on that point, the suspension is buttery too. Fully adjustable Showa Balance Free Forks (damping valves are housed in a separate chamber, eliminating pressure balance fluctuations) provide unexpected suppleness that's immediately apparent, and you only need to tweak the damping a half turn to feel a palpable difference.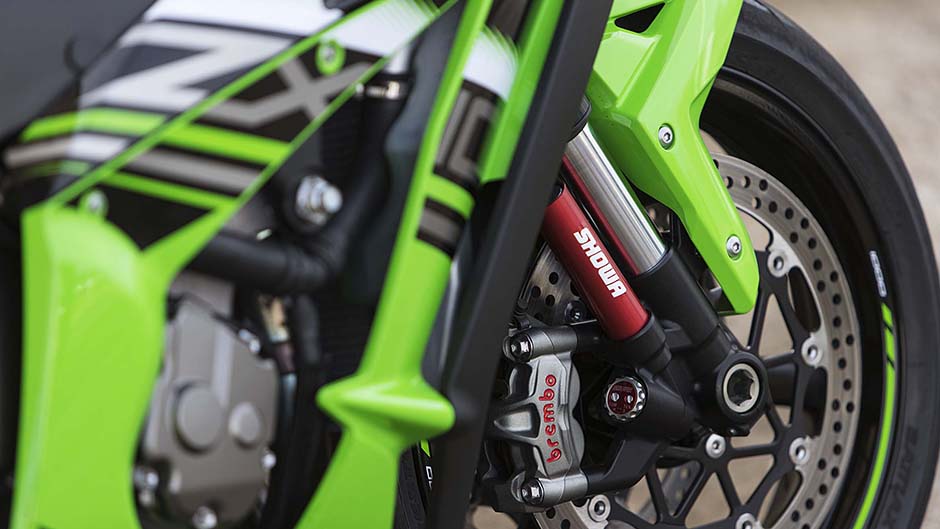 With a slightly different riding position – the bars are closer to the rider – and longer swingarm, there's more weight over the leading wheel, and the front feels planted, tactile, secure. While it's optimised for expert riders, the design changes make the rest of us feel more confident on road. The electronics are as seamless as the R1's.
While all this might sound like a perfect 10, the bike isn't for everyone. You need to be limber to ride one. Me, I'm more like tall timber so feel a bit scrunched up after about half an hour, the hips and neck aching. In this regard, the BMW S 1000 RR is slightly better, but the ZX-10 beats it in most other areas. You don't get to the pointy end of WSBK racing by being average.
A few other things; brakes are stupendous, top of the line Brembo M50 monoblocs now clamp onto bigger 330mm discs. With a radial master cylinder they're the business, without being snatchy. And I like the instruments, speedo and revs easy to discern, settings simple enough to change. A fuel gauge might be handy, if we're being picky.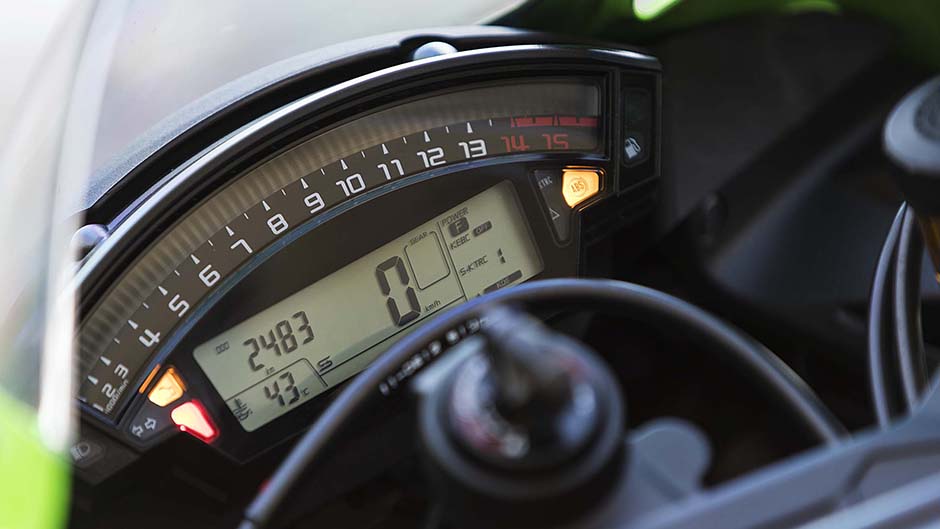 And on that, we'd pick this $26,595 machine over the like-priced R1; it's more comfy and easier in town, and quicker on the go. And it compares more than favourably with the BMW but is $3k less. If you want a machine that will quickly be up to speed at track days, and is just as agreeable on road, they don't come much more exciting, or competent than this.
Now a plea to KHI; please consider a supernaked based on the ZX-10R, one that can compete with MT-10 and Tuono. So, an upright superbike for those who love the performance, handling and compliance of the ZX-10R, but can't maintain that yoga-esque riding position for too long.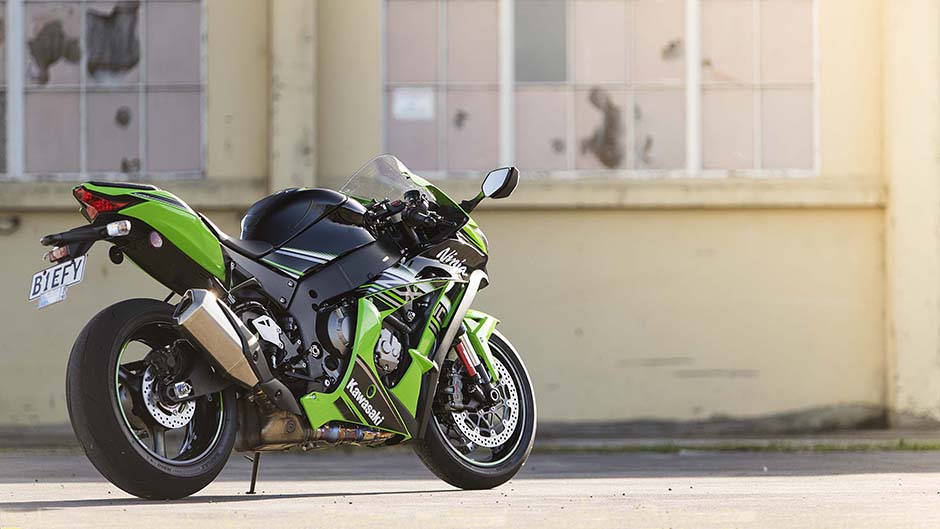 | | | | |
| --- | --- | --- | --- |
| Model | Kawasaki Ninja ZX-10R ABS | Price | $26,595 |
| Engine | 998cc, liquid-cooled, fuel injected, IL4, 147kW/114Nm | Drivetrain | 6-speed, chain final drive |
| 0-100km/h | 3.02sec | 100-0km/h | 39.68m |
| 80-120km/h | 1.26sec (37.7m) | Weight | 205kg |