Honda is back on form with its new Civic, a car that helps us forget the company's dreary post-GFC slumber. Is it better than the new Hyundai Elantra though?
It's probably best to start with the problem facing Honda's new Civic. It's got nothing to do with the car itself, which sees Honda return to form, but rather the current market scenario. Sales continue their upward surge on the back of utes and SUVs while car buyers tend toward five-door hatches, especially in the Civic's hunting area. The new tenth-generation Civic arrives first as a four-door sedan, with the five-door not expected until the latter half of next year. And so, in the meantime, Honda has to convince buyers to swim against the SUV and hatch buying tide.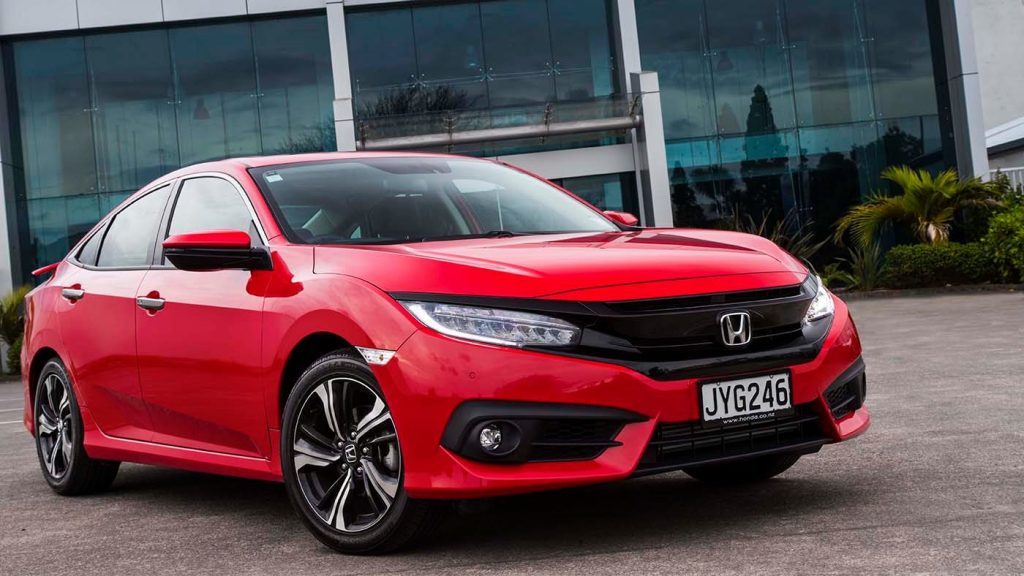 That Civic looks like a sleek hatch might help. It wears Americanised fast-back styling with a sloping C-pillar that blends into the boot lid, and looks akin to those five-door coupes for which the Euro brands charge a premium. Up front, Honda's grille fuses with the squinting lights while the bumper is styled to make Civic look wide and low, complete with big openings to feed the new turbo'd engine more air.
The sedan arrives first because Civic is one of those 'global products', one model selling everywhere around the world and large markets in America and Asia still prefer sedans. The hatch recently debuted in the UK, where it will be produced and Honda NZ promises it will bring the new Type-R too when it debuts late next year, so keep saving.
Civic with substance
Thanks to American tastes, Civic is now one large little car; longer, wider and lower than the previous model, with a stretched wheelbase. In fact it's not much smaller than the old Accord Euro, just under 90mm shorter overall, and only five millimetres shy in the wheelbase. A new platform and more space efficient packaging means there's much more room inside than both the old Civic sedan and the Euro, particularly in the rear. Open the boot and there's 519L of air space, an increase of 20 per cent, with a deep and wide hold that has you thinking the Civic retains its torsion beam rear end, but no, it rides on a new independent multilink set-up. Honda says its new chassis is 22kg lighter yet 25 per cent stiffer due to the usual combination of better steels and construction techniques. The Civic is smooth both in looks and aeros thanks to added flat underbody panels and added refinements, including hydraulic engine mounts and extra sound insulation.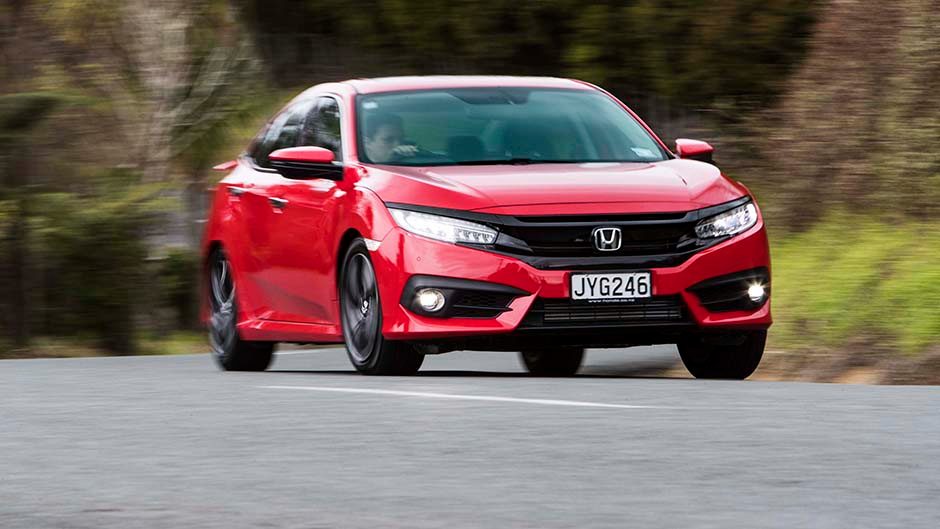 Honda has added its dual pinion electric steering rack to Civic and given it a variable gear ratio. Shoring up the handling stakes is something dubbed Agile Handling Assist, which boils down to torque vectoring by braking individual wheels.
Civic has two engine options; the entry-level S comes with a subtly revised (ECU remapping and the like) 1.8-litre, 104kW/174Nm four-cylinder which is mated to a CVT instead of the old five-speed auto. Honda rates it at 6.4L/100km on average.
The big news though is the arrival of the first of Honda's new turbocharged engines, a 1.5 in this case. The new direct-injection turbo with dual vvt makes 127kW and 220Nm from 1700rpm through to 5500rpm. It too works with a CVT and is rated at 6.0L/100km. There's a single-scroll turbo with an electric wastegate and the engine runs a relatively high compression ratio for a turbo of 10.6:1. With maximum boost pressure of 16psi, the effective compression ratio is in the vicinity of 20:1 at full noise, and yet Honda has it running on 91 octane. Figure that one out. There are multi-hole injectors, sodium-filled valves, domed pistons and a water-cooled exhaust manifold, which all sounds like Honda is back on form in an engineering sense, and about time too.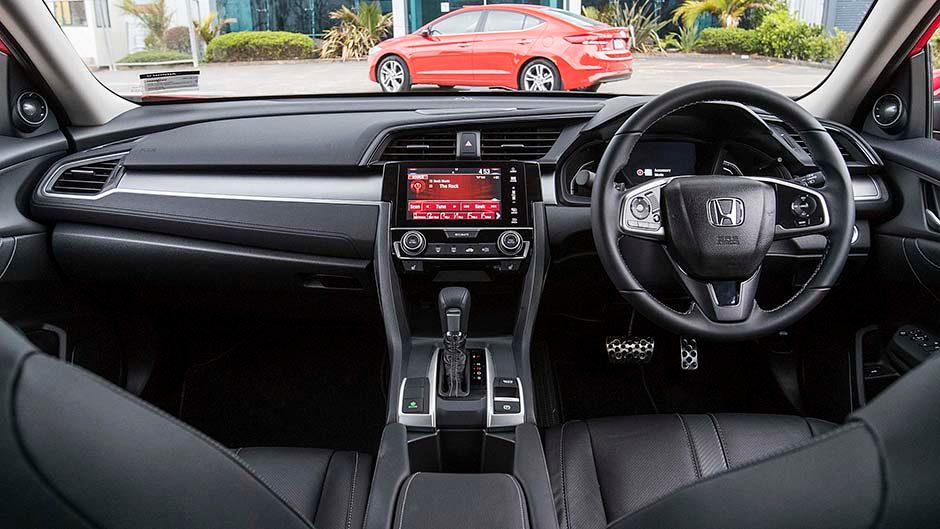 The S lands at $29,900 and has the usual standard safety features including a reversing camera, and CarPlay and Android Auto capability. Turbo models start at $35,500 and get more gear including alloys, a smart key and Honda's lanewatch camera system, while the $39,900 RS, featured here, gains LED lights, sunroof, leather trim and upgraded audio. The top NT model, at $42,900, adds integrated sat nav and a full range of Honda's active safety gizmos including autonomous braking, and active cruise with a new low-speed traffic jam function.
All models come with an electric park brake, a seven-inch display for the infotainment system which gets a new operating system, there are new haptic touch steering wheel controls, fast charge USB ports, and the instrument cluster is one big LCD readout. It's all backed up with Honda's five-year unlimited-kay warranty.
Enter the Elantra
Another sedan newbie is the Hyundai Elantra. While it too is an all-new model, it's not radically different from the previous MD variant which debuted in 2010. The sixth-gen AD model picks up styling akin to the Sonata, giving it a swoopy appearance while honing the aeros. It too sits on a new platform which follows the usual bigger, lighter and stronger formula. Elantra has grown, the wheelbase dimensions matching those of the Civic at 2700mm, though it's not quite as long overall. It's taller though so proportionally it isn't as dynamic as the Civic.
The Elantra has a new front subframe with improved bushings, and a new steering rack is mounted further forward in front of the wheel line to improve response. Out back it retains a torsion beam but it has been redesigned with stiffer bushes to isolate lateral movements, while repositioned dampers lend more travel. The engine is a regular old 2.0-litre with 112kW and 192Nm at 4000rpm which Hyundai says is good for 7.2L/100km on average. A six-speed auto is standard. Elantra will have a turbocharged challenger when the Limited model arrives later in the year. This promises 150kW and 256Nm from its 1.6 turbopetrol matched to a seven-speed twin-clutch 'box, and likely a price in the mid-forties.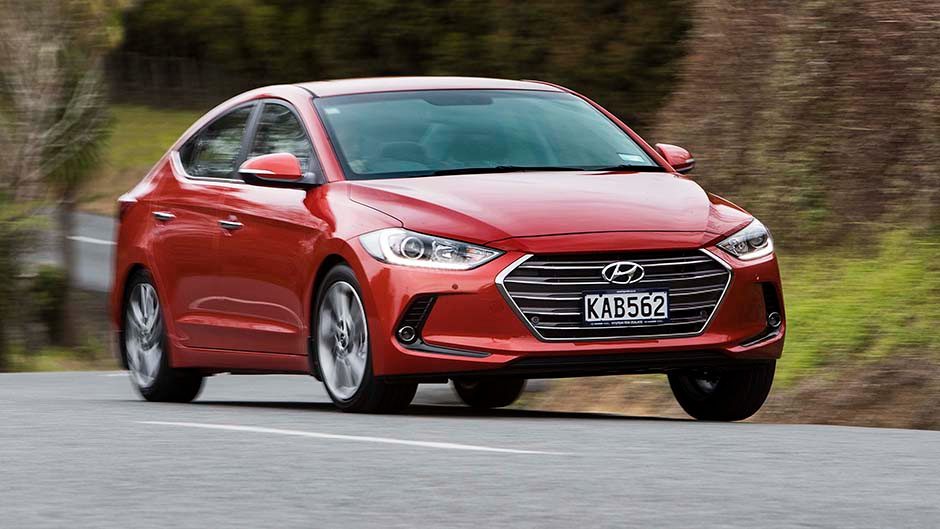 Elantra is a two-variant range starting at $35,990 and $39,990 for the Elite model featured. Hyundai and Honda work quite differently when it comes time to purchase. Honda operates its price promise, that's essential a no-haggle price with everyone paying the same amount while Hyundai isn't shy of slashing the RRP up front, and is currently promoting the Elite at base model money. Thus, the Elantra has a few grand advantage over Civic.
The Elantra Elite has a similar fit-out to that of the Civic RS with a seven-inch display for the infotainment which is friendly with Apple phones, while Android Auto is apparently coming. There are USB fast chargers, dual zone climate air, a smart key, heated, leather-clad and electrically adjustable seats, and 17-inch alloys. Safety bits include the usual ESP, air bags and rear view cameras but neither of these particular variants offers autonomous city braking. The Elantra Elite gets blind spot monitors. So these two are fairly well matched up in a spec sense, but differ from behind the wheel.
Turbo's too good
The Civic is a bit of a surprise package in turbo guise. It has a great little engine that works well with its CVT companion. The first 2500rpm get you up to 50km/h quickly, and then the CVT trims it back to 1250rpm at a steady cruise, while reasonable acceleration requires just 2000rpm in the urban setting. The take-up is smooth too and the traction control is well versed at easing over-zealous take-offs. Bury the spurs and it continues on with it past the 3500rpm mark, the CVT doing its fake gear changes when nearing the limit, though the engine is still quite vocal above the 4000rpm mark. Any road you want to cover with intent requires the auto's Sport mode for action while a flick or two on the downshift paddle helps corner exits, bringing up 3500rpm for better drive off the curve.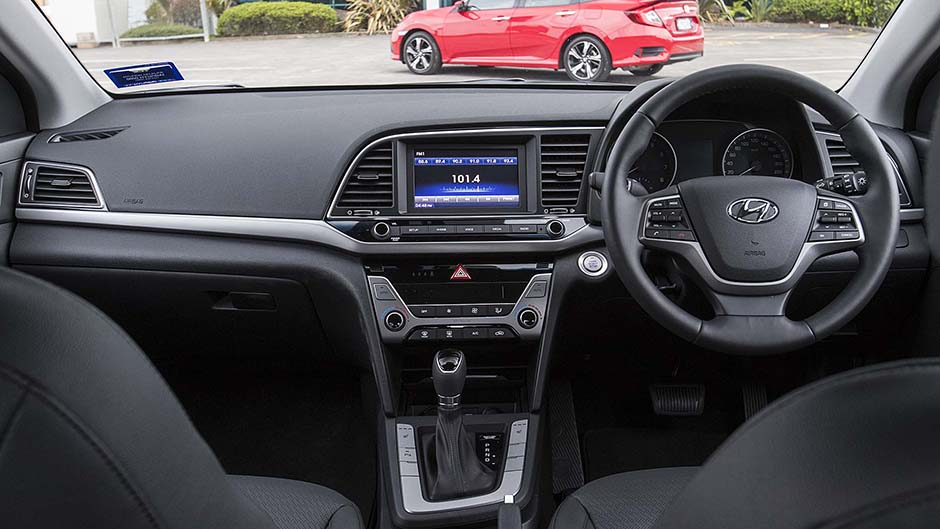 The Elantra's tachometer has more work to do; the atmo 2.0-litre needs to spin that bit harder to replicate what the Civic manages. Elantra's engine isn't as gutsy low down but does hum along well when into its stride around the 4000rpm mark. The auto kicks along ok too, considering a lack of modes, and is a smooth shifter. Against the clock however, the wee turbo wallops the 2.0-litre by quite a comfortable margin over both measured distances. It's impressive how the Honda accelerates on part throttle, the CVT maximising its relative midrange muscle and the Civic winds on nicely with a constant 3000rpm on the dial. This behaviour benefits consumption, the Honda around one and half litres better on average per hundy, with the Elantra's trip computer hovering in the high 8s, the Civics in the 7s.
The ride of the Civic is more accomplished too, better at blotting the bumps both in and out of town so it's more settled, particularly at the rear. Its steering is quick with a consistent, well considered weighting, though is light on ultimate feel. There's not the same fluidity to the Elantra's steering with a slightly contrived weighting and a desire to return to centre quickly. Honda's quick rack is a boon both in bends and tight car parks, with just 2.1 turns it's both quicker to turn in and to turn around. Grip levels between the two are similar, and while both are easily persuaded into bends, Honda's torque vectoring helps keep the line tighter and safer if you go a bit deep into the reserves of purchase.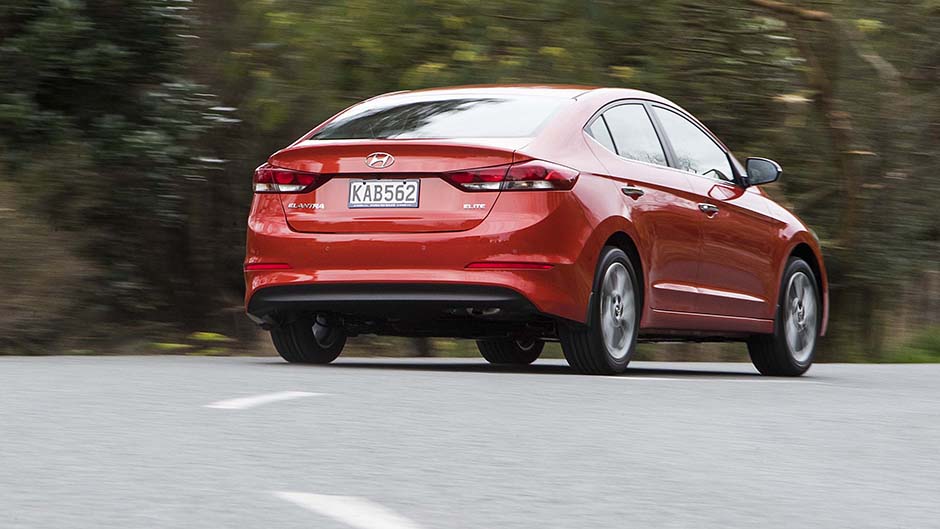 In a practical sense
Both employ similar swoopy sedan styling but Honda executes it better with a more dynamic presence. It's a similar story inside, the Elantra's cabin is functional but there's been more enthusiasm invested in the Civic. Both are made with care but there are too many hard surfaces in the Elantra and while both have hide-covered seats, the Civic's are softer, comfier and more supportive, with a better range of driving positions from right-down-low to up high. But then taller drivers are going to run into headroom issues.
The Honda's dials, controls, storage and device plugs are all either better thought out or more novel, while everything in the Elantra is purposeful but conservative. There's a mite more space in the rear of the Civic – mind your head on the way in – and it's a similar story in the boot, though Elantra is fairly well equipped in a space sense. You'll fit more in the Civic with a larger opening and extra overall space, though it's not quite as well shaped as the Elantra's. Both have split folding by remote, but it's the size of the actual boot opening of these sedans that will thwart overall practicality.
Neither is too large to be a car park hinderance, both have sound outward vision with good mirrors and while the C pillars are chunky, the wide angle reversing cameras can help overcome the obscured view in each.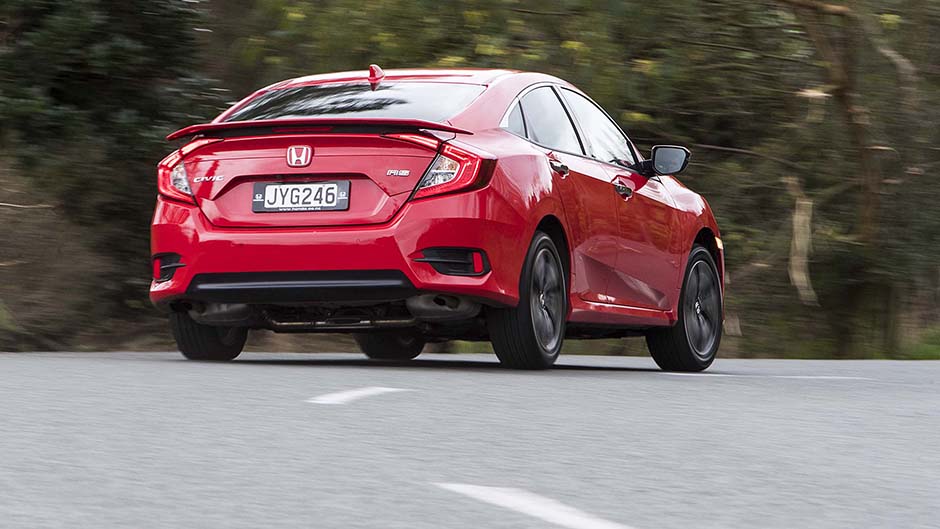 The Honda Then?
Most definitely. It's superior across the board; a better drive, more interesting in a design sense, and the powertrain delivers added performance and economy. Even though it will cost a few thousand more after discounts are taken into account, it's worth it.
| | | | |
| --- | --- | --- | --- |
| Model | Honda Civic RS Turbo | Price | $39,900 |
| Engine | 1496cc, IL4, T/DI, 127kW/220Nm | Drivetrain | CVT, front-wheel drive |
| Fuel Use | 6.0L/100km | C02 Output | 140g/km |
| 0-100km/h | 7.41sec | Weight | 1312kg |
| | | | |
| --- | --- | --- | --- |
| Model | Hyundai Elantra Elite | Price | $39,990 |
| Engine | 1999cc, IL4, EFI, 112kW/192Nm | Drivetrain | 6-speed auto, front-wheel drive |
| Fuel Use | 7.2L/100km | C02 Output | 167g/km |
| 0-100km/h | 9.10sec | Weight | 1318kg |