It's back. Suzuki's SV650 was a sales hit around the turn of the millennium and now it makes a return, original name and all. We check out the bike that looks uncannily like a Ducati Monster.
Sometimes manufacturers lose the plot with product. Suzuki's SV650 started off in 1999 with a hiss and a roar, probably because the roadster had the trellis frame and V-twin engine that reminded of Ducati's genre-forging naked bike. But it kind of went downhill from there with each upgrade. Of the total 400,000 sold globally over 17 years, I'll bet most went to homes around the turn of the millennium, for the original was essentially a Japanese Monster, similar in most ways apart from the low cost.
It quickly became a racer fave too, tweaked to almost ridiculous levels and ridden to glory by the likes of Glen Williams and Hayden Fitzgerald. Other derivatives became available, like the V-Strom 650. While aesthetically challenging it was a comfy distance bike, and helped bolster sales of the SV range.
It's back to the future with the latest version which looks like a rebirthed original SV650, and it is, essentially, even reverting to the original name. However, there's now genuine competition in this area, the elephant in the room being Yamaha's MT-07. So Suzuki needed to return with something serious and it has, with a re-engineered version of the original. It even looks similar and familiar, Suzuki hoping to make some nostalgia sales, no doubt. There's that pretty trellis frame, and that 90-degree 650cc vee-twin, primed for improved output and economy. The ergonomics are slightly different, with a narrower tank, but a low seat height of 750mm makes it just as easy for those short on stature to ride as before. Evidently even folk around the 160cm (5'3") mark can sit astride it and touch the ground with both feet.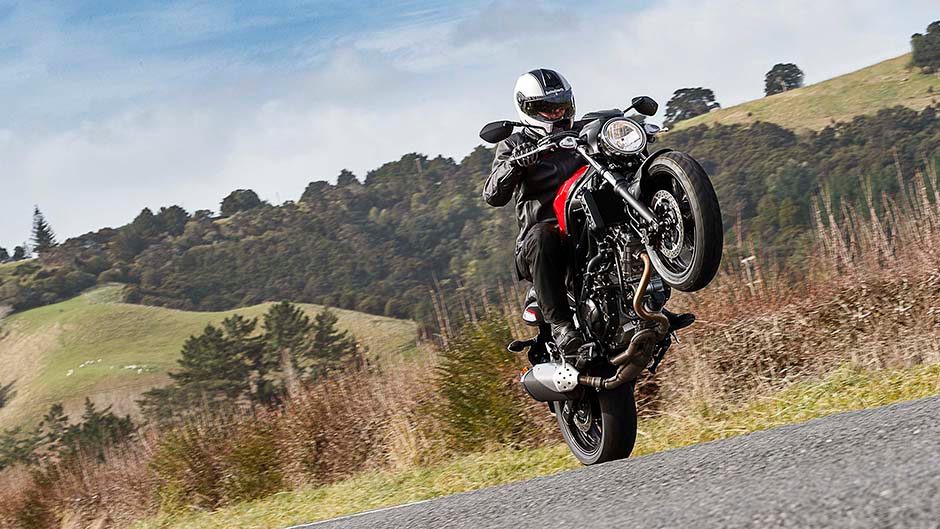 It's a looker this one, especially in red with the white tank stripe. A road worker on lollipop duty said so unhesitatingly, and he's right. Suzuki has even reverted to the original round headlight, for that retro look. Only the protruding radiator spoils the otherwise slimline appearance. It's also lighter by around 8kg to compete better with MT-07 on the performance front, though it still isn't really that close (197 vs 178kg). However, it is lighter in a fiscal sense, undercutting the current class favourite by $500. Better yet, it costs the same regardless of whether you plump for the LAMS version, this one, or for the full-fat model arriving in a month.
It's the engine where much of the rejig effort has gone, with more than 60 new parts. L-twins are more expensive to build than parallel twins but produce little in the way of vibration so no balancer shaft is needed, reducing mechanical losses and boosting economy. Another advantage of the V-twin configuration is its narrow and compact nature; with less inertia, changes of direction are made more easily. A further bonus is noise, the V-twin architecture offering a characteristic off-beat rumble. Liberating more of it is easy enough, merely a slip-on can change away. And service intervals are now 12,000km apart, double what they once were.
In this class economy is important and through a number of changes, like dual plugs per cylinder, the bike's claimed average fuel consumption has dropped from 4.2 to 3.8L/100km. That means a touring range of 360km from its 14L tank, and the SV now also meets Euro4 emissions standards.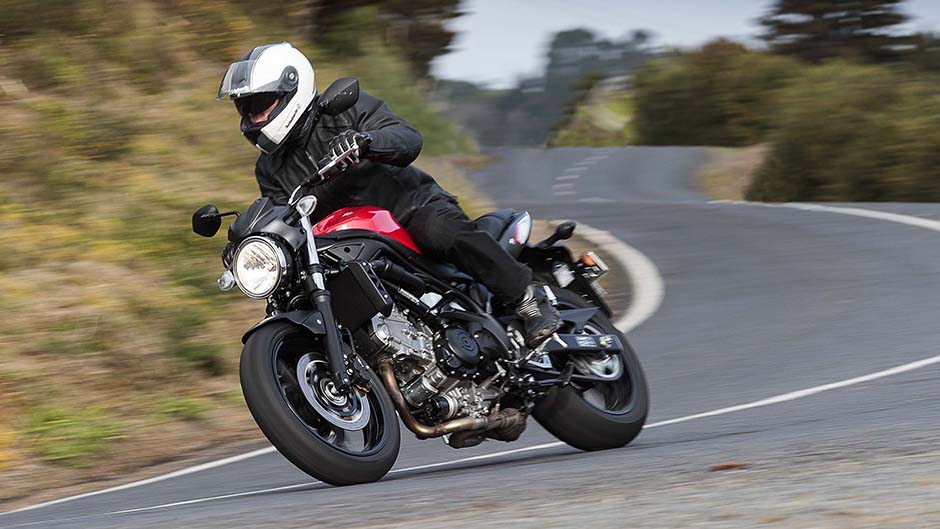 Engine output is limited to 35kW in the learner version, down from 57 normally. Torque, however, falls by only 7Nm to 57Nm. Using the LAMS formula – maximum permissible power to weight is 150kW/tonne – the SV rates at 122kW/tonne to the MT's 143kW/tonne.
There's an added learner bonus or two more; Suzuki has implemented its easy-start system on the SV650; hit the starter briefly and it automatically turns over until the motor catches. And it also features Suzuki's "low rev assist" system which minimises the chances of stalling when setting off in first gear. Both work well.
In the redesign, 80 new chassis parts have been incorporated, and in the process 8kg has been knocked off kerb weight, which is a measured 197kg. A completely new LCD dash rounds out the overhaul, with the full gamut of useful information, right down to gear selected. Antilock brakes are standard on both models, with two-piston Tokico calipers up front acting on 290mm discs.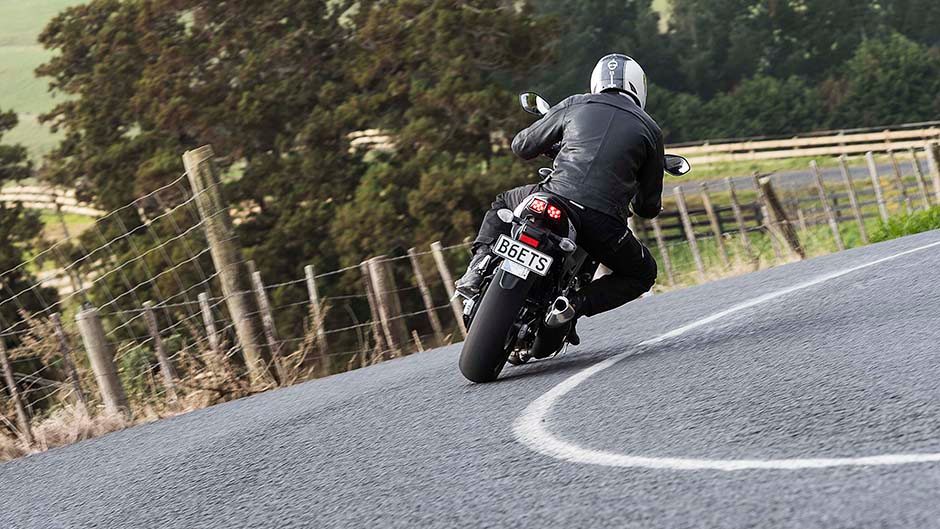 A couple of other sensible aspects to the new Suzy – it features luggage loops in the underside of the seat, and a high friction seat cover for better body location.
Enough already, let's ride. Thumb the starter and the engine catches quickly, hot or cold, settling into a typical V-twin idle, with distinctive ratatat intake noises on the go. In town you quickly notice its ability to pull from 2000rpm, so top gear at urban speeds is possible, though fifth is better. Fuel use at these speeds is impressive, and even at a constant 100km/h it's sipping in the high threes or low fours. On average we saw 5.0L/100km, despite the bike being a bit green.
That meant it probably didn't perform optimally either. It takes about 5.7sec to reach 100km/h, and 4.4sec for an 80-120 pass. That's almost a second adrift of the lighter MT-07. The SV seems to hesitate across the 6500-7500rpm area before getting its second wind. This is not a big deal because most of the time it's ridden at lower revs. Torque production is good, though not quite in the Yamaha's league; that bike makes the same peak twist at 4000rpm. Yet it still passed our torque torture test, dispatching a hilly 60km section of coast road entirely in top gear. That's pretty impressive for any machine, let alone a LAMS one. It really does pull solidly from 3000-6000rpm. Gearing is perfect, with 100km/h an easygoing 4500rpm, 110km/h 5000 on the nail. Vibration at these speeds is virtually nil, the sizeable mirrors giving a clear indication of what's up your chuff.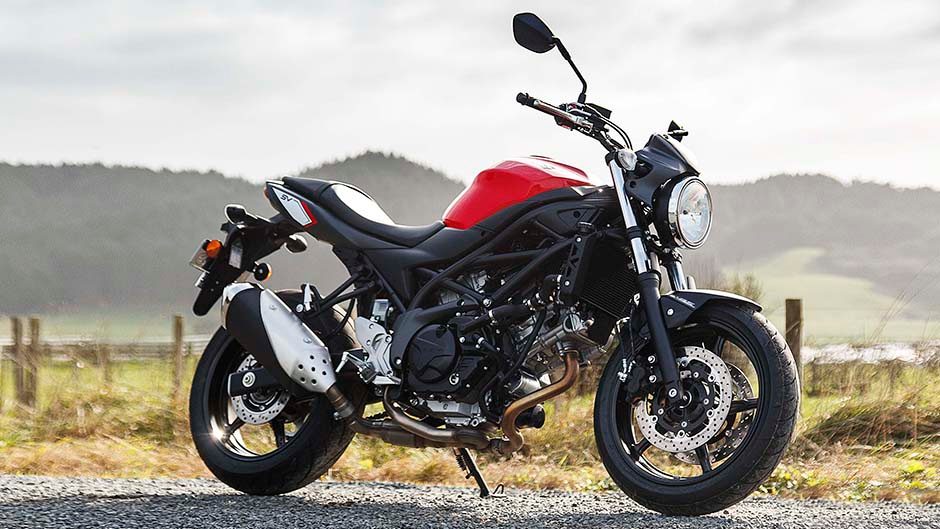 The best aspect of this machine arguably is its secure handling. Its inline V-twin makes it inherently nimble, and the elongated swingarm aids stability. We had the pegs scraping on the photo shoot, the security of the Dunlop Qualifiers helping in no small way. This is such a fun ride. Okay, so the power is a bit limited which makes wheelies tricky, first gear only affairs. The lighter MT-07 definitely has the upper hand there. Wheelies are a telling reflection of power, torque and weight.
About the only aspect that ever really feels budget is brake function. They haven't been upgraded, and you need to hit the front brake reasonably hard for serious stopping power. Nor will the riding position suit everyone; it's better for short to medium builds. But you do feel like you're riding in the bike rather than on it, another confidence booster. Moreover, gripping the tank with your knees feels natural and right on this. The lightweight seat could do with a bit more stuffing. It's shaped well and is roomy enough but plush it's not, exacerbated slightly by a firm shock.
The bottom line here is that at $10,995 the SV 650L is solid value. It looks great, pulls well at everyday revs for ease of riding, handles confidently and is easy on gas. It's also the least expensive of the big Japanese LAMS bikes on sale at present.
| | | | |
| --- | --- | --- | --- |
| Model | Suzuki SV650L | Price | $10,995 |
| Engine | 645cc, liquid-cooled, fuel injected, V2, 35kW/57Nm | Drivetrain | 6-speed, chain final drive |
| 0-100km/h | 5.67sec | 100-0km/h | 43.44m |
| 80-120km/h | 4.39sec (129.2m) | Weight | 197kg |