Things are turning to custard in Britain, what with Brexit unresolved, and it is impacting on car makers. Jaguar reported a huge loss in the past fiscal year which even dented owner Tata's bottom line. It's not all bad news though, unless you're one of the 4500 staff the company is shedding.
For Jaguar high-rise models are selling but the traditional four-doors continue to weigh the firm down. Together XE and XF managed just 30,000 sales in 2018. That compares with sales in the hundreds of thousands for its rivals. A could-do-better report card for this pair then.
Jaguar's mid-life update for XE needed to make waves, and it has, with the interior, formerly the least alluring aspect, transformed. Styling changes to the exterior are limited to fancier LED head and taillights, and fresh bumpers.
There's also been an engine rethink, the supercharged 3.0-litre V6 dropped, and the 2.0-litre turbocharged four-banger now the top dog. Jaguar rates the 221kW/400Nm turbopetrol XE P300 as a 5.7sec sprint car, and that's all we got out of the $106k XE S V6 model back in 2016.
The car you see here kicks off at $89,900 in R-Dynamic HSE guise. Its main option is the $2000 Adaptive Dynamics kit, one we'd recommend without hesitation, given how well this melds a quiet cushy ride with quite astounding grip and cornering poise.
The interior is vastly improved with nary a piece of hard plastic in site, and the centre console now has Touch Pro Duo screens, like Evoque. The lower one is for the HVAC system but really buttons work just as well. Two big rotary control dials do too many things, temp, seat heaters, even fan operation by pulling them and then rotating.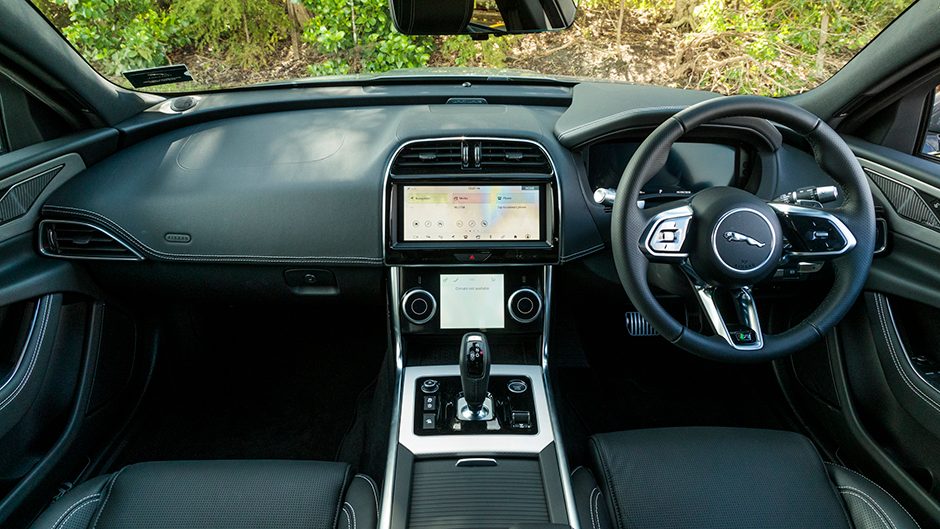 New digital instruments look better though, especially in Dynamic mode when they turn red. However, the driving info between the two main dials is not that intuitive to scroll through, and the same could be said of submenus for the main screen. Other car makers do this in a more logical way. There's no head-up display fitted; that's a $2150 option. There's no traffic sign recognition either.
Out the back, passenger space remains the car's least alluring feature, and access isn't flash either. However, all is forgiven when you hop behind the wheel. Sure, it's not quite as exotic sounding as the former top V6 model, but it's little less quick. We almost matched the sprint time Jaguar mentioned, short shifting hastening things marginally.
The eight-speeder isn't that fast of a shifter compared with some but the XE gets gone well, nonetheless. Just a shame the engine doesn't sound a bit more interesting; much of the time you hardly hear it at all. But then the cabin is pretty quiet on the go too, and you expect that when paying $90k for a luxo sedan.
The four pot likes a few revs for best performance, getting a second wind around 3500rpm. It's nice having S and D transmission settings, just a lateral push of the shift lever away. New metallic paddles come in for a bit of use too, amping the action. Brake calipers aren't from a name supplier but the stoppers are sensational, in part because of the Pilot Sport rubber, with prompt emergency stops. That's reassuring in a vehicle that's not short of gs in the opposite direction.
We reckoned on its introduction that the XE was the most consummate handler in its group, and only new Giulia challenges that. With a 51/49 weight split, auto damping, and rear-wheel drive this is one of the most biddable and competent compact sedans available. It points like a champion, steering accurately and quickly, with just-so weighting in the Dynamic mode, uncorrupted by drive through the front wheels.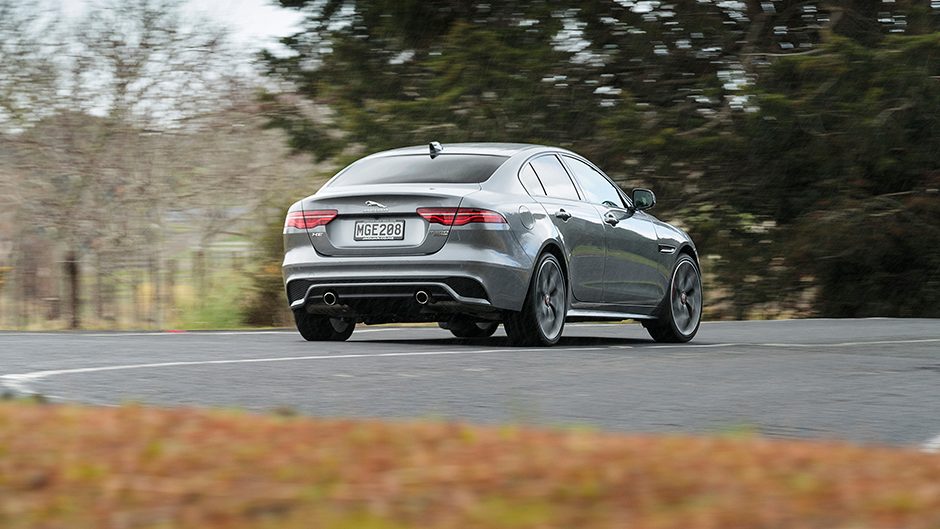 Deft is what it is, and the ride is only ever peachy.
If this doesn't put a smile on your dial, you really need to see someone about your depression. Back in the burbs this eases along comfortably in Normal default mode. You tend to notice the car's blind spots around the C pillar more in town, but new for the XE is a digital rear view 'Clearsight' interior mirror, relaying images from a camera set in the shark's fin antenna. It's expensive though at $1100. A 360-degree parking aid partly compensates.
Other standard fare includes LED headlights (Matrix items add $1350), 16-way heated leather-clad sports seats, 19-inch alloys, smartphone connectivity and wifi, Meridian 11-speaker sounds and a package comprising adaptive cruise, high speed AEB, and blind spot assist. Wireless charging adds $250.
Priced to dice with BMW 330i and Mercedes C 300, the top XE remains tight for rear seat space, but it compensates with the best dynamics and is now on par with interior design. The less expensive Alfa Giulia Veloce is perhaps the XE's most significant rival.
| | | | |
| --- | --- | --- | --- |
| Model | Jaguar XE P300 R-Dynamic HSE | Price | $89,900 |
| Engine | 1997cc, IL4, T/DI, 221kW/400Nm | Drivetrain | 8-speed auto, rear-wheel drive |
| Fuel Use | 6.7L/100km | C02 Output | 153g/km |
| 0-100km/h | 5.9sec | Weight | 1692kg |