The F-Type's back, sharper and sexier than ever. There's more power too, not that it needed extra. We get to stroke the biggest cat.
Sports cars are a dying breed, right? Shame that but with the future so uncertain, impractical emotional vehicles will likely take a back seat to multitasking mobility. Pity really, as sporty drives are a reward for all that hard work you've put in over the years.
And they're definitely the things of which memories are made. It's hard to forget the caterwaul of the original F-Type R, touching down in 2013. The shape was memorable too – ostensibly a modern E-Type – and the experience itself; supercharged V8, rear-wheel drive, shortish wheelbase, an accident looking for a happening? Sensibly, Jaguar decided to offer the F-Type R in all-wheel drive guise – the only way you can get it now – and this sure did clip its claws. Still, less lairy and rather quicker off the mark is a win-win.
Jump on the gas from stopped in the latest F-Type R, the P575, and the rears spray stones to remind you the driveline is biased in the correct direction. Hit it early exiting a corner and this rounds up nicely as the torque-apportioning diff twists the front towards the corner apex. The steering feels just right too, quick, precise, well weighted and uncorrupted in the way that (predominantly) rear drivers tend to be. Yes, you can feel there's a sizable V8 lump up front somewhere but, unlike some, it doesn't seem as though it is lying directly on top of the front axle.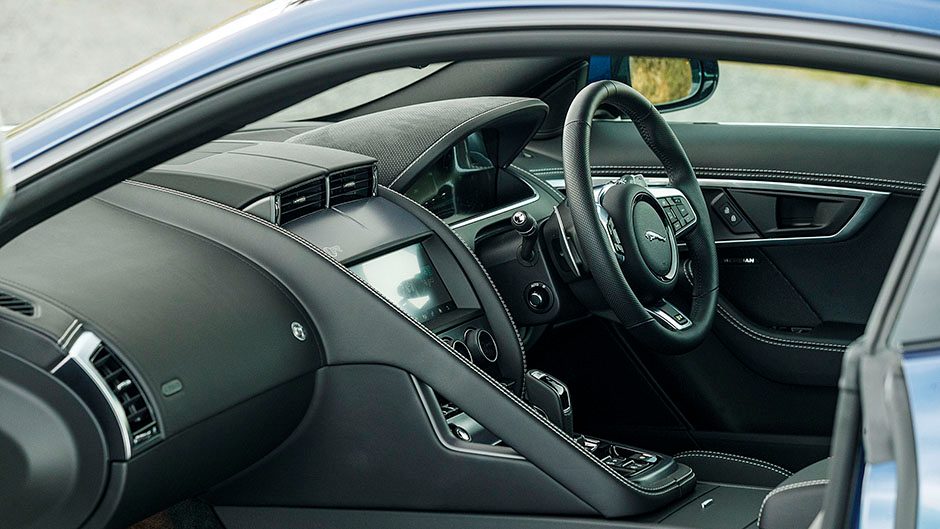 So it turns but it burns as well. It's sick-quick, not that it's any real amount faster than the last time we drove the SVR variant. This particular model is a bit heavier, at 1865kg – blame the optional glass roof – but its eight-speed transmission shifts slightly quicker. The way this slurs through the gears during max attack is simply glorious, quick-fire but creamily smooth. And it's no less quick. Jaguar claims it hits 100km/h in 3.7sec and that's right on the money, but the TED or overtake time improves by a tenth to 2.12 sec. Anything approaching the ones is almighty fast. We've had a dozen cars go under that over two decades, and most are well more expensive than this car's $214,900 ask.
What's always been special about the F-Type R is the supercharged ease with which it does everything. Even though the peak torque of 700Nm arrives at a stated 3500rpm, there's the sense that much of that is available 1000rpm earlier. And if this needs egging on, a shove of the stubby little gear lever to the left brings engine revs instantly to 3500rpm and you're up and away. There's not the lionine roar of old but a definite hardening of the exhaust note right at where peak torque kicks in. And it still pops and bangs away in Dynamic mode on a dead throttle.
You'll get noticed for other reasons too. From the front the squinty little LED peepers leer at you, while round the back this has definite booty, hips that just won't quit, and a quartet of pipes exiting a stylish diffuser. Plus there's the wee spoiler that deploys at European motorway speeds.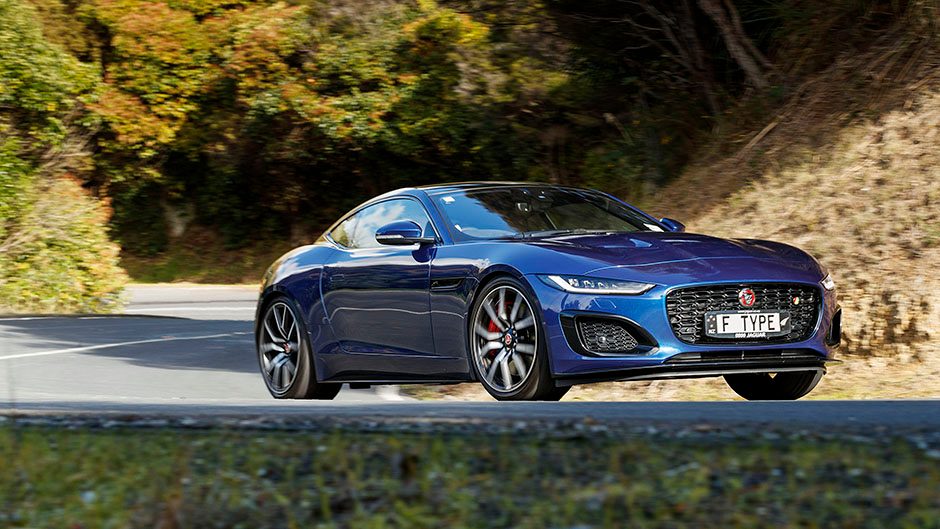 On that, this is seriously high geared. It's barely legal at 1250rpm in top so 2000rpm we calculate is 160km/h, and the top whack is apparently 300km/h. Tall gearing aims to keep fuel use at bay. We averaged 12.5, which is pretty impressive, given the 423kW available. If you're on level hot mix, around 6.5 is about as good as it gets. The average is a claimed 11L/100km, likely possible so long as you're not a feral cat. And you really don't need to go for broke here as there's so much torque to tap into. But that siren song above 3500rpm always beckons…
The suspension tweaks work. Its default mode we imagine will be used 90 per cent of the time. Despite running PZeros that are 10mm wider than before, and 305/30ZR20s at the rear, ride quality in Comfort mode approximates that. For best handling you want to select the more controlling Dynamic setting but even in Comfort this corners in commanding fashion, albeit with a touch more roll. On dry roads, this hunkers down like some feline stalking its quarry and is, to all intents and purposes, unstickable. Helping is torque vectoring by brakes. With so much width and a reasonably even weight distribution, mid-corner speeds this holds are spectacular, up there with reference level stuff. However, the big Pirellis generate a fair amount of clamour, around 79dB over the most savage chip seal.
So what else is new about the face-lifted F-Type? The reshaped clamshell-style bonnet with repositioned vents, new fender fenestrations, a slightly bigger grille, and a fresh 12.3 inch TFT instrument cluster, along with an infotainment system compatible with Apple and Android phones.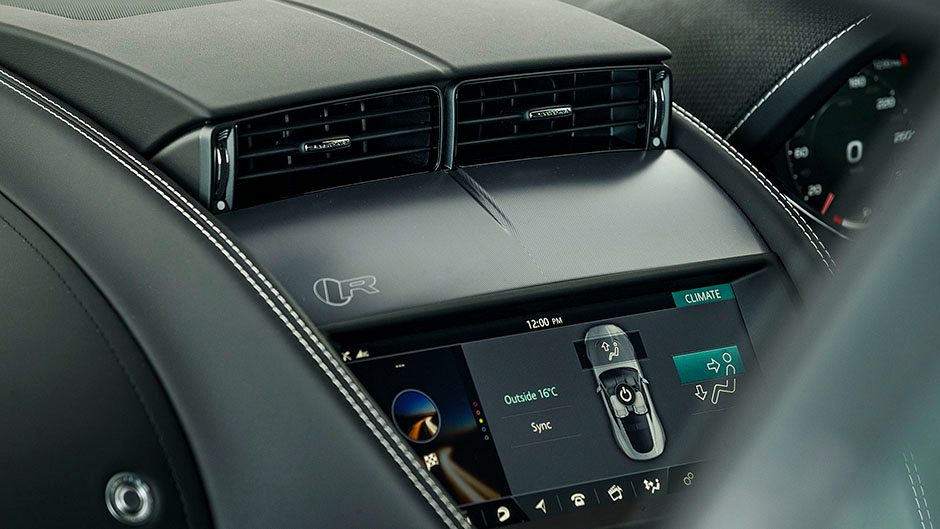 Once you're ensconced, helped by an auto-lift steering column and seat belt guide, you're in a cabin that's beautifully rendered, leather, chrome, gloss black. Seats too are just so, superbly adjustable, power operated, and if you can't find a suitable driving position, you're clearly an odd shape. Despite its small glass house, the rear view is pretty decent.
There are a few notable features missing in action for a vehicle costing this much, mainly because of its age. One of them is active cruise which simply isn't available and another a head-up display. Dual zone climate air is an $850 upgrade.
On the plus side, the heated wheel and seats are a bonus in winter. And the powered fifth door is handy too. There's a spare in the boot normally taking up all the space so you'd ditch that and use the roadside fix kit. There's a secret underfloor cubby.
Our car had a few options, including fancy 20-inch wheels ($2450) but we'd not bother given another style 20-inch rim is standard.
If this seems a bit flawed, you could always go for a taste of F-Type by spending two-thirds as much on the P300 R-Dynamic at $140k. Course it doesn't speak like a god or go as hard as the P575. The P380 R-Dynamic with the supercharged V6 sounds the part, is only a second slower using our performance criteria, and at $165k saves a fair wedge compared with the top cat.
Finally, is Jaguar working on a replacement? Probably not, though a 2+2 XK is a possibility. The firm says it always needs a sports car for that halo effect, but arguably that was then. This may be the final act for F-Type R, at least as a V8.
| | | | |
| --- | --- | --- | --- |
| Model | Jaguar F-Type R P575 | Price | $214,900 |
| Engine | 5000cc, V8, SC/DI, 423kW/700Nm | Drivetrain | 8-speed auto, all-wheel drive |
| Fuel Use | 11L/100km | C02 Output | 252g/km |
| 0-100km/h | 3.72sec | Weight | 1871kg |