The age of the six-figure Hyundai is upon us with the arrival of the Palisade. Is it worth splurging 100 large on?
Hyundai's latest model to launch, the Palisade, marks a new chapter for the brand here, one in which it breaks into the realm of six-figure offerings. It's not often main streamers go beyond that mark but it's not unheard of. In the nineties Mazda tried to charge $90k for the 929, Mitsubishi the same for the Diamante while Honda had its Legend at a tick under $100k. Toyota has a few SUVs pushing past $100,000. Years ago, there was a bit of a furore when the VW Passat W8 won our COTY award, a Vee Dub costing six figures but now the big German has a few models in the hundreds of thousands. But is NZ ready for a hundred grand Hyundai?
You sure do get a lot of metal for all that hard earned, as the Palisade is big. Hyundai NZ calls it an 'upper-large SUV' here, though the Yanks refer to it as a mere 'mid-sized SUV'. Funny that.
Here it's the brand's new flagship and pricing ranges from $99,990 to $114,990. For reference, Toyota was asking $129,990 for its Land Cruiser 200, though it's now sold out prior to the new model arriving later in the year. The top Prado is $93,990, while Nissan's Patrol is $105k. A Lexus RX 350L is $109,700, the Land Rover Discovery TD6 is $115,900, and the Volvo XC90 ranges from $105k to $119k. So there is some fairly substantial competition at the price point.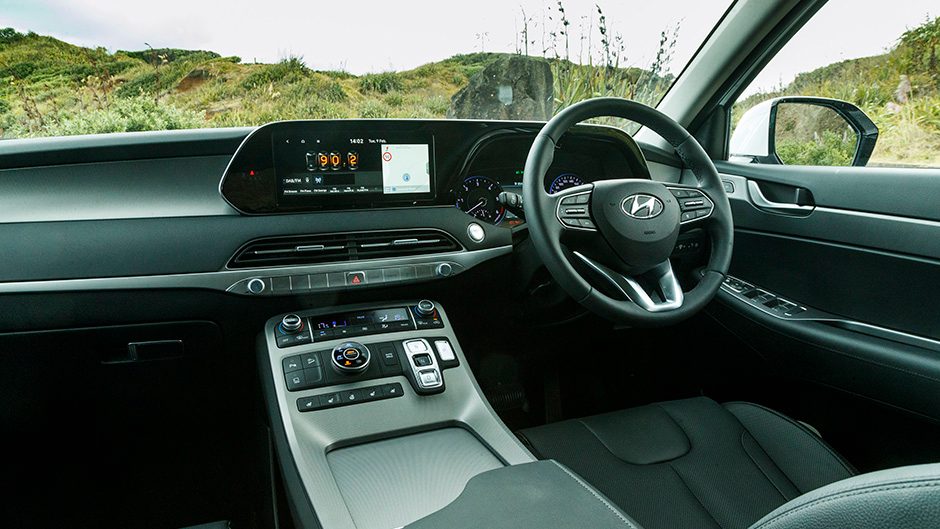 So what is the Palisade then? An up-sized Santa Fe essentially. It's not quite 200mm longer overall at a smidge under 5m, and is 75mm wider at 1975mm. Benefitting interior space, the wheelbase measures 2900mm, 135mm longer than that of the Santa Fe. It scales up around 100kg heavier.
Hyundai sees it as an alternative to big people movers, for those who need maximum seating but want that SUV style. Such buyers will be after the Elite model, which has an eight-seat arrangement, the middle row a conventional bench type, and the third row with three seat belts. The Limited is decked out with two individual seats in the middle row.
Both grades are available with either a 3.8-litre V6 driving the fronts or a 2.2-litre diesel with AWD, the engines running via an eight-speed torque convertor auto. Pricing starts at $99,990 for the Elite V6, the diesel being $106,990. The Limited V6 is $107,990, and the Limited diesel costs $114,990. The 3.8-litre V6 delivers 217kW and 335Nm while returning 10.7L/100km, and the 147kW/440Nm diesel is said to do 7.3L/100km.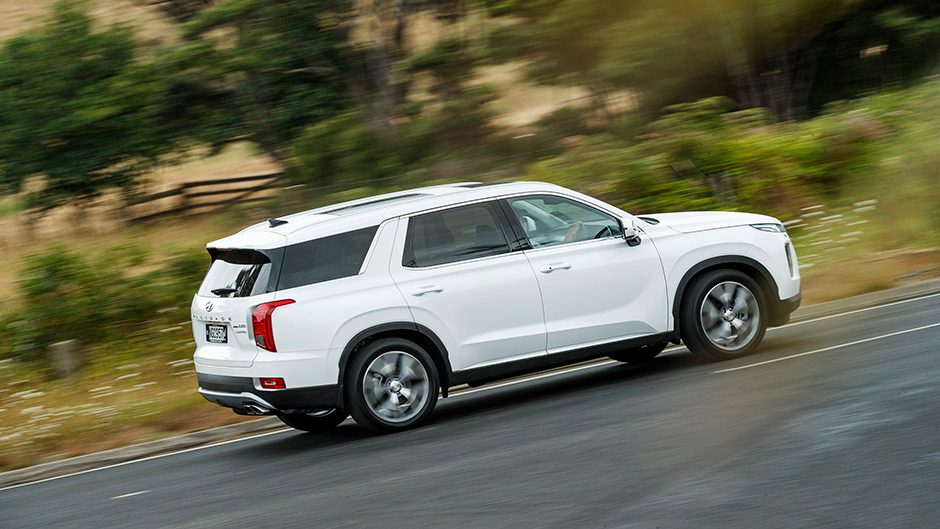 Like Santa Fe, it's a monocoque design with an on demand-type AWD system and off-road drive mode, along with four others. It has a 2200kg braked tow rating.
While it's an American market model, they tell us the right-hand drive Palisade was developed primarily for Australasia. Like most Hyundais the suspension has tuning input from the Australian engineering team, though it's said they were in on the ground of the development of this model so the usual localised tuning conducted in Australia wasn't deemed necessary.
You'll notice the Palisade coming with its big grille and interesting arrangement of lights up front. There's a lot of metal in the profile, and yes Santa Fe, your bum does look big in those Palisade clothes.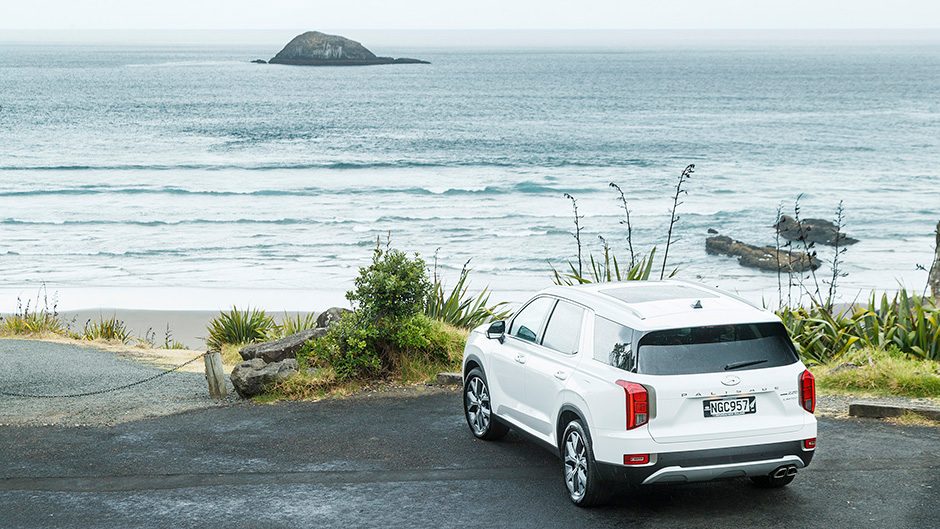 Inside you can expect bits like a 10-inch touchscreen with smartphone connectivity. There are no digital instruments for this flagship model but rather a large LCD monitor between the dials where, amongst other things, the image for the side view camera appears to help catch those in your blind spots. Well at least for the Limited buyers who also get a surround view camera.
The cabin's a tad mass market for the $100k price tag. It might be well made but there's too much plastic and the decor lacks a certain panache. We reckon the Santa Fe feels more premium. There is plenty of storage however because the one thing Palisade is not lacking for is space. The leather trim feels no different to a high grade i30's, though finer Nappa type cladding is a $5000 upgrade for Limited buyers, and is the only option. But there's little to want for otherwise with seat heaters and ventilators for the first two rows, a warmed steering wheel, wireless charge pad, head-up display, tri-zone air-con and premium Infinity audio.
Most minor controls are handled by real buttons, spread across the expansive dash, and buttons are used to select the gears too. All of Hyundai's SmartSense crash mitigation systems, of which there are many, come as standard.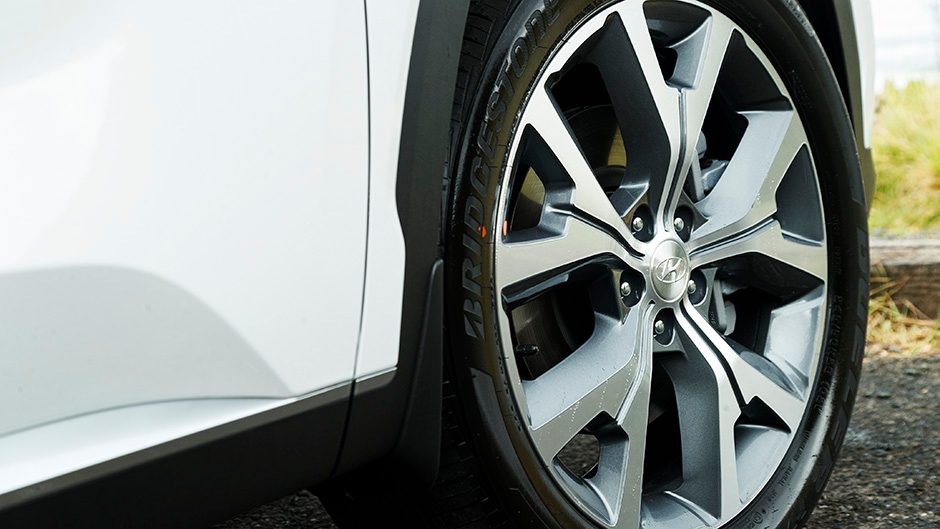 Palisade does have an expansive interior. The second row seats in the Limited are armchair-like with oodles of leg room and they recline too. The beauty of this layout is the ease of access to the third row, for the kids can just walk straight through. Speaking of, they liked the big sunroof, while older dependents will enjoy the abundant USB ports. Thirsty families will appreciate the abundance of drink holders, sixteen to be precise.
There's good space in the third row; two six footers are able to sit back there in reasonable comfort with only a small concession from the second row. The third row is unusual in that it has a degree of recline to make it extra comfy, and three kids can be buckled up in the back, though the middle seat belt dangles from the roof. There are four top tether hooks, and three Isofix points in total.
There's some usable luggage space left over behind the third row, which folds with reasonable ease, though the operation requires two hands. And then you have an expansive boot, both long and wide.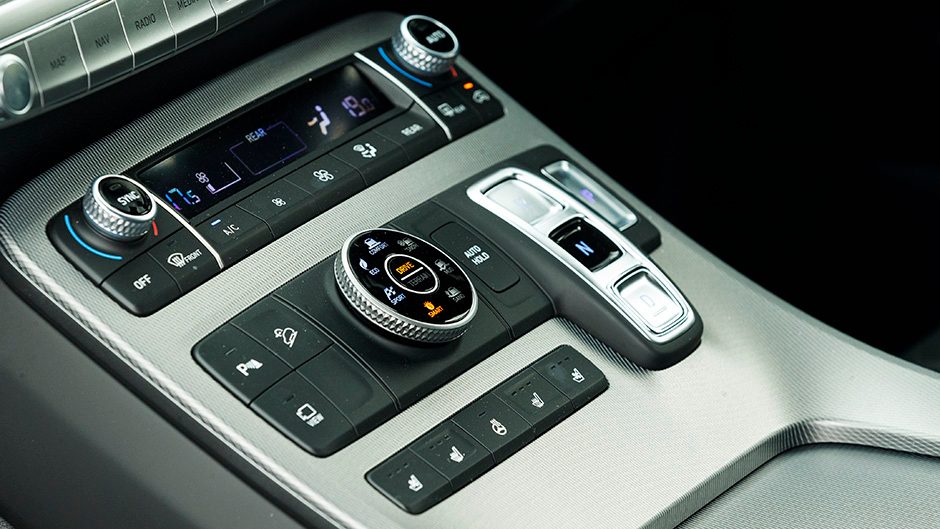 Does the 2.2-litre diesel haul this rig okay? Yeah, okay best describes progress. The Palisade's extra kilos mean it works harder here than it does in the Santa Fe, but there's plenty of torque developed early in the rev range, and the eight-speed auto whips it along when needed. Still, it is 1.5sec slower to one hundred than it's smaller seven-seat brother. The Smart drive mode is aptly named, and renders the others redundant, spurring things along when needed, and simmering it all down when cruising.
Palisade isn't cumbersome in traffic, being easier to hustle about than a big double-cab ute while the steering is breezy, though the turning circle is larger than desirable. It rides well enough too, but a $100k machine should have some form of adaptive damping to soothe the bumps further, surely? Where the Santa Fe is rather impressive when flung about, this isn't. It does bumps better than bends and slips into understeer rather easily, so best not to push on too enthusiastically. It's definitely a main highway cruiser where it's smooth, quiet and calm to keep the family happy. Stereotypically American in other words.
And it probably works well there, but over here it's oversized and overpriced. Just buy the Santa Fe, and get a better SUV for less money.
| | |
| --- | --- |
| Model | Hyundai Palisade 2.2 AWD Limited |
| Price | $114,990 |
| Engine | 2199cc, IL4, TDI, 147kW/440Nm |
| Drivetrain | 8-speed auto, on-demand AWD |
| Fuel Use | 7.3L/100km |
| C02 Output | 195g/km |
| 0-100km/h | 9.21sec |
| Weight | 2066kg |