Mazda isn't a car maker you associate with being 100 years old, and yet the Japanese firm indeed notched a century last year.
This is because the Hiroshima-based car maker has its roots in the manufacture of cork products, Toyo Cork Kogyo Co being established in January 1920. It quickly moved into building machinery and in 1931 the company produced its first motorised beastie, the Mazda-Go, being a three-wheel bike cum pick-up truck. Its debut passenger car was the Mazda R360 in 1960. Mazda has been a company pushing back on conventions, its pursuit of the rotary engine being just one example. While it has produced many mass market machines, it's had great success in turning out tantalising sports cars as well, and the MX-5 is still among the best of the best.
Mazda launched a range of 100th anniversary specials last year, the MX-5 being one of them. These specials all feature pearly white paint on the outside with a burgundy interior. That sees red leather seats in the MX-5 to go with the red carpet, while the hood is a matching hue as well. Stamp some 100 anniversary logos on the headrest, wheel caps and side sills and there you have it, the centenary special. Actually you also get a special key fob with the 100th anniversary logo too. So nothing much to really crow about, but give us any excuse to drive the MX-5 and we'll take it.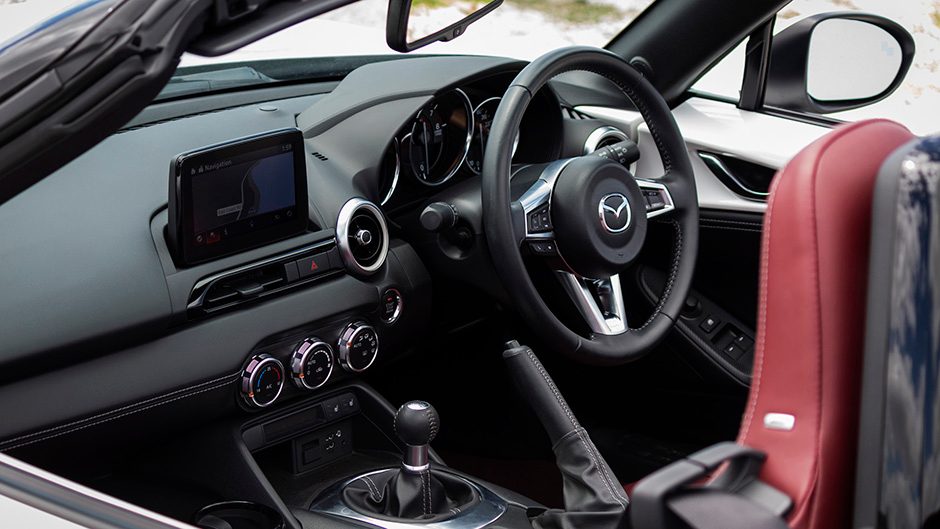 Apart from the fact it's not overly practical, and at $51,095 in 100th guise ($49,895 for the regular Limited model), it's not exactly cheap, the MX-5 is still hard to beat when it comes to a pure driving experience. The model is now a few years old, yet still it delivers, and bigly. This makes a drive to the shops pretty special, though best not to have ambitions of buying up large, unless they do home delivery given the boot is tight. But the ride is rather supple over city streets, and the outward vision for a little sportster isn't all that bad. The MX-5 finally has an integrated reverse camera now too. Its manual transmission is a delight to use, always has been, the clutch easy going and there's a hill hold function too. Those small dimensions make it rather easy to negotiate traffic flows and tight car parks as well.
Lucky we drove this at the height of summer, so the top spent most of its time open. And that allows for far easier entry into the low slung cabin. Once in, it's a good fit, the cabin wide enough to fit most frames, the seat set low and it feels just so. It's motoring without the gizmos, no drive modes, and just a smattering of active safety to see you right.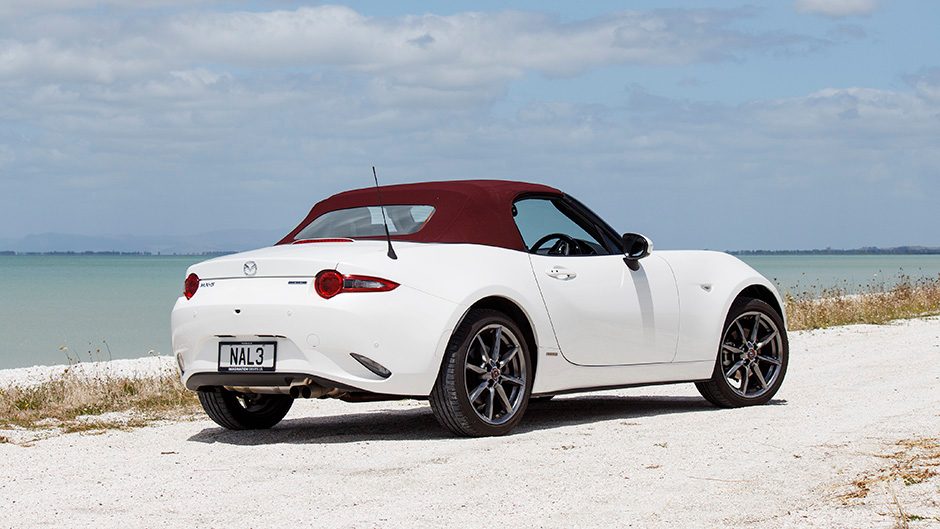 On winding roads the MX-5 really shines. With its light and well distributed mass it flows perfectly from corner to curve. The suspension some might deem soft, the MX-5 leaning a little before it sets itself for corner negotiations. But that gives it a supple progress and it's not bullied by bumps. That also helps it steer with greater accuracy. It's not overly quick at the helm but it latches on to your line nicely. And there's little help from the electronics to keep it on line, nor is there any real need.
Understeer is not a term the MX-5 knows well. There's just enough power from the 2.0-litre engine that when you nudge it along, it can help rotate the rear out of bends. And we like how Mazda has made this motor spin, winding out to just past 7000rpm, which is handy for overtaking. The brakes work soundly too, heavy applications not upsetting the balance, and it doesn't take much to re-master smooth blipped downshifts given the pedal placement and slick shifting lever. It's a genuine delight to drive enthusiastically or otherwise. So best get in on it while it's still around. When we've quizzed Mazda bigwigs on whether an electric MX-5 would ever eventuate, they always shake their heads, citing weight as the enemy of the sportscar. And with so many countries joining the ICE boycott in the coming years, this could well be the last generation of MX-5 we'll see here.
| | |
| --- | --- |
| Model | Mazda MX-5 100th Anniversary Edition 2021 |
| Price | $51,095 |
| Engine | 1998cc, IL4, EFI, 135kW/205Nm |
| Drivetrain | 6-speed manual, rear-wheel drive |
| Fuel Use | 6.8L/100km |
| C02 Output | 162g/km |
| 0-100km/h | 6.75sec |
| Weight | 1053kg |