Hyundai's Kona is one of the myriad SUV ranges occupying the $35k – $50k price bracket. The choices here are endless and varied. How does one stand out?
It would seem that Hyundai is hoping Kona's unique styling will do the trick. It was fairly bold when it landed and, for Kona Series II, Hyundai has revised its front (and rear) end. It took us a while to warm to the original, but this new one, with a reprofiled nose, looks too beaky. We feel it's been styled to mimic a certain electric brand's small SUV offering, and certainly it looks that way when you see the new Kona EV variant.
This beastie here, the conventionally-powered 2.0 Elite, still has its bizarre array of light sources up front but it looks good in profile, and well sized for those after a hatchback replacement that's a bit easier to get in and out of. The Kona entry point is $34,990, this Elite is $39,990 while a Limited is $44,990. These all feature a 2.0-litre four cylinder with a CVT turning the front wheels. A fancier looking AWD N Line version gets a 1.6 turbo and seven-speed twin-clutch, going for $49,990, and we'll report on that later.
Much of the update focuses on tech add ons, including a new 10-inch digital cluster (but only for the top models) while the Elite gets an updated and enlarged 10-inch central touchscreen atop the redesigned dash. The infotainment system has a reasonably logical menu layout, and responds well, though some of the buttons are too small. That it defaults to a standby mode on start-up is weird. For the smartphone addicted, there's wireless Android Auto and Apple CarPlay along with a charge pad.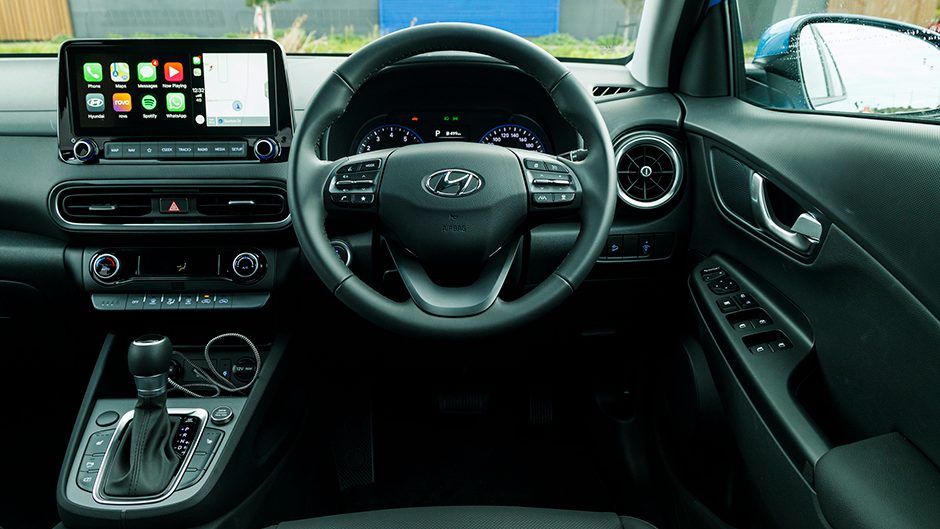 The Elite gains leather trim, though it gives the impression it's been man made rather than grown by a cow. While well assembled, the interior consists largely of hard plastic, including the door tops which grates at this price point. They've added an electric handbrake and some ambient lighting as part of the update.
Other niceties include heating and powered adjustment for the front seats, a decent parking camera and easy-to-operate minor functions with dedicated ventilation buttons. As for space, it's about the same as a conventional hatch, with adequate but not abundant rear seat dimensions while the boot is just big enough to swallow the weekly grocery shop.
Active safety has been upped for all models, smart cruise added with a stop-and-go function, and other nice-to-haves like pedestrian and cyclist detection for the collision avoidance systems and a safe exit warning. The latter emits an alarm if it detects cars approaching from behind when a door is opened.Advertisement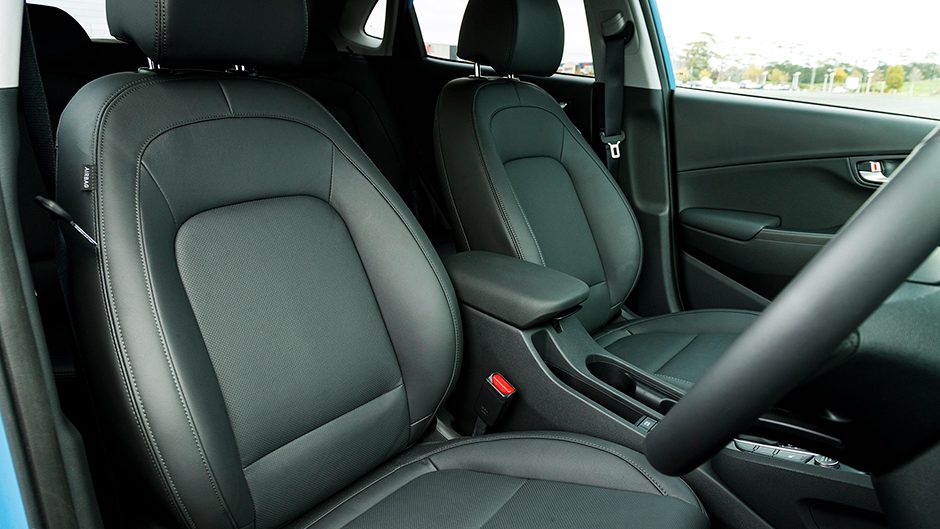 The lane keeping is fussy but there's a quick kill button on the steering wheel. Cruise keeps a conservative distance, even on its shortest setting, leaving too big of a gap which people feel obliged to fill. You can change the responsiveness of the system, but even the dynamic setting is a tad sluggish to get up and going again.
The 2.0-litre/CVT combo works harmoniously. There's a decent 'launch feel', the transmission responds quickly when you give the throttle a nudge, and the four cylinder doles out the torque rather well in the 1500-3000rpm band. This despite the peak of 180Nm not registering until 4300rpm. Consumption is quoted at 6.2L/100km on average while we managed 8.5/100km for mainly urban sorties.
Hyundai says they have tweaked the springs, dampers and stabiliser bars to improve the ride comfort and isolation but still the progress can be edgy around town, the rear end especially sensitive to sharp bumps. On the highway, the damping is rather unresolved, crashing into decent lumps while the rear end is unsettled over surface irregularities. Through the turns there are some sensations at the wheel, though these are largely odd vibrations rather than genuine connection. The roll is well maintained however, and there's enough tyre to make it stick. The powertrain is likeable at speed too, 100km/h registering an easy, quiet 1800rpm. It hauls okay for the overtake, and when you pin the throttle, the Smart drive mode clicks things into the Sport setting to quicken the response and stir the CVT up. Other drive/traction modes include snow, mud and sand, but it's a front driver so adventure mildly, and at your peril.
As mentioned, the segment is awash with choice, but for similar money/size/features we'd go for the Subaru XV, or check out the Seltos and save a few thousand. Just don't be tempted by the cut-price ASX; it's just an old dog.
| | |
| --- | --- |
| Model | Hyundai Kona 2.0 Elite |
| Price | $39,990 |
| Engine | 1999cc, IL4, 110kW/180Nm |
| Drivetrain | CVT, front-wheel drive |
| Fuel Use | 6.2L/100km |
| C02 Output | 148g/km |
| 0-100km/h | n.a sec |
| Weight | 1383kg |