We liked the Rebel 500, an all-rounder in LAMS bobber guise. Now there's an 1100 version, a Rebel with claws.
Round here we are not great fans of cruisers, well, me really, to be specific. The others just don't like bikes period. However, they often feign mild interest when a cruiser arrives at the office. Is it because of the look and the sound? Probably. I mean who doesn't want to be bbbbad to the bbbone? Well, me for one. I take offense to offensive noise levels. And unbaffled big V twins produce monstrous, almost violent amounts of noise. Pissing people off is what a proportion of cruiser owners want to do. That's why you see them hanging out around parliament.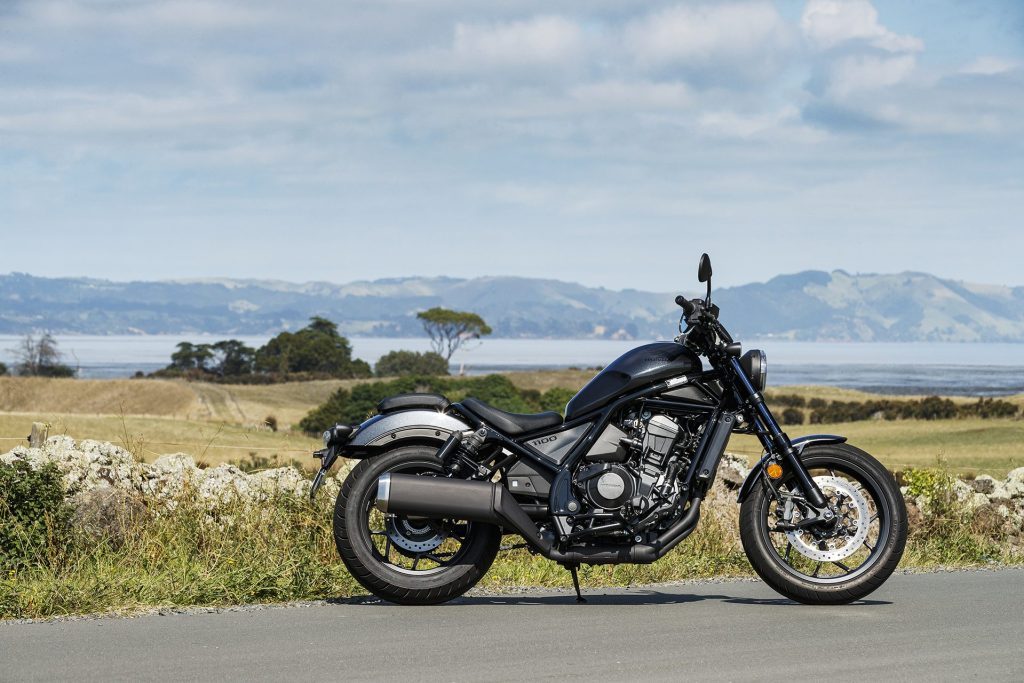 But it's not really the look or sound of cruisers that annoys me. I rather like bits of both, done in moderation. It's the overblown weight and the lack of ground clearance that annoy. They generally translate to mediocre performance and crap brakes, often because there's just a single front disc, all for that pared-back look.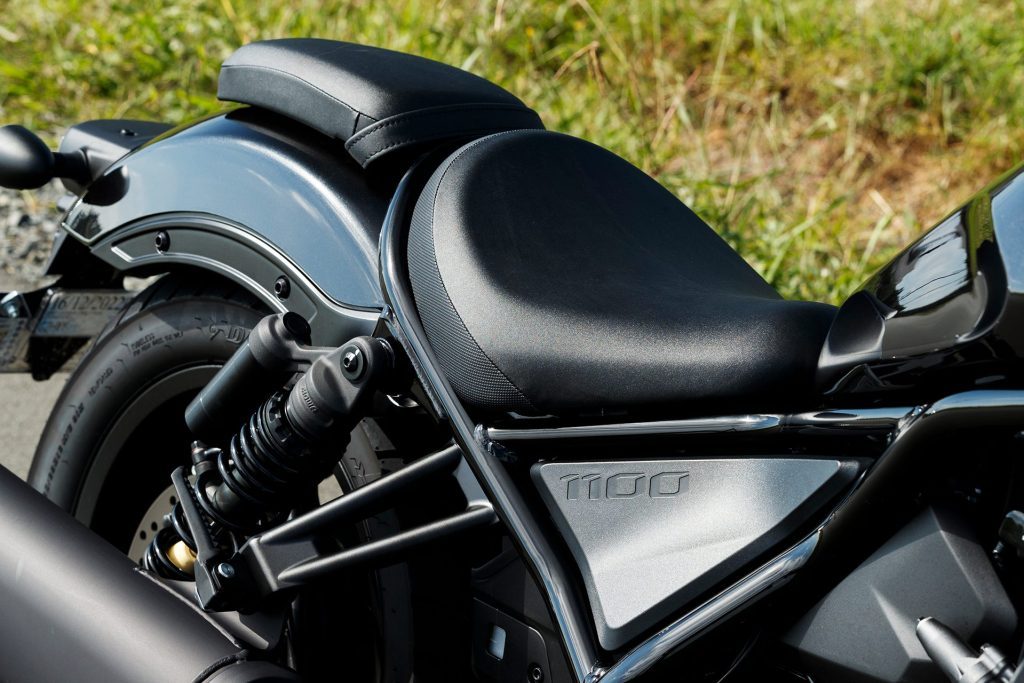 And the worst thing of all? The low riding position and the slammed design means there's often a sad lack of rear suspension travel and so on anything other than motorways and expressways, these bikes often deliver negative ride comfort. Adding insult to injury is a riding position that looks feral but often seems to result in the early onset of back pain. Probably that's just me, but I don't suffer from it on most other types of bikes.
Whatever, this example doesn't suffer from the usual cruiser character traits. Okay, so I still get a sore back riding the CMX1100 (or Rebel the bigger) but in most other respects here is a cruiser that thinks it's a sports bike.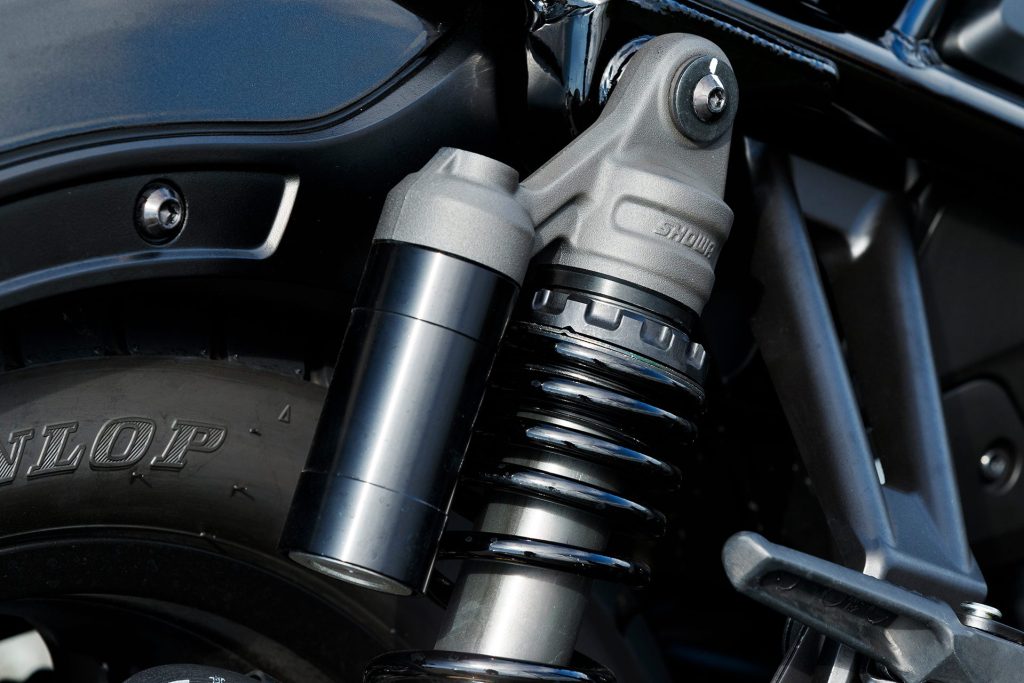 Black out
Is it a cruiser at all then? Sure, by most criteria. There's almost no aspect of this bike that isn't blacked out; the alloy footpegs, fork sliders, even the chain! The fat tyres are typical, oversize on the front, undersized on the rear. Seat height of 700mm is low, so most people will be able stand astride this. There's no superfluous fluff either, which is bobber like – essentially just your powertrain, peanut-style tank, wheels, bars and pegs, seat and bits and pieces to make it road legal. The fenders are abbreviated too, hence the bobber term (bobbed fenders).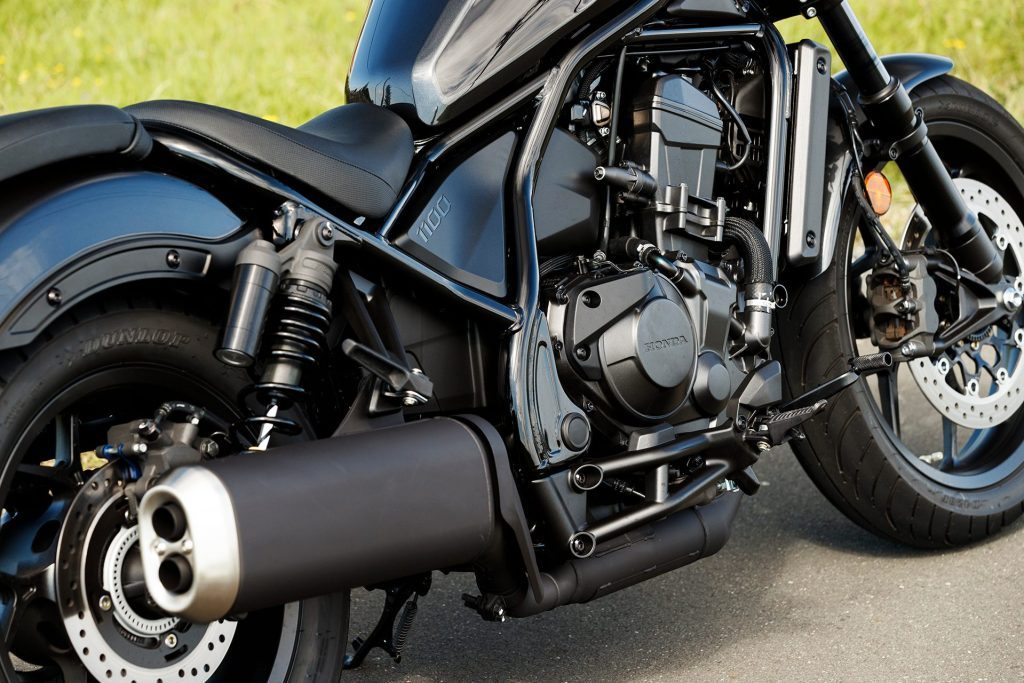 As usual with any cruiser, we had some random guy stop and ask us what that awesome bike was. He reckoned it was just right for someone stumpy like him (his description) and asked how much. I'd just picked it up so didn't know but guessed at a fraction over $20k which happened to be right ($20,495 for the manual, $21,995 for the twin-clutch version).
The engine is borrowed from the CRF 1100, a 1084cc parallel twin. That's in part why the Rebel 1100 doesn't cost an inordinate amount; parallel twins are cheaper to make than V-twins. While the Africa Twin (CRF 1100) adventure bike now costs closer to $30k than $20k it has more gear than the pared back cruiser.That said, this is hardly a stripper either. It features four engine modes (one user configurable), traction control and ABS, and cruise. This works intuitively too where some on European bikes just seem to be vexatious for no good reason.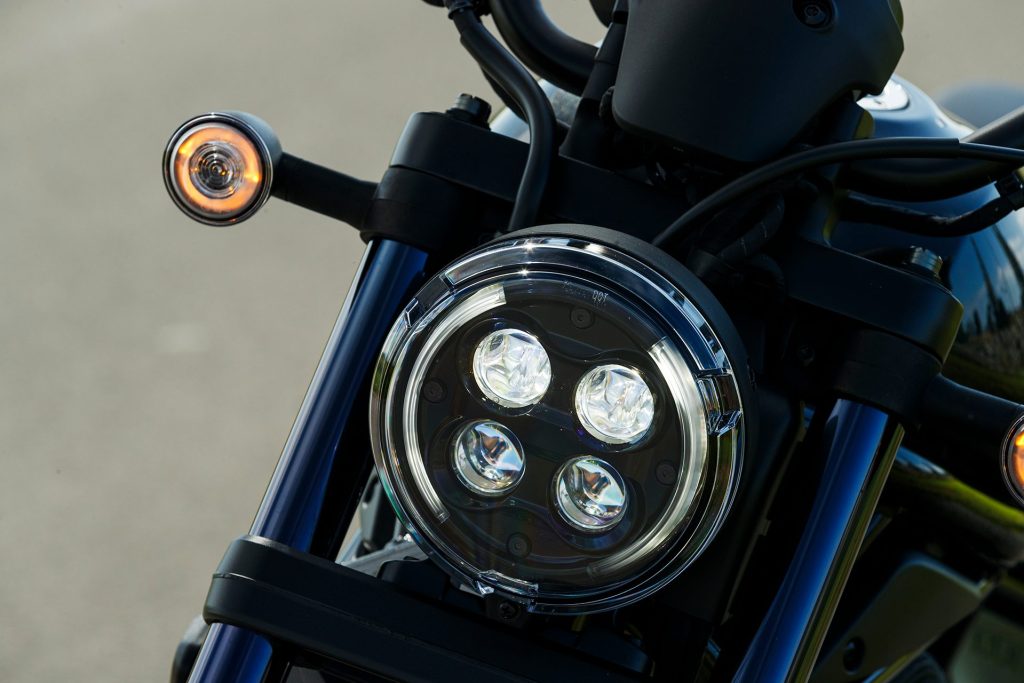 Power and grunt
The engine is an eight-valver and in this instance retuned to bolster grunt at everyday revs. Oddly, one cylinder is tuned to rev and other for torque production. It makes 64kW at 7000rpm and 98Nm of twist at 4750rpm.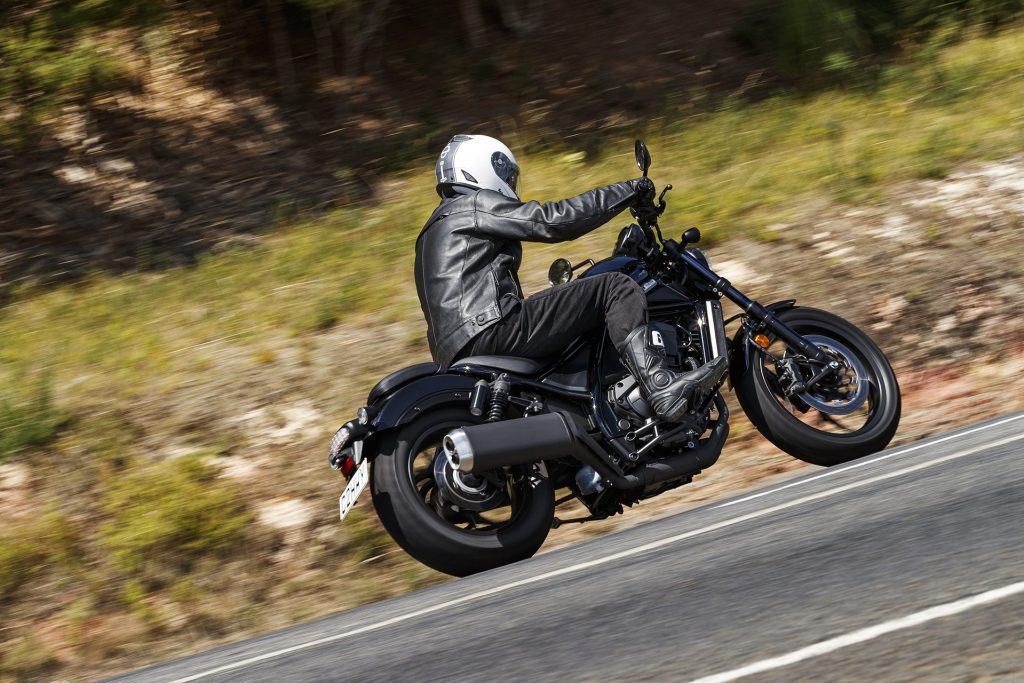 For something that weighs in at 223kg, this can get up and boogie. Not many cruisers make it into the 3s category for a 0-100 run but this does with ease. Launch is very straightforward with a robust clutch and one gearshift and 3.7sec later you're suddenly overspeed. That's at the pointy end of cruiser performance. We like the exhaust note too, bassy and bad arse but it's not stupid loud. What makes this engine rather alluring is its easy power delivery. Sure it revs fine to about 8000rpm before encountering the limiter but it's the middle ground area from 3000 to 5000rpm where it feels earthy and you really don't feel the need to extend things further. Short shifting through the lightweight fluid 'box into sixth gear, it's turning a relaxed 3800rpm come the legal limit, and 4000rpm is 110km/h. An optimised overtake requires a shift from second to third gear and takes a tick over 2sec. Pottering about town, it will ease along at 2000rpm and pull away merrily but not much below this.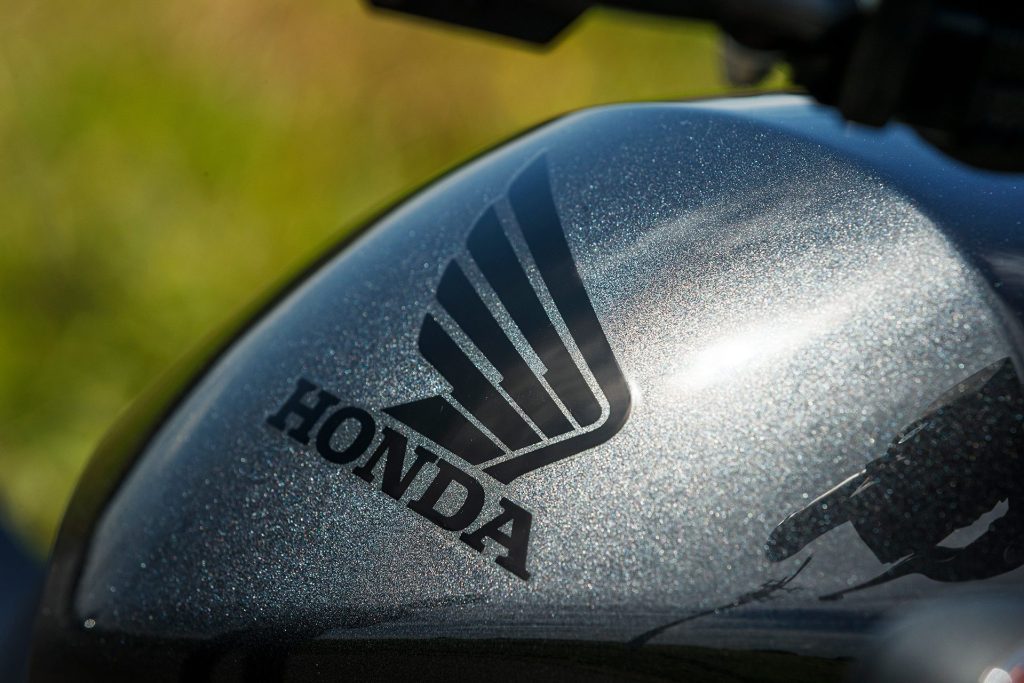 Lest we forget the lone brake up front rates a mention, radial mounted and clamping onto a 330mm disc. Its four-piston caliper bites hard, the lever is adjustable and feedback is good. Single front brakes don't come much better.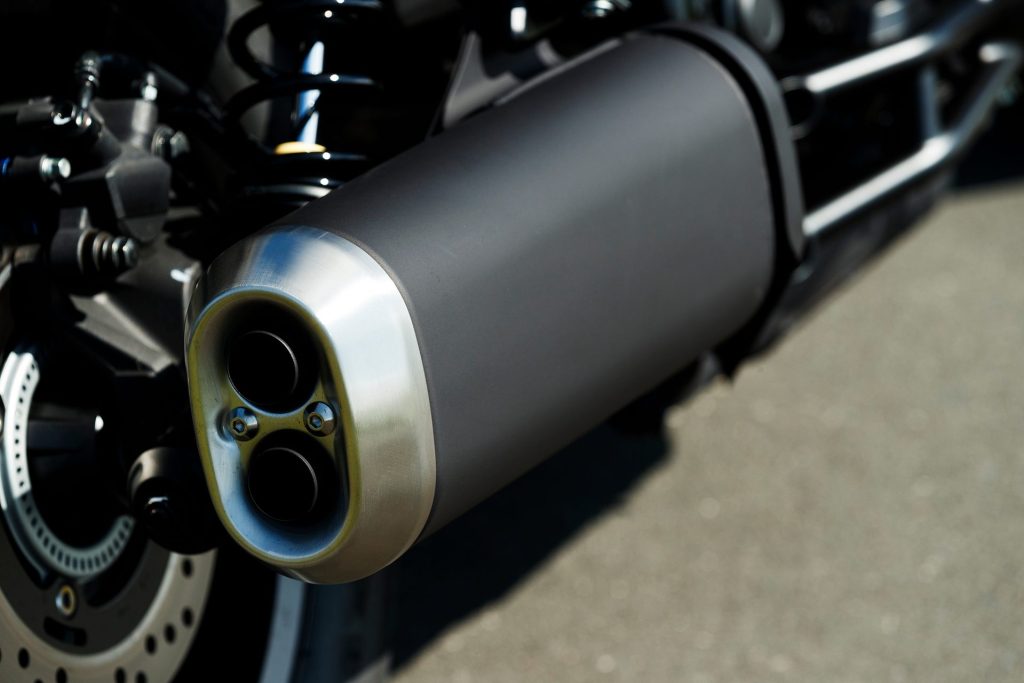 A bobber that doesn't grind
We took SH16, north of Auckland, at peak hour Friday night traffic and encountered what seemed to be hordes of cars stuck behind slowpokes seemingly oblivious to the carpark trailing along behind. On the Rebel, you just need a few more revs and a few metres of road to slip by, so even long lines of cars are nothing but a minor and temporary annoyance. Which is one of the things that makes big bikes so friggin' awesome.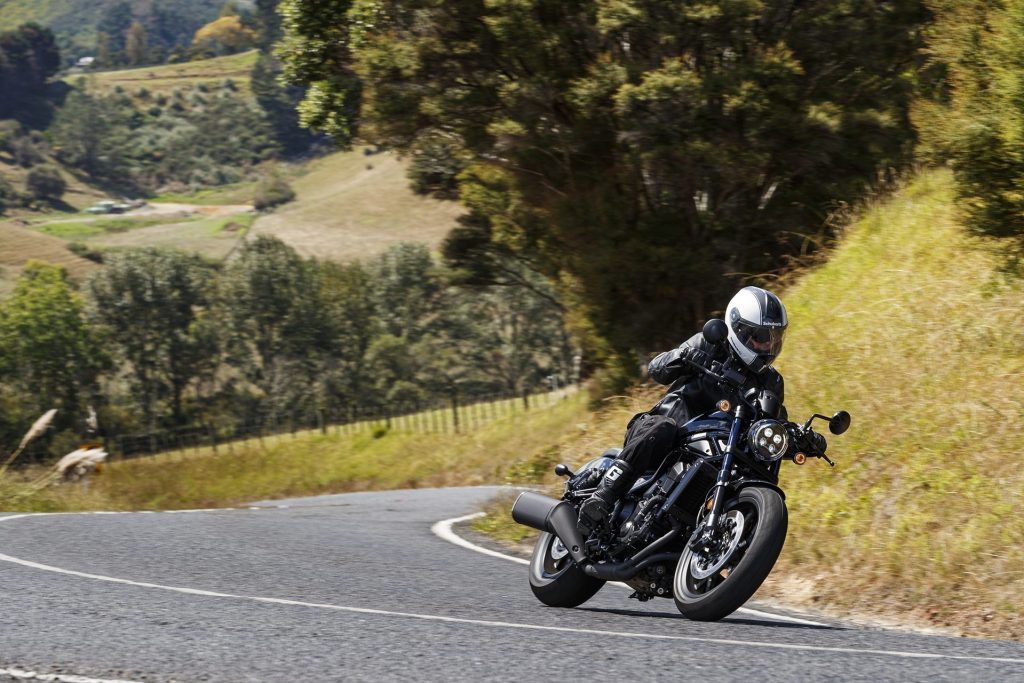 There are plenty of other attractions as well. The suspension might not be that sophisticated but having preload adjustability both ends makes quite a difference, especially when those balloony tyres act rather like accessory suspension units. We eased back preload north and south and from being a touch firm it soon felt just right for my 76kg bodyweight.
Most cruisers, especially slammed bobbers, don't really do ride quality, unless you only ply boulevard-type roads. But this is pretty accommodating, even on byways hammered by heavy vehicles where only the worst roughage catches out the short travel rear end. The single seat isn't what you'd call plush but nor is it planky. And the riding position is pretty good, with pegs forward mounted only slightly so you can still weight them up, the short high mount bars only a slight stretch.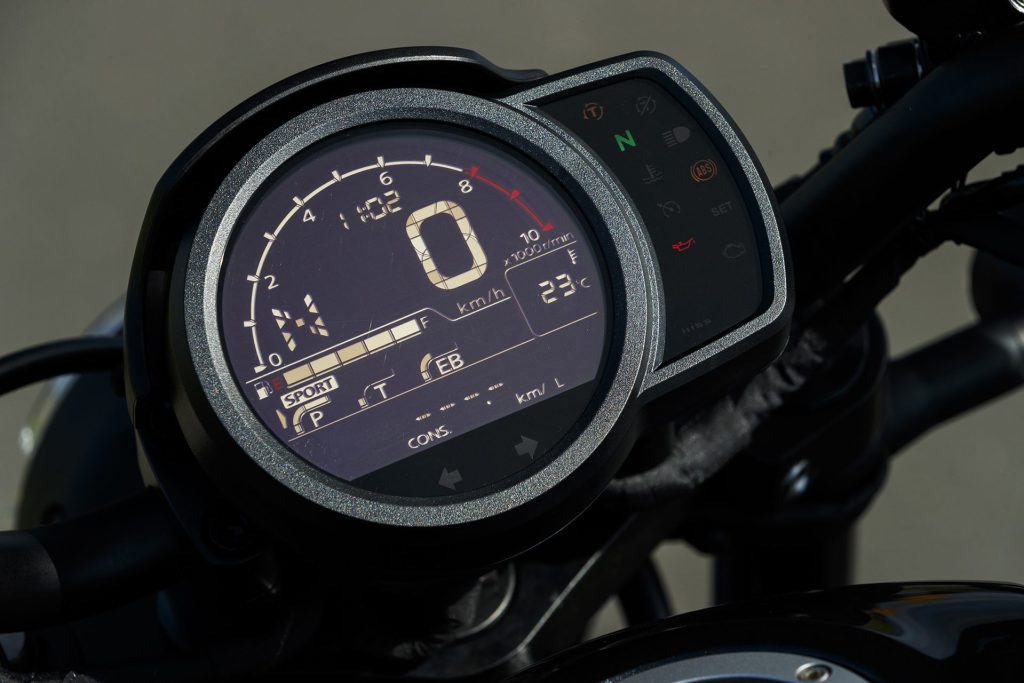 This riding position works quite well because both it and the chassis encourage you to corner with verve. That's a bit of a surprise given how at pick up we were told "the engine overpowers the chassis so take it easy". Au contraire. The chassis is entirely up for a spot of sports riding, and even heeled over in lumpy corners it forges on regardless. Surprisingly with theoretical lean angles of 35 degrees, we couldn't get anything to touch down, though suspect the fat tyres are partly responsible for that. They don't encourage on-the-edge riding. But we'd rather that than grinding the chassis rails. And despite its somewhat raked out forks it still seems to steer in a live and direct manner, again a little surprising. Factory accessories include a small touring screen and soft baggage, among other things.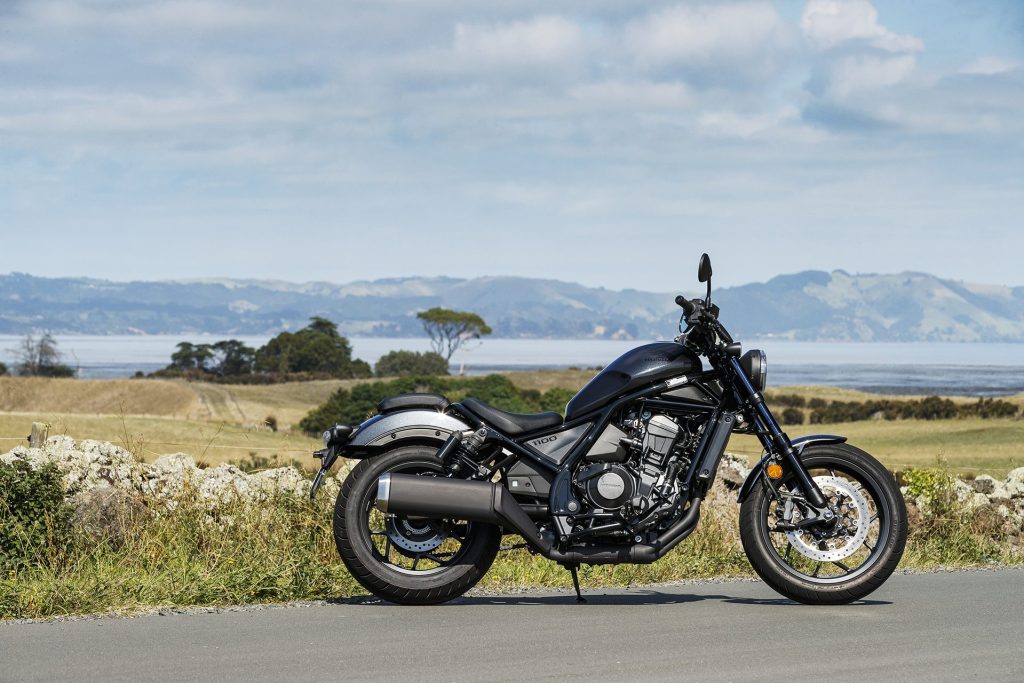 Primary competition is the Scout Bobber which looks more the part but isn't as fast, comfy or as fine through the twisty stuff. If you're sick of manual transmissions on bikes, you can go for the DCT (twin-clutch) option which is like an auto with manual paddles. And if you're sick of black cruisers, this can be had in a rich red colour too.
As the kids would say, 'so fun' this one.
Model
Honda Rebel CMX1100
Price
$20,495
Engine
1884cc, liquid-cooled,
fuel injected, IL2
Power/Torque
64kW/98Nm
Transmission
6-speed, chain final drive
0-100km/h
3.66sec
80-120km/h
2.14sec (60.56m)
100-0km/h
40.85m
Safety systems
ABS, TC, wheelie control
Seat height
700mm
Weight
223kg (claimed)