Honda's Africa Twin badge makes a comeback, only this time it's a 1000cc parallel twin. Is this your ticket to adventure?
Big bore adventure bikes are increasingly popular thanks to the likes of Ewan McGregor and Charley Boorman. The big R 1200 GS flat twin has become the top seller in BMW Motorrad's line-up and the default dual-purpose bike of choice for the well-heeled tourer. Others have tried to emulate the success of BMW, without quite the payback. Beneath the bigguns are the 800 middleweights, twins in the main. In between there's Suzuki's DL1000 V Strom, great value at $19k, KTM's $21k 1050 ADV, and little else.
Into the litre arena steps Honda with its reborn Africa Twin. This is nothing like the old AT, and nor is it similar to the company's current desert racer, the CRF450 Rally. However, the name was too cool to lie buried in the sands of time and so the Africa Twin has made a comeback. Also known, in theory, as the CRF1000L, to highlight its off-road potential, obviously it's a twin but this time with a parallel cylinder layout, offering packaging advantages.
This engine is incredibly compact, and cleverly incorporates the water pump within the clutch housing, and the oil pump within the crankcase, for protection. Moreover, its twin balancer shafts drive those ancillaries, reducing weight and complexity. We rode the six-speed manual variant, with ABS and TC, which sells for $22k. It will be the most popular version, but there's also a base bike for $19,995 while the range-topping DCT variant has a dual-clutch tranny and costs $23,995.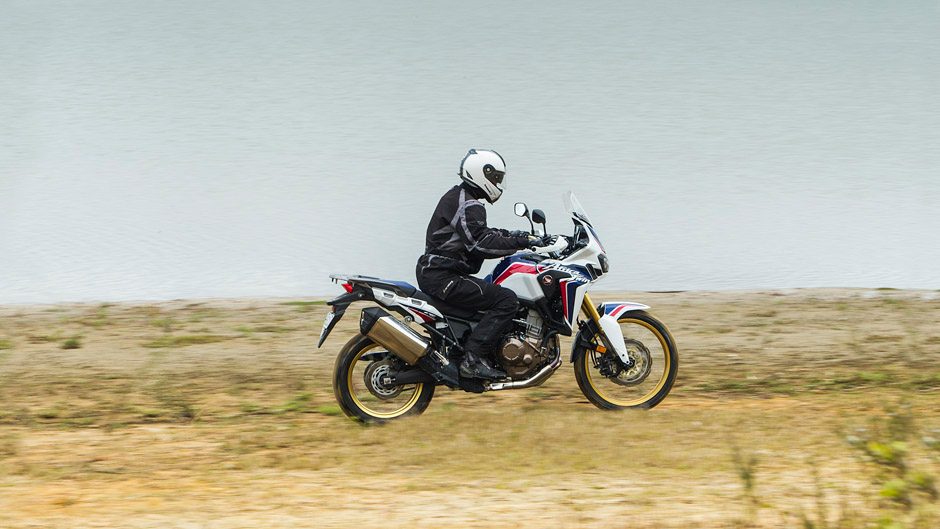 We were unlucky to uplift the AT on a day when rain was forecast. And it arrived. I was like some poor sap being chased by a bike-sized cartoon storm cloud. It hosed down for my jaunt along the southern motorway, both there and back, so we got to check out weather protection. My gloves remained dry because the AT comes standard with handguards. Nothing worse than soggy mitts. Actually, sod all got wet. The compact screen keeps most of the rain off your chest, and while we expected wet legs the water is diverted by the bodywork. A good start then. Most adventure bikes look a bit naff, insect- or bird-like, but the AT is more interesting, tall for sure, with twin round(ish) headlights like the original, only with LED bulbs. The traditional red, white and blue colours of HRC look great, especially with the blue seat and contrasting gold wheels, forks and handlebar. Instruments are vertically oriented, with most info present. The tacho we found hard to read but most shifting is done by ear anyway.
It was also wet on the day of photography. Tyres on our machine, not knobblies, weren't great off-road in damp conditions. I came off at walking speed trying to mount a small clay lip. All the important bits are well tucked in, exhaust included, so no damage resulted, but wet clay is tricky to extract! The rain abated for a bit so we backtracked for some metal road action shots, the bike pulling nice little power slides out of corners with TC off. This is easily achieved on the move (turning the TC off, not the slides so much) as you simply push and hold the three-position TC wand. ABS on the rear can be deactivated as well, but only at a standstill. Brakes are strong, though there's a fair amount of fork dive on heavy applications but then with over 220mm of travel (each end), you expect that. Ultimate stopping distances are limited only by the skinny rubber up front.
Everything about the Africa Twin is essentially new, apart from the name. Designed around the "Go Anywhere" premise, the AT continues the dual purpose theme, employing a modified version of the CRF450 Rally frame and an entirely new engine, also borrowing the compact CRF450 Unicam head design. Heavier ancillaries like the battery and ABS unit are mounted behind the engine to help centralise mass, for improved handling. Engine output is 70kW at 7500rpm – the limiter kicks in around 9000rpm – while torque of 98Nm peaks at 6000rpm. Plenty is developed by 4000rpm, and it will lug down to 2000rpm handily enough, providing you don't try to gas it away too hard from there. There are no engine modes, but the fueling is smooth so they're not missed.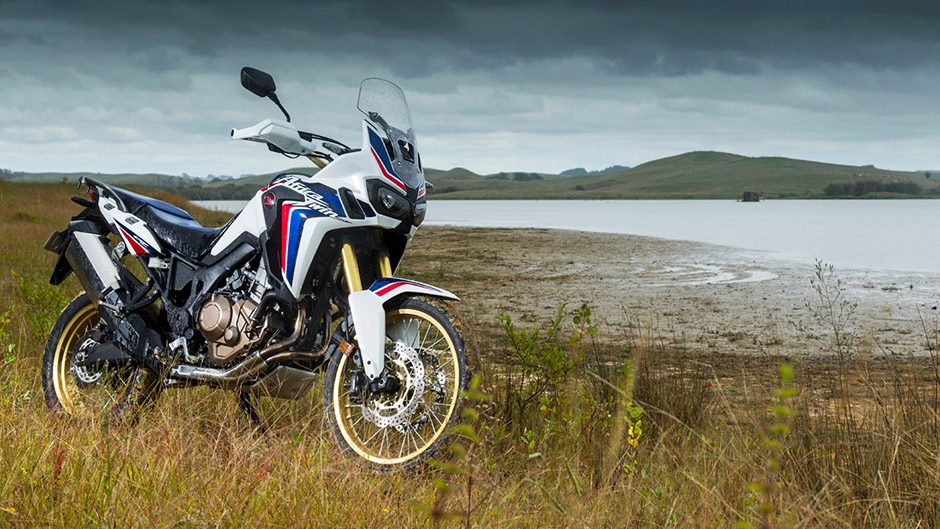 The engine is friendly in operation, and with a 270-degree crank and irregular firing intervals, it's said to generate a 'characteristic pulse'. Not sure exactly about that, but if you think of this as being like two 500 singles siamesed together, perhaps that's what Honda is on about. Certainly the exhaust sounds like that; few parallel twins sound sensational but this is at least interesting. It isn't especially quick against the clock, being over half a second slower to 100 than the V-Strom 1000 (3.6 vs 4.2sec). On the 80-120 overtake the difference is more modest (0.2sec).
How come when they weigh much the same? Peak torque arrives at 4000rpm for the Suzuki (110km/h), 2000rpm below the Honda's (where 4000rpm equates to 120). You need to be down a gear or two for quick overtaking at 100km/h on the Africa Twin. One of these will wheelie in second gear, while the other simply refuses. We liked the feel of the Honda on gravel, aided by a 21-inch front hoop, and the ability to nullify ABS to the rear wheel. But in tight going the Africa Twin's 235kg weight is hard to miss, and its tall first gear doesn't help in slow going. It's noteworthy that the Paris Dakar Hondas are 450s. On the other hand, like those who buy SUVs for their potential off-road ability, most people buy ADVs for their stern look, comfort, mix of commuting and touring ability, and easy economy (the AT is rated at 4.6L/100km).
We rode the CRF1000 on road briskly and achieved around 6.0L/100km. At an indicated 110km/h (actually 102km/h) we were seeing fuel use in the high threes. Honda claims 400km to an 18.8L tank is possible, but you'd have to be pussying it to achieve that. We were down to a blip left after 160km, though that leaves around 8L in the tank (another 160km in theory). On wet roads you need to be a bit careful with that skinny 90/90R21 tyre up front, but on dry tarmac this is a seriously good fun ADV. Its stability is first rate, unaffected by side winds, and illegal speeds.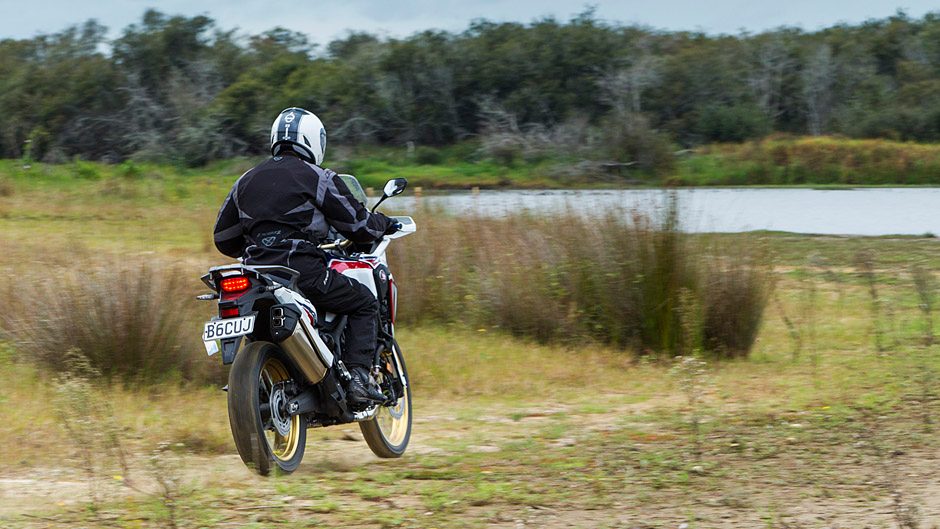 It changes direction easily too, a little pressure on the tapered handlebars enough to lean it over where it holds lines with real grace. Turnarounds are easy too, with just 5.2m of road needed. Comfort is first rate, the adjustable height seat firm but spacious, the riding position open and easy. The wee screen is ideal for general wind blocking duties and cuts through the air silently. This would make a great long distance tourer, set up as it is with dedicated luggage slots and a handwheel for preload adjustment. We didn't change a thing as it was plush everywhere we ventured. Accessories include panniers and bags, centre stand, taller, wider screens, engine protection bars, and the like.
The bottom line? The GS 1200 is bigger and faster, but roughly $6500 more expensive. Suzuki's DL1000 is more serious competition. It may not be quite as glamorous but it's as comfy and stops as well, is quicker and is $3k cheaper. You should ride both for sure, and KTM's ADV 1050 while you're at it.
| | | | |
| --- | --- | --- | --- |
| Model | Honda Africa Twin CRF1000L | Price | $21,990 |
| Engine | 998cc, liquid-cooled, fuel injected, IL2, 70kW/98Nm | Drivetrain | 6-speed, chain final drive |
| 0-100km/h | 4.19sec | 100-0km/h | 42.34m |
| 80-120km/h | 2.20sec (63.3) | Weight | 235kg |