You expect harleys to roar but noise regs dictate otherwise. We ride Fat Bob with the little voice but you know there's a rowdy Bob in there somewhere lurkin'.
There's lots of Fat in Harley-Davidson's model line-up currently and a person could easily be confused by all the obese models they have on offer. There's a Fat Boy, A Fat Boy Lo, and a Fat Boy S, not to mention the bike you see here, Fat Bob, not to be confused with Street Bob. So who is this Bob character anyway? Not a guy but a style, short for Bobber, which is where the fender is cut down. The Fat refers to the large tank, good for five gallons of gas, so Fat Bob simply has both those features. It's as much a historic name as anything, originally applied to an 80s model, reintroduced in 2008.
All this we didn't discover in the 2016 Harley Davidson brochure which features a cover page with – Screw It Let's Ride. In fact the contents are full of emotive language about whipping the traffic, shredding the rule book, kicking asphalt etc. Only on the final spec pages are some numbers like peak torque mentioned. Power numbers are conspicuous by their absence, perhaps because they're irrelevant for a cruiser (which is largely the case). Besides power comes from revs and that's something big air-cooled V-twins often don't do so well. What we did discover from the brochure is that the Dyna range has six machines, one soul. Huh?
Sod it, let's ride. On start up this is ridiculously muffled and yet Harleys on the street are amongst the noisiest of, well, all machines with engines. And that's a clever strategy; ask the owner if they'd like a muffler to go with their new bike. It's like the ultimate upsell. You're looking at about $1500 to get the bark back, most of it for mufflers – out goes that pesky exhaust valve which is there for noise and emissions regs only – and on goes a less restrictive air intake as well. A bit of a computer rejig and you've not only got something vocal but something palpably stronger too. It's like a cure for asthmatic motorcycles.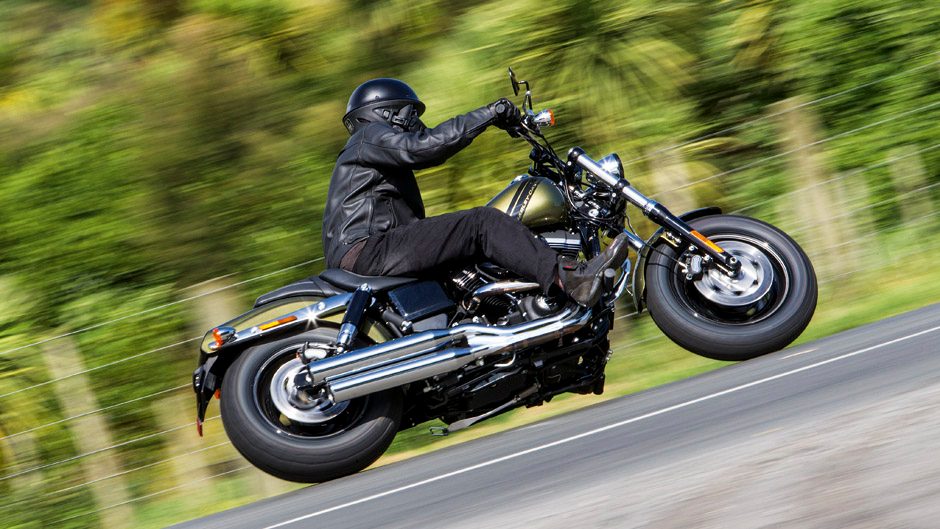 Not that the big rig is exactly breathless, despite not getting the high output 103 engine. Fat Bob managed to hustle across the legal line in under 5secs, not bad for something with a bit under 80 horses at the rear wheel. It's the 131 newts of twist at 3000rpm that make this hustle. With better breathing we imagine it would be comfortably quicker.
It's designed to look fast too, with striking drag bars on blackened risers, a low set rear and scalloped seat, though we wouldn't fancy being a pillion for too long. As with everything Harley, you can easily modify it for more comfy two-up riding, though you'd want to think carefully before ruining the look. Plenty of bits are blacked out, like the engine, forks, triple clamp, shock covers, battery case, and even the trim surrounds of the 'bullet' headlights.
Underway and we like how the Fat Boy shifts, though some technique is required; it's best to wait momentarily for revs to drop before upshifting. Unlike most chain drive bikes which thump into first gear at standstill, this snicks in like a shaft driven machine, no backlash. Sweet. We're not great fans of the either-sided turn actuators – too often you end up twisting the throttle while attempting to indicate. However, all is forgiven as these are self cancelling. There's a hazard button too, to make lane splitting safer. A remote key has become a Harley byword. So long as it's on your person you merely turn the stylish ignition switch clockwise and hit the starter. Walk away from the bike and the alarm automatically sets itself. If you want extra security, the steering can be locked using a circular key that's difficult to pick, like those used on Kryptonite U-bolts.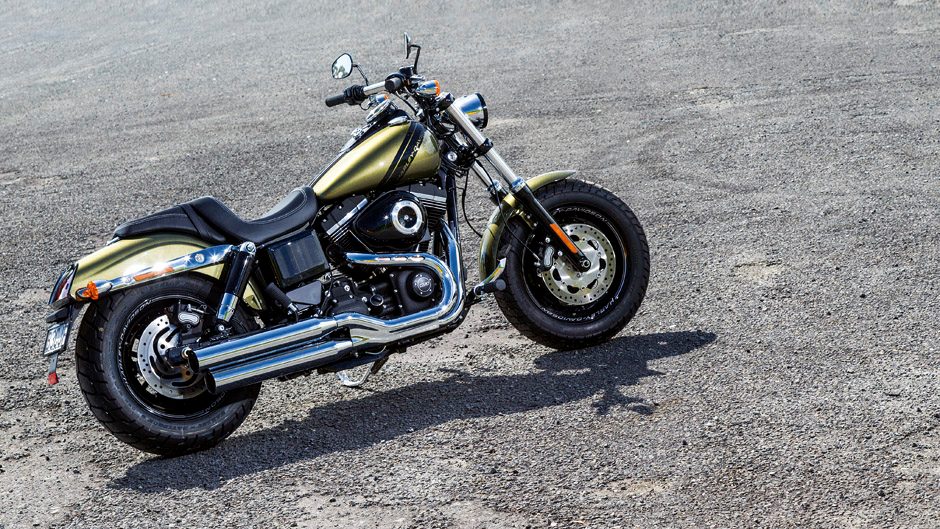 How's it go on a day-to-day basis? The big 45-degree air-cooled V-twin is about done and dusted around 5000rpm, but most of the good work happens lower down, with best urge in the 3000-4000rpm area. You should be there in the correct gear for overtaking, which takes about 3.5sec or 100m odd. For the rest of the time, you're hovering around in the lower 2000s, and in town 1500 to 2000rpm is generally sufficient, upshifting early to get the transition just so. Gearing is way tall, to make the most of the subterranean torque, so in town third and fourth gears are best.
Even at the open road limit of 100km/h there's still only 2250rpm showing in sixth gear. The rev counter, incidentally, is part of the trip computer, bundled with the gear indicator. It works just fine as you shift pretty much by ear anyway. There's no instantaneous fuel consumption meter, but who needs one? In the United States of America, gas per litre costs the same as Coke, the drink. There's a distance to empty figure which is every bit as handy and anyhow, there's a fuel gauge atop the faux gas tank filler. Figure on an average of around 5.5L/100km, which gives a cruising range of over 300km.
On the go, this feels best at an indicated 110km/h which is exactly 2500rpm, with some innocuous low frequency vibes blurring the mirrors slightly. More speed and you get the odd wallow when hitting bumps midcorner. The suspension feels accommodating enough though, preload easily enough changed at the rear. Lightning quick direction changes you'd not expect on something like this, but with its tall tyres comes pretty reasonable ground clearance.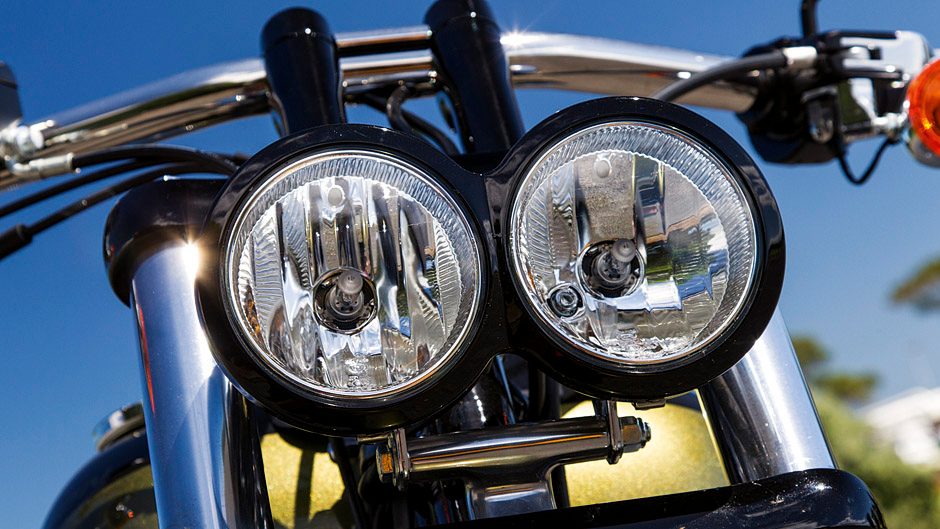 When it does eventually touch down on the forward set footpegs you'll hear nothing but the quiet hiss of rubber being scuffed off. Likely the heel of your boot will touch down first, an indicator you're far enough over. For a bike with an obese name, it's reasonably athletic in corners. It stops well too, like many cruisers with their rearward weight bias, though on a bike costing the best part of $28k before muffler swap, we'd have expected an adjustable brake lever.
So an odd name for a stylish bike that gets most of the cruiser bits right, except for the phat bark and that's easily enough remedied, at a price.
| | | | |
| --- | --- | --- | --- |
| Model | Harley-Davidson FXDF Dyna Fat Bob | Price | $27,750 |
| Engine | 1689cc, air-cooled, fuel injected, V2, n.a kW/131Nm | Drivetrain | 6-speed, belt final drive |
| 0-100km/h | 4.96sec | 100-0km/h | 38.19m |
| 80-120km/h | 3.65sec (103.3m) | Weight | 322kg |