Past Tuonos have been a bit of a handful but in the latest revamp the electronics and indeed the entire bike are more rounded. But that hint of Italian mischief thankfully remains.
The Tuono by Aprilia has always been a naked version of the firm's top superbike with little in the way of retuning, and a touching degree of insanity resulted. But the original Tuono was uncompromising, and tough to live with. Suspension consisted of rigid sticks, and it was difficult to ride at slow speeds.
Then Aprilia devised the V4 which would soon take them to the top step of the Superbike podium and a couple of famous championships with the not especially popular Max Biaggi aboard. From the RSV4 came the Tuono V4 R, a bike we tested in 2012 and rather liked, aside from the fact that it rode too hard, and its comprehensive electronics package had a gaping ABS brakes hole. A typically crazy Italian bike then.
Recently the update to the V4 R dotted down here, fresh with a bored out 1100cc engine and available as an RR version, as seen here, or a Factory version with Öhlins suspension. The initial shipment of 50 units went quickly, perhaps no surprise as the price of the RR ($25,990) is unchanged from 2012. It goes for $1000 more than its main rival, BMW's S 1000 R.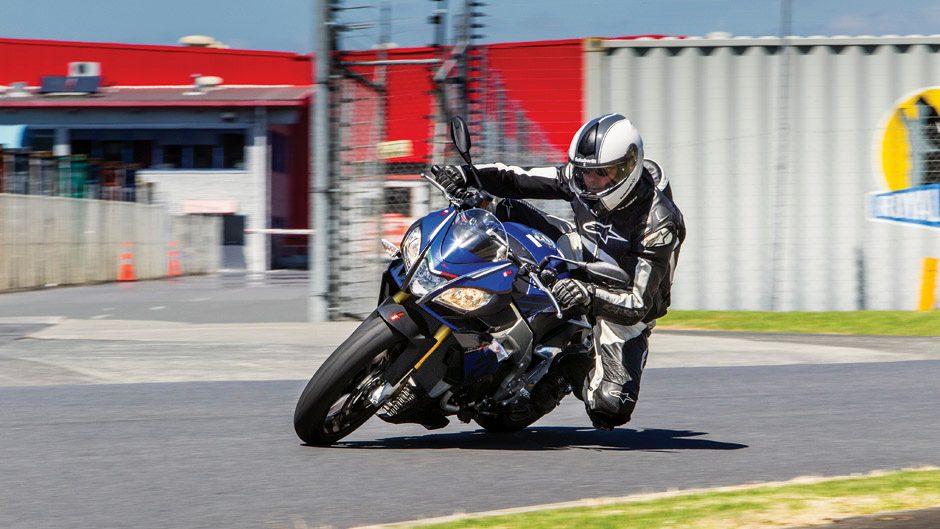 With the displacement upgrade comes more power – 20 extra horses at 8000rpm evidently – and an electronics overhaul. On tap there's 175hp, down just 26hp on the RSV4's 201 tally, but there's actually more torque overall, 121 vs 115Nm, the peak developed at 9000rpm. It's also lighter than it used to be, by around 6kg according to our scales, weighing in at 206kg wet. That's superbike light.
And naturally enough it feels that quick, as did its predecessor. There's nothing much between the old and new Tuonos 0-100, unsurprising as we tested them with TC and antiwheelie on, both at their least interventionist settings. All potent bikes just want to launch vertically when you apply full power off the line, and that's probably why bike manufacturers are now fitting launch control to their top performing machinery. We couldn't seem to get LC to cooperate so to get a better idea of what an extra 15hp adds, on the 80-120 overtake the new machine proved quicker by around one-tenth of a second, improving from 1.5 to 1.4sec.
And that's something you'd never sense on road; both are ballistic when you punt them through the gears, and full-bore acceleration is literally eye watering. The latest Tuono easily manages 100 in first gear, but not quite 120 unfortunately which slows it slightly and we therefore tested overtaking prowess in second gear (most other rivals are IL4s which rev higher so get to 120km/h in first, subtracting a tenth or two).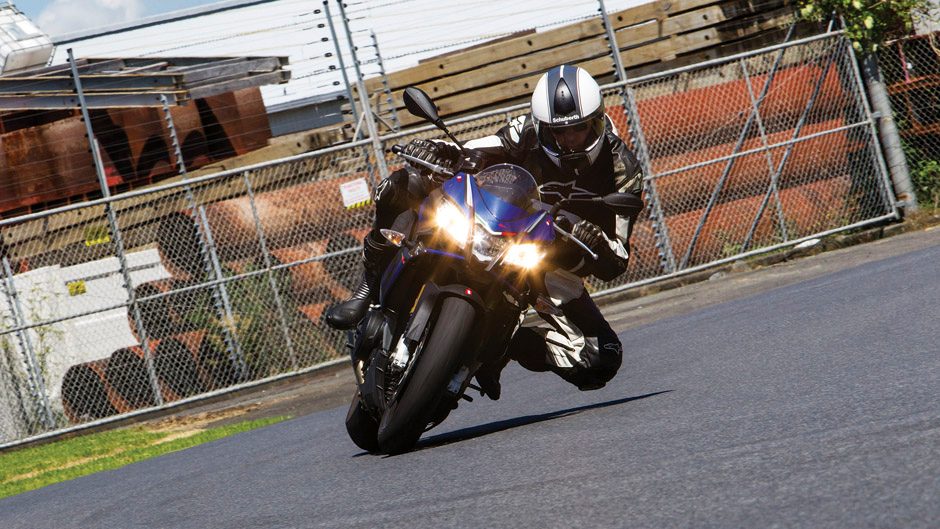 Anyhow, it's still rabidly quick. The gearbox is an absolute stunner. Featuring a quickshifter, the Tuono has one of the best examples of an electronic shift mechanism I've encountered, lightweight, smooth, positive. Aprilia doesn't offer electronic downshifting like BMW. Good on the Italians. It feels too artificial, with inadequate rev matching so it seems like you're forcing the issue mechanically. A manual downshift simply feels better, and sounds better as well. Especially on the Tuono V4 1100. People buy V-twins over inline fours because of the more interesting exhaust noise, and the same is the case for a V4. Is it twice as good as a V-twin? Depends on your sense of aural rightness, but it's certainly every bit as interesting. It seems to rev more quickly too and that's likely a case of less reciprocating mass in each cylinder. There's precious little in the way of vibes, so the mirrors work, even if they are awkwardly shaped.
The sound from the exhaust is utterly intoxicating, reminding more of a race bike. This comes standard with the musically named Giannelli muffler. It's occasionally almost too raucous in town. Neighbours who like to sleep late might have something to say. There's not that much pop and crackle action on the overrun, but under the pump this always sounds exciting. The engine is at its best above 5000rpm, equating to 112 in sixth. Anything below about 3000rpm it doesn't really want to know about, and between 3000 and 4000rpm in the Sport setting (the Road mode) this feels as though it's building up a head of steam. From 5000-7000rpm the kettle starts to whistle and beyond that you're too busy dealing with speed and gearshifts to take time to drink in the noise; it's a bullet. At the Hampton Downs track day launch some were hitting 275km/h before braking for turn one. that's quick and the speedo is accurate. Slowing the show are M432 radial-mounted Brembo monoblocs, four-potters. They're unreal.
As part of the APRC electronics the Tuono comes with Rear Wheel Lift-Up Mitigation or RLM. It can't have been activated because the first time we tried an emergency stop from 100km/h the rear rose up and attempted to overtake the front wheel. We made a mental note to sit further back in the seat before attempting that again. Regardless, they are wondrous stoppers, supremely tactile, just like the entire front end of the bike. For the latest iteration of the Tuono the Aprilia techs have tried to calm its tendency to mono over every small bump taken at speed. With so much power across the midband, it still does this when accelerating in top gear but nothing like as much, thanks to a 4mm longer swingarm and lowered centre of gravity. Furthermore, the steering used to be a touch heavy but the new bike has slightly more upright forks (24.7 vs 25.1degrees) and almost 8mm less trail, so turns more naturally and eagerly, and with less effort. It runs Pirelli Diablo Rosso Corsa tyres, some of the stickiest in the business.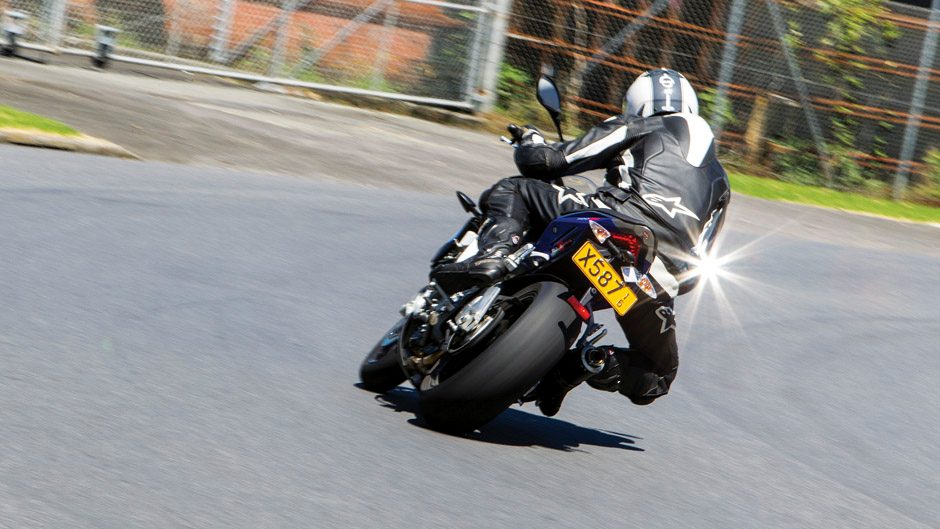 Being an Aprilia and race-oriented, the Tuono riding position is partway between superbike and standard upright bike. So the seat is set lower, the pegs are higher and more rearward than on many, and the bars almost flat. Most 'naked' bikes nowadays get some semblance of a fairing and this features something bigger than a flyscreen, the new unit lighter than before. While most of the windblast hits the rider, the forward lean counteracts the oncoming air nicely at speed, and the seat foam is vastly more yielding than that of its forebear. Being almost as narrow as a V-twin your knees feel closer together than normal, and that compact mass centralised engine placement helps with ease of direction changes. You'd expect some heat from the engine to warm your legs in summer but we noticed nothing of the sort.
If you're after something with a less taxing riding position than a superbike but without sacrificing the sheer thrills, the Tuono V4 1100 RR might well fit the bill. As with Aprilias of the past, high gearing means it's probably not the best commuter you could buy but is easy enough to live with day-to-day, more so than most superbikes. And the noise it makes every time you start it up or wind on the gas will be enough to convince you that you've made the right decision. Just be warned: if you've trouble controlling the speed demon within this may not be the machine for you.
| | | | |
| --- | --- | --- | --- |
| Model | Aprilia Tuono V4 1100 Factory | Price | $27,990 |
| Engine | 1077cc, liquid-cooled, fuel injected, V4, 129kW/121Nm | Drivetrain | 6-speed, chain final drive |
| 0-100km/h | 3.08sec | 100-0km/h | 39.82m |
| 80-120km/h | 1.22sec (37.56m) | Weight | 206kg |