Named after a prison escape rather than a skin condition, the Breakout is drag car-inspired and arguably the best looking of the Softails yet.
Harley-Davidson certainly isn't short on models, even after the recent line-up rationalisation. One of them, the Softail Breakout, we've never tested. It was originally powered by a 103 cubic inch air-cooled engine good for 133Nm at 2750rpm. However, in 2018 it got an upgrade to the Milwaukee-Eight 114 mill, an 1868cc engine that we've encountered in numerous other Harleys, and been well impressed by. It offers considerable grunt (155Nm at 3000rpm) across a reasonable spread of revs, pulling without complaint in top from 1500rpm (around 60km/h) through to 5500rpm. And there's little of the traditional vibration at idle that used to rock the bike around like you were at the epicentre of an earthquake. The twin balancer shafts see to that. Not that the mirrors are much chop, showing blurred elbows, but they do look good.
The Breakout was originally inspired by classic drag cars of the '50s and '60s, jacked up things with skinny front wheels. So Breakout is raked out (34 degrees of fork angle, 115mm of trail) with an enormous 240/40 rear tyre and a tall, thin 21-inch front wheel.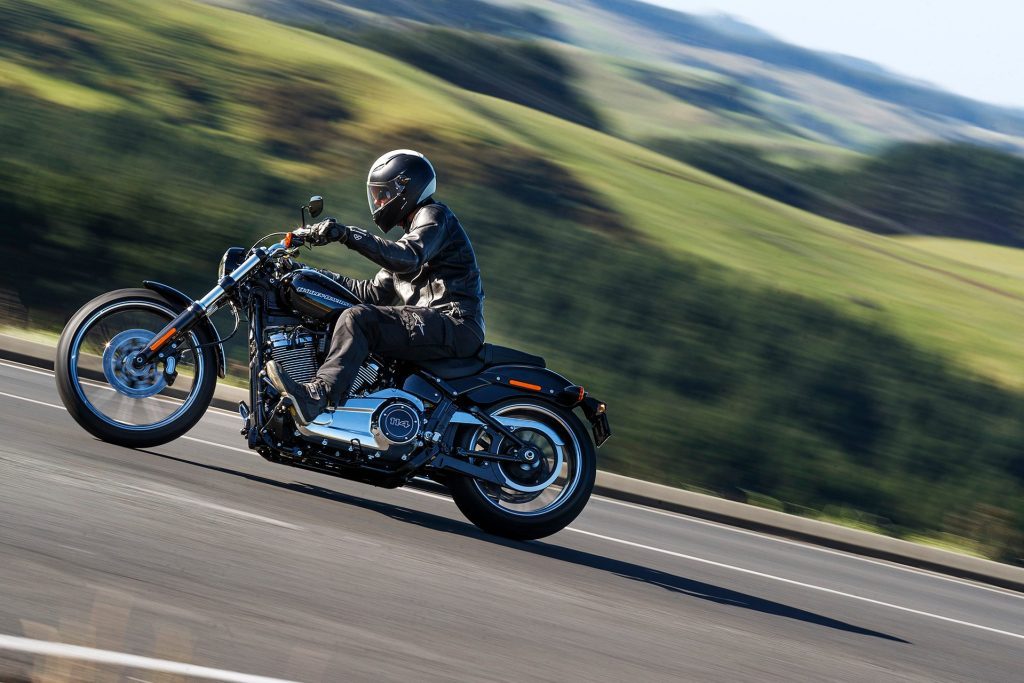 It's not only raked out but really low, the seat height of 668mm making it surprisingly easy to manoeuvre out of the garage, despite it weighing the wrong side of 300kg. That's less than before though, thanks to the lighter, stronger Softail frame introduced a couple of years ago.
Finishing items include drag bars on chromed risers, a beautiful eensy-weensy digital instrument pod atop said risers, a stepped seat with pegs for the pillion, staggered pipes finished in gloss black paint, cast wheels, and a vertical array of LEDs in the rounded headlight, to add a modern touch. There's not much in the way of electronics, aside from the mandatory ABS brakes, so no engine modes, no TC (not really needed with a tyre that size) and just the single disc up front, though it's gripped by a four-piston caliper. And this actually stops surprisingly well. You'd not expect a great performance from such a skinny front tyre but we achieved a best emergency stop from 100 of 36.32m.
As for acceleration, this isn't quite a drag bike, but it's certainly quick for a cruiser. It gets off the line well, the clutch resolute, and you don't need a whole lot of revs to make for a clean launch. One upshift later, and an elapsed time of 3.83sec was the best we achieved as it clicked off 100. All other attempts were just over 4sec; the difference is essentially down to how quickly you get from first to second gear and back on the power.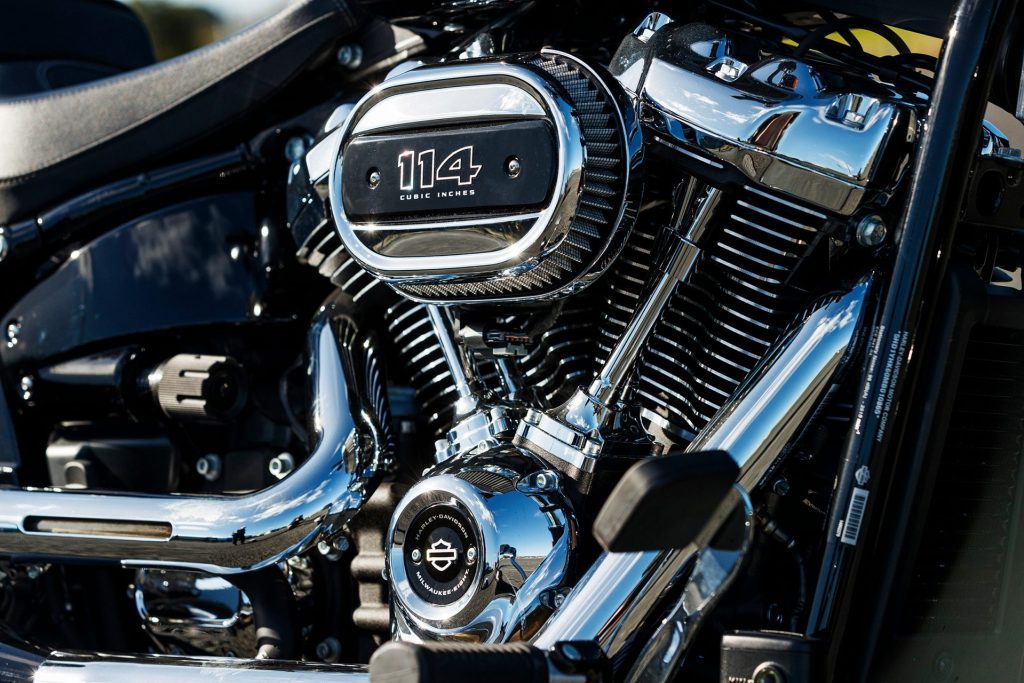 As mentioned, this bike is all about surfing the tsunami of torque on tap and that's mainly how you ride it. Unless you've done the Screaming Eagle exhaust mods and then you'll just want to be wringing it out in all the gears, not that locals will exactly be loving you for that.
We weren't expecting great things from the Breakout, after a British review complained about the clunky gearbox, its lack of cornering prowess (maximum lean angle is 26.8 degrees either side), and a horrid riding position. But we'd argue the point on all three. If you're shy of inseam measurement, the forward controls might make the riding position a bit of a stretch, but at 183cm it fitted me well enough, or vice versa. I often find cruisers uncomfortable, either because of the contorted body position you're expected to adopt or the lack of rear shock travel, or both. But the Breakout isn't like that, especially after backing off rear shock preload – it's adjusted by merely unwinding the knob (or firming it up if you're taking a friend for a spin). And the extended wheelbase helps with ride quality. Over rougher terrain it's not quite so great, but nor is this a machine you'd only take on expressways or boulevards.
As to the clunky gearbox, I think maybe that's user error. This shifts much better, smoother, if you apply upward lever pressure before selecting a higher gear. And upshifting early tends to make the changes smoother. Downshifting, you need to blip the throttle for best results. But clunky? Only when selecting first and the engine isn't properly warm.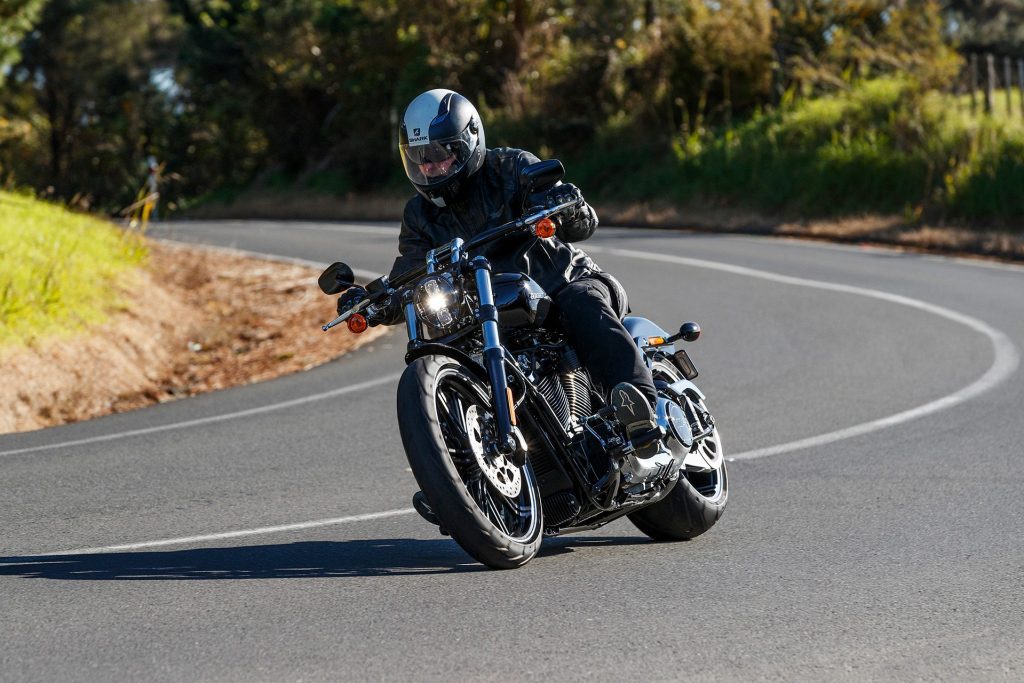 What about those 26.8 degrees of lean? We did the cornering for the camera on a reasonably tight turn and sure the pegs made contact now and again, but a ride over our normal test route was no hardship. So corners that turn back on themselves aren't ideal for the Breakout – it's no mountain line tamer. And that fatter than fat rear tyre doesn't make direction changes any easier, mainly at town speeds. Like anything in the sector, you soon become accustomed to the form over function foibles.
And finally, we should just mention that the relatively tiny fuel tank, 13.2L, you'd expect to drain in double quick time, but once refilled the range to empty meter suggests almost 300km, and we easily managed 200km with roughly a quarter of a tank left. While there's no fuel use indicator, this seems easy on gas if you're predominantly using the relaxing end of the rev range.
At just a hair under $36k for the black example ($37,920 for custom two-tone) you're paying a fair wedge for the blingy drag bike vibe but it has genuine presence, performs well, rides easily once you're familiar with its idiosyncrasies, and no doubt with some muffler mods will sound as mean as it looks. Break out the drinks then.
Model
Harley Davidson Breakout 114
Price
$35,990
Engine
1868cc, air-cooled,
fuel injected, V2
Power
69kW/155Nm
Transmission
6-speed, belt final drive
0-100km/h
3.83sec
80-120km/h
2.53sec
Weight
306kg