The Toyota Altezza is the Japanese variant of the European Lexus IS200. It has been available in Japan since 1998, at which time it received many accolades, and won Japan's coveted Car of the Year award with its VVTi engines and Beams Tuning. The Beams (Breakthrough Engine with Advanced Mechanism System!) package also includes electronic throttle control. In Japan, the car is produced in two forms: the straight-six twin-cam 24-valve VVT AS200, and the more powerful RS200, with a four-cylinder dohc 16-valve VVTi engine.
The RS200 is popular here in NZ as a Japanese import due to its good looks and high-revving 2.0 litre engine. It handles well out of the box (or ship's hold, in the case of the RS200), and arrives packed with many standard and extra features.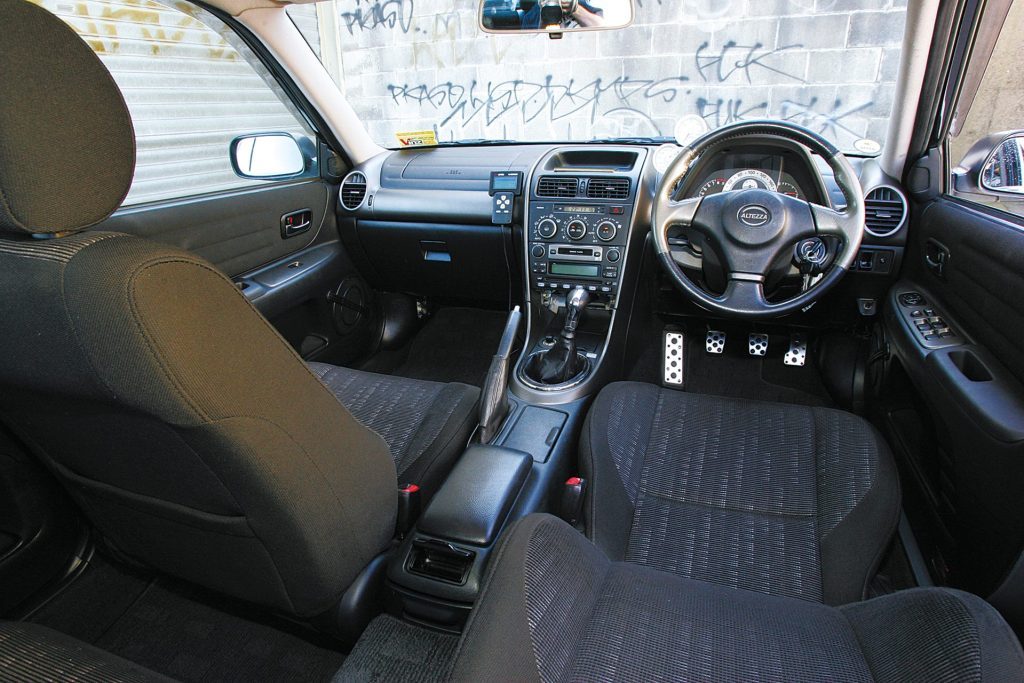 We recently got behind the wheel of this freshly imported 1999 Altezza RS200 six-speed manual Z-Edition. What struck me first about the stark-white RS200 was the carbon-fibre bonnet and the huge 18-inch Prodrive seven-spoke alloy wheels. It wasn't until I had a closer look at the car that I saw the impressive intercooler nestled behind the front splitter, indicating there was a turbocharger lurking somewhere underneath all of that expansive (and expensive) carbon-fibre weave.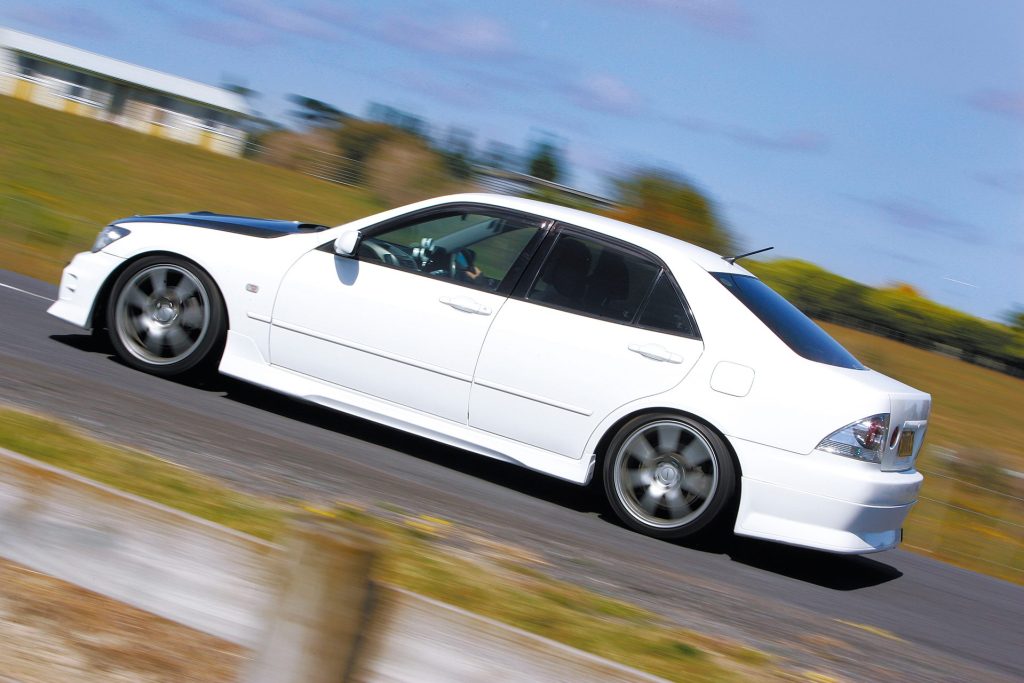 This is not the first turbocharged Altezza to our shores, as Toyota New Zealand has fitted a Blitz turbo and intercooler to one recently, along with a host of go-fast TRD aftermarket parts. There are also many aftermarket companies in Japan offering turbocharger kits or supercharger kits for the high revving 3S-GE 2.0 litre VVT-I powerplant. In standard form, a 3S-GE will produce 156kW (210bhp) at 7600rpm and 216Nm of torque at 6400rpm in the 2wd six-speed manual version. It's an engine that absolutely loves to rev and really comes alive at about 3000rpm. If anyone has a supercharged RS200, please give us a call, because they sound like a lot of fun as well!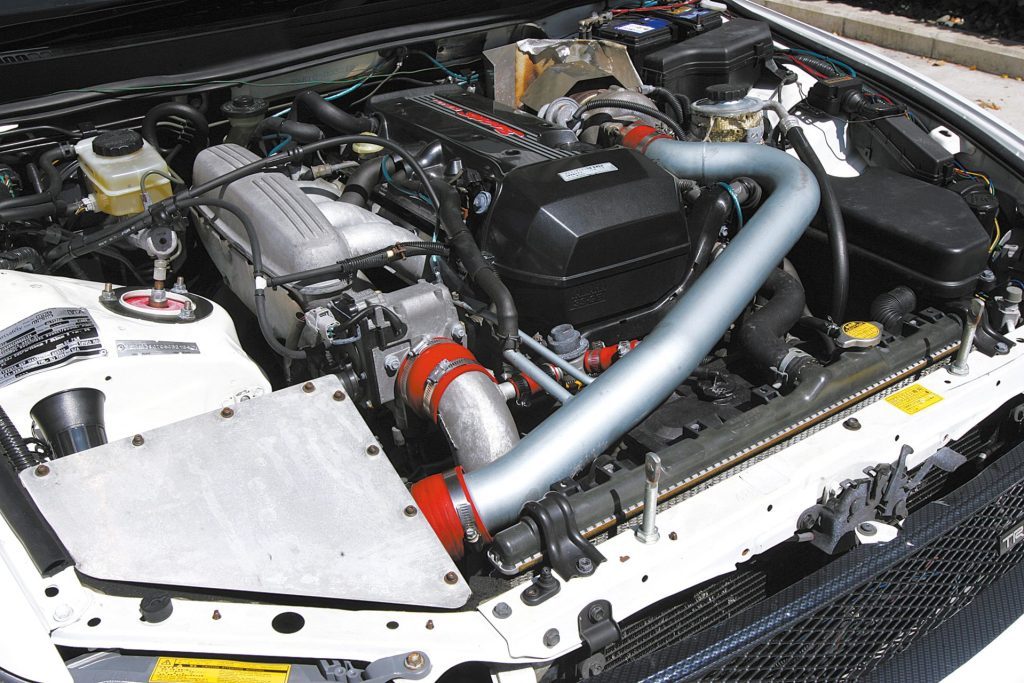 The car's previous owner in Japan obviously wasn't too fussy about whose aftermarket parts he fitted to his RS200, as it ran a selection of APEXi, HKS, and Greddy products. Inside the stunning black-and-silver cloth interior (Z-Edition spec) are two Greddy gauges, one for turbo boost pressure, and one for airflow. HKS provided a turbo timer mounted on top of the steering column, while an APEXi Full Computer Control Unit, which is neatly attached to the glove box with velcro, provides monitoring and the controls for the turbo and on-board management system. A four-speaker CD stereo and mini-CD player, and a brand new Mongoose alarm complete the inside of the car. Steering duties are handled via the standard leather three-spoke Altezza steering wheel.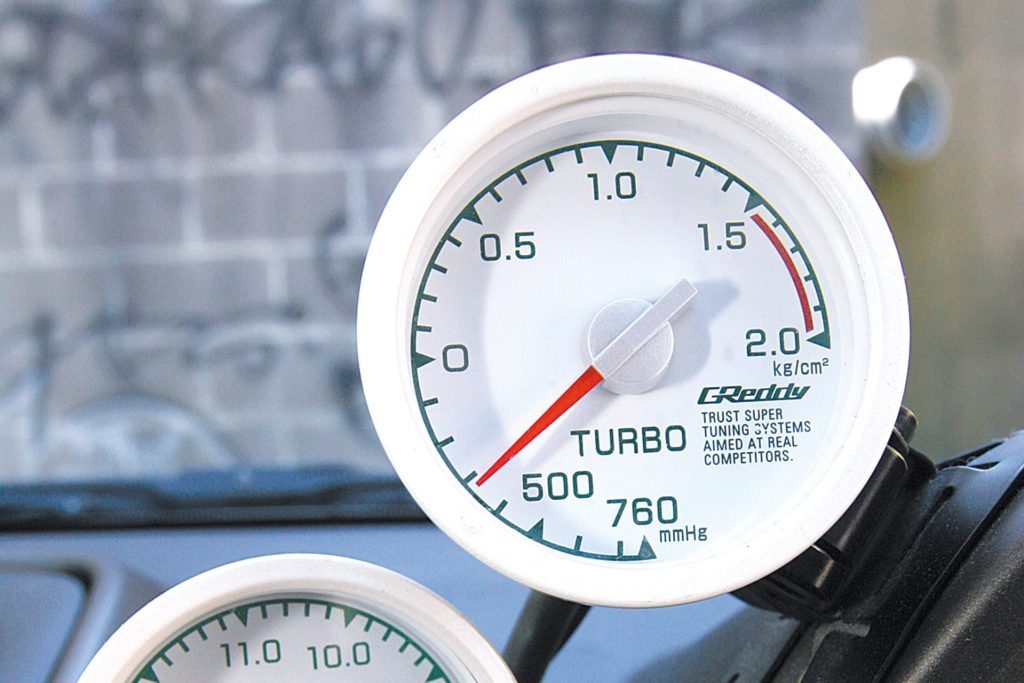 Underneath the lightweight carbon-fibre bonnet sits a range of APEXi aftermarket products. A turbocharger, manifold, intercooler, and air filter are all from the APEXi stable, and it's a tight squeeze around the 3S-GE Toyota mill. The exhaust gases exit through a Jasma three-inch stainless exhaust system, and it produces a deep growl when you stomp on the loud pedal.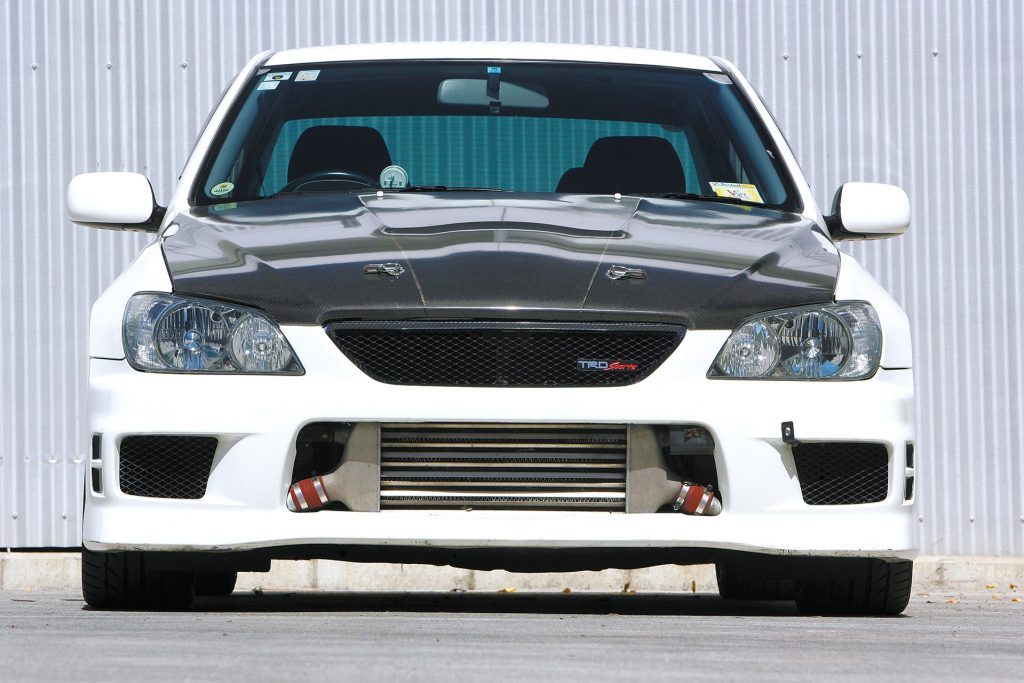 Adjustable APEXi N1 dampers and coilovers create an aggressive lowered stance for the RS200, but surprisingly the ride is not too harsh, considering what a groundhog this car is, with special certification from the LTNZ for the adjustable shocks and the carbon-fibre bonnet. The shocks I can understand, but the bonnet? Maybe it has something to do with the racing-style bonnet pins and catches. The RS200 drives well, steers straight, and is comfortable for passengers, and while the bumps can still be felt on our sometimes-awful road surfaces, we've driven way worse.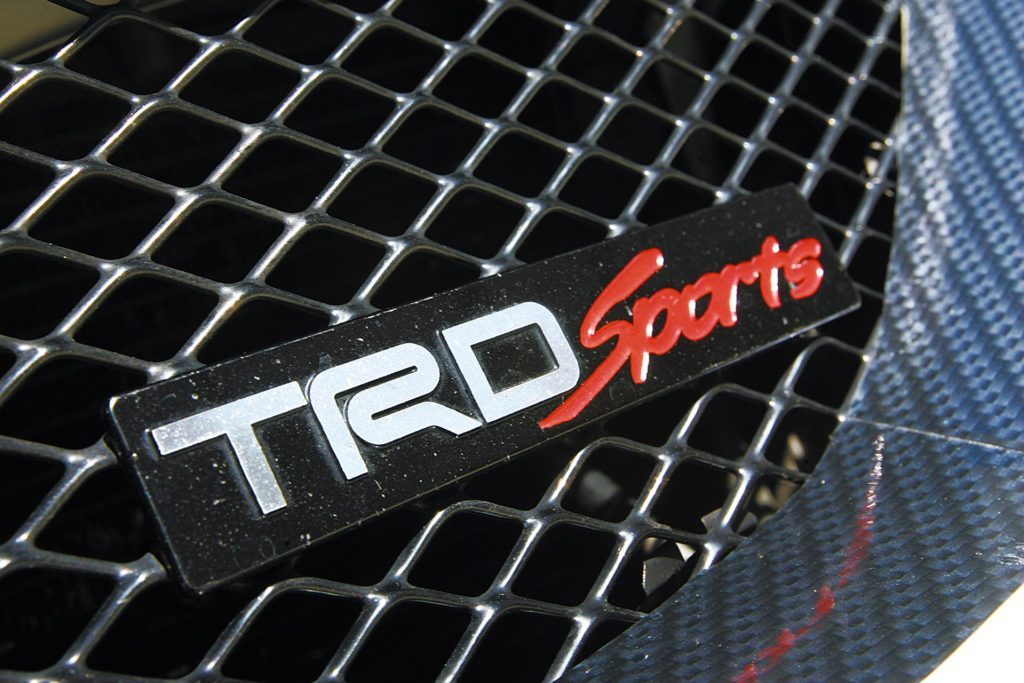 The APEXi dampers do the job well, but could do with a little more height in the front to prevent the front wheels from rubbing on the inside of the guards while cornering or on bumpy surfaces. The dark-grey Prodrive alloys look snappy too, and ride well on a set of 225/40ZR/18 Bridgestone Potenza rubber. While the rears had seen better days, I still couldn't believe how well the Altezza stopped. The vented and drilled front brake rotors, with standard discs in the rear, hauled the RS200 up in a big hurry. Great for avoiding those who are less than talented on our roads and motorways.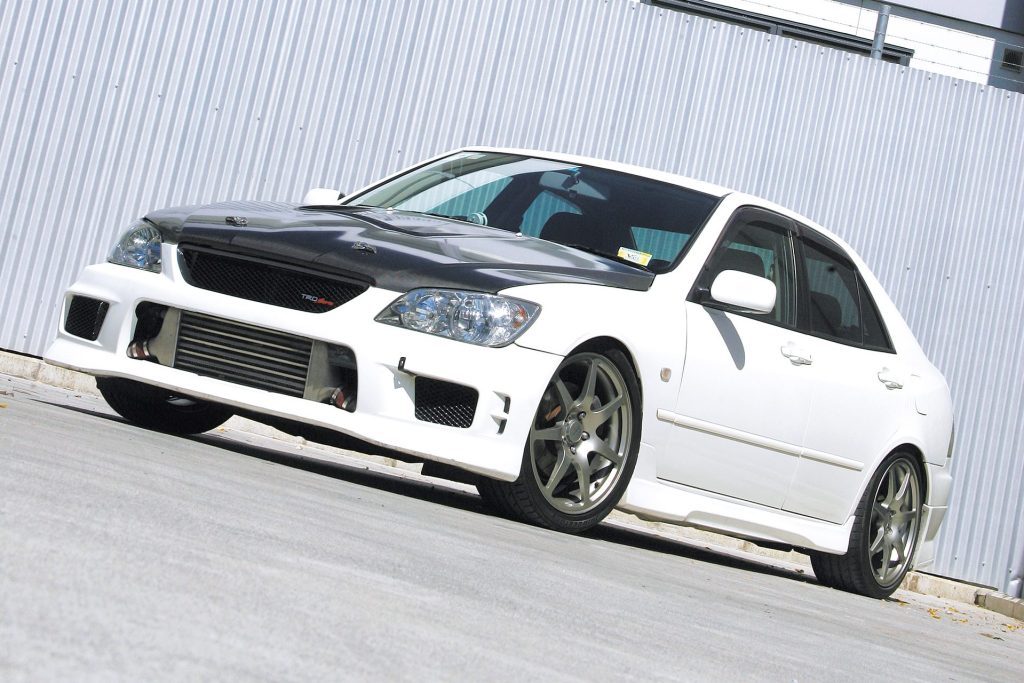 But the aspect that really gets you about this Tezza is the way it looks. The body-kit consists of side skirts, a front air dam showing off the huge intercooler and a pair of brake ducts, and a rear bumper skirt. The tinted windows set off the body-kit nicely, and it all looks the part, especially considering it has no rear wing. It doesn't need one – minimal suits the car well. The Altezza has bold lines and good looks anyway, but this ride has that extra touch of class.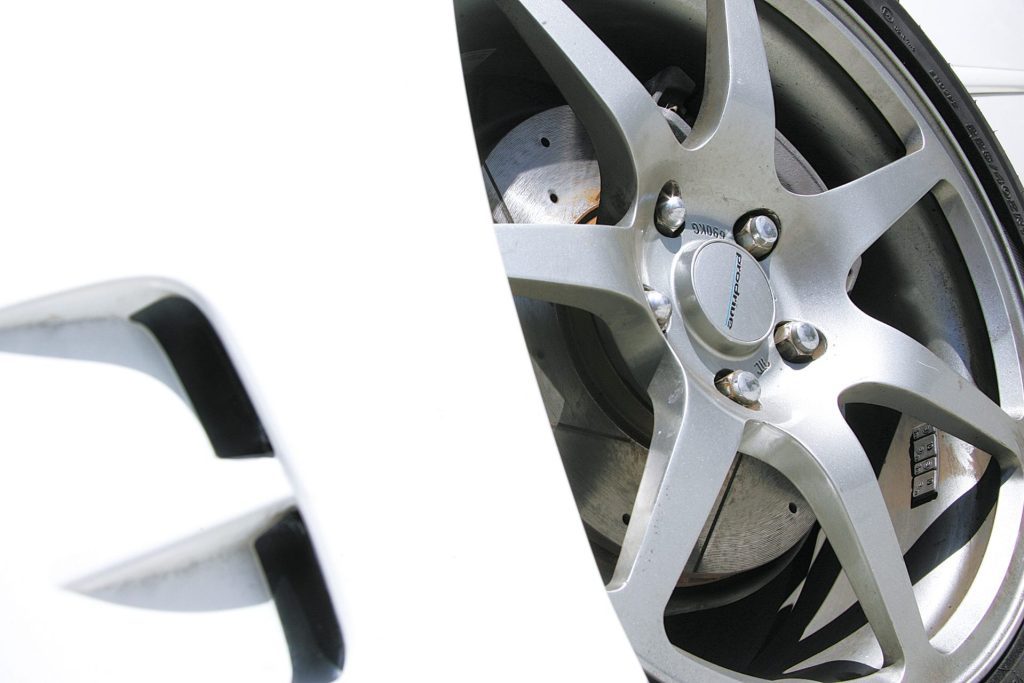 The RS200 Turbo is a swell drive. It's very tractable around town, and sounds great when you open it up out of the 'burbs. The gear change from the Toyota six-speed manual is smooth and precise, thanks to a decent clutch, and the gear ratios are ideal for both town and highway work. However, it has been slightly detuned from when it first arrived in the country with a new management computer. As the boys at Fast 4s said, it was a bit of a light switch to drive initially! The turbo seemed to be operating at just half-a-pound boost, and no one could figure out how to wind it up. It's hard to get an exact output figure for both horsepower and torque, mainly because this car was first modified in Japan. So there's no information as to whether or not things like pistons have been upgraded at the time the turbo was added. However, as the APEXi turbo seems to be on the small side, I would suggest that all is standard on the piston, compression, and cylinder-head front.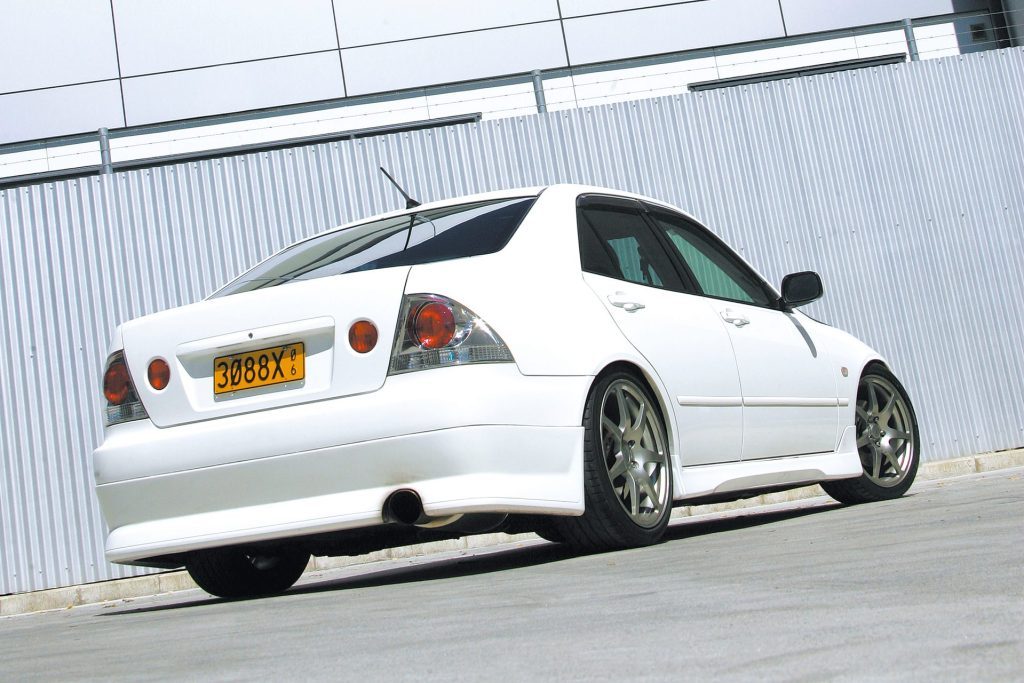 Conservatively, based on others' experience of turbocharging the RS200 around the world, a figure of 200+kW (268bhp) should be close to the mark for this Altezza. I don't believe our VBOX times were entirely representative, but either way, it's still a ton of fun to drive. Yes, it has done some work, but it's still a properly cool car.
Model
1999 Toyota Altezza
RS200 Turbo
Price
$22,995 (used)
Engine
1998cc, IL4, T, EFI
Power/Torque
200kW (approx)
Drivetrain
6-speed manual, RWD
0-100km/h
7,87sec
80-120km/h
5.08sec
Weight
1385kg (claimed)
This article was originally published in the April 2006 issue of NZ Autocar Magazine.
Got a past review you'd like to see posted online?
Our digital archives go back to the year 2000 and we have tested the majority of the new cars released to the New Zealand market during that time.
Let us know which of our historic reviews you'd like to see by submitting the form below.