STi has done the cooking, and we find the limited edition S401 Legacy lives up to its top billing on the Subaru menu. We sample one of just two that have been exported from Japan.
This is an STi in name only: it's actually more like a limited edition RSK B4. Certainly the STi spotlight wasn't focused that long. Engine tweaks raise the stakes by just nine kilowatts over stock Legacy RSK. And torque of 343 Nm is no different, though it hits 600 rpm earlier. So there's little more grunt – which is unlike an STi.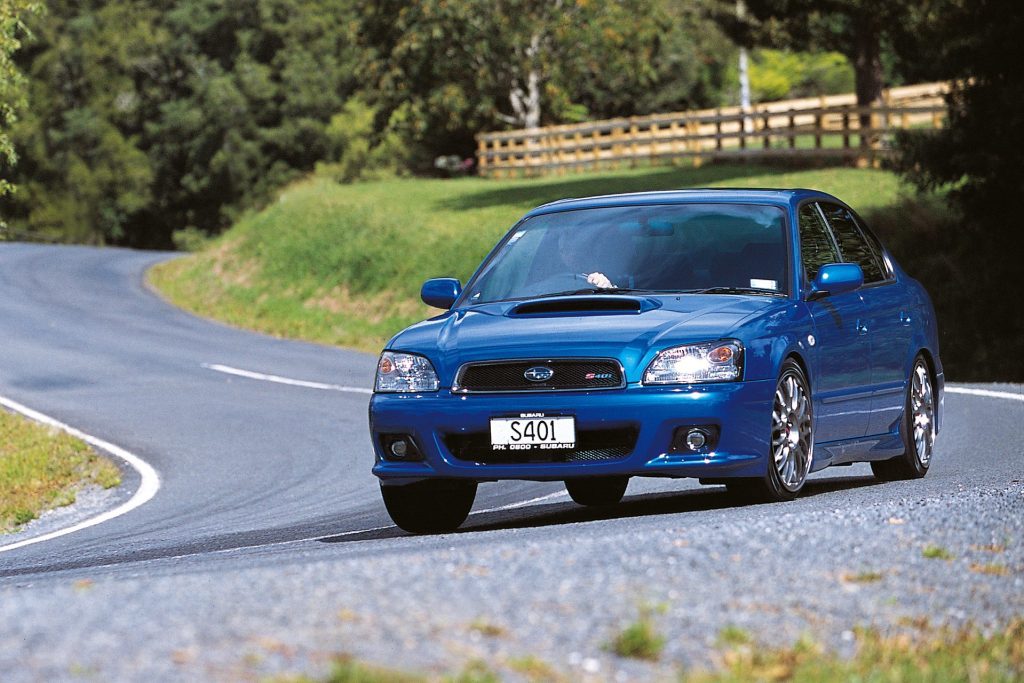 However, there are racier bits like a front suspension tower brace, a quiet body kit, sharp wheels, hot rubber (P Zero Neros), Brembo brakes and that consummate six-speed manual tranny from WRX STi. Despite the smart brakes, box and badges, a limited edition RSK does not an STi make. If Subaru were serious about producing a modern STi, Legacy STi would need to have found at least another 50 kW over the standard version.
Despite this, the S401 is a real hoot. It's a rare commodity too, in that there are only 399 others on the planet; hence, its name (the extra one was the original concept car). Only two have sold outside Japan and both are already here.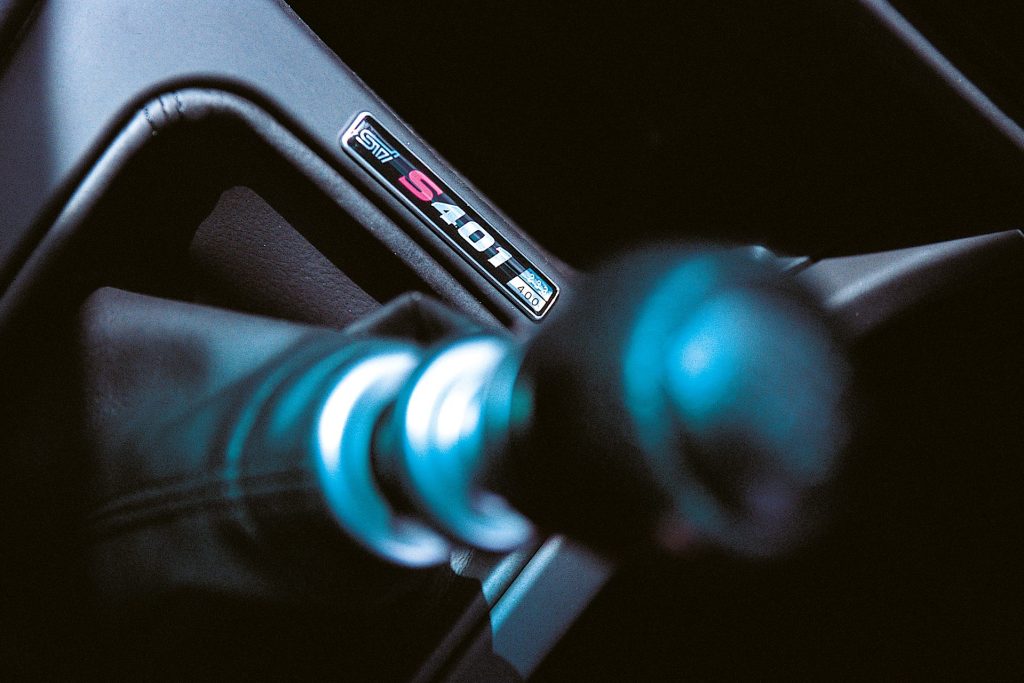 The Legacy STi may not be quite the road rager that is the Impreza STi, but after time at the wheel of serial number 233, it's evident this is the quieter and more pliant STi over roads subject to infrequent care and attention. You appreciate the easier suspension of the bigger Scoob, despite its Bilstein shocks, after spending a few days hammering around in the Impreza STi. It's less rowdy too, as reflected by a sound pressure level reading 9 dB down on that of WRX STi during maximum boost.
What also impressed was the way in which Subaru engineers have all but eliminated the Jimmy of Southpark stutter that has for so long been a feature of the midrange performance of this twin-turbo engine. Only during relatively soft acceleration is the hand-over hesitation still detectable as turbo one passes the baton to larger turbo two. No more faltering. Once on the hot puffer, there's plenty of gain. The extra grunt over the RSK is apparent in 80-120 overtaking, which subtracts 0.2 seconds off the figure of the stock twin-turbo (3.72). Its 0-100 km/h time of 6.5 seconds is unchanged. Brembo performance brakes on the Legacy STi proved not quite the equal of those in the WRX STi. We doubt that a best ABS emergency stop from 100 km/h of 37.65 metres, almost a metre adrift of the last RSK we tested, can be solely attributed to an extra 70 kg of kerb weight.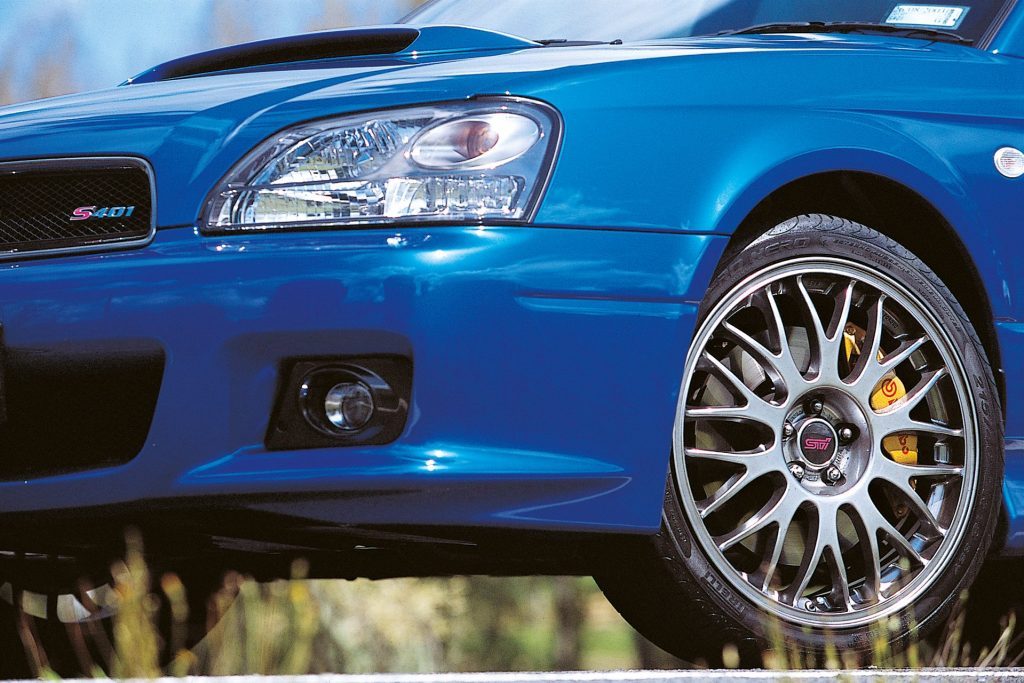 Given there are two turbos here, this STi is easier to drive. You tend to use the first turbo for round-town duties and turbo two for rural running. The primary turbo boost is evident from about 2000 rpm, offering steady if not gut-wrenching urgency until 4500 rpm, when turbo two takes flight. If you're in performance mode, working the engine between 4500 and 6500 is the go, and then it's plenty quick. No problem keeping it up at these revs, as the six-speed gearbox has 1000-rpm gaps between ratios. When overtaking, slipping back to fourth gear is mandatory for decent slam at 100 km/h.
The big STi is totally at home threading through weaving roads and blasting down short straights, but don't expect to take on the long arm of the law across the plains. Like its sib, the Legacy gets a bad dose of asphyxia just when things get interesting.
On the same winding trail down which we shooed the WRX, the Legacy was not quite so surefooted or nippy, but was also less demanding. Road shock is better filtered but not to the point where it disappears – what's left contributes to driver feel. Like the breakfast cereal, the ride's just right. Wheel effort is reduced, a combination of a bigger-diameter Momo offering and less direct gearing (2.75 turns lock to lock). Levels of feedback are a touch down but steering is similar qualitatively, though there's none of the rack rattle that's sometimes apparent in the WRX STi.
Cornering speeds in the Legacy STi, with its decent rubber, suspension and all-wheel drive, are high, though you notice more body roll, front push and unloading at the rear than in the WRX STi. When the entry speed is correct and you hit the apex on the power with a touch of oversteer, it feels very right on the way out.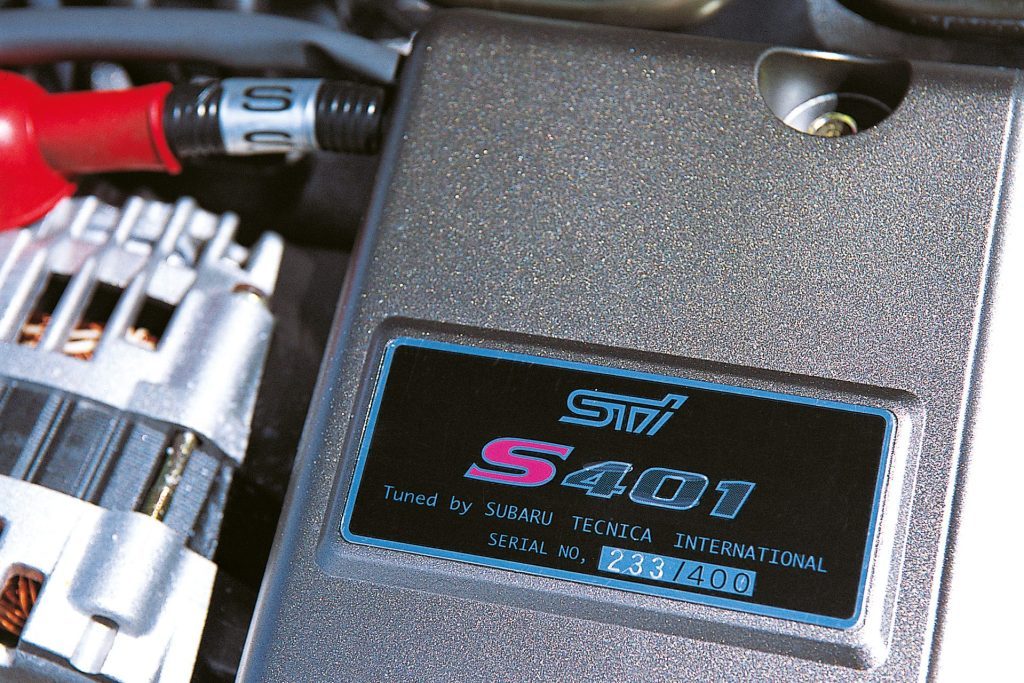 Features that sweeten the Legacy STi package include the powered leather and suede buckets, aluminium pedals, four airbags, climate air con and the McIntosh sub above the back seat. The Clarion head-unit pales against the Alpine in the WRX STi. We like the rear windscreen wiper – unusual on a sedan.
What must also attract people to both STis is that they can each handle family duties with aplomb. With four doors and seating for five apiece, both come with three-point belts and decent boot space as well.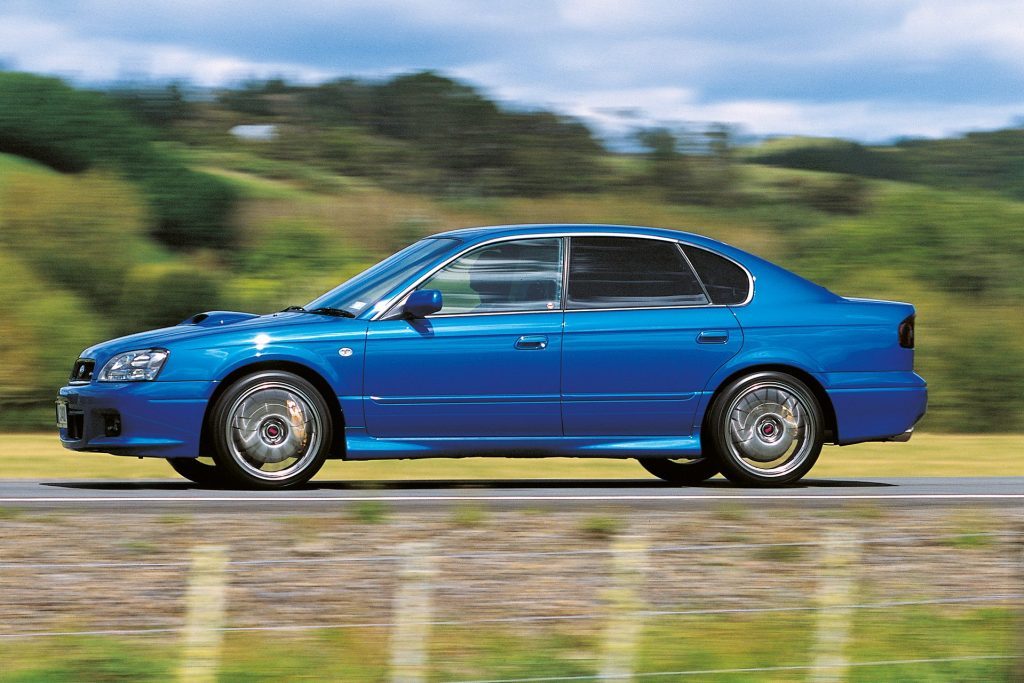 While the bad news is you can't purchase this car, it should give a decent punt on where the next Legacy RSK is heading.
| | |
| --- | --- |
| Model | 2003 Subaru Legacy S401 STi |
| Price | $n.a |
| Engine | 1984cc, B4, TT, EFI |
| Power/Torque | 206kW/343Nm |
| Drivetrain | 6-speed manual, AWD |
| 0-100km/h | 6.50sec |
| 80-120km/h | 3.72sec |
| 100-0km/h | 37.65m |
| Weight | 1520kg (claimed) |
This article was originally published in the April 2003 edition of NZ Autocar Magazine.
You may also like…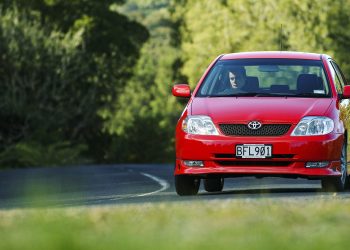 With the recent reveal of the Toyota GR Corolla we look back to the last hot Corolla that we drove,...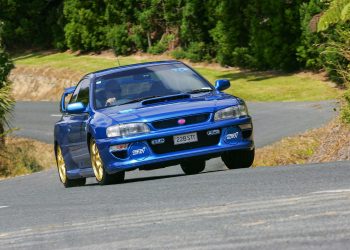 In anticipation of the new WRX, we delve into the archives to remember the time we drove the ultimate Subaru,...