Hot hatches are basically about getting two things right: powertrain and chassis. Since hot hatches are based on compact family cars, manufacturers tend to throw funds at one or the other area to maintain a price edge.
The example generating hype in Europe is the Civic Type R, recently picked runner-up to MX-5 by UK Autocar as the affordable choice for those wanting a driver's car. Why the hype? Because it's quick. Despite being normally aspirated, Type R beats WRX from 80-120 km/h.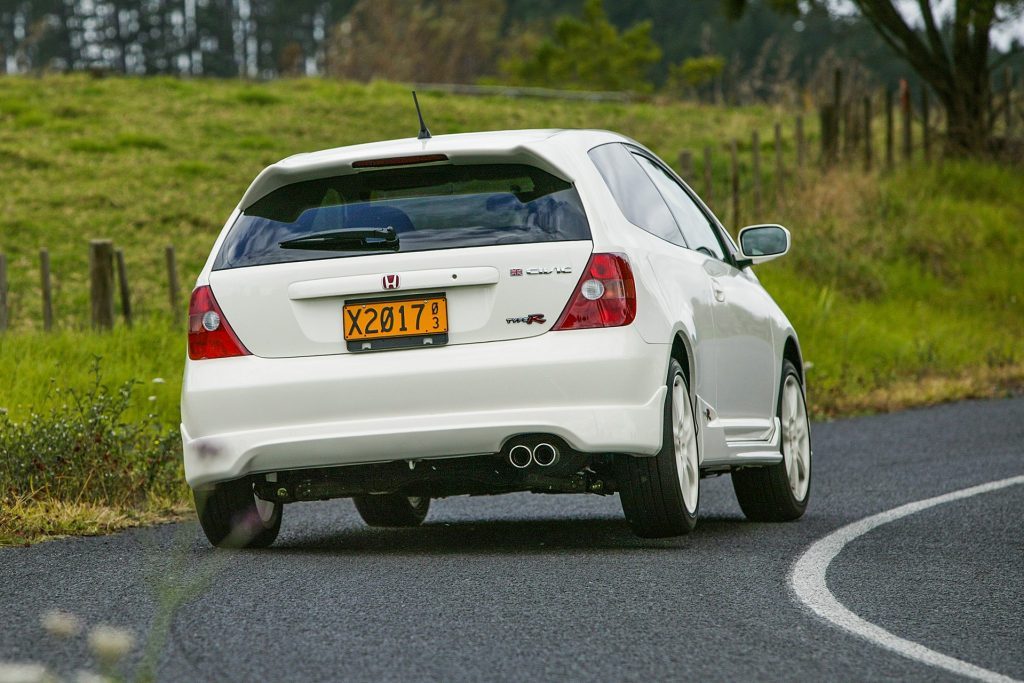 The three-door body looks the gear with its racy wheel set, mesh grille and body kit. It's stiffened between suspension-mount points both ends, and in all suspension components. The cabin is devilishy red, with hot carpets and blood-coloured Recaro seats. A unique feature is the positioning of the stubby gear lever, which sprouts from the centre console. Looks odd, works an absolute treat, allowing ultra-quick shifting of the six forward ratios. At the wheel, the driving position is sweet, visibility outstanding, and pedals are perfectly placed for heel and toeing.
Honda is renowned for its engineering prowess, particularly as an engine builder. Even its simple engines, like in Jazz, are great. But its twin-cam i-VTEC engines are its crowning glory. The Type R unit has peak power and torque figures of 200, in hp and Nm. That's almost 150 kW at 7400 rpm, and it spins like a rotary beyond this. The engine is no shrinking violet when it comes to warbling. At revs above 6500, the exhaust note changes like Dr Banner into the hulking green monster, issuing forth with a menacing growl.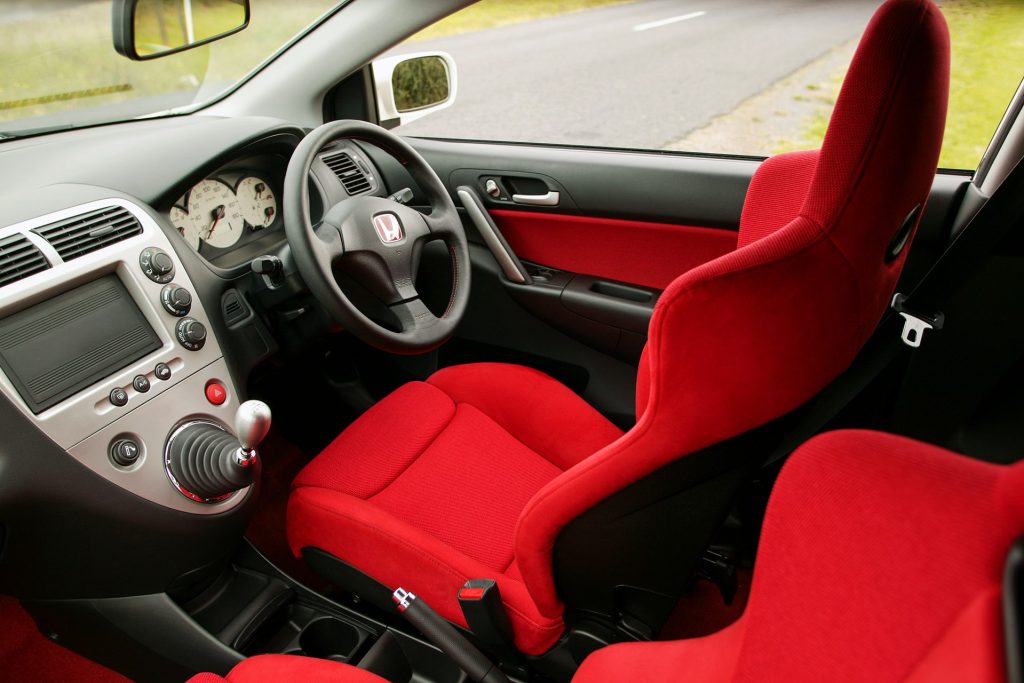 The top end may be sensational but the big surprise is how it can chug away meaningfully from under 2000 rpm in traffic. You can trickle round town at 50 km/h in top gear with just 1500 rpm showing. Power increases progressively, with a lift at about 3500 and 4500 rpm before the potent upper rev band. This engine has more zones than Carlos Spencer. And it's ultra-efficient too. UK Autocar reckoned it averaged 10 litres/100 km. Stunning stuff, given its performance.
We thought the Renault Clio Sport RG was rapid but the Type R, with its huge rev spread, is even hotter, flashing through to 100 from zip in 6.88 seconds. Its 80-120 time is a snappy 3.91 s, which is SS and XR6T territory.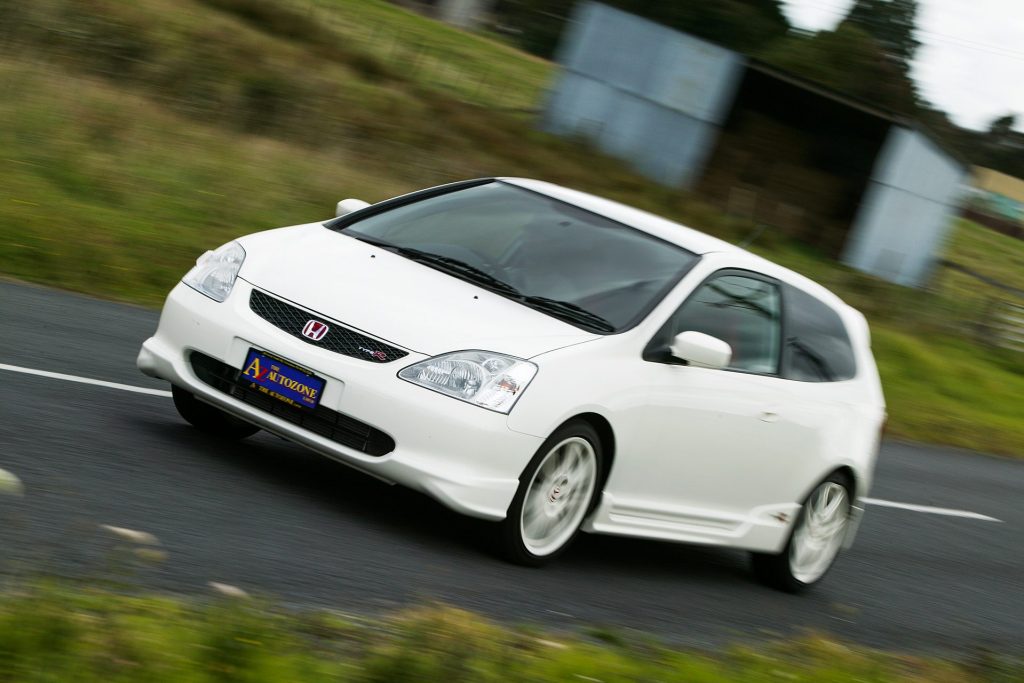 Rapidity is aided by its stir-crazy, close-ratio, six-speed gearbox. You can absolutely rifle this box through the gears, and the faster you go, the smoother it seems! It's such a gas hooting through the cogs, even at lower engine speeds. Brake performance is also huge, but odd ABS calibration resulted in a disappointing panic stop of 37.8 metres.
Dynamically, the Civic Type R is entertaining, though not quite the equal of the Focus ST 170 or WRX, both of which steer better and pamper more at town speeds. The Type R feels slightly over-damped, returning a fussy slow-speed ride. But at back-road speeds the ride improves significantly and the suspension better absorbs the thumps and bumps of typical B-road terrain.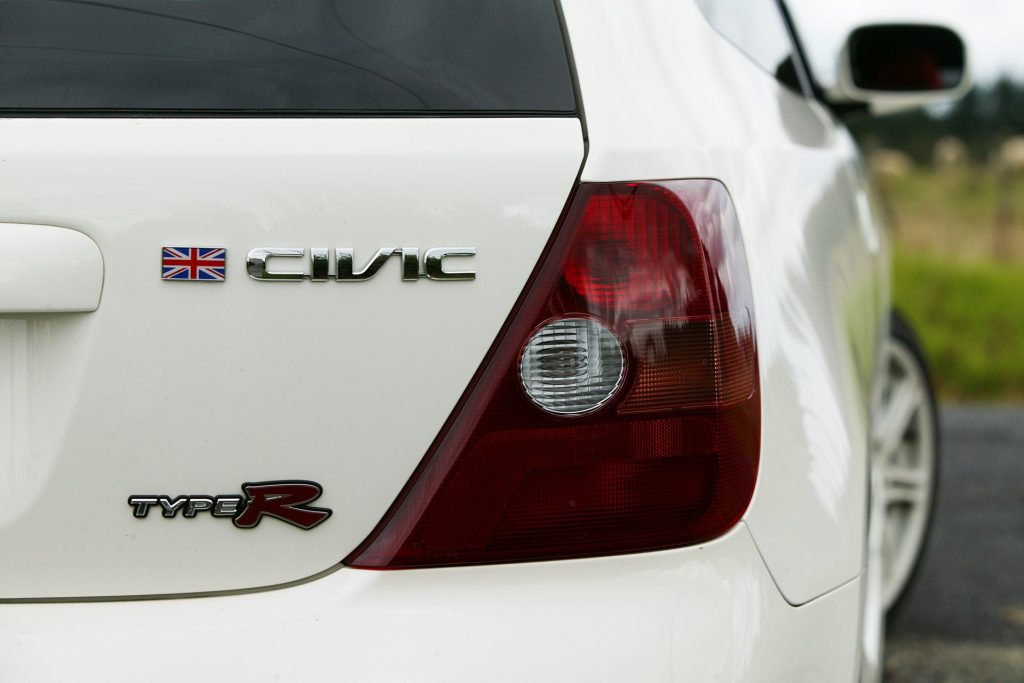 The chassis feels rigid, and pushes the front end in a progressive manner as tyres cry quits. You can easily adjust attitude in corners by feathering the throttle.
Electric power steering is its main disappointing feature. Off centre, there isn't much sensitivity, and there's also some torque steer, but we did not find either detracted greatly. Moreover, there's almost no kickback over rougher tracks, and weighting is appropriate, with strong self-centring. Steering is nicely direct at 2.7 turns lock to lock, but as traction falters, so too does steering incisiveness.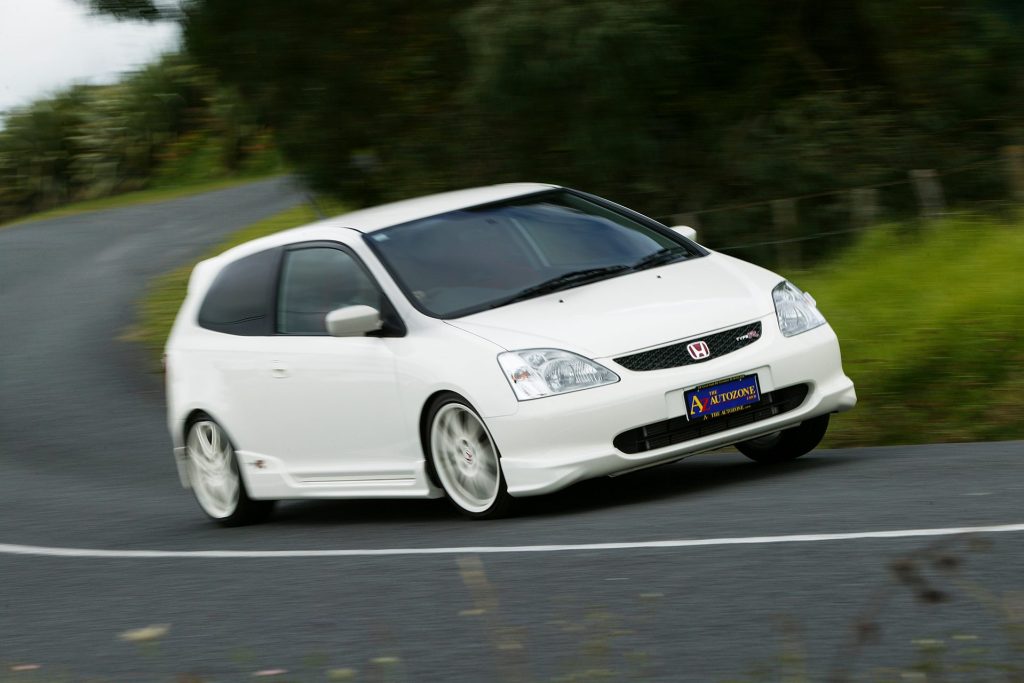 Type R is more practical than some of its competition. The luggage area is generous and easily accessed, and there's decent ingress for the front-seat passengers. Those in the rear are treated to excellent head- and foot-room. A pity the sports seats don't slide automatically to facilitate access.
Niggles have we few. There's no remote control for the central locking and a slightly busy demeanor at motorway speeds.
This article was originally published in the June 2003 issue of NZ Autocar Magazine.
| | |
| --- | --- |
| Model | 2003 Honda Civic Type R |
| Price | $49,990 (2003) |
| Engine | 1984cc, IL4, EFI |
| Power/Torque | 147kW/197Nm |
| Drivetrain | 6-speed manual, FWD |
| 0-100km/h | 6.88sec |
| 80-120km/h | 3.91sec |
| 100-0km/h | 37.8m |
| Weight | 1210kg |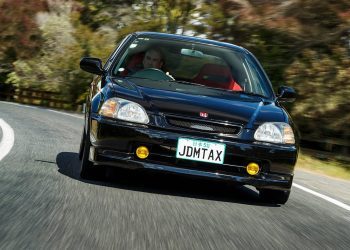 Life begins at 6000rpm for the Civic Type R. That's when the engine's high-lift cam profile takes over and all...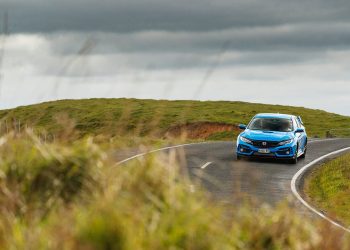 Why change a winning formula? That's probably why Honda left the piping hot drivetrain alone, and caressed the underpinnings of...
Got a past review you'd like to see posted online?
Our digital archives go back to the year 2000 and we have tested the majority of the new cars released to the New Zealand market during that time.
Let us know which of our historic reviews you'd like to see by submitting the form below.