Why change a winning formula? That's probably why Honda left the piping hot drivetrain alone, and caressed the underpinnings of the Civic Type R for 2021.
Those in the know might recognise that Honda's Civic Type R has been facelifted but there's no major surgery involved. The fans do because I met one on a Z forecourt. This guy picked the detail changes to the grille (for better cooling) and the new body coloured accent blades on the front bumper. He was also aware of the new Boost Blue Pearl hue. Dang, good going for a guy driving some POS SUV.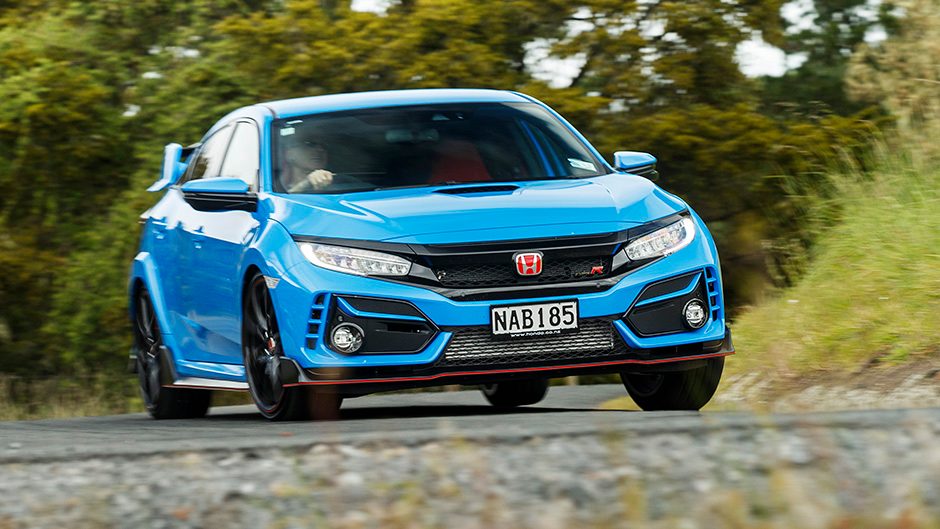 And that's the thing about the Type R; people either get it or they don't. The two other members of my whanau were in the latter group, both thinking it overwrought. Clearly they don't get the manga-ness of this car.
We like lots about it, especially the trio of pipes at the rear; they look a bit exotic in that Euro supercar way. New is Active Sound Control, with some engine noise synthesised via the speakers. We were too busy to notice, if I'm honest.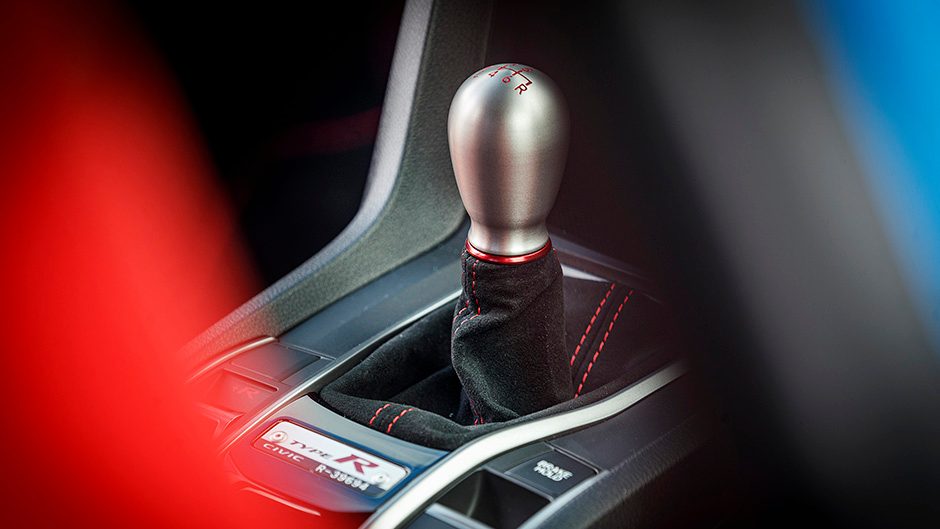 Ease yourself down over the seat bolsters and into this low flyer, and it's about as go-fast in the cabin as well. Blood red safety belts, similarly coloured squabs in Alcantara-like material, a new wheel clad in the same and simpler controls, with some added buttons for ease of use. Fresh for 2021 is a performance app, mainly for track days, that Tom's unravelled (see sidebar below).
This remains a serious hot hatch; why its default go-mode is Sport. In town it rides better in Comfort but I kept forgetting, and generally remembered about the time I was arriving at work. It's a bit less busy in this mode, and easier going, apparently, than its predecessor. Despite that, you can drive down swirling roads using Comfort mode as well; the handling certainly doesn't go to pieces. And that's what won this car the accolades to begin with; hot hatch performance, family car civility (providing you have no more than two kids – this is a five-door but it's a four-seater).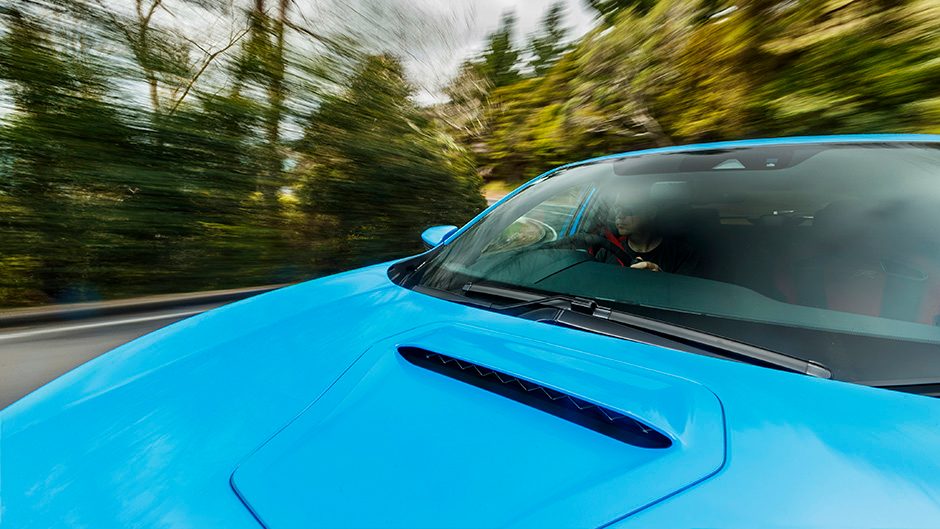 In the 'burbs there's not quite as much poke in Comfort mode but since when was 228kW and 400Nm insufficient in a car weighing under 1400kg? For 2021 that doesn't change but the aeros have, with that bigger grille for extra cooling. There's more drag too so Honda compensated by manipulating the front splitter and readjusting downforce.
Unlike subtle exterior changes, it's the under-the-skin stuff that make this a better machine than the version that won the NZ Autocar Car of the Year in 2017. And those upgrades affect dynamics, ride comfort and brake performance primarily. Faster software cycling is said to improve damper action for improved ride and handling. Bushes have also been tweaked.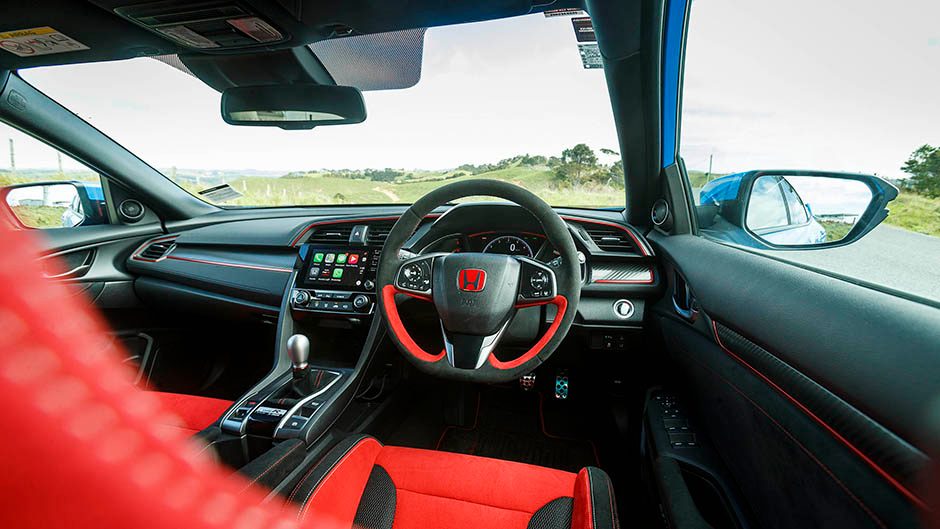 The Brembos remain, as before, but the discs now have a more rigid carrier and run more fade resistant, higher friction pads. The bite seems better and they're in action quicker, virtually from the top of the pedal travel. They slow the car beautifully, as Brembos tend to. In optimum conditions, we achieved a best emergency stop of 32.90m, an improvement on the 34.20m of the original.
For the photo shoot we took roads less travelled, byways that snake across topsy turvy countryside. The type of roads where 100km/h is doing alright. The R revels in this stuff, with torque vectoring keeping the line even and its LSD dragging you out of the corners. As before, this is low flying, well grounded with Conti performance rubber and in the Sport setting the adaptive damping keeps the car on an even keel, the ESP light quiescent, the ride never too busy. It's inspiring fun to hustle this, as before.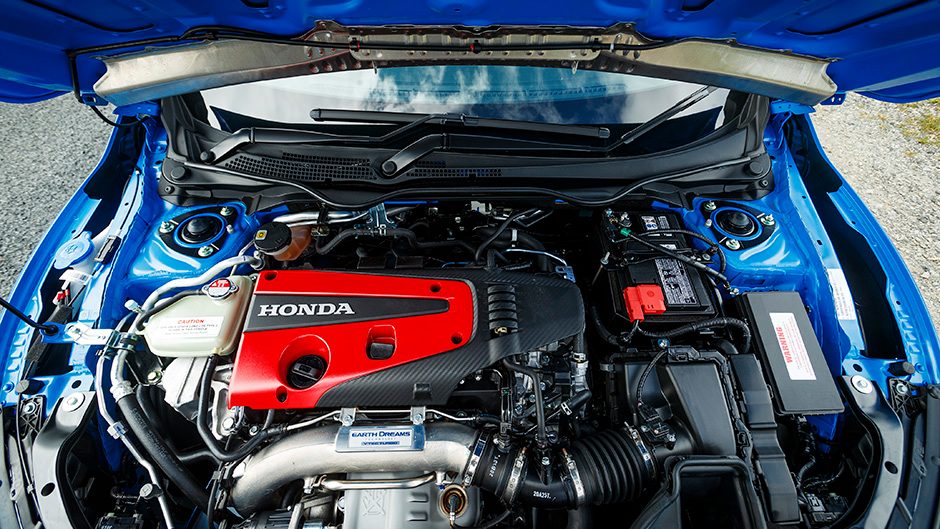 Rounding out an exciting drive is sharp steering (2.1 turns lock to lock) and an uprated six-speed manual transmission. The throws are a bit shorter and there's a new balanced gear knob which is shaped like that of the 6th generation EK9 type R; I recall it because so much of that car was memorable! The new knob is fashioned from billet so feels freezy cold in winter and gets piping hot in the summer sun, but otherwise it's so right in the palm of your hand. Shifts are short and slick Tex; lovers of manuals will adore this transmission. Light, quick, no baulking. And for those not up to dancing on those delicious sports pedals, the type R does the blipping on downshifts for you. Or not, if you don't want.
Gearing is pretty short overall – 100 in sixth uses up 2350rpm – but mean economy, at least by the trip computer, is exemplary. Our worst was 9.8 and for a time it fell as far as 9.3L/100km. Not bad, given how much performance this musters (it's good for 270km/h evidently).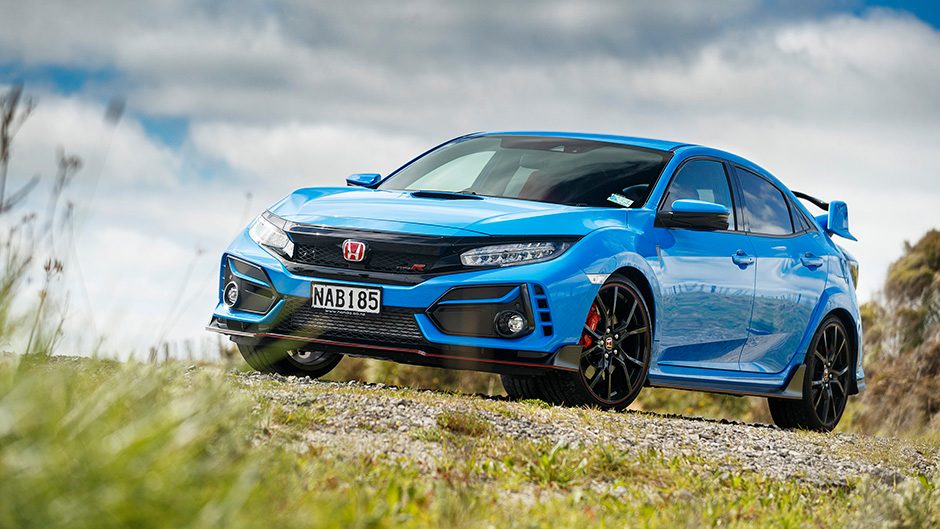 What a pearler of an engine this has; Honda has a history of such, and was even an F1 engine builder until a few weeks ago. This comes alive in town from 1500rpm and on the open road is well into its quick step by 2500rpm. Full revs aren't often needed; you'll be surfing the 3500-4500rpm torque zone most of the time where it pulls like the dickens.
If there's one real drawback with the Civic Type R on Kiwi roads it's the clamour issuing forth from the Conti Sports rubber. In-cabin SPLs are sometimes in the 78-80dB area, more than in its main rival, Focus ST. Otherwise, these two are broadly similar on road – both epic – as they are for spec. Type R price has gone up by $3000 to $62,990, a bit more than the Ford's $59,490 which comes with an eight-speed auto. For the Honda, there's still no alternative to the peachy six-speed manual transmission this car has only ever had.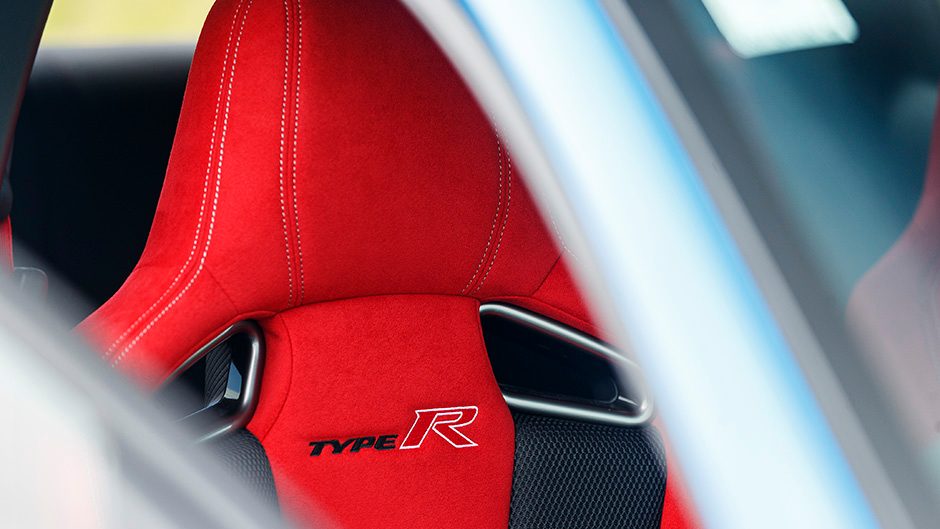 Drive Appy
Created specifically for the MY21 Civic Type R, the LogR data logging app taps into the Civic's mainframe, pulling information from the car's sensors which it then displays as fancy graphs and graphics. Some of this data is displayed on the central screen but the more detailed stats can only be viewed on your phone later.
It takes time to get the app working, a lack of instructions not helping. Reviews showed plenty having issues. It turns out that the full suite of information is only recorded when the app is set to log a predetermined (closed!) course or track.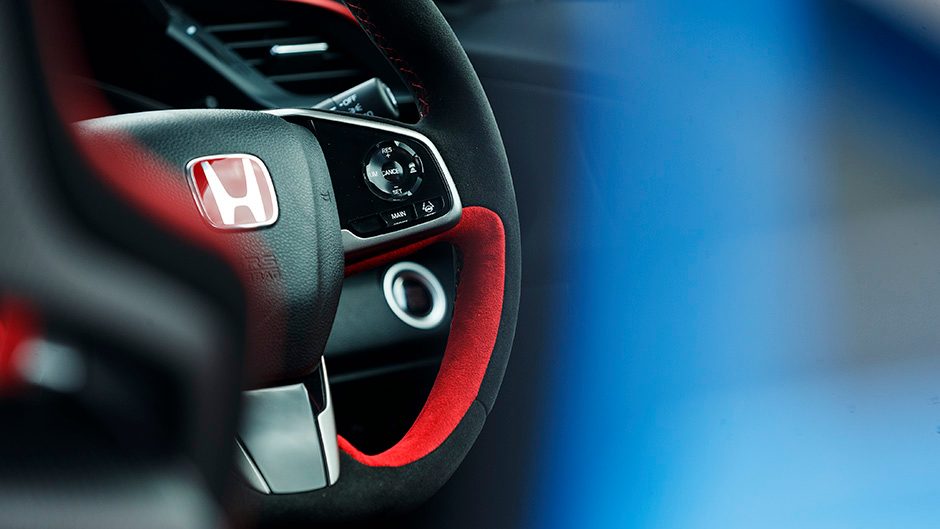 To do this, the user must set start and end points using the map on their device. With your phone hooked up, the logger activates when you pass your predetermined points. Handily, multiple routes and tracks can be saved.
More than a dozen data streams are logged, among them are maximum steering and throttle angle (we aced this one), lateral G and top speed (no comment). Boost pressure and vital temperatures are all recorded too.
With each lap the app generates colour-coded traces so you can track your progress and identify areas for improvement.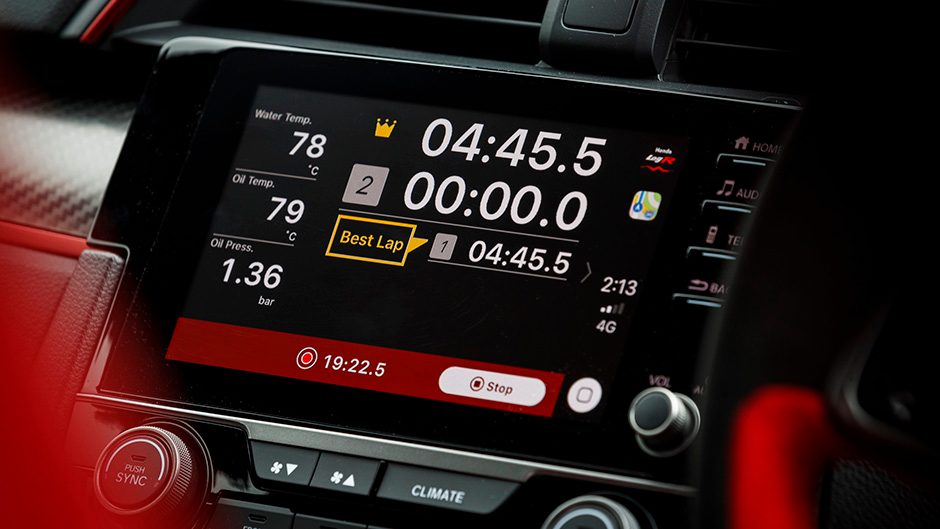 At the end of each session an 'autoscore' is generated. This rates your performance against a baseline set by professional drivers and is determined by the car's behaviour over five different criteria. Driving tips are included, alongside the scores for self improvement.
The app is a smart addition to the Type R and we imagine is a handy driver development tool but we'd really have to attend a track day to confirm that. How about it Honda?
LogR is a free download and works on both flavours of smartphone.
–Tom Gasnier
| | |
| --- | --- |
| Model | Honda Civic Type R |
| Price | $62,990 |
| Engine | 1996cc, IL4, T/DI, 228kW/400Nm |
| Drivetrain | 6-speed manual, front-wheel drive |
| Fuel Use | 8.8L/100km |
| C02 Output | 202g/km |
| 0-100km/h | 5.95sec |
| Weight | 1399kg |