The world of electric cars has just been rocked with muscle car maker Dodge now coming to the table with its first battery electric vehicle, the Charger Daytona SRT Concept.
Dodge says the two-door electric concept sets out to break the "boring" paradigm EVs commonly get branded with, mainly due to their lack of sound. However, the Charger Daytona SRT introduces performance that exceeds the V8-powered Hellcat bringing with it an "industry-first" electric exhaust sound.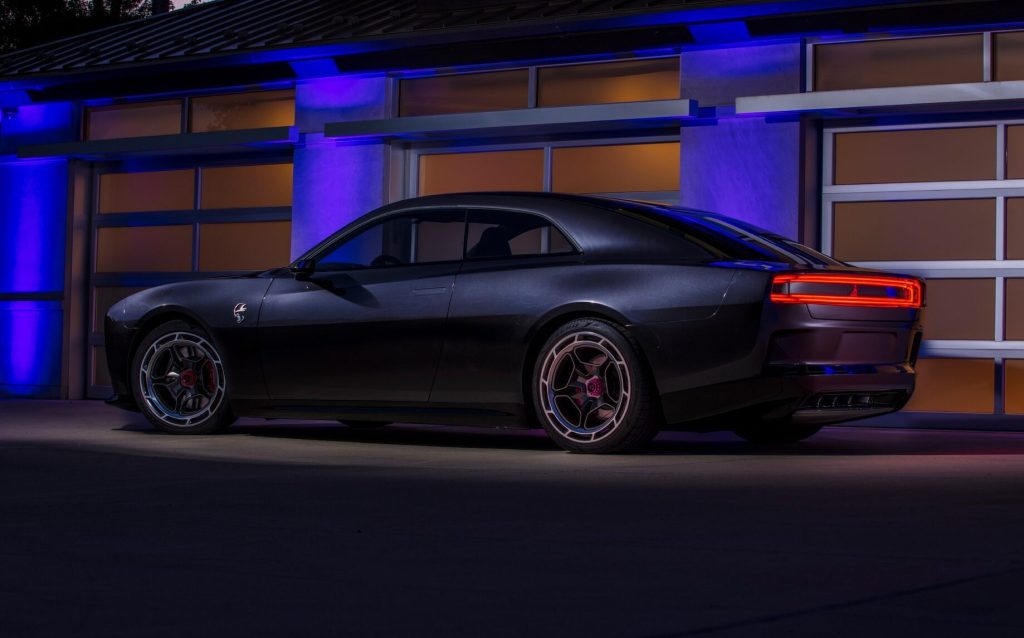 One thing Dodge fans will be pleased to see is the fact that it still looks like a bona fide muscle car. The exterior styling incorporates subtle nods to the brand's heritage while allowing for aerodynamic efficiency much needed in an EV.
Up front, the R-wing redefines the typical Dodge front end by creating an air pass-through from the front grille, up and over the bonnet which was inspired by the original Charger Daytona's massive rear wing.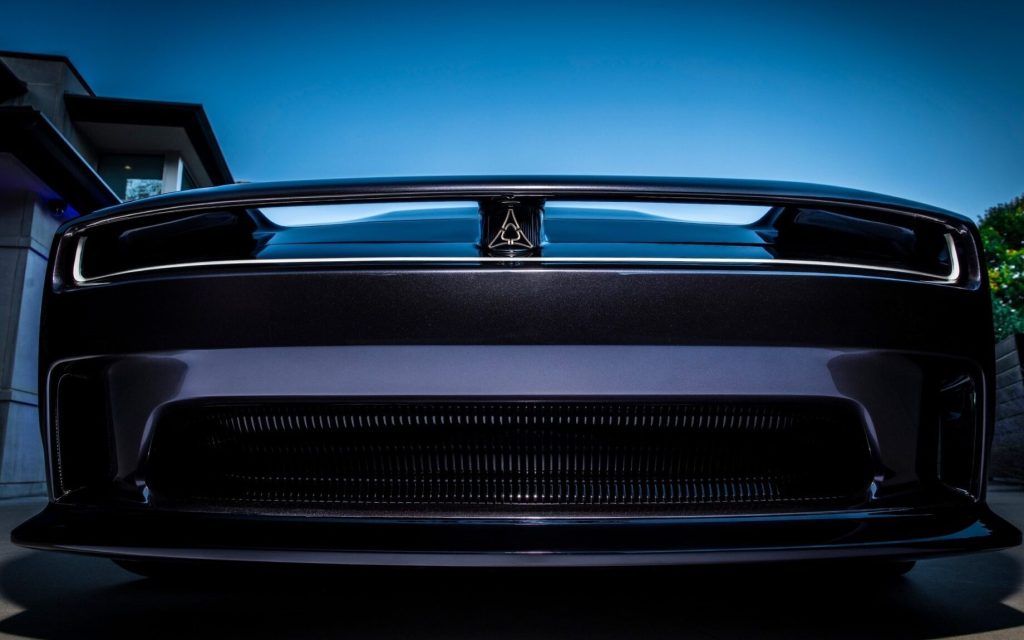 Accompanied by Dodge's illuminated Fratzog badge, the front fascia is highlighted by a square light feature which mimics the rectangular shape previously found on Chargers of old.
The silhouette of the concept is unmistakably Dodge as well with muscular shaped fenders suggesting serious performance.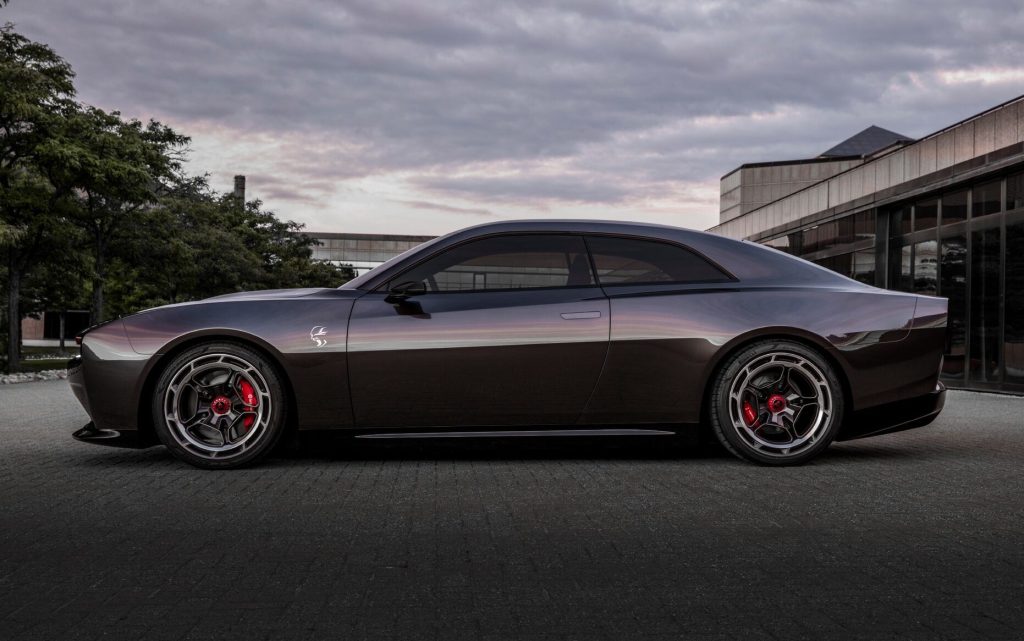 Powered by an 800V Banshee propulsion system, the concept also features what Dodge calls a Fratzonic Chambered Exhaust which can reach a sound level of 126dB, making it as loud as a combustion-powered Hellcat. No performance or output claims are given. 
It even comes with a multi-speed transmission called eRupt which makes use of electro-mechanical shifting to "throw shoulders into seatbacks in true Dodge style".
Step inside the concept and you'll find an orange-lit driver-centric cabin featuring a 12.3-inch center screen, the largest fitted to a Dodge vehicle, which is angled towards the driver.
The 16-inch digital instrument cluster wraps around the driver while a 8 by 3-inch head up display provides all essential vehicle information.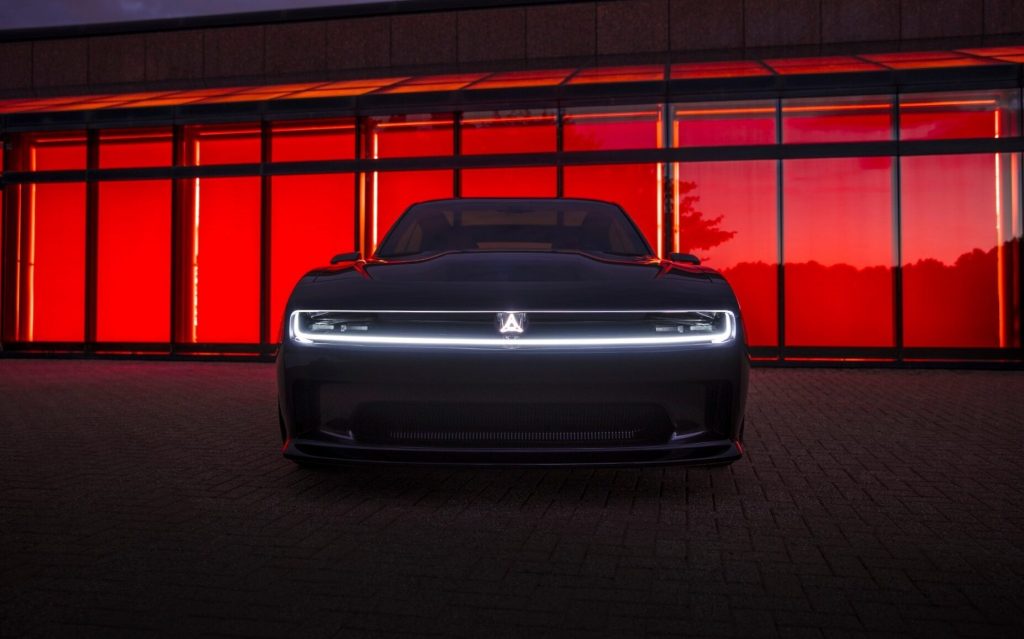 Red ambient lighting surrounds the occupants complete with lit Daytona lettering. Another nod to the brand's heritage is the pistol-grip shifter mounted to the centre console.
A flat top and bottom three-spoke steering wheel greets the driver with an illuminated SRT logo in the centre. Drive modes are operated on one side of the wheel and the car's PowerShot push-to-pass feature which delivers an extra 18kW for a few seconds at a time is found on the other side.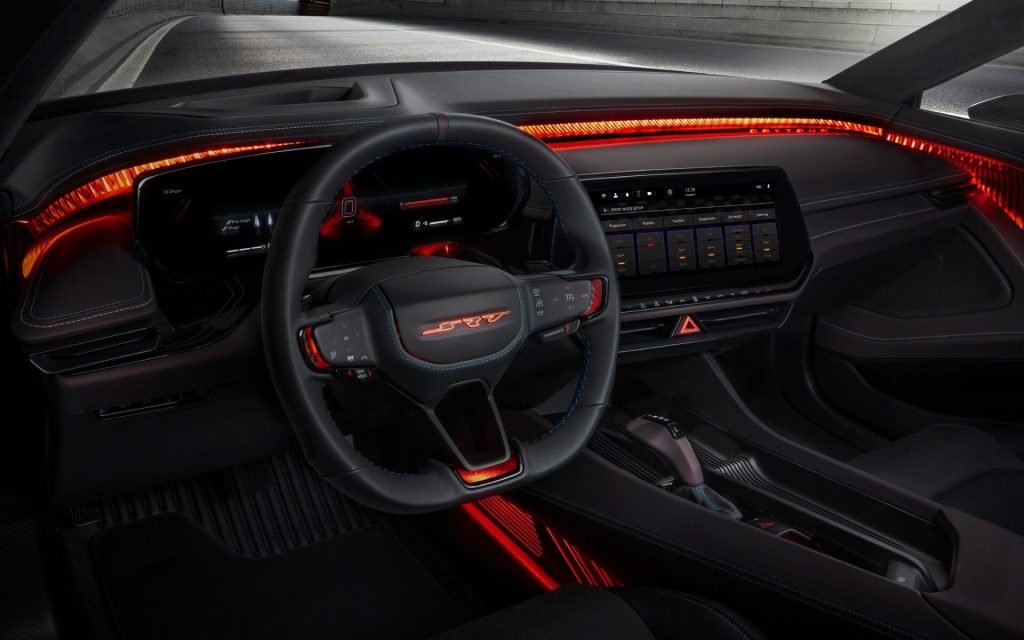 The concept can seat four with the rear seats able to fold down, allowing for extra storage accessed via the rear hatch.
While the Charger Daytona SRT Concept is just a preview for the electric future of the Dodge brand, we can expect to see a production version arrive in 2024 which hopefully looks like the concept.