BYD is a car company you might not have heard of until recently, but it's been around since 1995. It wasn't a maker of cars back then though, more a battery manufacturer and in the 2000s it supplied Motorola and Nokia. So chances are you've already owned a BYD product.
It was in 2003 that BYD took over an ailing car maker in China, and turned out its first car, the F3 (which ran on petrol). The company's growth since has been rapid, and now its vehicles account for 30 per cent of the Chinese car market. In 2021 it had an annual turnover of $US33.5 billion and recently overtook VW to be the third most valuable auto company in terms of market capitalisation. And now its first local model, the Atto 3 SUV, has arrived. It was only a couple of years ago that most would have said "I'll never buy a Chinese car" but in the case of BYD, that has quickly changed to "take my money now". There's been massive interest in BYD's arrival because it sells affordable electric vehicles, with pricing for the Atto 3 starting at $52,990.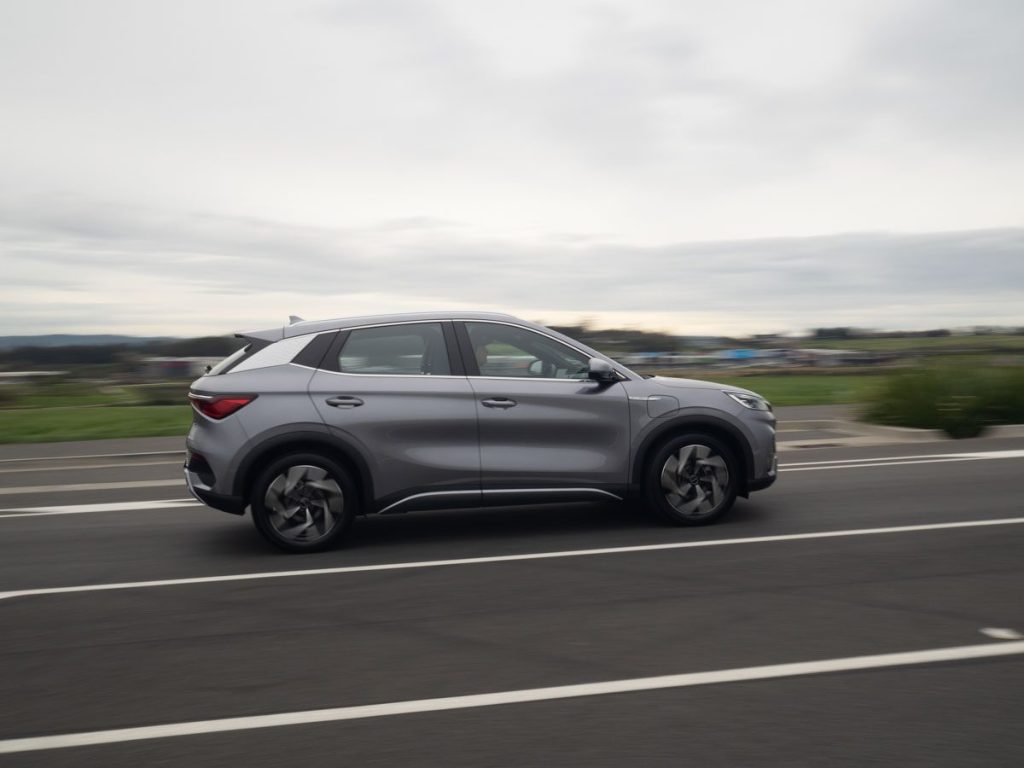 That'll get you the standard 50kWh battery model, while the 60kWh Extended version is $57,990. The standard specification (which shames most European models costing twice as much) is the same for both models, the only difference being the battery. The 60kWh model has a claimed 420km range, while the 50kWh model is pegged at 345km.
Despite not yet being ANCAP tested, the Atto 3 has been awarded a five-star Vehicle Safety Risk Rating by the Government. This is 'based on information from the Monash University Accident Research Centre. Ratings are estimated from data on real crashes reported to police in Australia and New Zealand, and are updated annually'. Given none has been on the road here or in Oz for that matter…Anyway, whatever, both models are eligible for the current full EV Clean Car Rebate of $8625.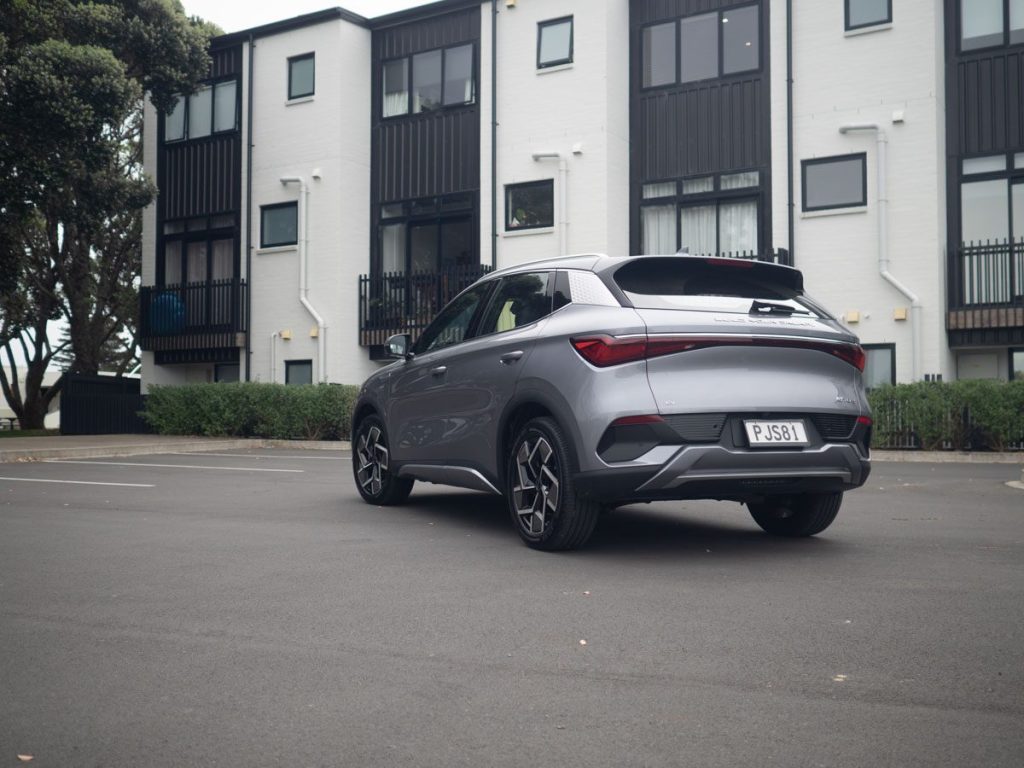 The Atto 3 is 4.4m long and has a single 150kW/310Nm motor powering the front axle. Standard features include a panoramic sunroof, powered tailgate and high beam assist for the LED headlights. Inside is a 12.8-inch touchscreen, a five-inch digital instrument panel, synthetic leather trim, a 360-degree view monitor, a smart key, and a wireless phone charger. CarPlay and Android Auto integration will become available later in the year and delivered to customers via over-the-air updates. It's a connected car, coming with 2GB of data included each month for two years. While that doesn't mean much at present, there will be a raft of apps soon available for download.
While the exterior looks fairly conventional, the interior sure ain't. It looks organic, almost alien, with its curves and contours. The seats are certainly comfy, electrically adjusted and heated too. Plenty of room in the rear as well and there's 440L of boot space. It's practical then.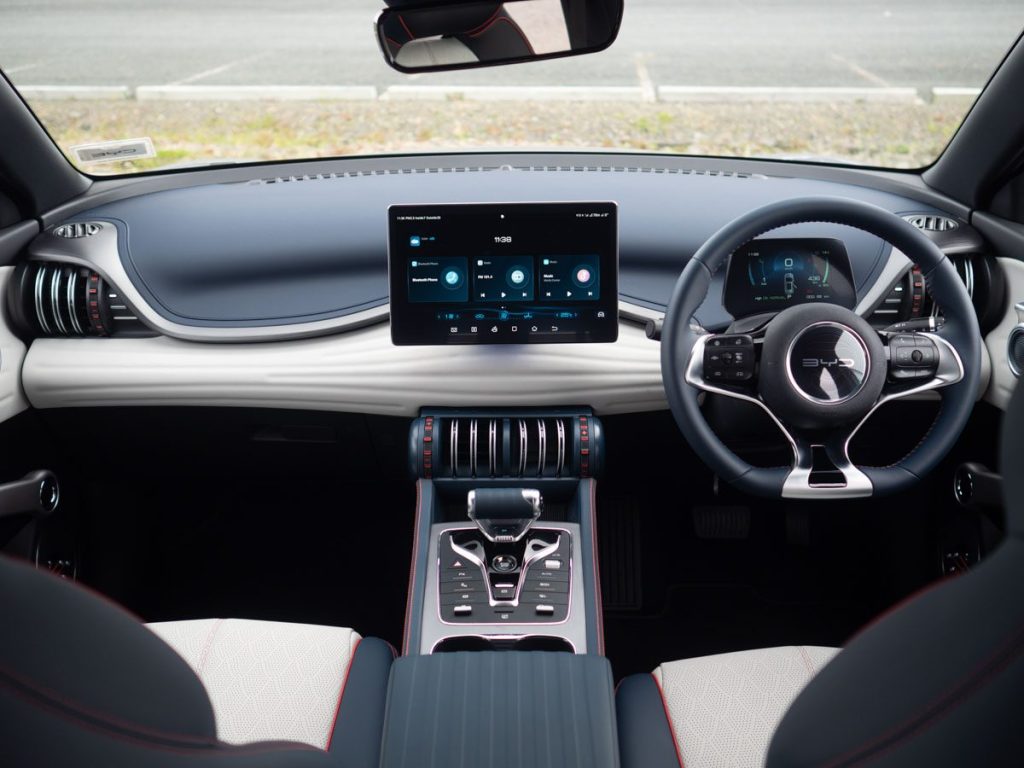 The touchscreen isn't the lord commander of all the functions. They've seen fit to add a few console-mounted buttons to make it easy to switch drive modes or the brake regen on the go, and there are a few frequently used ventilation controls. We like how the start button, gear lever and park brake are all grouped together for ease of use.
BYD reckons the key selling point of the Atto 3 is its Blade battery technology. This uses lithium iron phosphate chemistry, claimed by BYD to be much safer than conventional lithium-ion tech. Search up blade battery nail test to see what they are on about. It's said that while the energy density of the cobalt-free iron phosphate battery is lower than the more usual nickel manganese cobalt and nickel cobalt aluminum alternatives, it's cheaper to make, more stable and safer, and has a longer cycle life. BYD says it can handle 5000 charging cycles before its state of health will degrade to 80 per cent versus around 1300 charge cycles for other batteries. So it should outlast its six-year, 180,000km battery pack warranty.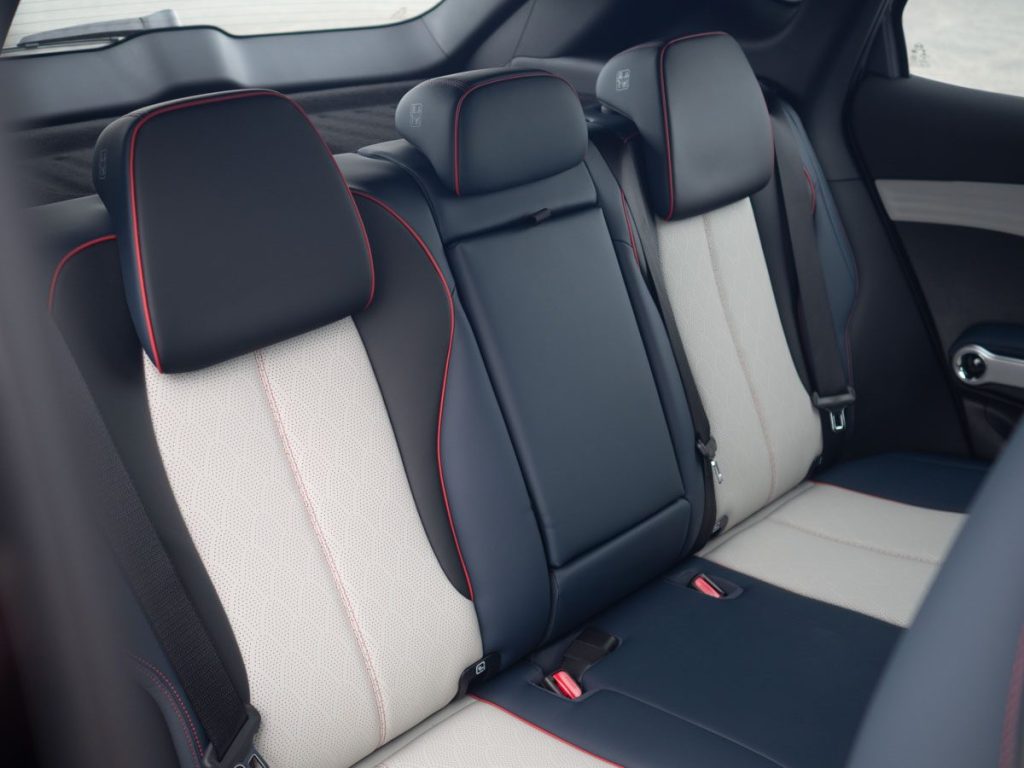 As to how it goes. The ride is very agreeable. That probably has something to do with its multilink rear end and a head chassis tuner named Heinz Keck, who used to work for Mercedes Benz. This rolls over most bumps with composure, the suspension working away quietly too. It maintains that ride decorum at speed, rolling with the dips and dives without crashing over potholes. Dynamically speaking, it favours refinement over connection. It manages its weight competently, all 1750kg of it, though there is a bias toward comfort than ultimate control.
It's a handy commuter, the steering light and the turning circle tight. The brake regeneration is on the light side, even in its 'Heavy' setting and so there is no facility for one-pedal driving. Its action is more prevalent as speeds rise, and does slow you effectively, but you'll need to use the brake pedal to come to a halt. In stop-start city driving, the consumption graph was tracking in the 14-15kWh/100km range. Motorway travel can see it trend toward the higher teens, and in full test mode (seeing what she can do) this spiked into the low 20s.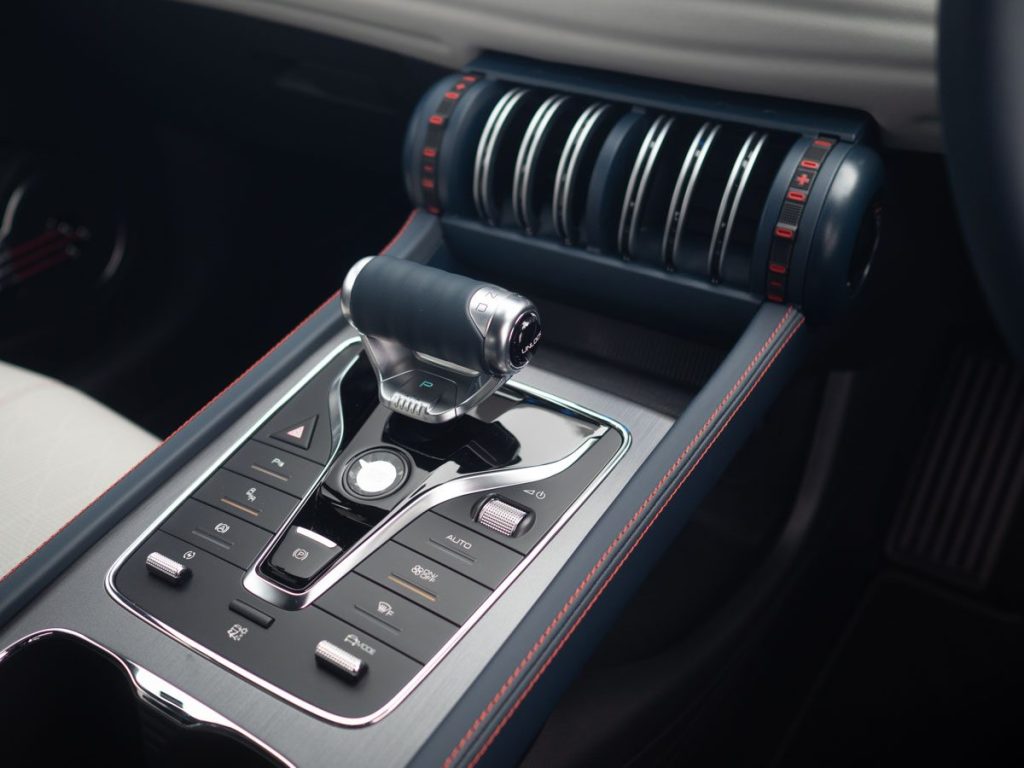 We can't really see a reason why you should strike this off the shopping list. We reckon you'd get over the odd interior and enjoy the refinement and practicality of the Atto 3.
BYD NZ is developing a tow bar solution for its newbie, designed and tested here with a 750kg max rating. In reality, it's something to attach your bike carrier to. BYD includes a three-pin charger with the car, something they call an emergency charger, as they are encouraging buyers to use their rebate money to purchase a 7kW wallbox to enable better AC charging. That'll facilitate charging rates around three times faster than the emergency charger, so think overnight rather than all day. You also get a vehicle to load adapter as standard (or you will do when they source one to NZ safety standards, expected in October) delivering 3.3kW of power.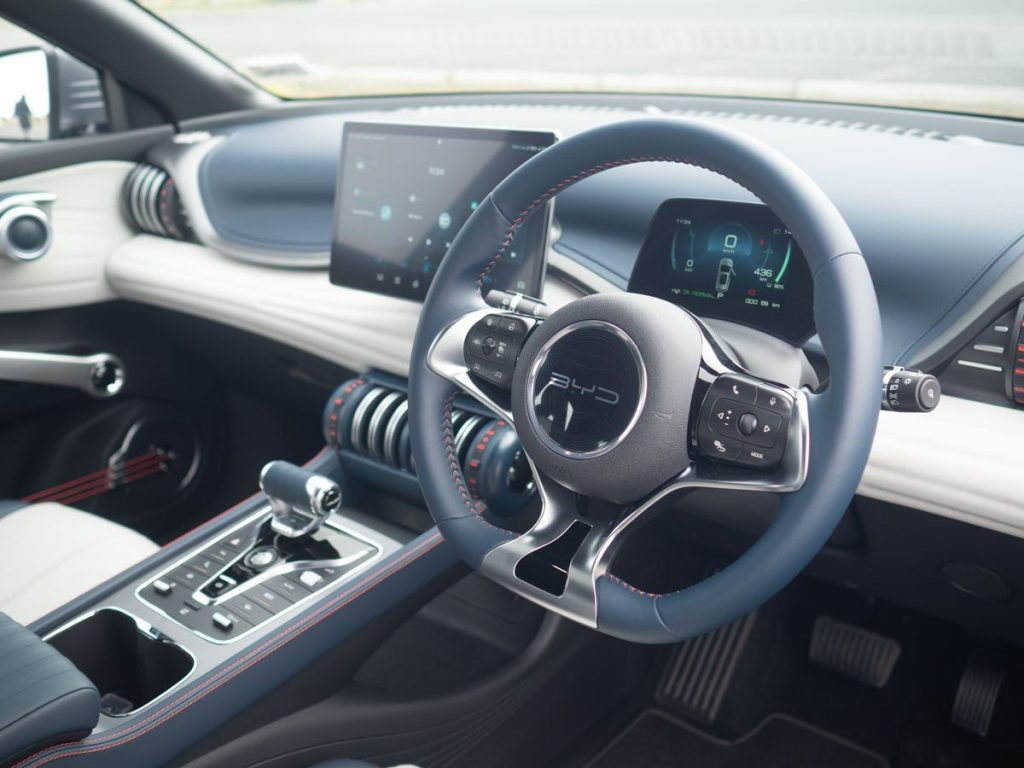 Just how many have they sold? They aren't revealing that just yet, but once the registrations are tallied in September we will know the number. However, they do say the first and second boat loads of Atto 3s are sold, and the third boat, due in October has some cars still to be allocated. An order placed today will take about two months to arrive, shipping being the hold up at present, though the parent company is working on a solution there to improve distribution to markets down this way.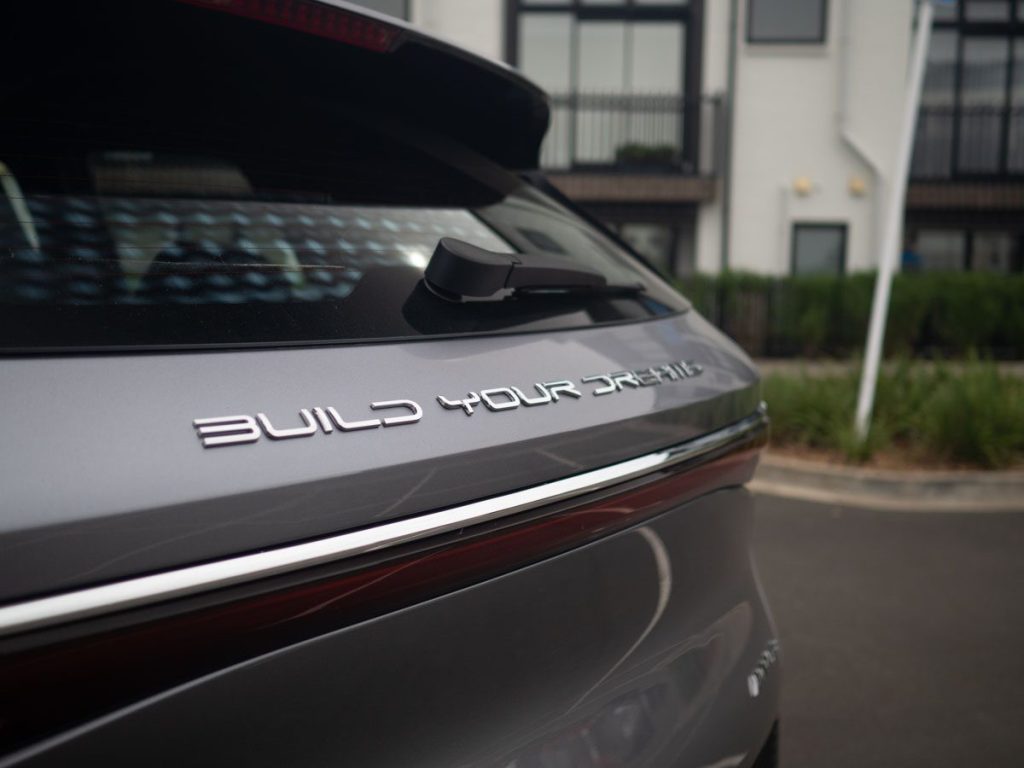 There are currently five dealers around the country and another eight coming on stream shortly. BYD will be in all market segments in the coming years, including vans, so watch this space. How long before it takes 30 per cent of the market here?